As you're reading this, I picture most of you being exhausted but happy after spending Christmas with your loved ones. Can you believe that tomorrow we will be celebrating the beginning of the new year that is 2016? I have to say that I am one of those people who always get the chills when thinking about the new year. This year, I've changed a lot in my life, and I had the courage to start this blog, so my new year's resolutions is not to change, but to embrace the small things in life more often. This past year really changed my life, and I have to admit that I am extremely happy right where I am at this very moment. Besides that I really want to learn a fourth language, preferably Spanish or improve my terrible French, so we'll see how that goes. Since the New Year is always the time when people are trying to be and eat healthier, I thought I'd share some easy and light meals with you in January. Today's recipe fits perfectly into this description as it only takes about 20 minutes to prepare, is rather cheap to make and won't leave you bloated or too full. It's the perfect dish for a lazy weekday night or weekend lunch. Cooking healthy does not necessarily mean that you have to spent lots of time in the kitchen. I do spent a lot of time in the kitchen, but that's only because I have a food blog. Before I started to worry about how I made my food look semi presentable, I spent as little time in the kitchen as possible. That's why I am going to share some really easy recipes with you that need barely no effort at all. This soup is one of these dishes that you can throw together in less than half an hour, I promise. The soup has been my favorite for quite some time now and as I am writing this, you have no idea how much I am craving it.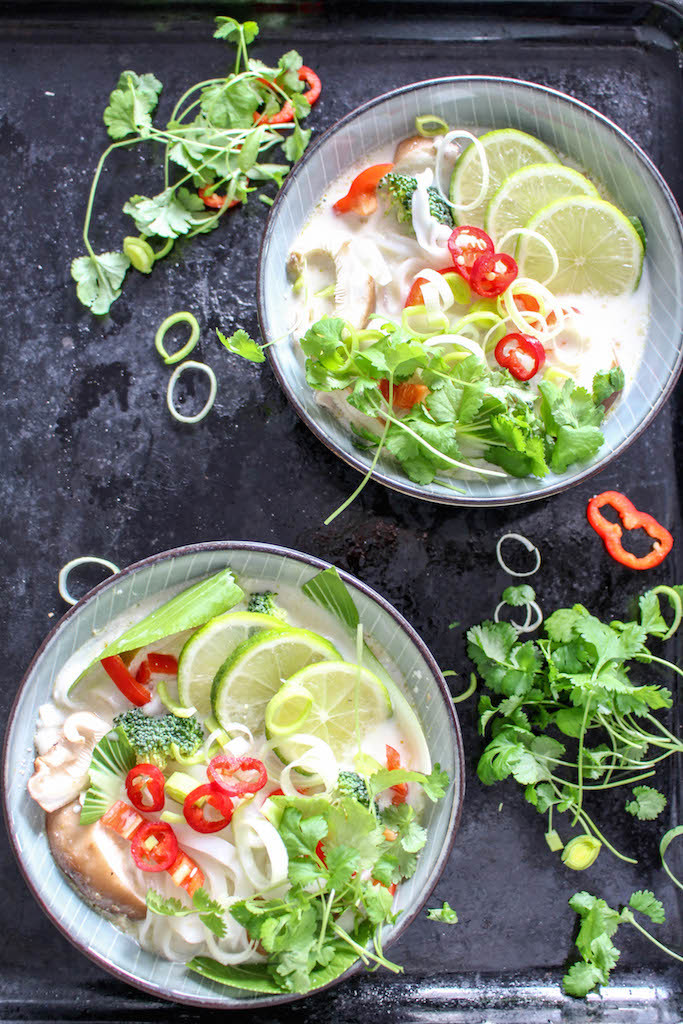 Asian inspired soups have actually always intimidated me, because for some reasons they seemed so flavorful and delicious at restaurants that I never believed making them yourself would be easy. But then I accidentally turned something that was supposed to be a Thai Curry into a soup and I realized that I was absolutely wrong: making Green Thai Curry Noodle Soup is the easiest thing ever. All you need is Thai curry paste, rice noodles, limes, chilis, coconut milk and some veggies of your choice. Of course in my opinion everything is better topped with coriander, but this is definitely not a must in this recipe.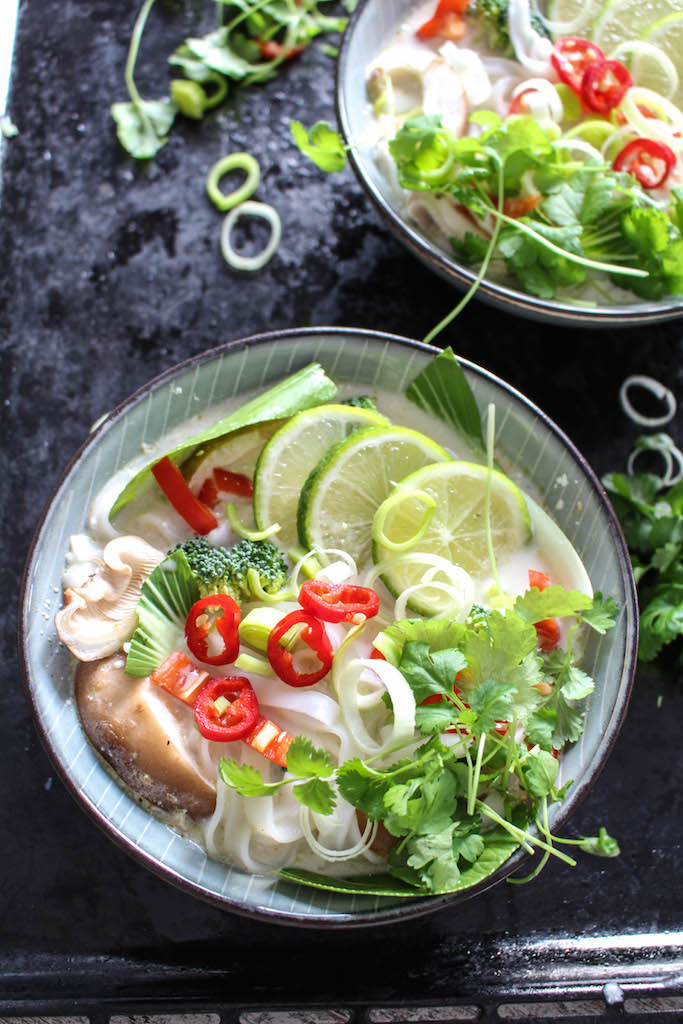 The flavors of the thai curry paste are strong enough to make your whole kitchen smell divine. Combined with vegetable stock paste and coconut milk, this will give you the perfect Thai broth that is so flavorful that you won't believe you did it yourself. I love to add lots of fresh shiitake mushrooms, bok choy, red peppers, spring onions and fresh herbs such as cilantro to make it taste even better. But there's so limit to your creativity: just use whatever vegetable comes to your mind or happens to be sitting in your fridge.
With this post, I am wishing you all a happy end of the year, and I hope you'll have a great start into the next one. I have lots of exciting things to share with you in 2016, so I hope you'll follow me into the next year. I am so grateful for every single person who reads my blog and I can't stress enough how much I appreciate your support.
Big Love and Happy New Year!
xx Lynn

20 Minute Green Thai Curry Noodle Soup
Author:
Heavenlynn Healthy
Ingredients
1 - 2 teaspoons of green thai curry paste
1 small piece of ginger
1 tablespoon of extra-virgin coconut oil
2 tablespoons of homemade vegetable stock paste
5 cups (1250ml) of water
1 can (400ml) of coconut milk
2 tablespoons of tamari or soy sauce
2 tablespoons of honey or coconut sugar
2 spring onions
8 shiitake mushrooms
2 small bok choy
1 red pepper
1 chili (optional)
1 lime
fresh cilantro to top
1 pack of rice noodles
Instructions
Start by grating the ginger or chopping it into small pieces. Chop the spring onions, shiitake mushrooms, red pepper and bok choy into bite-sized pieces.
Heat the coconut oil in a large pot over medium heat. Add the grated ginger and green curry paste and sauté for a few seconds until the flavors start to expand.
Now add the water, vegetable stock paste and coconut milk and bring to a boil over medium to high heat. Reduce the heat to medium low and add the tamari, the juice of the lime, honey or coconut sugar, shiitake mushrooms and bok choy. Let it simmer for about 10 minutes.
Boil the rice noodles in a pot of hot water for about 5 minutes, depending on the size of your rice noodles. Drain the water and set aside.
Once the vegetables are tender, but not smooshy, remove the soup from the heat. Add the rice noodles and garnish your soup with fresh cilantro, fresh chili and add some more tamari or lime juice if you prefer.
Enjoy!