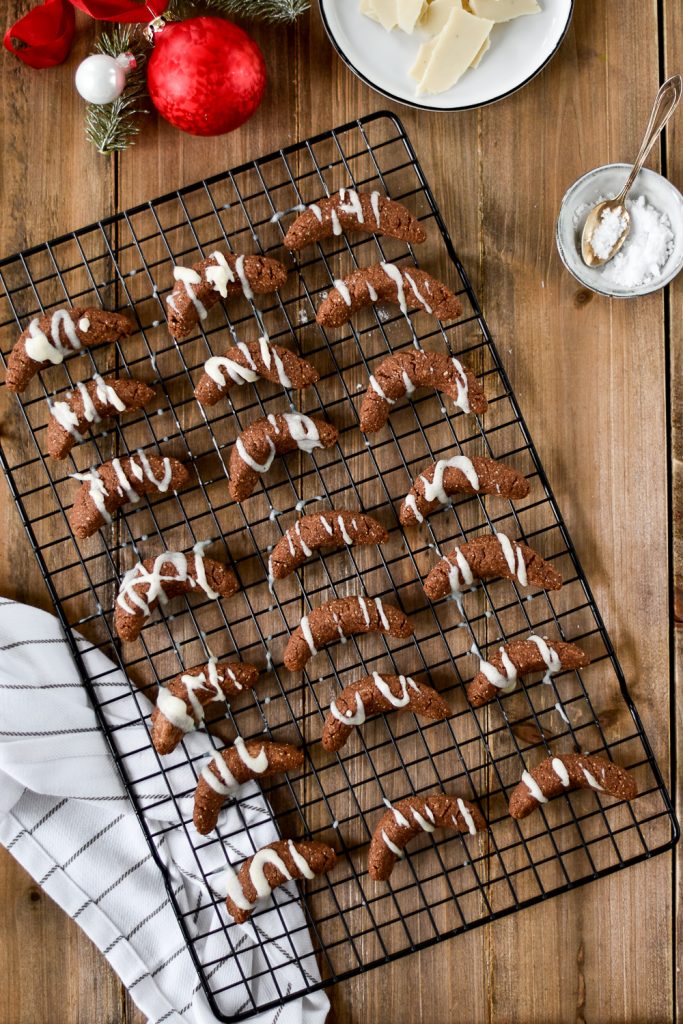 Are you in Christmas mood yet? With the first snow of the season, I could not be more excited that it's finally December!
If you're not in Christmas mode yet, then this recipe will hopefully help you get you into that Christmas spirit.
But before I continue, I'd like to thank all of you for just being awesome!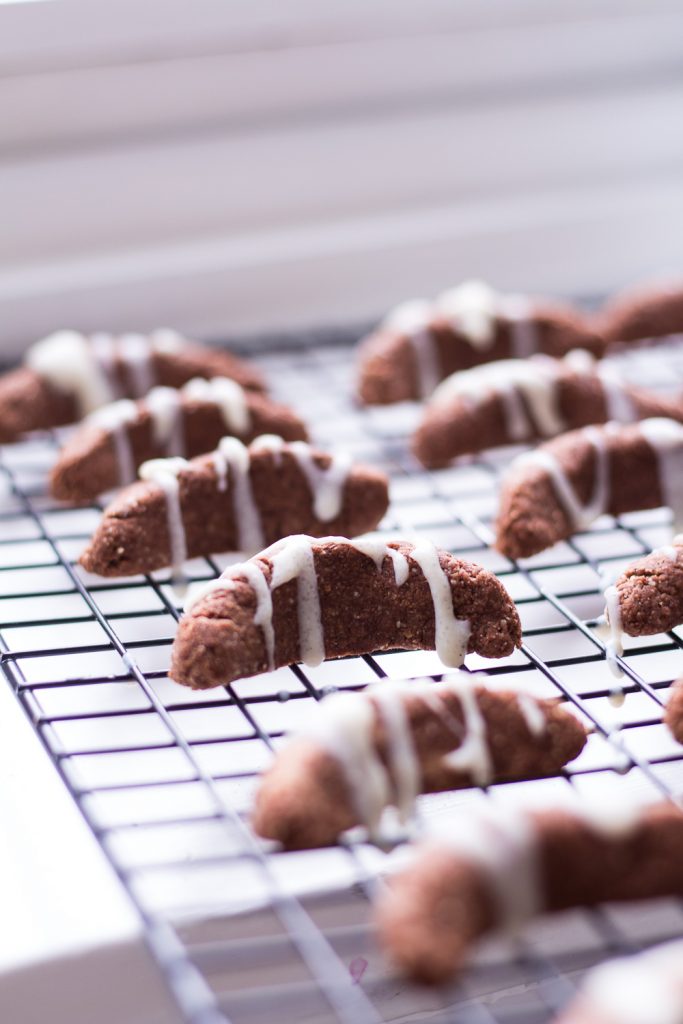 My Christmas get-together on December 10th was sold out after a day, and the waiting list is already filled with many beautiful souls. Santa came early this year – at least for me! Thank you all for your lovely support – it means the world to me!
I am beyond excited to meet so many of you face-to-face for the first time! It will be an afternoon full of joy and lots of Christmas cookies. I'm excited to meet you all, and to hear your feedback on the blog and perhabs even points of potential improvement. It'll be amazing!
Ok, back to these healthy christmas cookies. Before you mention it in the comments: I am well aware that they look a little bit strange. We all know what they remind us of – but, come on people, it's Christmas cookies! There is nothing more innocent than that, ok?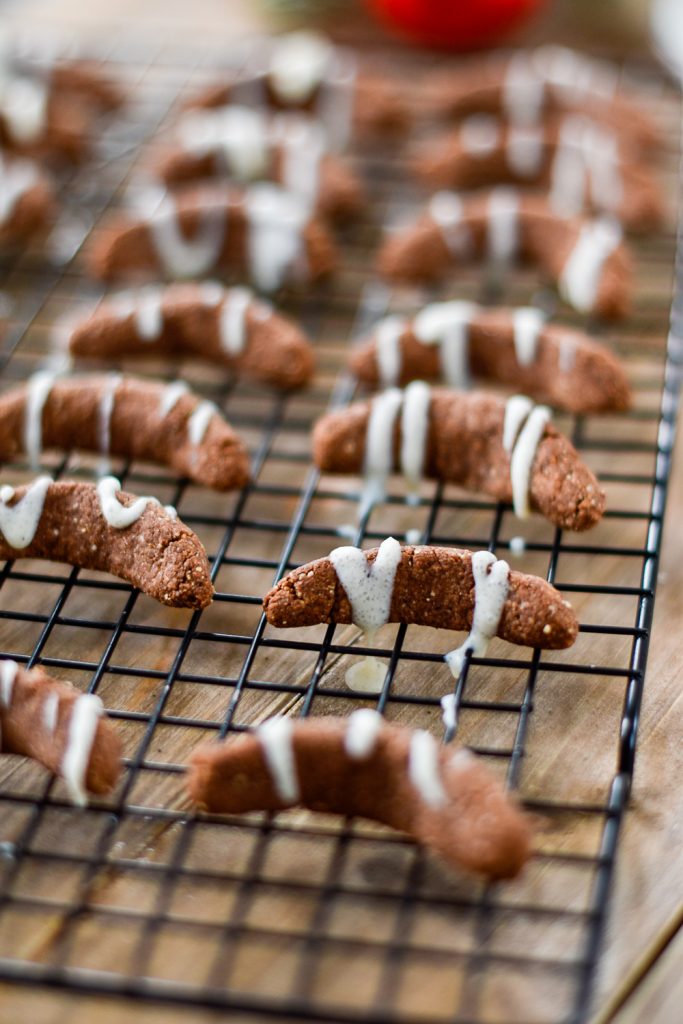 Good, so now that we've covered the uncomfortable part, let's go back to talking Christmas. If you were to get a glimpse into my kitchen these past days, then it's very likely that you would have seen me dancing, baking and singing at the same time.
Here are my current top 3 Christmas songs:
"You make it feel like Christmas" by Gwen Stefanie und Sexiest Man Alive Blake Shelton (haha)
"Underneath the Tree" by Kelly Clarkson
"Santa Tell Me" by Ariana Grande
If you didn't know it before, then you know it now: I have the worst taste in music. I'm all about that mainstream pop – gimme all the Taylor Swift, Ed Sheran and Maroon 5. Anyone else with me?
So these cookies by the way – total Christmas winners. They are so easy to make, plant-based, gluten-free (option), refined sugar free, AND delicious. You also won't have to roll out any batter or cut out anything. Just use your fingers to form little cresents and that's it. Easy! And then you'll whip up some homemade white chocolate and sprinkle it on top. No biggy.
These cookies are the perfect Christmas treat as they are only made with ingredients that are good for your body. Almonds are an amazing beauty vitamin, so you might want to call these cookies "glow cookies", flax seeds provide some skin boosting omega-3 fatty acids and maple syrup adds the little extra touch of subtle sweetness. It's Christmas magic, you guys!
Have a wonderful first week of December!

Healthy Chocolate Vanilla Crescent Christmas Cookies
Ingredients
For the chocolate vanilla crescent christmas cookies:
100g of buckwheat flour (of whole-grain spelt four, but then not gluten-free)
50g of ground almonds
75g of almond butter
1 tablespoon of flax seeds + 2 tablespoons of water
40ml of maple syrup
½ teaspoons of ground vanilla
¼ teaspoon of aluminum-free baking powder
1 tablespoons of raw cacao
For the white chocolate:
50g of cacao butter
40g of white almond butter
1 tablespoon of maple syrup (or xylit if you want it to be really white)
Instructions
For the chocolate, melt the cacao butter over steaming water. Let it cool down a bit, then add the almond butter and maple syrup or xylit with a whisk. Pour the mix over a baking sheet aligned with baking paper and let coo.
Pre-heat the oven to 180°C (160° C fan)
Mix the flax seeds with the water and let it sit for 10 minutes to thicken.
Place all ingredients together with the thickened flax-mix in a mixing bowl, and mix with a hand mixer or use a food processor. Quickly knead the batter with your hands. Take out about a tablespoon of the batter, roll it into a sausage-like shape, and then form it into little crescents. Repeat with the rest of the batter, and place the little crescents on a baking sheet with baking paper.
Bake them for about 12 minutes, then take them out to cool.
Melt the white chocolate again over steaming water. Let it cool a bit, then sprinkle it on top of the crescent cookies with a spoon.
Let the chocolate dry and enjoy!
Enjoy!
Did you make these cookies? Share a picture of them on social media using #heavenlynnhealthy. I love seeing your creations!