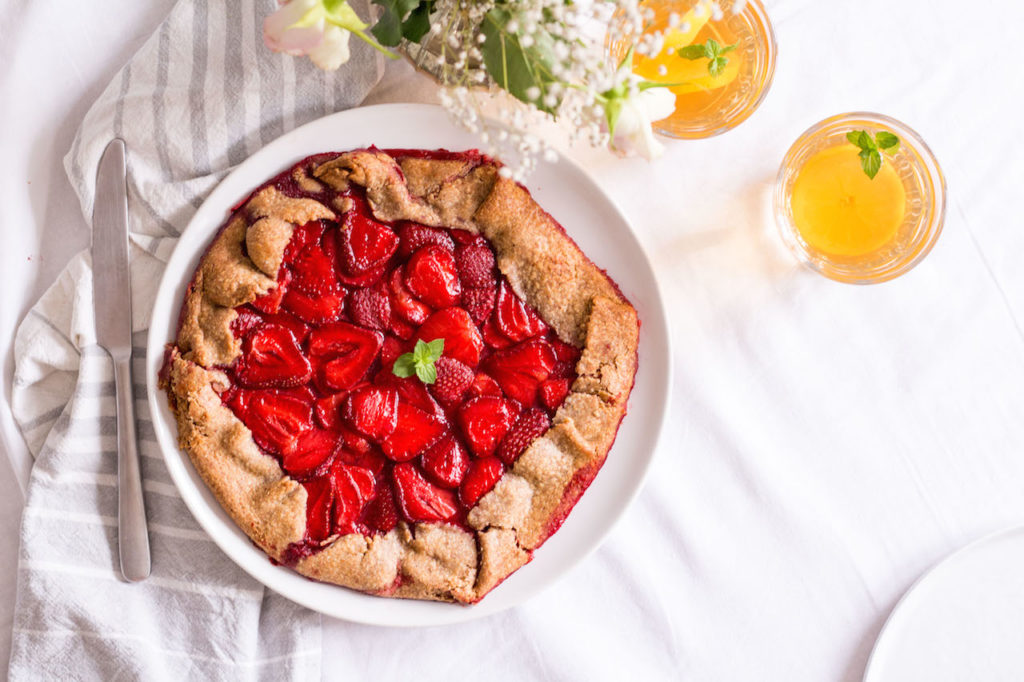 This healthy strawberry galette is obviously inspired by my last trip to Paris, the city of love, baguettes, crêpes and galettes. However, Paris is not just white bread and coffee, it's actually a pretty healthy city. We lived close to a park that was full of runners, personal trainers and yoga groups, and just outside the park were many healthy delis and restaurants. I'll write a full post about Paris' healthy places soon, but today it's all about this healthy strawberry galette. Galettes can be both savory and sweet, and the good thing is, that you can actually fill them with anything you want. So the strawberries in this galette are just an idea. You could fill it with peaches, cherries, blueberries, raspberries or even banana and chocolate if you like. If you are more of a savory type, then you'll need to modify the dough a little bit by omitting the sugar, and you could fill it with mushrooms or any other combination of fresh veggies.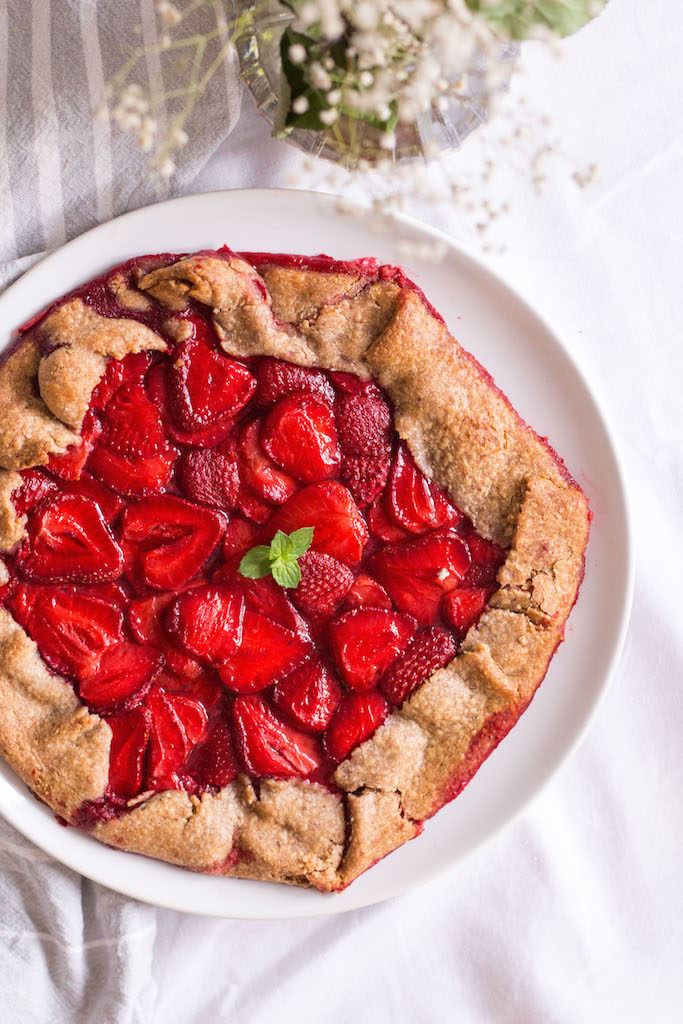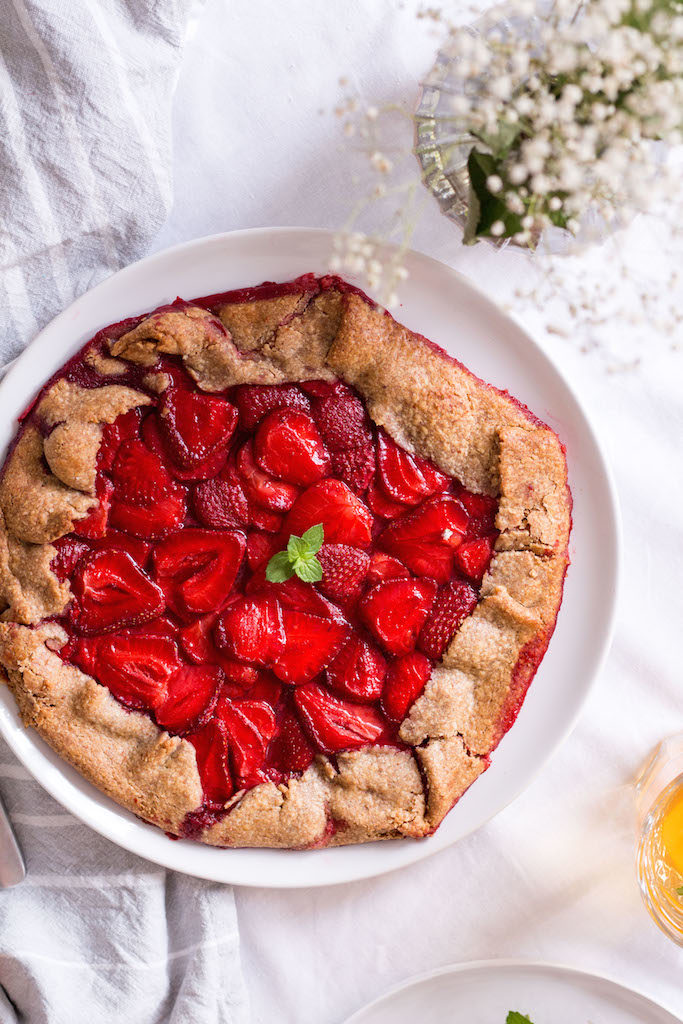 At the moment I'm feeling a bit sad, because strawberry season is about to come to an end soon. Of course you can get strawberries all year long, but I think we all agree that there's nothing comparable to fresh, in-season, and locally grown strawberries, freshly picked from the strawberry fields next door. Oh how I love you, strawberries! They do not just taste amazing, they are also bursting with antioxidants, which help protect our body against free radical damage. One cup of strawberries also contains more than 150% of your daily recommended vitamin C intake, so strawberries are wonderful health promotors. In addition, strawberries are a good source of manganese, which is a important for the metabolism.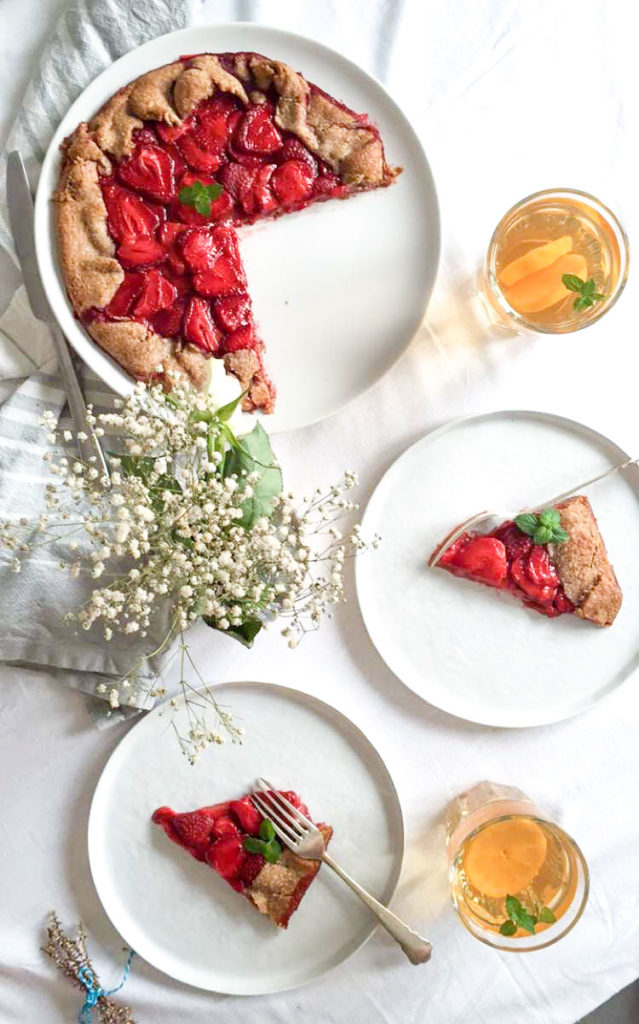 As you can see in the pictures, galettes aren't meant to be perfectly pretty, so don't worry if your galette does not look like those in a magazine. Mine never look presentable, but honestly, I think that that's the beauty of galettes. They never look the same, and they all tell a different story. Also, the strawberry juice is most likely to break through the dough at some point during the baking process. Don't worry if this happens, it's perfectly normal, and it does not influence the taste at all. My galette is always swimming in fruit juice when I take it out of the oven. It nevertheless tastes delicious.

Healthy Strawberry Galette
Ingredients
For the galette dough:
½ cup of almonds
¾ cup of buckwheat flour
1 tablespoon of coconut sugar
⅓ cup of native coconut oil
1 -2 tablespoons of ice cold water
a pinch of salt
For the filling:
2½ cups (300g) of strawberries
1 tablespoon of arrow-root powder or buckwheat flour
2 tablespoons of coconut sugar
the juice of ½ small lemon
Instructions
Place the almonds into a food processor, and process until you have a fine flour. Add the buckwheat flour, coconut sugar, salt and buckwheat flour and mix for a few seconds. Add one tablespoon of ice water until you have a nice crumbly dough. It should be moist, but still crumbly. You might need a third tablespoon of water if the dough is too dry.
Put the dough into a bowl and cover it with a towel, and place it into the fridge for one hour.
In the meantime, prep the filling by slicing the strawberries, and combining them with the other ingredients.
Pre-heat the oven to 180°C (360°F). Take the dough out of the fridge and knead once or twice so it becomes smooth. You do not want it to get too warm though.
Roll out the dough between two sheets of baking paper. You don't want the galette to be too thin, or it will break too easily. Cut the edges of the galette, so it has a nice round shape. Scoop the strawberry mix into the middle of the galette and fold the edges of the dough in over the strawberries.
Cook for 30 minutes, then cover the galette with aluminum foil to prevent the top from becoming too dark. Cook for another 10 - 15 minutes until the dough is golden brown and delicious.
Remove the galette from the oven and let cook for at least 20 minutes allowing the dough can harden.
Enjoy!
---
Did you make this recipe or have any suggestions, questions or comments?
Feel free to leave a comment below, and don't forget to tag your creations on social media using #heavenlynnhealthy.
I'd love for this blog to be a dialogue.
---