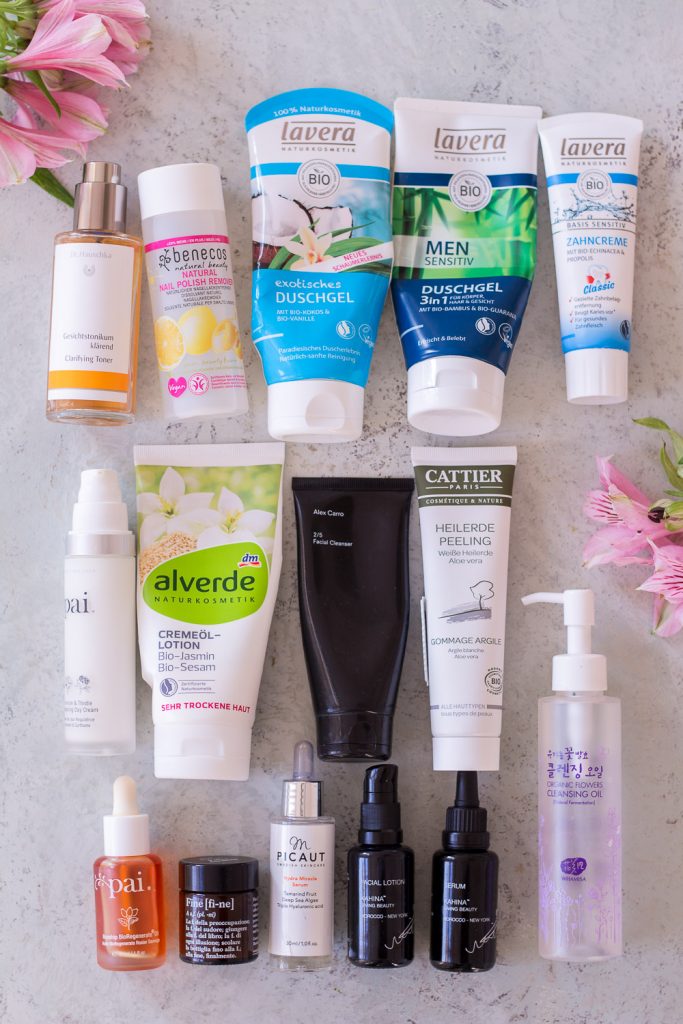 *This post is not sponsored, but includes some PR samples from Amazingy. 
Last year, I really made an effort to reduce my conventional beauty products in my bathroom and include more natural skin and body care products in my life. If you're into healthy eating like me, there is eventually no way around natural skincare and natural cleaning products. Today I thought I'd show you all of the products that are currently in my natural beauty bag.My beauty bag is almost completely filled with natural products. However, I have to admit that it is not entirely plant-based and natural. There are a few products that I just haven't found a natural equivalent for. That is waterproof mascara, hairspray, my concealer (yes, sorry), and my hair products. I believe that it's important to understand how conventional beauty products may harm our body. But like it is with nutrition, you have to find your own balance and go with what works for you. I guess what I really want to say is: I am not perfect, but I am trying my best to become a better version of myself every day.
Natural skin care products
Whamisa organic flowers cleaning oil: this was one of the first natural beauty products I used, after Lisa Scharff recommended it to me. To this day, I include it in my nighttime routine as I love how smooth it makes my skin feel.
Alex Caro Facial Cleanser: I have been testing this cleanser for a few months now, but somehow it does not feel right for me. I will probably search for another product soon.
Kahina Giving Beauty Serum: I love this serum because it helped hydrate my skin these past very cold weeks. I also love how it feels on the skin, and how wonderfully it smells.
Pai Rosehip Oil: I have been using this oil for almost a year now, and I could not recommend it more. It's supposed to reduce acne scars – I cannot with certainty support this claim, but it definitely helped clear my skin.
Dr. Hauschka Toner: not my favorite product, but I it definitely feels good on the skin. The smell is a little odd, so you might want to try this first before investing in a large bottle.
Picaut Miracle Serum: I love how this product feels on the skin, and how deeply it moisturizes my skin. However, it is quite pricy, so the bottle on the picture is actually empty and I do not know if I will spend that much money on a serum in the future.
Pai Geranium Thistle Day Cream: my current favorite day cream which smells heavenly. I am a huge fan of Pai's products so I can definitely recommend this for anyone with acne prone skin like me.
Cattier Healing Cleay Peeling: my mom introduced me to this product, and I recently bought it for myself, because I liked it so much. It's a gentle cleaning peeling that can be used every day if you have troubled skin like me. It's also quite cheap and available at Alnatura (and probably other drug stores, too).
Pai Brightening Exfoliator: I recently tried this peeling when I was in Arhus, because Amazingy had sent me a sample. It's probably my new favorite Pai product and I will definitely buy a full size product soon. I love how smooth it makes my skin feel without irritating it, so I could not recommend it more
Natural Body Care Products
Alverde Creme Oil Body Lotion Bio Jasmin / Sesame: I don't buy crazy expensive body lotions, as my body is not as irritable as my facial skin. This product is completely natural (as per Code Check App), smells awesome and won't break the bank.
Fine Deodorant: the only deodorant that I tested that really worked. It will not prevent perspiraiton, but it does prevent body odors.
Lavera Shower Gel: I love that Lavera shower gels are available everywhere and smell divine. I am currently using the coconut version, which totally reminds me of summer.
Lavera Shower Gel for men: I got Jannis this one a few months ago, and he never complained. I guess he is indifferent about it, but I definitly like the smell of this product.
Lavera Toothpaste: for me the best natural toothpaste there is.
Non-Natural Beauty Products
Aveda Smooth Infusion: I have been using this product for ages and just cannot seem to find a natural equivalent. It's the only product that can cope with my vast amounts of baby hair.
Clinique Lash Power Mascara: Also one of these products that has been with me since puberty. I love how it only comes off with 38°C water – so it is waterproof but I do not need an oily make-up remover to get it off.
Mac Cosmetics concealer: wooooooh, did she really say Mac? Yes, she did. I know my beauty coach Lisa will probably get a heart attack, but to this day I have not found a concealer that really works for me. But I am going to try a couple natural concealers in the upcoming weeks and share my experiences with them here.
Hair spray: I am using Schwarzkopf and Nivea hairspray. Yup. I told you I wasn't perfect.
Nail Polish Remover: Can somebody please name a nail polish remover that does not take a bazillion hours to remove see-through nail polish? And don't even get me started on colored polishes. I recently tried the Benecos nail polish remover and surrendered after about 20 minutes, because the Benecos nail polish (bright red) did not want to come off. Still searching for the perfect remover, until then I am back to using Essie.
I will share my make-up bag essentials with you in a different post. For now I'd really like to hear what your current natural beauty products are and what conventional products you're still using.
*This post is not sponsored in any way by any of the named brands. Some of the products were sent to me via Amazingy, but I purchased most products myself.