Holiday Stuffed Butternut Squash with Lentils and Kale as part of my 2016 Christmas Menu.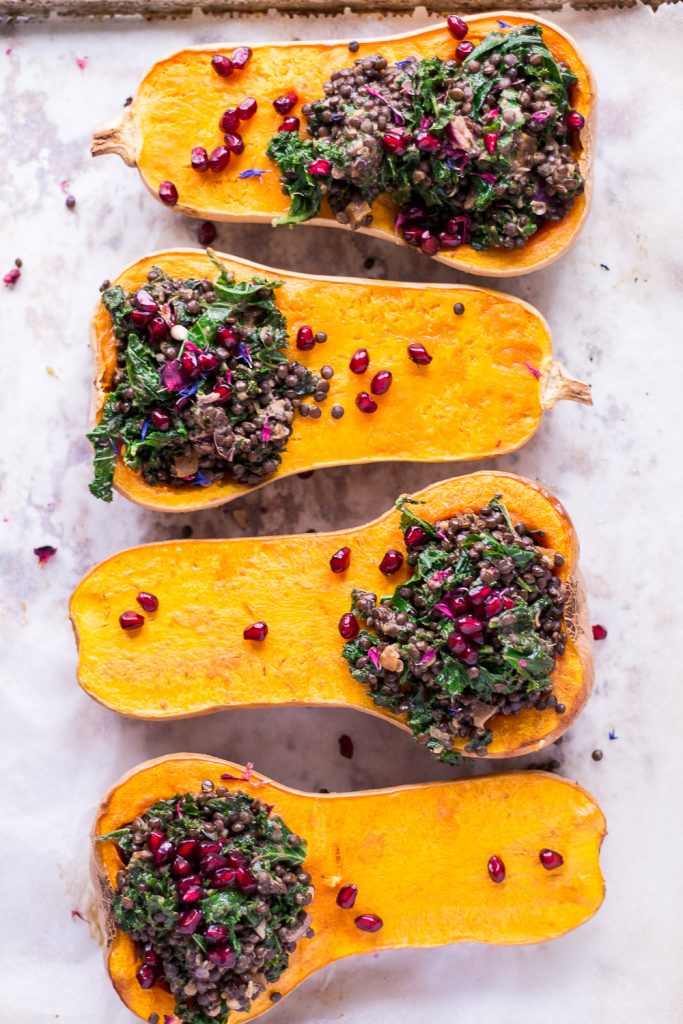 It's beginning to feel a lot like Christmas this week. I wrapped up most Christmas presents already, sent off my Secret Santa package yesterday, and I am getting ready to completely fall into Christmas mode by Sunday. Well, I still got some school stuff to finish, but then I am ready for the Holidays. Which means that now I can think about the really important things: what's for dinner on Christmas Day? This Holiday Stuffed Butternut Squash with Lentils and Kale is a Christmas menu dream and should go on your potential Christmas dinner list asap.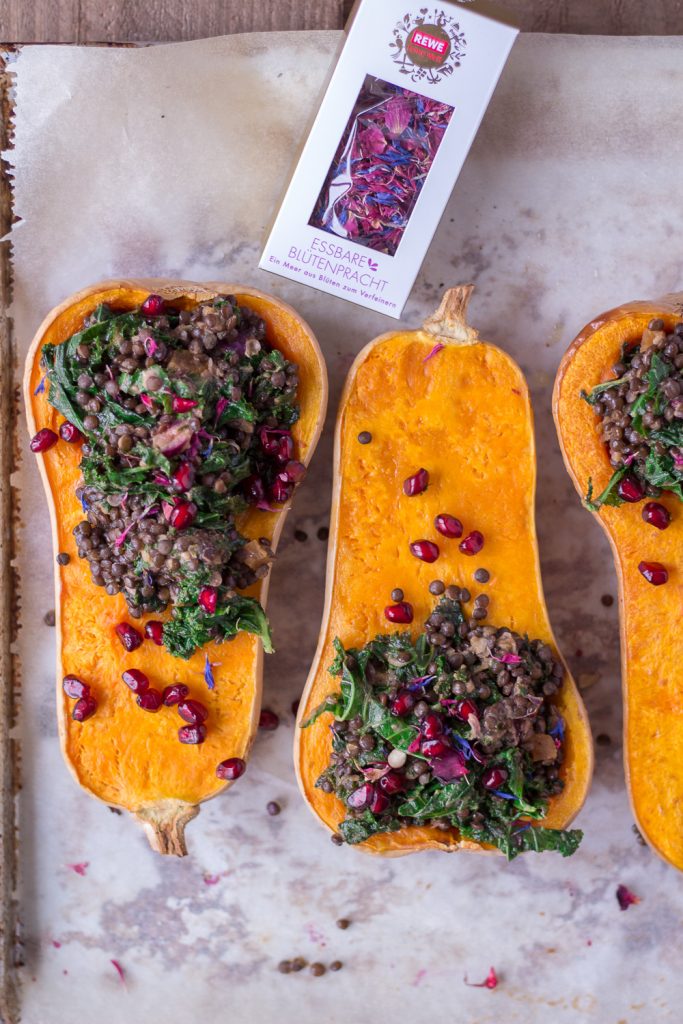 I've created this dish as a REWE Feine Welt* Christmas ambassador, and I could not be prouder as this is such a cool job.
"Excuse me, I got work to do as a Christmas ambassador." Yes, I could get used to this.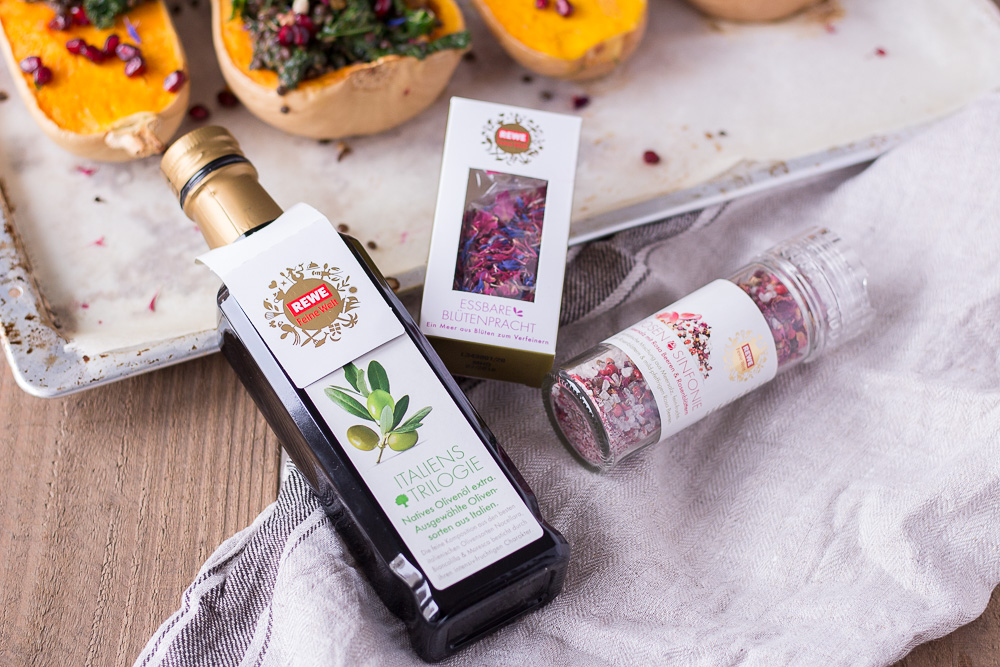 Jokes aside, this lentil and kale filling can easily challenge any stuffing you'll ever eat. It's rich, it's fresh, it's delicious. And it's completely plant based, gluten free and refined sugar free. How can this be, you may ask? Well, turns out, nature is amazing and has so much delicious and healthy produce to offer. I am definitely hooked by the kale and the edible flowers in this filling. I never thought about adding edible flowers to my dishes, but I think it's so much fun and they are just too precious just to be used as a porridge topping.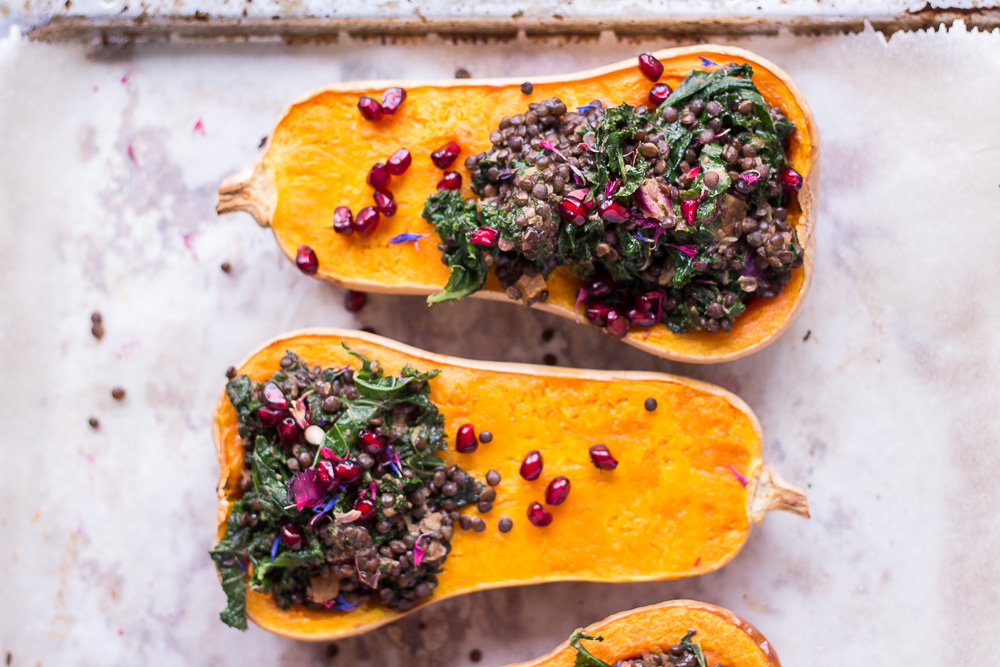 Whether you enjoy this filling by itself or combined with the baked butternut squash, you will treat your body to some much goodness such as minerals and vitamins from the pomegranates. Eating it with the butternut will provide some extra beta-carotene, which protects the eye-sight and the immune-system when converted to Vitamin A in the body.
If you've enjoyed this main dish, then you might like my appetizer suggestion sweet potato and parsnip soup with truffled popcorn. I've also collected some other healthy Christmas ideas in my post 21 Heavenly Healthy Christmas Recipes. I hope you'll find some healthy inspiration for the upcoming Holidays. Also, I cannot wait to share my delicious dessert suggestion as the last part of this menu on Sunday! Stay tuned!

Christmas menu entrée: Holiday Stuffed Butternut Squash with Lentils and Kale
Ingredients
For the butternut squash:
2 butternut squash
4 tablespoons of extra-virgin olive oil
½ tsp of sea salt
½ tsp of cinnamon
¼ tsp of pepper
For the lentil-kale filling:
1 red onion
2 garlic cloves
1½ cups (300g) of lentils
80g (three handful) of chopped kale
¼ cup (60ml) of water, more if needed
3 tablespoons of tahini
½ cup (65g) of chopped pecans
8 dried apricots, chopped
1 teaspoon of edible flowers
1 tsp of cumin
½ tsp of cinnamon
½ tsp of paprika
½ tsp of turmeric
½ tsp of sea salt
¼ tsp of pepper
1 lemon
A bunch of fresh herbs such as mint, cilantro or parsley
Instructions
Cook the lentils according to package instructions. Drain and set aside.
Pre-heat the oven to 200°C (390°F).
Cut the butternut squash down lengthwise, scoop out the seeds, and brush lightly with olive oil. Place them face-down on a baking sheet aligned with baking paper. Cook for about 30 minutes until you can easily pinch them with a fork.
Peel and chop the onion and garlic. Heat two tablespoons of olive oil in a large skillet. Add onions and garlic and fry for a minute or two. Add all the spices and fry another minute or two until fragrant.
Now add the kale, lentils, dried apricots, pecans, water and tahini and let simmer on medium heat until the water evaporated. Add more water if needed. Stir in some of the chopped herbs, but keep some for garnishing.
Now to the fun part. Pinch the squash with a fork to "loosen" up the flesh. Add some olive oil, salt, and spices and really mix them with the flesh. I did not do this on the photos, because it does not look all that appealing, but it makes this dish taste 100 times better.
Once the flesh is loosened up and seasoned, scoop in about three tablespoons of the lentil-kale filling and sprinkle with a bit of fresh lemon juice.
Decorate with a tablespoon of coconut or greek yoghurt (if non-vegan), pomegranate seeds and fresh herbs.
Enjoy!
*A Big Thank You to REWE Feine Welt for sponsoring this post. And thank you, readers, for supporting the brands that make hour-long recipe testings in the Heavenlynn Healthy kitchen possible.
---
DID YOU MAKE THIS RECIPE OR HAVE ANY SUGGESTIONS, QUESTIONS OR COMMENTS?
Feel free to leave a comment below, and don't forget to tag your creations on social media using #heavenlynnhealthy.
I'd love for this blog to be a dialogue.
---