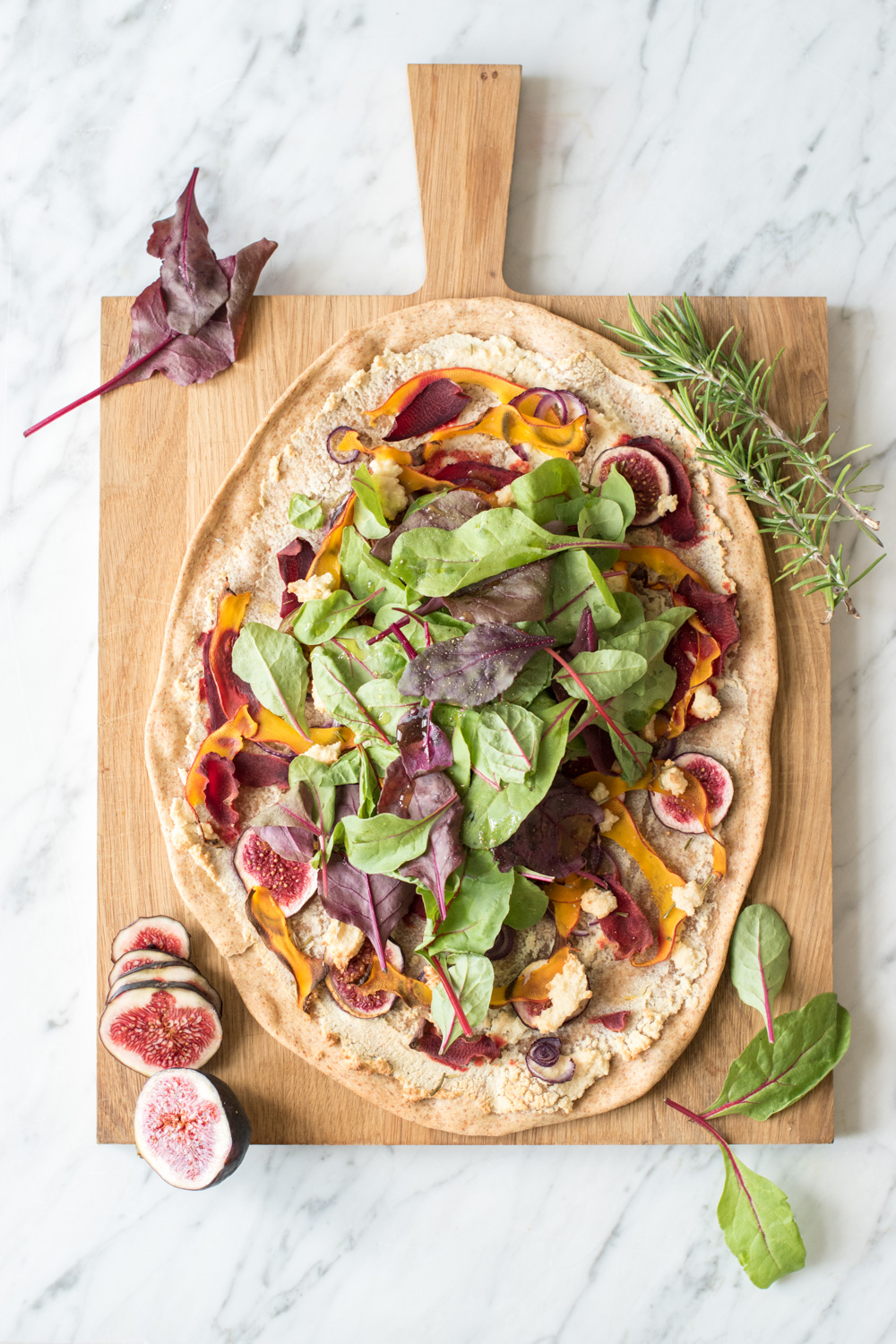 Last week, I made my boyfriend very happy. We "had" to test various thin pizza recipes. We call them "Flammkuchen", or tarte flambée in Germany, and it's a traditional German speciality this time of the year. Basically, it's a white pizza without any tomato sauce. Man, that was a feast. It was so much fun to roll out the dough together and to get creative with all of the toppings.
We had bought all the ingredients together, listened to beautiful music (the coffeehouse music playlist on Spotify) and really celebrated our spontaneous party. The result was heavenly colorful tarte flambée with pumpkin, figs, beetroot and red onions. Outside, the golden leaves were shining in the evening sun, and inside our homemade tarte flambée were equally beautiful. No wonder the golden autumn is my favorite season.
This recipes perfectly fits my tipp to eat the rainbow for every meal. The more colorful vegetables and fruits we eat, the more nutrients we eat. It's that simpel. Because different colored fruits and vegetables contain different nutrients. The rule of thumb is: eat the rainbow and eat a lot of it. Then you're doing something good for your body. That's why I covered this pizza with an array of colorful autumnal and seasonal vegetables.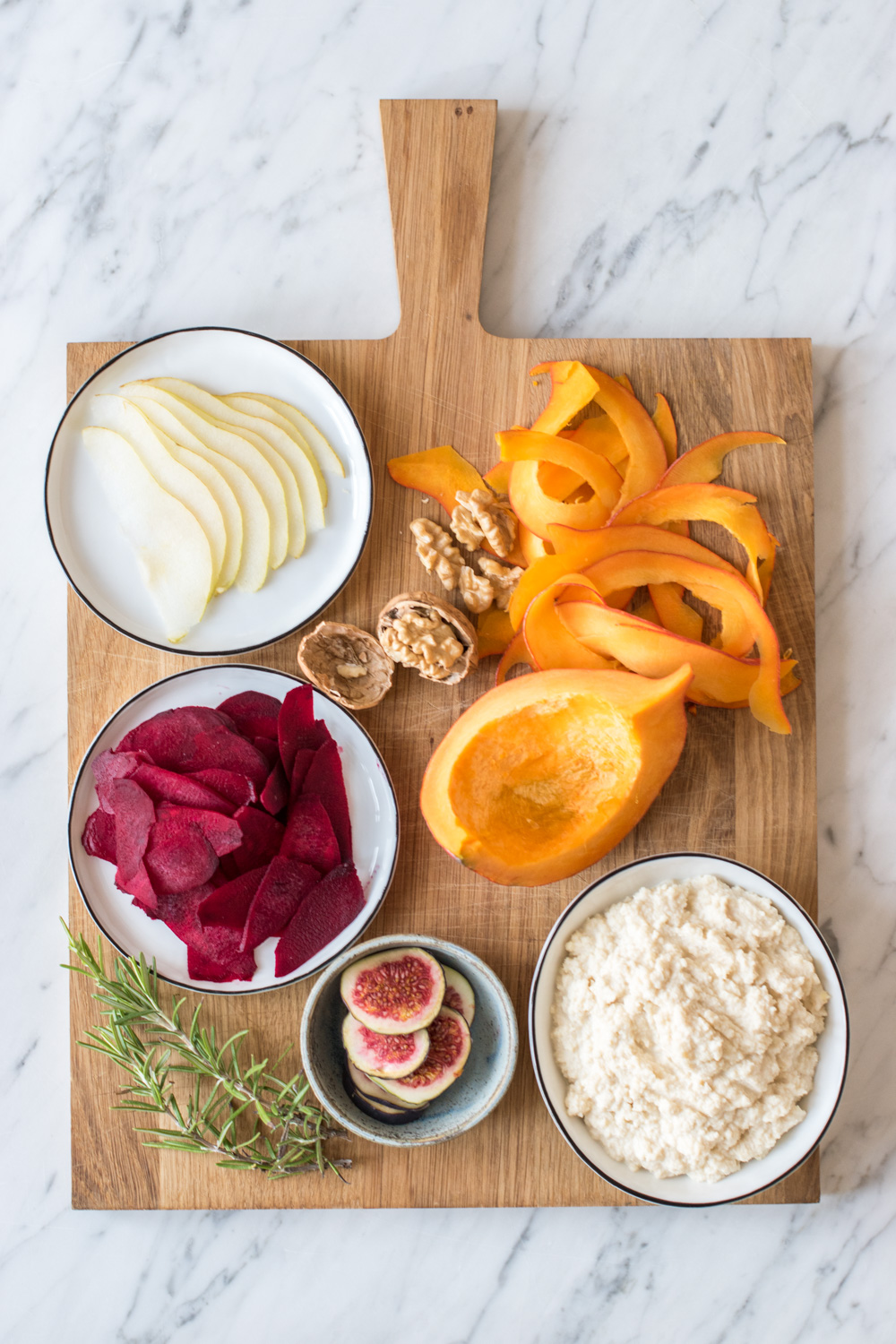 Since tarte flambée only needs to be baked for about 20 mintes, I like to use a peeler for the vegetable preparation. This allows the vegetables to cook faster in the oven. I especially like Hokkaido pumpkin and beetroot in this one, but carrots or zucchini work as well.
And you know me, so you are probably not surprised that we used whole-grain flour for this recipe. Rest assured that this tastes good! Because for tarte flambée it is particularly important to have a thin dough. It almost does not matter if the dough consists of white flour or wholegrain flour. We have tried two different variants with spelt flour. One with 100% whole-grain spelt flour and one with a 50:50 mixture of white spelt flour and whole-grain spelt flour. My boyfriend and I tasted almost no difference, so I urge you to try the 100% whole-grain version. Of course you can also bake the recipe with wheat flour. Your choice.
By the way, some people like their "Flammkuchen"-dough with yeast and some without. I like both versions, but the one without is a little bit easier to make. During testing, both the yeast and the normal dough could be easily rolled out. So I will you with you both recipes below.
There is also an alternative to sour cream for people who eat a plant-based only diet. Namely an almond cream. Tastes really delicious and thanks to vitamin E it is also good for the skin and hair. There is also a gluten-free version below. So today everyone should really get their money's worth.
Have the best time making these pizzas / tartes flambées / Flammkuchen.
Quantity of dough for every two tarte flambée

Colorful Autumn Tarte
Ingredients
For the spelt tarte dough:
300 g wholemeal spelt flour (or use a mix of 150 g wholemeal spelt flour and 150 g white spelt flour)
3 tablespoons of extra-virgin olive oil
150 ml of water
½ tsp sea salt
For the wholegrain tarte dough with yeast:
220 g wholegrain spelt flour
12 g of yeast
3 tablespoons of virgin olive oil
½ tsp salt
a pinch of sugar (I use coconut blossom sugar)
120 ml of lukewarm water
For a gluten-free dough:
220 g gluten-free flour mixture, e.g. Base Flour Mix from Alnavit or Bauckhof
½ tsp salt
1 tsp turmeric
3 tablespoons of virgin olive oil
120 ml of water, more as needed
For the almond ricotta:
100 g of blanched almonds
90 ml of water
1 tablespoon of lemon juice
1 tablespoon nutritional yeast (optional, from the organic grocery store)
½ tsp sea salt
For the colorful autumn tarte
200 g of almond ricotta (recipe above)
1 red onion
100 g Hokkaido pumpkin
2 small beetroots
2 figs
100 g of rocket (or lettuce leaves of your choice)
fresh pepper
Optional toppings:
walnuts
rosemary
a drizzle of honey
zucchini slices
carrot slices
Instructions
For the spelt dough: Mix all ingredients together and let rest for about 30 minutes. Halve the dough and roll out thinly between two baking papers.
For the spelt yeast dough: Mix all ingredients together and let the dough go for at least 45 minutes to 1 hour. Wholemeal spelled flour does not go up as well as white flour, so do not be surprised if the dough does not rise much. Halve the dough and roll out thinly between two baking papers.
For the almond ricotta: Mix all of the ingredients in a strong blender and mix until a smooth ricotta forms. Add more water if needed.
To assemble: Pre-heat the oven to 200°C. Finely slice the red onion, slice the pumpkin and beetroot with a vegetable peeler and cut the fig into strips. Wash and dry the rocket. Spread a good amount of almond ricotta onto each tarte and top with the onion, pumpkin, beet and fig slices. Bake for about 20 - 25 minutes and then top it with some rocket and fresh pepper.
Enjoy!