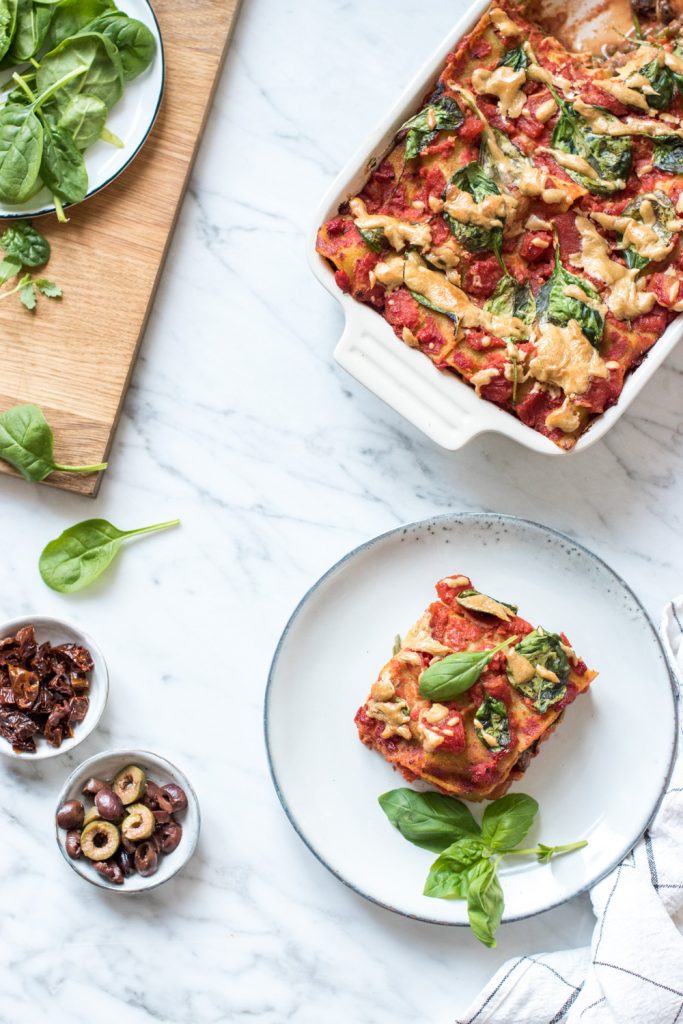 Life-changing plant-based lasagna is a thing and you're going to love it. Ha, life-changing plant-based lasagna – what a subtle title, Lynn. You crazy person. Now, the stakes are incredibly high for this recipe to wow you. But I know it will. It's changed mine.
Why – will be the obvious question here. Because it has turned me into a lasagna lover. I was never really into lasagna. It made be bloated, it made my blood sugar crash and it made me feel so low in energy that I was just not willing to sacrifice this for a big piece of delicious lasagna. I know, I know, you're going to tell me now that I've been eating the wrong kind of lasagna. For sure, I did. For sure. But my history with lasagna was just not a good one, so I never really felt the urge to give it another shot.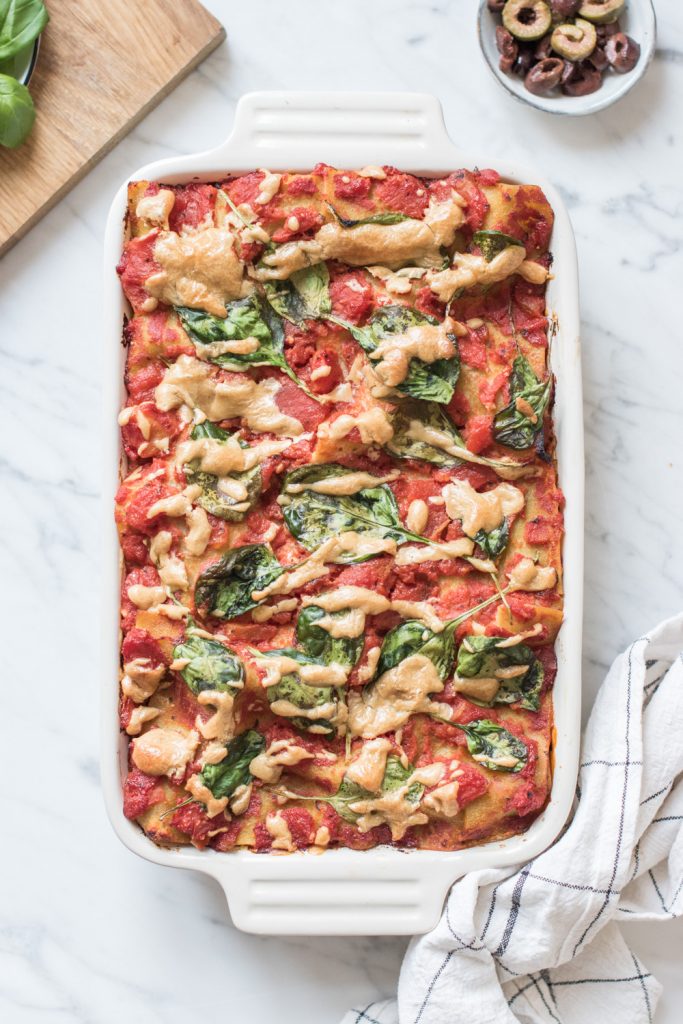 This lasagna, however, is on point on so many levels.
A) it's plant-based, so no dairy was used.
B) it's gluten-free because I used the amazing green lentil lasagna sheets
C) it's filled with nutrient that keep us going rather than slow us down.
I've posted this recipe in German last week already, but did not have time to write the English version. So this recipe had a head-start in Germany, and let me tell you: the Germans love it. I've never gotten so much feedback on social media for any other recipe. That's why I know you're going to love it.
Heavenly for body and soul, because:
this lasagna is completely free from wheat products as I have used lasagna plates made from lentils. And you cannot taste the difference at all. Promised.
Green lentils contain a lot of plant-based protein and fiber, which keeps us energized longer and our blood sugar level steady.
It contains nourishing spinach, which – even if no one believes it anymore – actually contains iron. Not as much as it was believed at Popeye times, but still enough to fill the iron storage of both women and men.
Also, why I'm writing this, I'm enjoying my jet-lagged self in the United States. I'm back in North Carolina for two weeks and love being back in this beautiful place. However, I got to say that I already miss my kitchen. And this lasagne. Ha!

Life-changing plant-based lasagna
Ingredients
For the lasagna:
2 cloves of garlic
3 cans of tomatoes, crushed
3 tablespoons of extra virgin olive oil, more for greasing
1 tbsp balsamic vinegar
1 red onion
250 g mushrooms
1 tbsp of tamari
250 g of baby spinach
the shell of an organic lemon, and 2 tsp of juice
½ tsp sea salt
1 pinch of chilli flakes
gluten-free lentil lasagna sheets
For the sunflower seed butter mix:
3 tablespoons of sunflower seed butter (or almond or cashew butter)
2-3 tablespoons water
1 tablespoon of nutritional yeast
optional:
100 g of sun-dried tomatoes
4 tablespoons of olives, sliced
1 can of lentils
Instructions
Finely chop the garlic clove and onion. Mix the garlic with the the canned tomatoes, 2 tablespoons of olive oil and ½ teaspoon of salt in a bowl. Mix the sunflower seed butter with 2-3 tablespoons of water, nutritional yeast (optional) and 2 teaspoons of lemon juice. It should not be too thick, but a little creamy and runny. If it is too thick, gradually dilute it with additional tablespoon(s) of water.
Slice the mushrooms. Heat 1 tablespoon of olive oil in a pan and sauté the onions for about a minute. Add the mushrooms and sauté briefly over high heat. Reduce the heat and deglaze the mushrooms with 1 tablespoon tamari. Add the spinach and wait until it has wilted. Remove the spinach mushroom pan from the heat.
Grease a baking dish with a little but of olive oil. Cover the bottom with tomato sauce. Briefly dip the lasagna plates in cold water and distribute over it. Cover with another layer of tomato sauce and spread a layer of mushrooms and spinach over it. Spinkle 1 tablespoon of olives, sun-dried tomatoes and about 3 tablespoons of lentils (if using) over them. Then sprinkle a bit of sunflower seed butter mix over it.
Repeat everything: a layer of water-dipped lasagne plates, tomato sauce, mushrooms and spinach, dried tomatoes, olives, lentils and sunflower seed butter mix. Finally, cover everything with lasagna sheets, tomato sauce, spinach and sunflower seed butter mix and bake for about 35 - 40 minutes.
Enjoy!