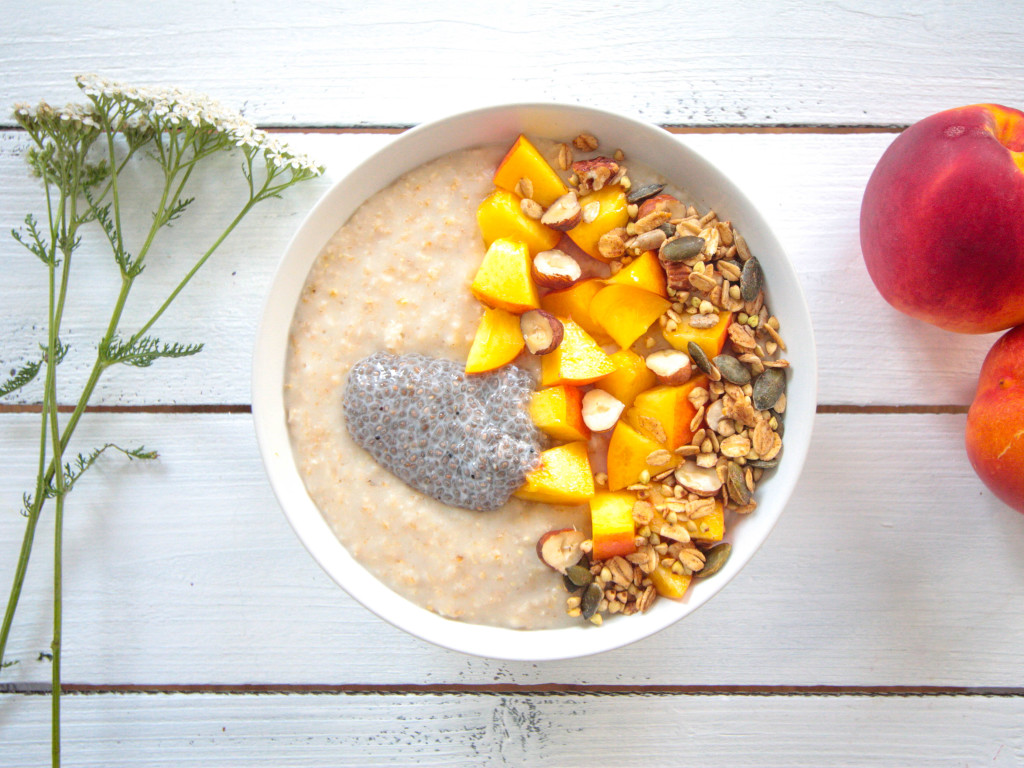 This granola is just so perfect for fall, it's been my go-to-autumn granola for the last two years now, and I still don't have enough of it. I top my overnight oats or porridges with it or eat it straight from the container. It's my happy-place-granola and I always have it in the house. Whenever my family pays us a visit, they walk straight to the kitchen to see if I have any granola left and I usually make a batch for them just in case.
I've even thought about selling this granola, that's how much everybody loves it. Maybe I do, depending on how you guys like it. Please don't hesitate to tell me in the comments below.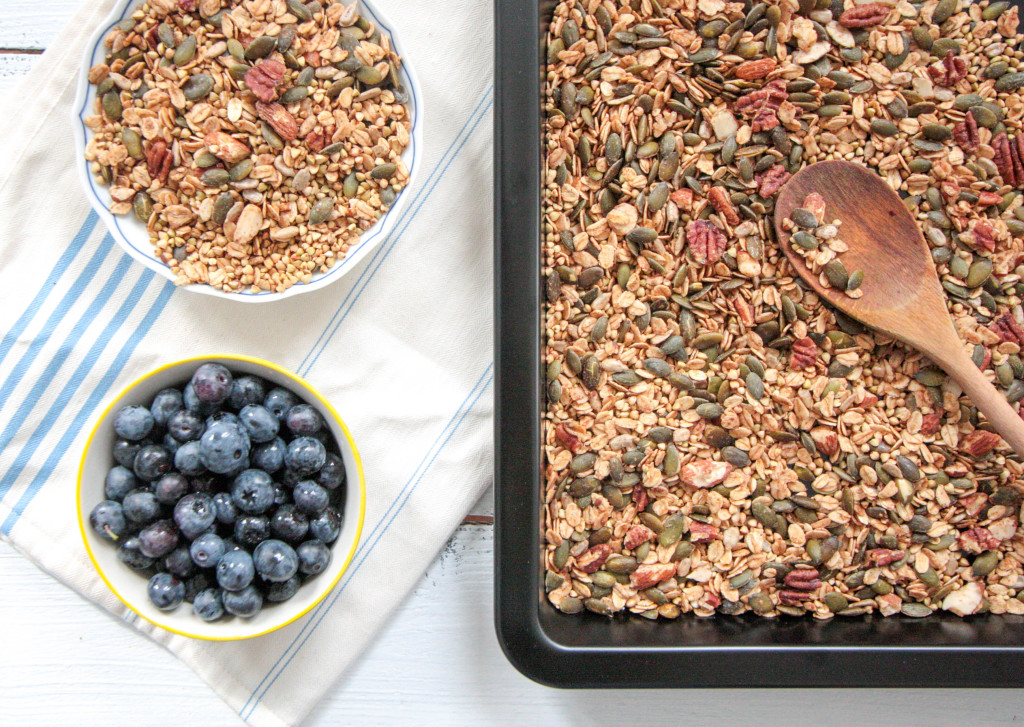 It's of course also incredibly good for you as all ingredients are completely natural and packed with nutrients. Of course there's oats which contain a good amount of manganese, which protects our bones. Oats are also loaded with fiber, which regulate our blood sugar levels and keep us satisfied for hours.
The real hero in this granola is buckwheat though. The little seeds contain all essential amino acids, making it a real protein. It is said to lower blood pressure and cholesterol because of it's high amount of magnesium. It relaxes our blood vessels which allows our blood to flow better, which in turn leads to a normal blood pressure.
All the nuts and seeds in this granola make it such a great source of protein and fiber, which keep you satisfied the entire morning. The granola also has much less sugar than store-bought granola, which are usually loaded with refined sugar.
Combined with creamy porridge, chia pudding or overnight oats, this buckwheat & pumpkin granola really makes the best breakfast.
INGREDIENTS:
– 1 cup (80g) raw buckwheat groats
– 1 cups (80g) (gluten-free) oats
– 1 cup (120g) pumpkin seeds
– 1/2 cup (60g) sunflower seeds
– ½ cup (75g) raw unpeeled almonds (with skin)
– ½ cup (50g) pecans
– 2 tbs virgin coconut oil
– 3 tbs maple sirup
– 3 tsps cinnamon
METHOD
Preheat the oven to 180°. Start by putting the almonds and pecans into a food processor and crush for 2-3 pulses until they are broken into pieces. They should not be completely crushed, you still want to be able to identify them as nut pieces.
Place the crushed nuts into a large bowl. Add all the dry ingredients except cinnamon, and stir well until the ingredients are combined.
Next, melt the coconut oil in a small sauce pan. Add the maple syrup and cinnamon, and stir well until everything is dissolved.
Now pour the sweet coconut cinnamon mix over the dry ingredients and mix well until everything is slightly sticky.
Pour the granola on a baking sheet which you have aligned with parchment paper, and bake for about 25-30 minutes. After 10 minutes or so, take the pan out and stir well so the outer edges do not get burned. Repeat this every 5-10 minutes for the rest of the time.
After 25 – 30 minutes, take out the tray and leave it to cool for about 20 minutes.
By this time the granola should be nicely crunchy but not burned and your kitchen should smell devine.
Serve with milk, non-dairy milk, (coconut) yoghurt or greek yogurt, and top it with fruits. Stored in an air-tight container it should taste amazing for 3-4 weeks.
Enjoy!