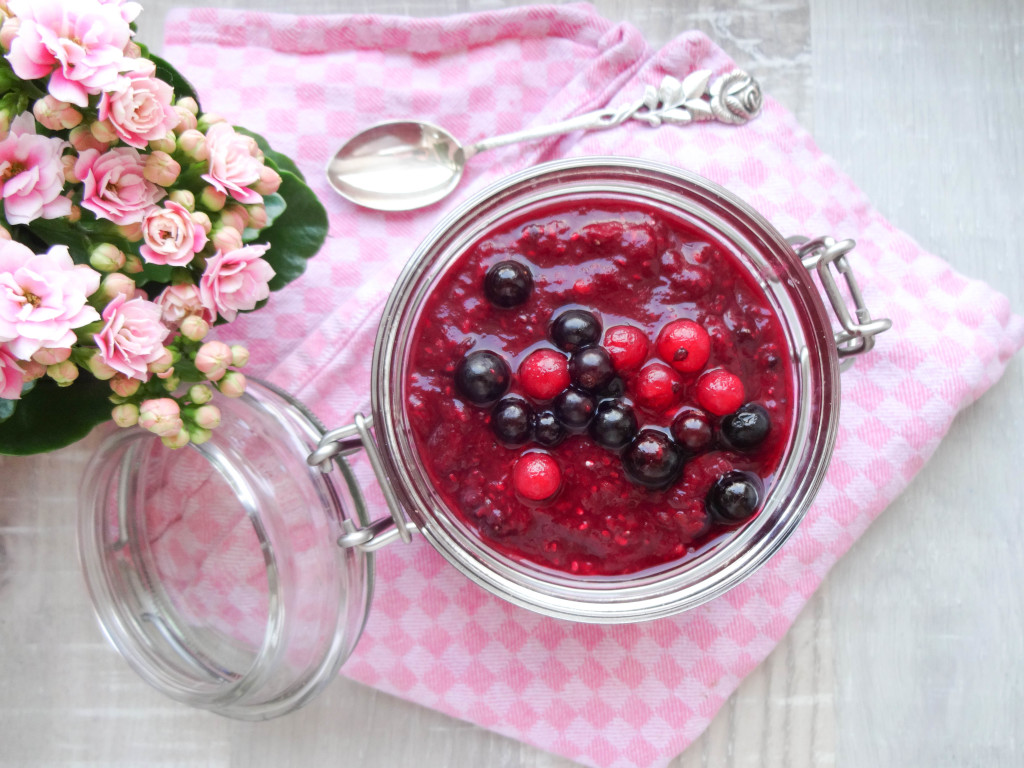 Berry "Pudding" is a very traditional German dessert that is usually enjoyed in the summer when fresh berries are in season. It is a delicious dessert with a jello-like texture, which is usually served with milk or a creamy vanilla sauce. Berry  chia pudding is actually quite a healthy dish, because its main ingredient are berries, which are one of the healthiest fruits in the world. I love berries in all sorts of ways, not only because they taste amazing, but also because of their great nutritional value. Berries are extremely high in antioxidants, which safe your body from all sorts of illnesses by fighting harmful free radicals. The little fruits really are the perfect healthy snack, and strengthen your immune system with their high vitamin C content.
What makes this berry chia pudding even more nutritional are the chia seeds. The little seeds from South America are insanely good for your health. They're loaded with healthy fiber that keeps you satisfied and energized for hours. I always add tablespoon to my oatmeal in the morning, and the energy that comes from only a handful of those tiny little seeds is amazing. Chia seeds are also highly anti-inflammatory and let your skin glow from the inside out, due to its high omega-3 fatty acids content. Of course chia seeds are also a great source of minerals such as calcium, which is crucial for strong bones, as well as iron, which is important for energy. Boosted with chia seeds, this berry chia pudding is really one of the healthiest desserts you'll find this summer. It also shows that German food can be healthy if you want it to be. I hope you'll love this sweet taste of my home.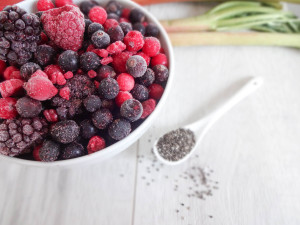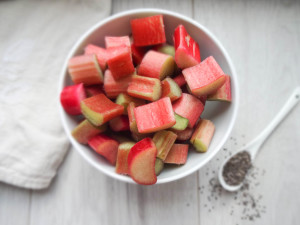 Health benefits in this Berry Chia Pudding:
– calcium (important for bone, teeth, muscle and nerve health)
– fiber (important for heart health, lowers cholesterol levels)
– iron (important for healthy red blood cells that transport oxygen through your body)
– magnesium (important for a healthy nerve system, muscle health, energy production)
– omega-3-Fatty-Acids (prevents heart disease, lowers cholesterol and blood pressure)
– protein (important for a healthy metabolism, immune systems, production of enzymes)
– vitamin A (antioxidant powerhouse, anti-aging benefits, maintenance of good eye-sight)
– vitamin C (good for your immune system, tissue health)
– zinc (important for growth, skin, and a healthy immune system)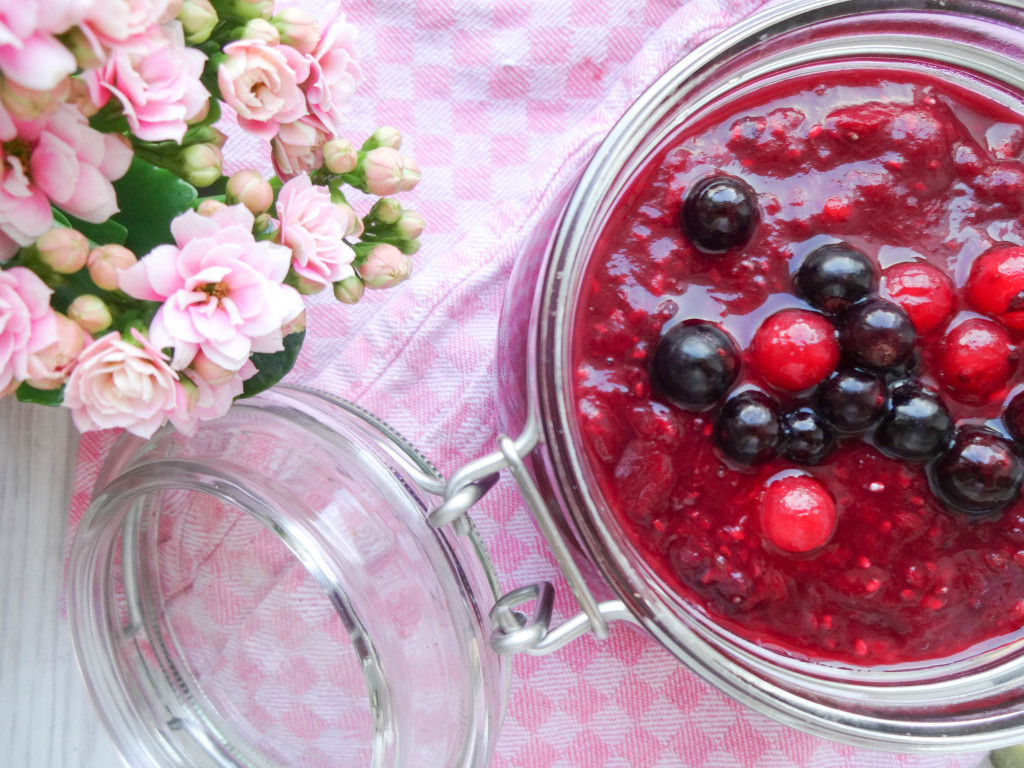 Ingredients:
For the berry pudding:
– 6 cups (about 1 kg) fresh or frozen berries
– 3 cups (300g) fresh or frozen rhubarb
– ½ cup (120ml) fresh apple or berry juice
– 4 tbsp maple syrup
– 4 tbsp chia seeds
For the vanilla almond milk:
– 1 vanilla bean
– 2 cups (500ml) of almond milk
– 1 tbsp agave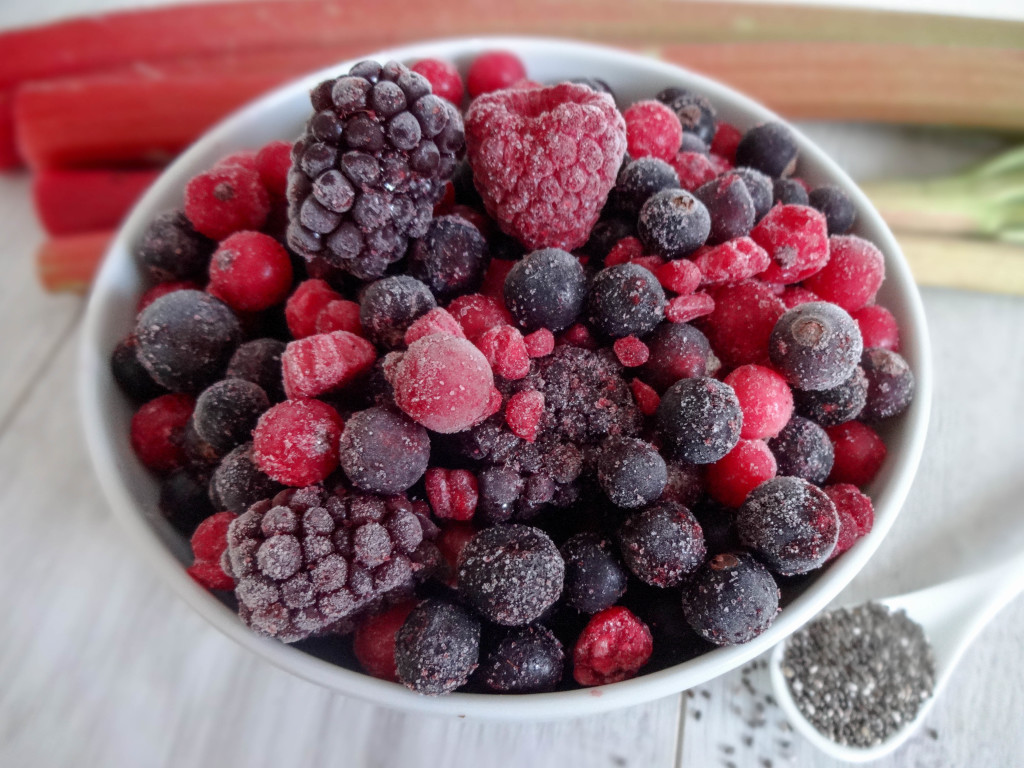 Start by washing and cutting the rhubarb into small pieces. Be sure to cut off about half an inch of the ends, as well as the green part of it as this tends to be quite sour in taste. Then add the berries, rhubarb, juice and maple syrup to a large pot and bring to a boil on medium heat. Reduce the heat to medium low and stir in the chia seeds. Let it simmer for about 15 minutes while continuously stirring and breaking down the berries with a fork or spoon until it has thickened and reached the desired jello-like texture.
Remove the pot from the stove and pour the berry chia pudding into a large enough bowl. Then set aside to cool.
To make the vanilla almond milk, simply slice the vanilla bean and remove the inside with a knife. Place the sticky vanilla and all the other ingredients into a blender and mix well for a couple of seconds.
Enjoy the berry chia pudding with about ¼ cup (60ml) of the vanilla almond milk per serving. Stored in the fridge, the berry chia pudding lasts for about two days.
I hope you'll love this very German berry dessert.
Guten Appetit!