*This post is sponsored by Alnavit and includes an exclusive discount code for HLH-readers.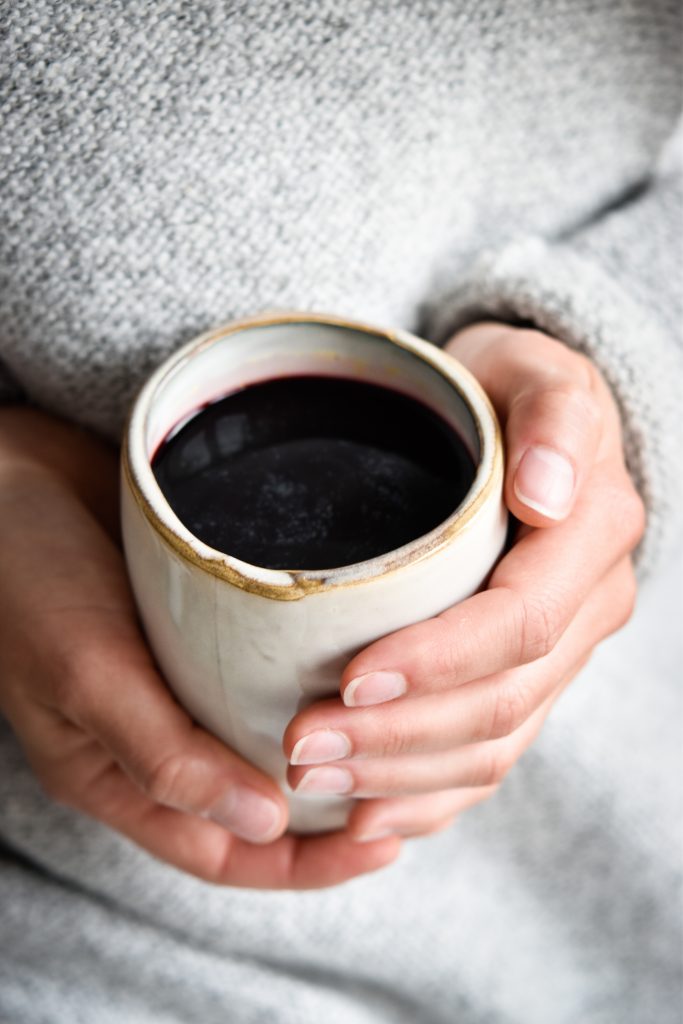 And just like that, fall is back.
It's the season for colds, running noses and the flu. It's the season to cuddle up on the sofa with a warming drink in our hand. I've already felt the first cold creeping up, but I deliberately sad no to this first cold of the season. I simply did not have time to deal with a cold right now. There you have it, Mr. Cold – you do not stand a chance in my life right now.
What helped a lot was a rescue package that my friends over at Alnavit sent me a few weeks ago. It was full of healthy juices such as this antioxidant-packed elderberry juice. The package was a gift sent from heaven considering my struggle with the first cold, and all the stress of our move and my not-so-healthy eating habits recently.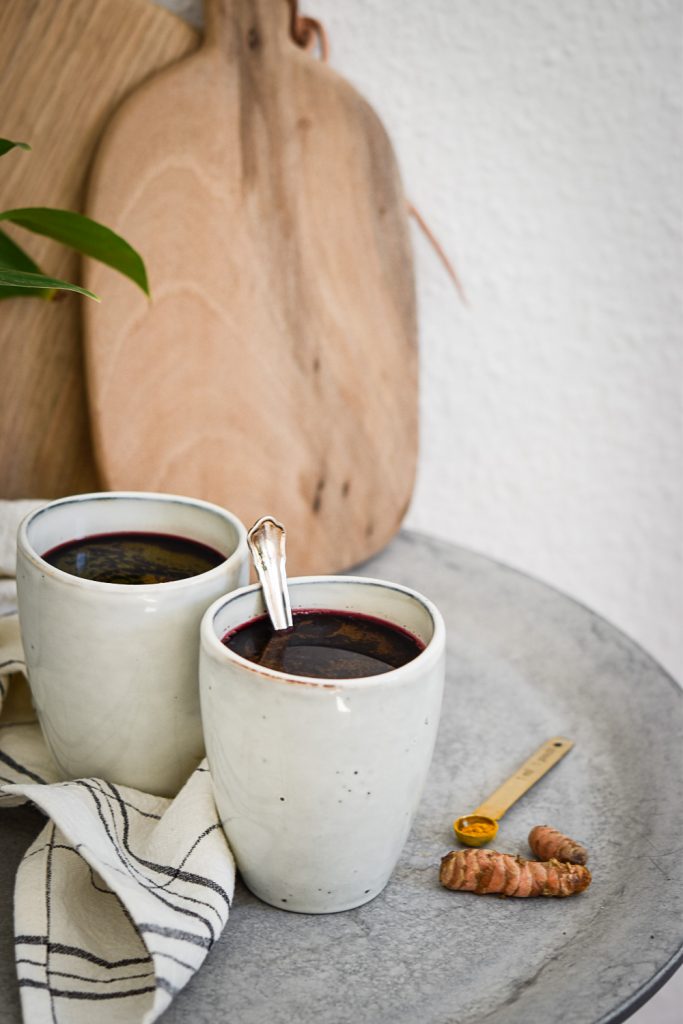 Since I still had a fresh root of turmeric in the fridge, I put it all in my blender, added some honey for flavor and tadaaaaa – my new favorite drink was born: elderberry-turmeric-drink. Perfect for the cold season. Did you know that elderberry can be considered a real powerful weapon against colds? Elderberry juice is probably one of the best preventitive measures when you feel that cold creeping up, because it is known for fighting bacteria causing throat infections and for fighting flu viruses effectively. The black elderberries are rich in vitamin C, one of the best known antioxidants, B-vitamins and folic acid (also a B-vitamin). Vitamin C is one of the best vitamins for a healthy immune system, but one should not underestimate the power of B-vitamins when it comes to our metabolism and immune system. If you suffer from a lack of vitamin B, then your immune system is quickly unable to fight off germs and other infection-causing bacteria.
That's why my grandmother already knew how important it is to stock up on elderberry juice during cold and flu season. She used it prophylactical and during acute infections, and I think we should all learn from her wisdom. If you're looking for a high quality elderberry juice, I can highly recommend the elderberry juice from one of my favorite healthy eating companies Alnavit. Their elderberry juice is organic, of the highest quality and it tastes so delicious. It literally saved me from a cold these past two weeks, and it is the perfect addition to your new morning routine.
Since I have gotten quite a lot of emails after my last post about Alnavit, saying that you cannot find Alnavit products in your city, I talked to the company, and they have given me an exklusive discount to be used at their partner store FoodOase. From September 12th – September 14th, you get free shipping on all Alnavit order above 15 Euros with the code ILOVEALNAVIT. You just have to be quick, because the code expires on Thursday.
Now back to our star of the day: the elderberry-turmeric-drink. Since I wanted to try something new, I added turmeric to my elderberry juice and it turned out to be a great match. I've had this every morning for the past weeks (even during the move!) and I have really fallen in love with it. I highly recommend using fresh turmeric, since it really gives it a unique taste, but if you cannot find fresh turmeric in your supermarket, ground turmeric will work as well. Its anti-inflammatory properties make it the best companion during cold season.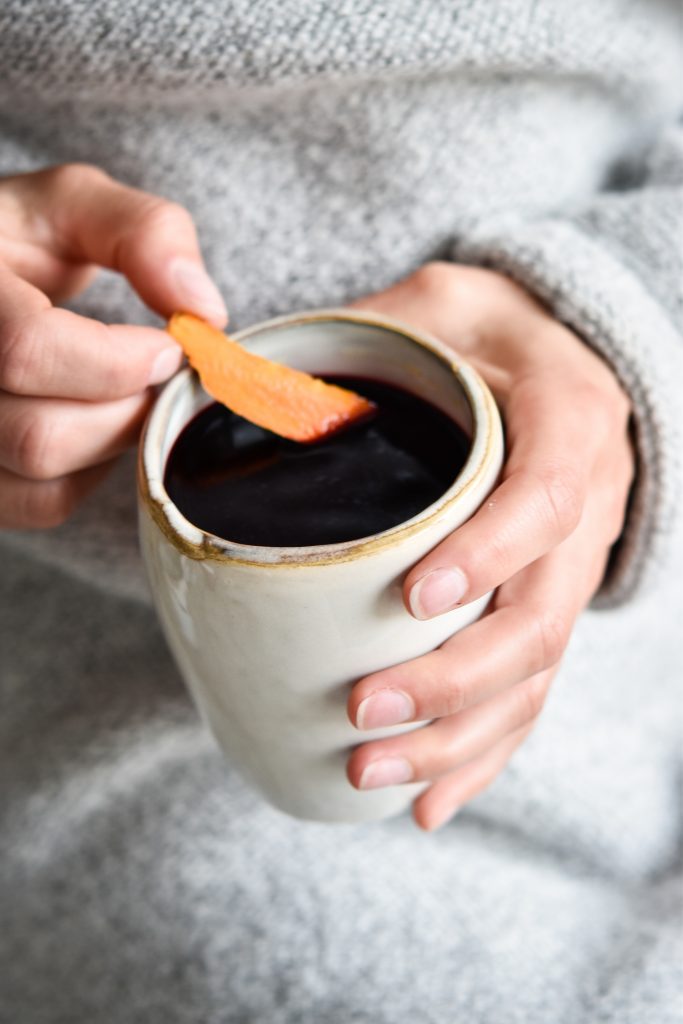 Before I'll give you the recipe, I quickly wanted to make a quick detour to the holistic health approach, since I promised you some tips to stay healthy during cold season. The holistic health approach focuses on three pillars: healthy eating, exercise, and healthy psyche. We can only stay healthy if we pay attention to all three of these pillars. It's not enough to eat healthy, but neglect exercise completely and working non-stop towards full exhaution. This will quickly take a toll on our health, resulting in sickness and a feeling of disbalance. Of course I am not a prime example when it comes to the last point of stress management, but there are a few things that I do try, to keep stress levels to a minimum.
Healthy Eating
Do eat lots of vitamin C, but be aware, that the body needs other nutrients as well. Many people suffer from a vitamin D deficiency, which can result in decreased stress resistance and even depression. I recommend having your blood analyzed by your physician to check what nutrients you lack, and then find a high-quality supplement that works for you.
If you feel a cold creeping up, try a zinc supplement. Zinc has been known to decrease infections by at least one day as studies have shown that zink strengthens the immune system. Zinc works best when combined with vitamin C, so you can take it together with your new best friend, the elderberry-turmeric-drink.
Drink lots of hot fluids such as elderberry-turmeric-drink, turmeric lattes, herbal teas. Hot drinks help the immune system to fight infections.
Eat lots of soups and stews, because they are the easiest way to eat a pound of vegetables a day during the cold seasons.
Do not stop drinking smoothies. I have to admit that I love smoothies during the summer, but not so much during the winter. However, smoothies are one of the easiest ways to get in all the nutrients you need to stay healthy. Try making a green smoothie every morning with spinach, nut butter, almond milk, superfoods such as ground flax seeds (for healthy fatty acids), and some blueberries and you'll start your day perfectly prepared for harmful outer influences.
Exercise
I cannot stress it often enough. Exercise keeps you healthy. And I am not talking about weight management at this point. Exercise enables the nutrients that we eat to reach all parts of your body. Exercise is also known to decrease blood pressure, the blood sugar level, it strengthens our heart muscle and enables higher absorption of oxygen through our lungs. You do not have to be a professional athlete to benefit from exercise – taking a daily walk to work is already enough. Moving your body will also help release stress and it triggers the release of mood-enhancing endorphins.
Reduce stress
I am clearly not an expert when it comes to managing stress, but there are a few things, I do daily when I feel most stressed. Perhaps you'll find them helpful, too.
Yoga and meditation in the morning. I know that we all have to be up early to get to work on time, but we all have 10 minutes to spare in the morning. I like using meditation apps such as headspace or YouTube videos, such as Mady Morrison, to squeeze in some yoga and meditation in the morning. It helps me to clear my head in the morning or even during the day.
Identify stress factors. There are a few stress-causing factors that we cannot easily eliminate. These include work hours, existential fear or psychological overload. However, there are some inner stress factors that we can identify and work on, such as perfectionism, self-doubt, jealosy, competitive thinking. Changing your perspective on these things can work wonders.
Find a new stress-releasing hobby. For some people this might be knitting, crafting, or coloring mandalas. I have always loved mandalas, and their calming effect. Call me crazy, but you will find me knitting or coloring the stress away.
Listen to positive podcasts such as Happy, Holy & Confident. I swear by Laura's calming voice. She instantly brings me down, and makes me feel like everything is not as bad as it seems in the beginning.
Stay healthy this season and do not forget to tag your recreations with #heavenlynnhealthy on social media, so I can find them!

Elderberry-Turmeric-Drink
Instructions
Place the elderberry juice and turmeric into a blender and blend until smooth. Add it to a pot and heat for a few minutes, but do not bring to a boil. Reduce the heat and stir in the honey and ginger juice.
Enjoy hot, but it also tastes delicious cold, such as when you forget in the bathroom in the morning (like I do constantly).
Enjoy!
* The code includes a discount of 4,50 € (the standard shipping costs within Germany) and is redeemable in the FoodOase Online-Shop www.foodoase.de for all orders of 15 Euros and more from September 12th – 14th 2017. Code is not changeable in cash. It's not possible to combine the code with other discount codes. Only one code per person. It's forbidden to use the code comercially.
Merken