With these healthy plum muffins, fall has officially started on Heavenlynn Healthy.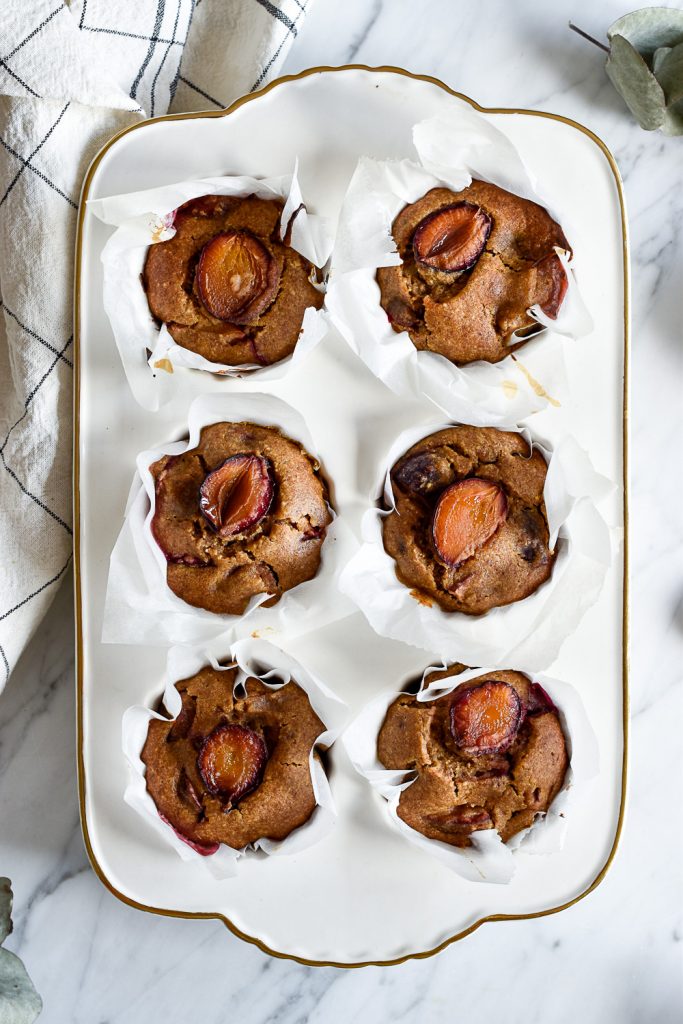 Three weeks ago I got to spend a girls' weekend in Duesseldorf with my best friends from high school and it could not have been more perfect. We laughed, we chatted, we hugged and we enjoyed spending time with the people that we've known for such a long time. Even though we have all chosen different paths, we're still friends and this is something I do not take for granted. Right before we left, I decided to quickly bake these healthy plum muffins (because I felt like this was my food blogger duty), and we spent the whole 5-hour car ride catching up and munching on the juicy muffins. My girlfriends approved, and I hope you will too!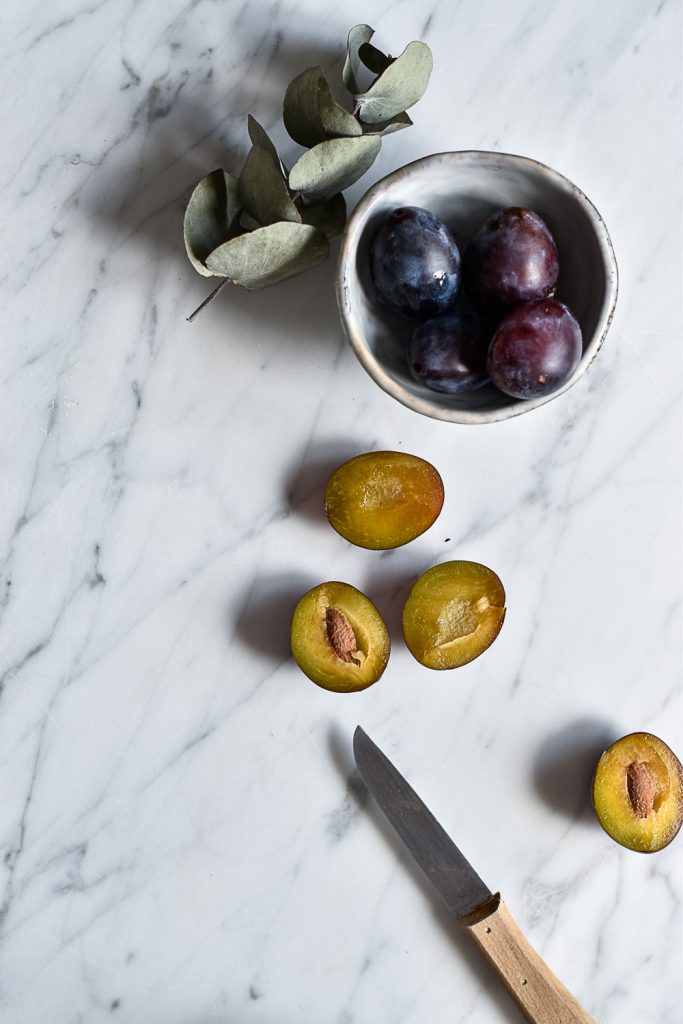 Our car ride was already so much different than it used to be back when we were 19. There would have been loud music playing, probably one or the other glass of champagne would have been involved together with lots of candy and other convenience products and there would have been lots of boys talk and other seemingly important topics. Now, 8 years later, one was finishing her thesis in the car, while the others were talking about work, insurance, our grandparents and the war, nutrition and body problems, and of course babies. It's crazy how our priorities have shifted in these past years.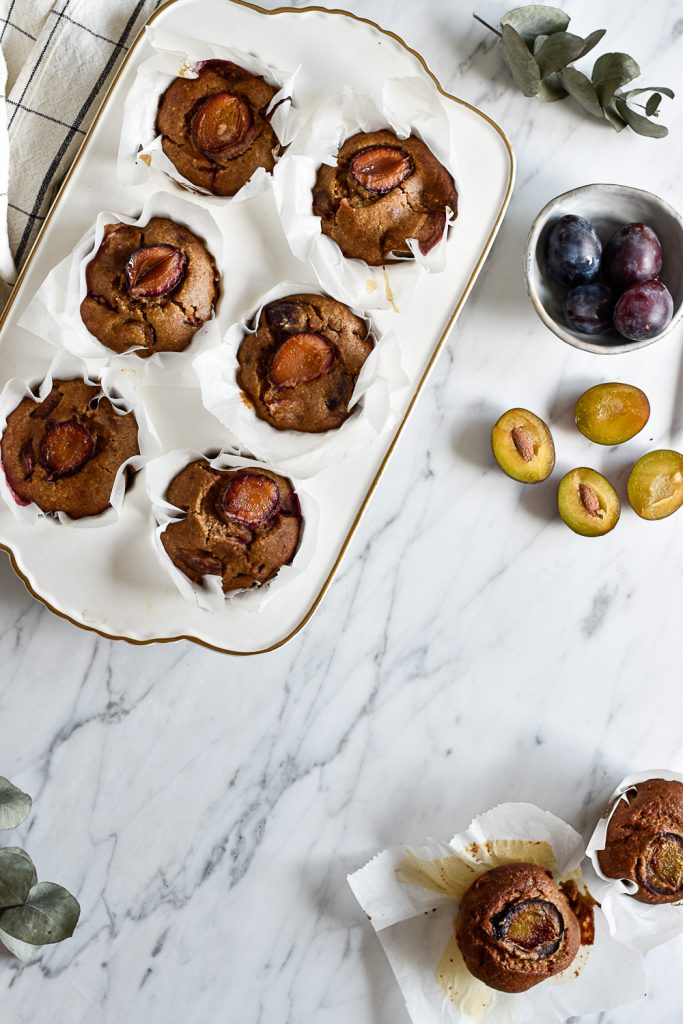 It's not like we do not know how to party or enjoy ourselves anymore. Of course we enjoyed one or the other glass of wine, but we felt like it was so much more important to catch up, to talk and to listen than it was to dance the night away. Since I've never been particularly interested in partying anyways, I was very relieved to find that my girlfriends have changed as well. Our priorities have shifted drastically in the past 8 years, and I find that we've actually gotten a lot closer ever since we all have taken on major responsibilities in life.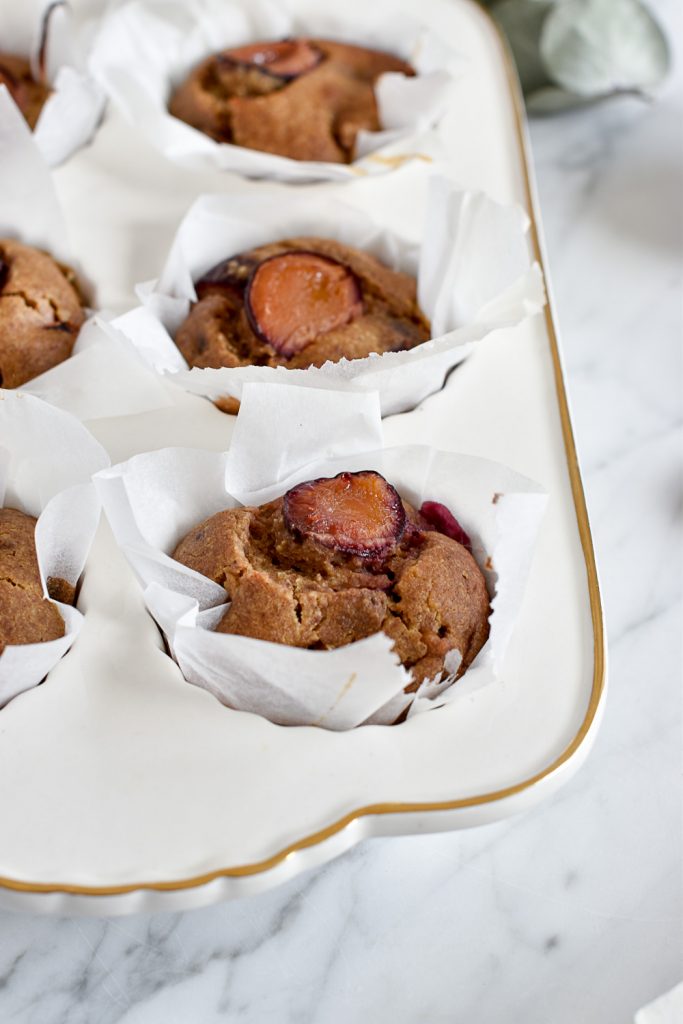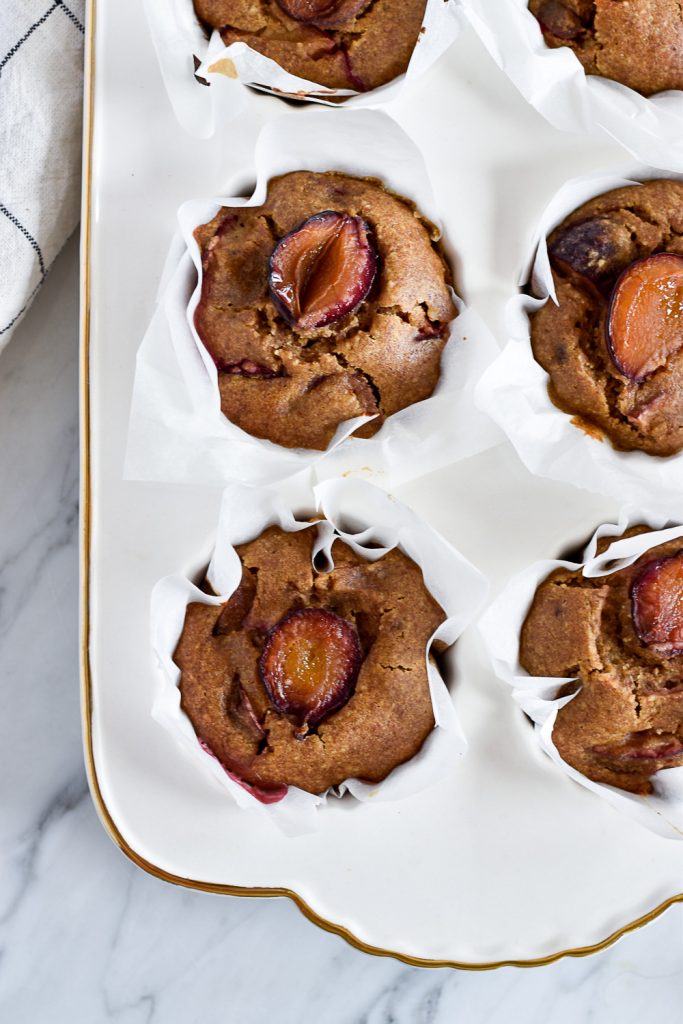 Even though all of us admitted that we would have rather stayed home because life for all of us is so busy, we realized that taking this trip was much needed for all of us. Especially during busy times, it is so important to step out of your comfort zone and do something for yourself even though it requires a little push.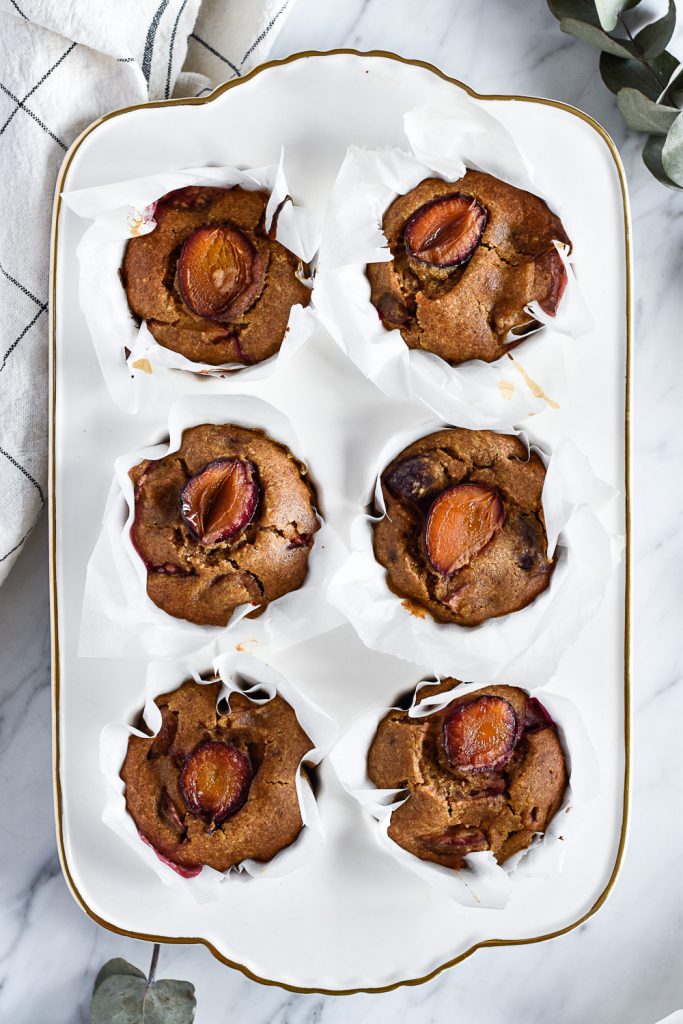 Before I'll share with you the recipe for these delicious plum muffins, I just wanted to add a quick disclaimer for my healthy treats. Even though they are made from healthy ingredients, they are still treats and should be enjoyed in moderation. I'm not saying that you can't indulge, but rather enjoy them one piece at a time :).
Now that we're all on the same page, go make these now. You'll love them.

Healthy Plum Muffins
Ingredients
100g of almonds
200g of buckwheat flour
2 teaspoons of aluminium-free baking powder
1 teaspoon of arrowroot powder
1 teaspoon of cinnamon
¼ teaspoon of ground ginger
a pinch of cardamom
a pinch of salt
150 ml of almond milk
1 teaspoon of apple cider vinegar
1 ripe banana (ca. 110g)
65g of neutral rapeseed oil
50ml of sparkling water
100g of coconut blossom sogar
200g of plums
Instructions
Pre-heat the oven to 180°C.
Start by mixing the almond milk with the apple cider vinegar and set aside. Using a fork or a blender, smoush the banana.
Ground the almonds to a flour using a blender or food processor. Add the buckwheat flour, baking powder, arrowroot powder, the spices and sea salt and mix until combined.
In a seperate bowl or food processor, mix the rapeseed oil with the coconut blossom sugar, almond vinegar milk, sparkling water, and banana. Stir until combined.
Add the wet ingredients to the dry ingredients and stir until just combined. Do not overprocess, or the muffins might not start to rise.
Wash the plums, remove the stone, and cut them in small squares and mix into the batter using a spatula.
Align a muffin form with baking paper or muffin holders and put two tablespoons of the batter into nine molds. I prefer my muffins larger, so I only get nine out of the batter, but you can make 12 small ones. Slightly press half a plum on top of the muffins if you want them to look like in the pictures.
Bake the muffins for 30 minutes and then set them aside to cool before removing them from the molds.
Enjoy!
Merken
Merken
Merken
Merken