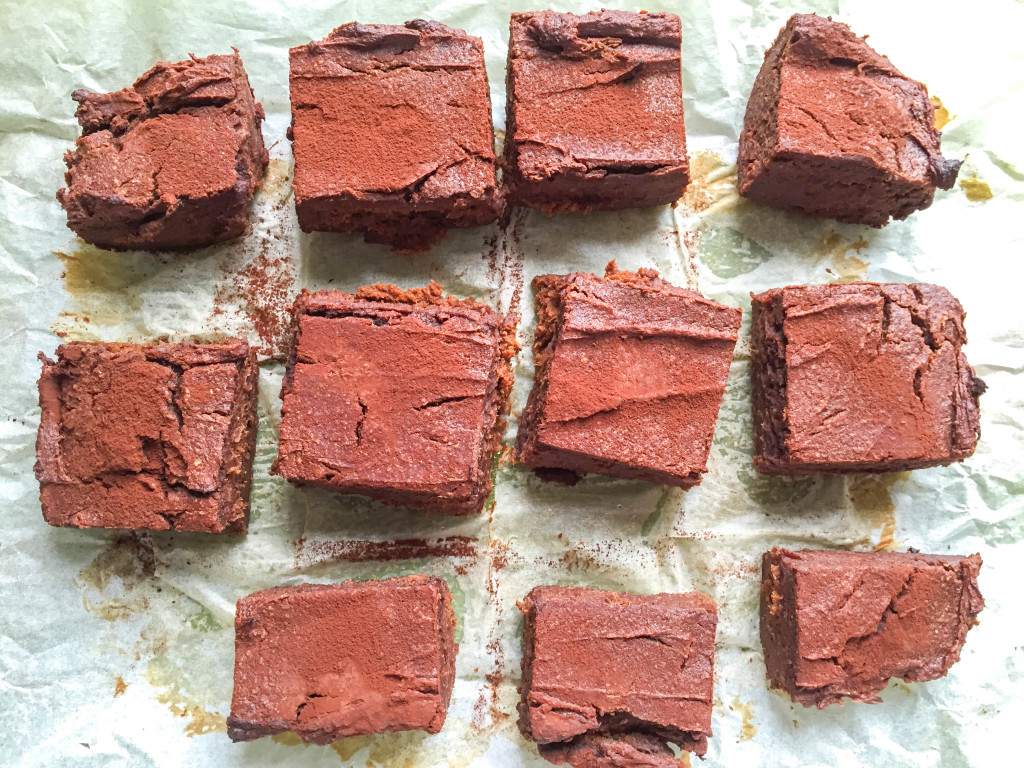 These pumpkin brownies are simply amazing. I think I have never eaten something this delicious. They really taste like brownies, and you don't even realize that you're basically just eating pumpkin. They taste so incredibly chocolatey, are heavenly moist and naturally sweetened with dates. I have been loving pumpkin season so far. I put my beloved pumpkin puree in everything: my oatmeal, my coffee and even in my smoothies. Mixing pumpkin with chocolate is like a dream creation: it's naturally sweet and creamy and tastes like mousse au chocolate. Which is why I have to admit that I almost ate the whole batter of these brownies. It was just so delicious that I couldn't resist, and since it's egg-free there's absolutely no harm in it too. 
There's so much goodness in these brownies. Pumpkin is not only totally delicious it's also very healthy. It has amazing anti-inflammatory properties, which mainly derive from its high antioxidant content. Pumpkin is one of the best sources of vitamin A, which is important for our eye health and a functioning immune system. It also contains healthy omega-3 fatty acids, which keep our heart healthy.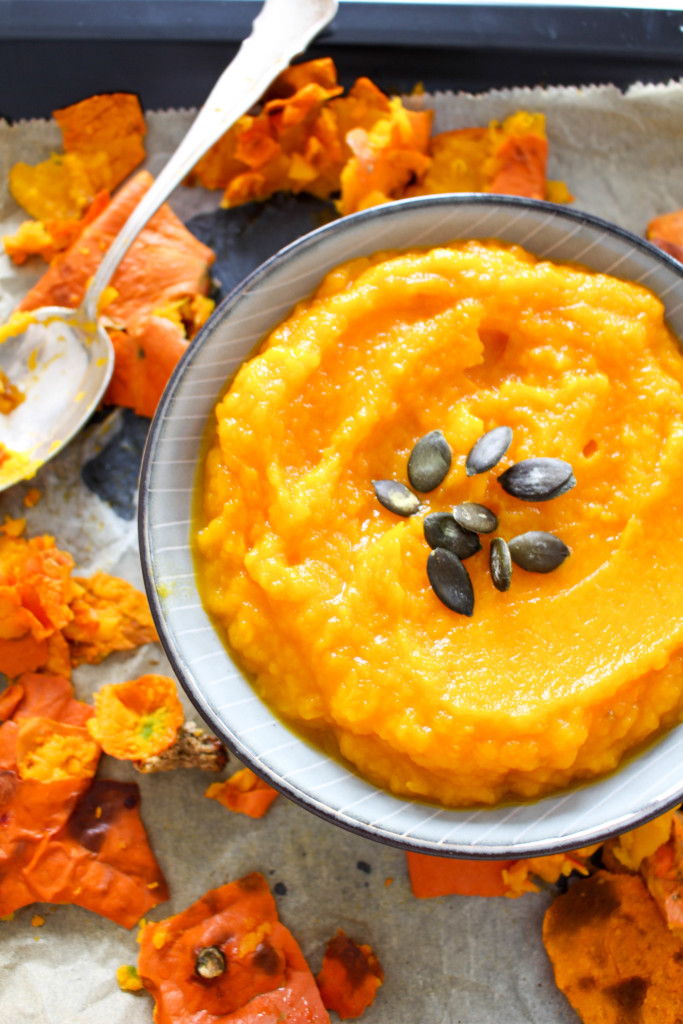 INGREDIENTS:
– 3 cups (350g) pumpkin purée
– 1/2 cup (80g) almonds
– 200g medjool dates
– 1 tsp vanilla powder
– 1/2 cup + 2 tbsp (100g) buckwheat flour
– 5 tbsp raw cacao powder
– pinch of salt
– 2 tbsp maple syrup
– 2 tbsp almond milk
optional for a pumpkin pie flavor:
– 1 tsp cinnamon
– 1/2 tsp ground ginger
– 1/4 tsp nutmeg
– a pinch of ground cloves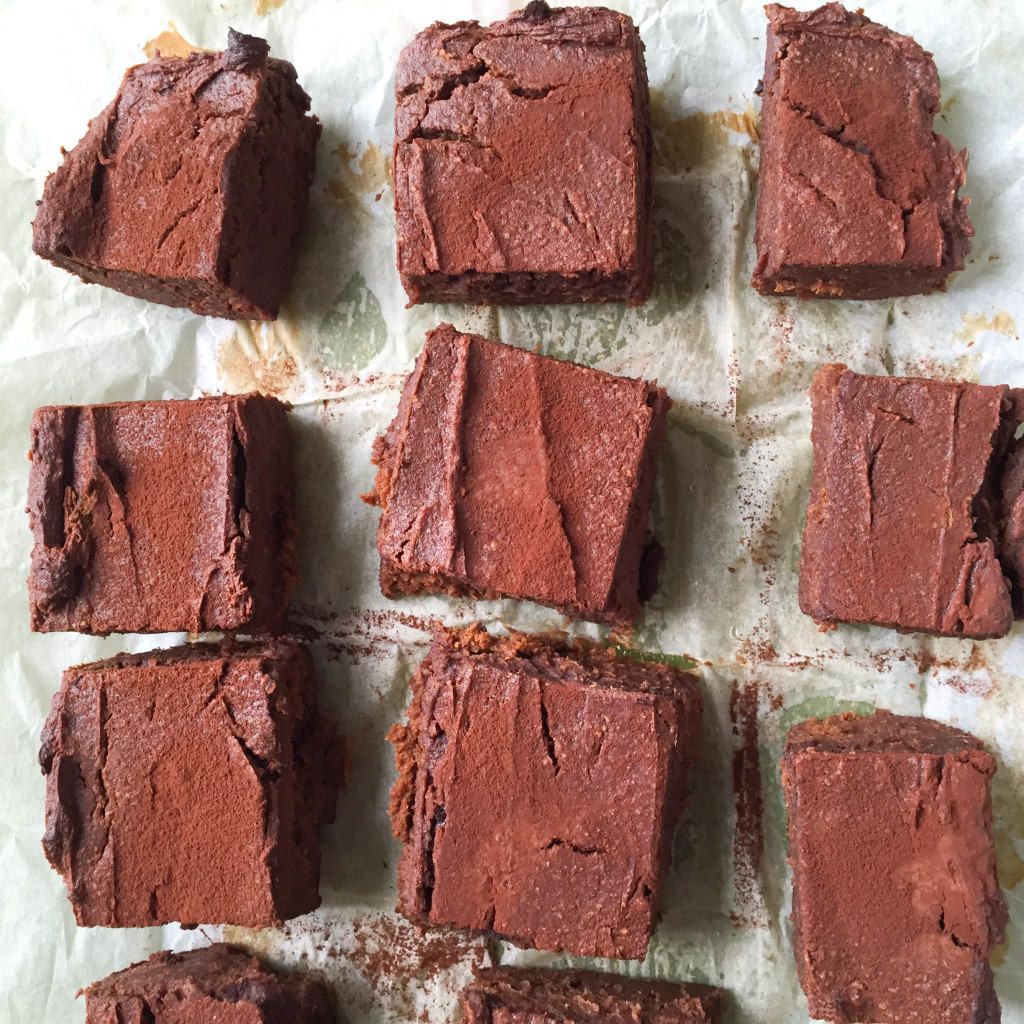 METHOD:
Pre-heat the oven to 180°C.
Start by making the pumpkin purée. While the pumpkin cooks, place the almonds into a food processor, and ground them for about a minute.
Pit the dates and cut them into little cubes. You can even use your hand to squeeze the dates into a sweet sticky date dough if your blender is not strong enough to blend the dates smooth enough. Add the dates or date dough to your food processor and blend them to a smooth paste.
Once the pumpkin purée is ready, add it to the food processor with all the remaining ingredients.
Pour the batter into a lined or greased baking dish and cook for about 30—40 minutes until you can pull out a knife out of it clean.
Remove from the oven and let them cool completely before removing them from the baking dish. This is very important as the brownies need to set in order to be completely delicious.
Stored in an air-tight container in the fridge, the pumpkin brownies last for about 4-5 days. They actually taste better the day after you make them.
Enjoy!