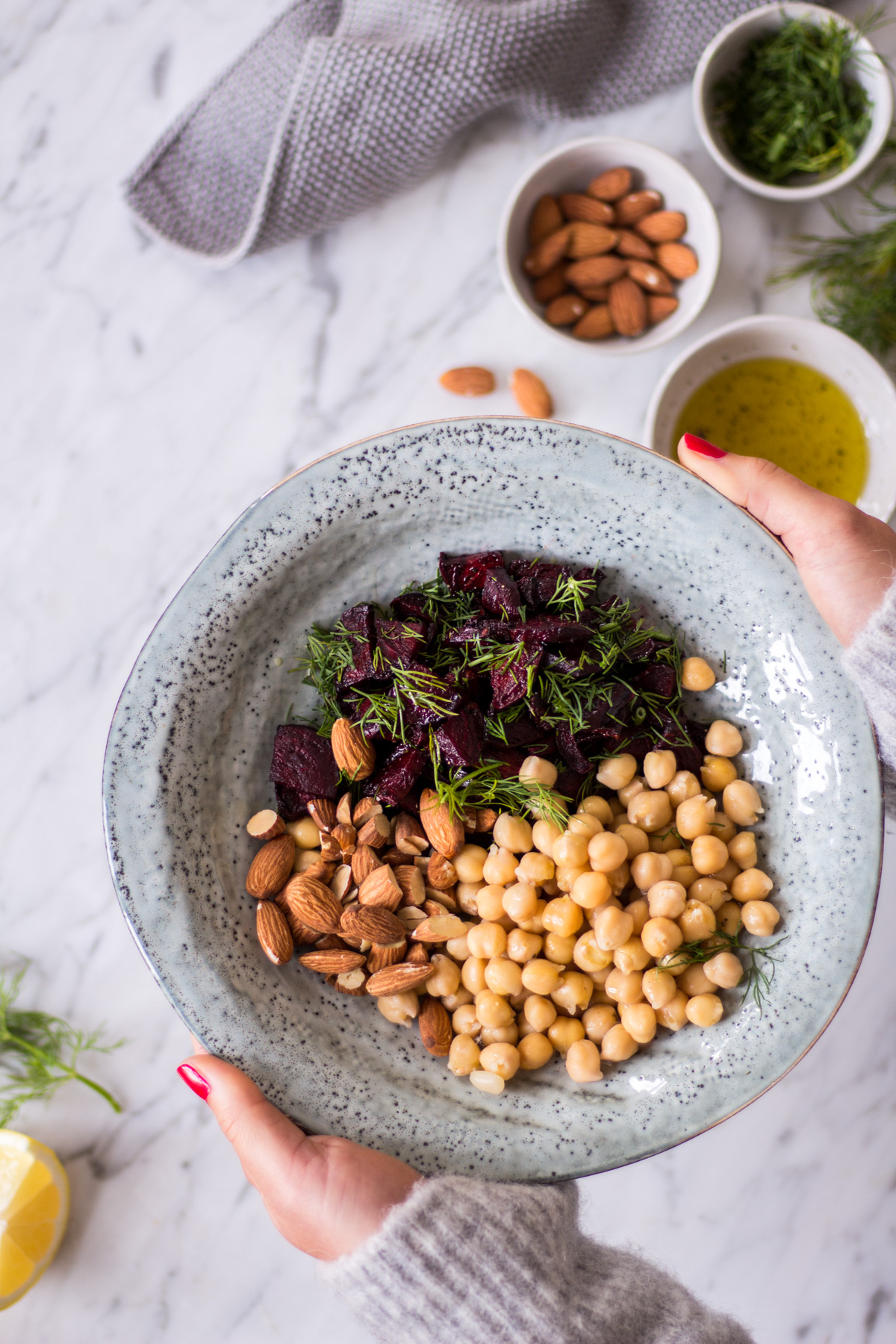 Ad. Changing your diet for good is not as hard as it may seem in the beginning. This salad with four main ingredients is definitely proof that healthy eating does not have to be boring, expensive or time-consuming.
I know it's cliché, but man, this year is already rushing in by full speed. I have the feeling that it will be summer again in a blink of an eye. January is almost over and I have actually already bought the first tulips, because I can't wait for it to be summer again. As soon as the Christmas decoration were down, I got inspired to bring some spring-vibes into my home. As the weeks pass by, many have long forgotten their ambitious good intentions for the New Year come February. That's why I believe it should be less about good intentions in January, but more about long-term, holistic dietary changes.
Here are some tips to make the long-term dietary change a little easier: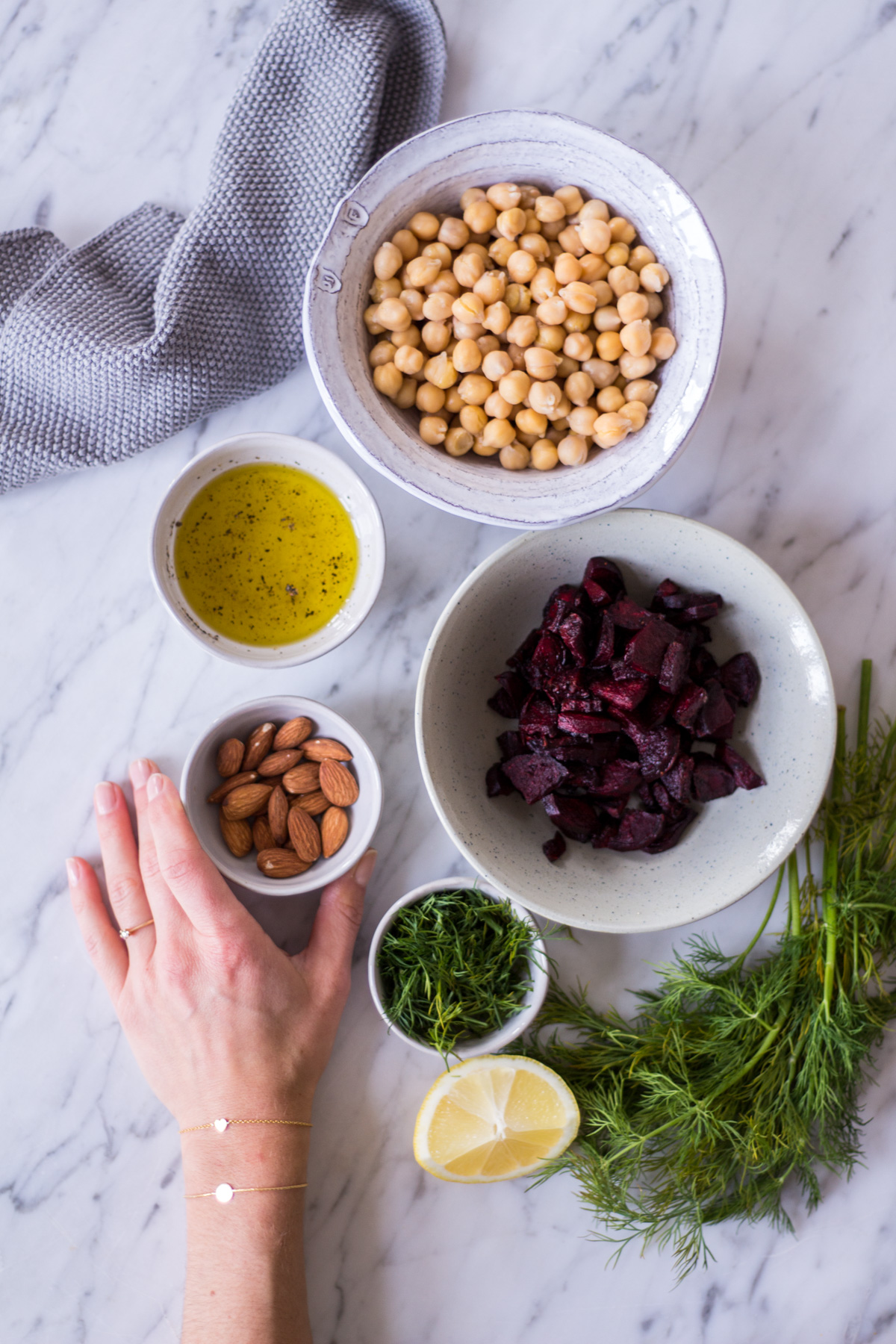 Clean the pantry
Anyone who wants to eat healthier in the long term, should start with the pantry cleaning project. This is where a diet change starts, because we need to eliminate health betrayers, and stock up on all of those good ingredients. The former include all industrially processed products containing unhealthy amounts of sugars, saturated and industrial-hardened fatty acids, flavor enhancers, coloring or preservatives. Instead, a healthy pantry should contain various legumes, pseudo-cereals such as quinoa, millet or buckwheat, pasta made from spelled, wholegrain rice or buckwheat, as well as almonds, nuts and seeds. So you do not even feel tempted to grab those things that you know will make you feel not your best.
Tide over to the next meal
If you've been following this blog for a while, you know what's coming. You may smile, but both my fiancé and I swear to always have a few snacks in our purse – or in his case the football bag. We love almonds pure, combined with some fruit or dried fruit. Almonds are the ideal portable snack for in between and a handful of almonds (28 g) contains healthy fats and fibre to keep going us through the day and between meals. No more temptations to grab those unhealthy snacks! By the way, a handful of almonds contains 60% of your daily recommended amount of vitamin E, the beauty vitamin, as well as providing calcium and a high source of magnesium. Magnesium is especially noteworthy because it can contribute to reducing fatigue and exhaustion. It is recommended to eat a handful of almonds daily (about 23 pieces or 28 grams), which already contain 6 grams of energising plant protein . As a light energy boost, they keep you going through the day without weighing you down and are a clever snack choice. The nutrients in almonds are perfect to keep your energy levels high between meals, which is why they are one of the most often recommended snack by nutritionists
In addition, I always have the feeling that Californian almonds bring summer to my kitchen – responsibly grown in the Californian sun, they contain a bit of sun in every bite, putting you in a sunny disposition. Whether pure or roasted, they taste so sweet and delicious and are a snack you can feel good about! And don't we all need some sunshine in this cold winter weather?
If you prefer savory snacks, then you can even have a small portion of this salad between two major meals. The ingredients like almonds or chickpeas and beetroot fill you up without weighing you down.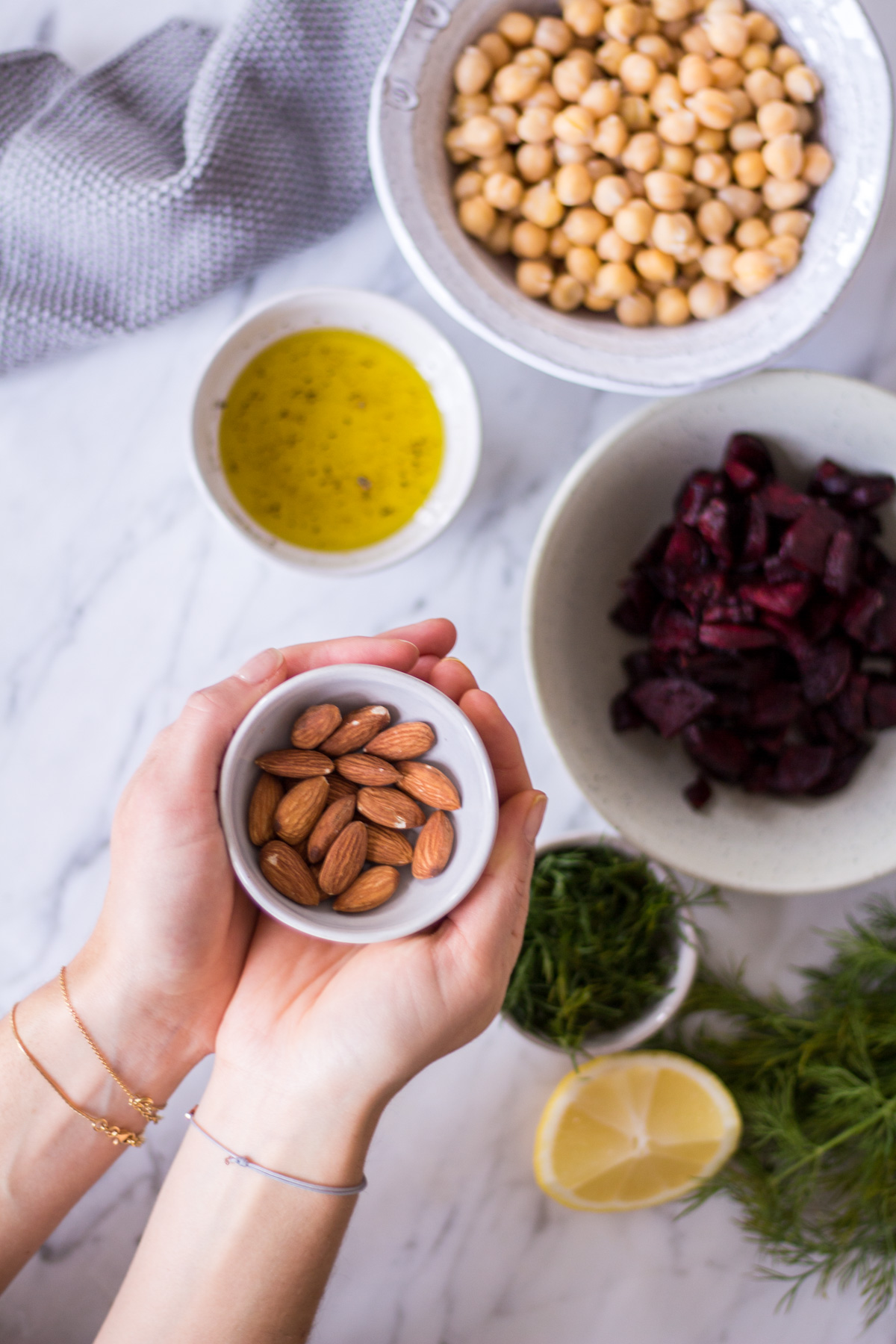 Homemade food instead of take-out

If your healthy pantry is in place, our body and our wallet will be happy if we cook our meals ourselves as often as possible. This allows us to know exactly what is in our food – and what is not. Inspirations for recipes are nowadays in abundance. Not only on my blog, but also on Pinterest or Instagram or on other blogs. So how about trying some of them? Starting with today's fast chickpea beetroot salad with almonds and dill of course – perfect as a meal or for snacking on throughout the day.
Meal Prep like a pro

At the beginning of my diet change, it was extremely helpful for me to create weekly plans. So I always knew exactly what I had to cook and when and I was not even tempted to order take-out or eat at my college dining hall. Here and here you will find two of my already created weekly meal plans. You can also find a plan for an entire week in my book on pp. 224/225. I know, it sounds dreading to think about what you want to eat next Friday, when it's only Saturday. But will you find out how liberating it can be to have answered the miserable question of "What do we want to eat" ahead of time.
Find simple, affordable and delicious recipes
Incidentally, the following recipe is the best proof that healthy eating is neither boring, expensive, nor time consuming. The salad consists of four main ingredients: chickpeas, beetroot, dill and almonds. You can get all of those ingredients in every supermarket. There is also a light dressing containing of extra-virgin olive oil, balsamic vinegar and fresh lemon juice, sea salt and pepper. That's it. In terms of taste, the salad is surprising in spite of its short list of ingredients, which is due to the fresh dill and the California almonds. An unusual combination with a big wow effect. If you're not a dill fan, you can replace the dill with chopped basil. For me there is nothing better than fresh dill in the salad.
I hope these tips will help you to change your diet for good, or at least make the transition a little easier. The change to a healthy diet is, as I said, something long-term and does not happen over night for most people. Always remember: it's a marathon, not a sprint. So do not stress if you do not completely stick to your intentions. Personally, I do not always eat well, even though everybody expects that I do because I have a healthy food blog. But you quickly realize that after you change your diet for the good, you will no longer crave anything but wholesome, natural foods.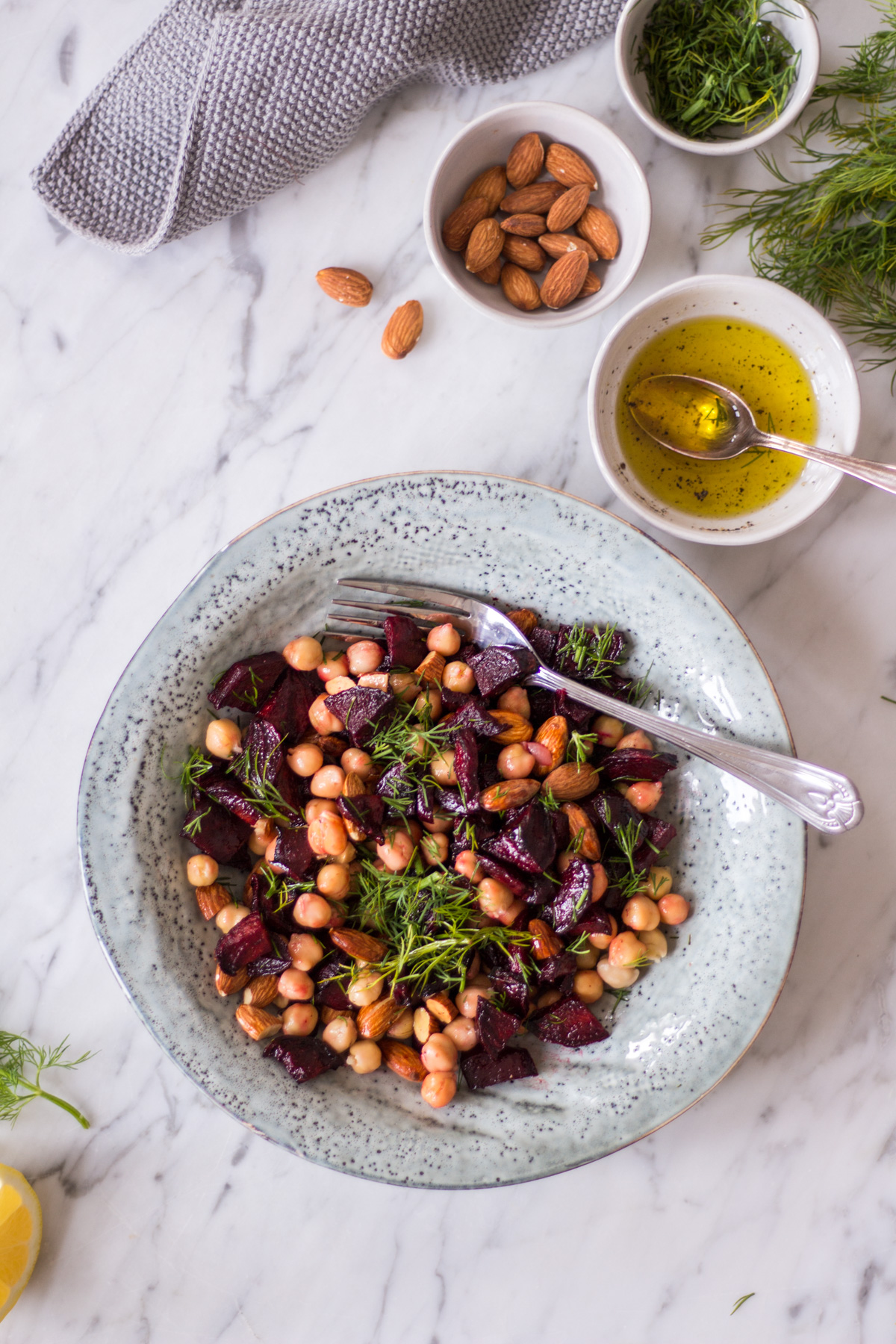 Have fun with the recipe and the implementation of the tips and thanks to this recipe's sponsor California almonds #SnackTheSun.

Almond, chickpea and beetroot salad with dill
Ingredients
Main Ingredients:
500 g of fresh beets (not the cooked ones)
60 g of almonds
1 glass (350 g) of chickpeas, drained and washed
3 stalks of fresh dill
From the pantry:
3 tablespoons of virgin olive oil
3 tablespoons of balsamic vinegar (without additives or added sugar)
1 tablespoon of fresh lemon juice
Sea salt and pepper, as needed
Instructions
Peel the beetroot, cut it into bite-sized pieces and place in a mixing bowl. Marinate with 1 tablespoons of olive oil and 1 tablespoons of balsamic vinegar, sea salt and pepper and place on a baking tray with (reusable) baking paper and roast at 180 ° C circulating air for about 25-30 minutes. The baking time may vary depending on the oven. So feel free to check it out after 20 minutes.
In the meantime, wash the chickpeas and add them to a salad bowl. Chop the dill and almonds roughly and add to the chickpeas.
Stir up a dressing from the remaining olive oil and vinegar, the lemon juice and a little sea salt and pepper.
Put the roasted beetroot in the salad bowl and spread the dressing over the salad. Stir well and serve immediately.
This salad is the perfect meal or even snack during the day and can also be taken to work the next day in a lunch box or a mason jar.
Enjoy!
*Werbung / Advertisement. All opinions are my own. Thank you for supporting the partners that keep me dancing through my kitchen all day.