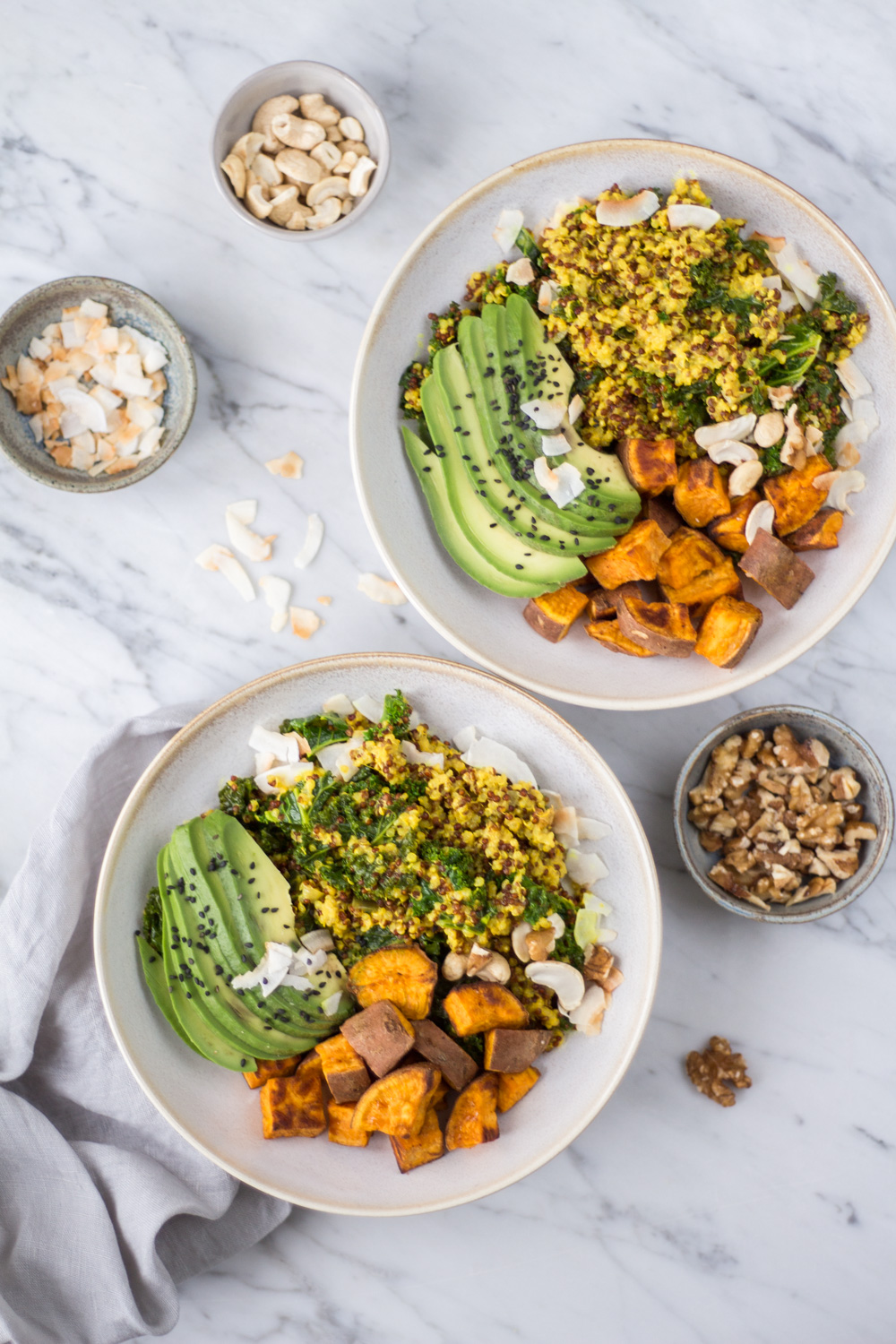 This post is also available in German.
As I announced in my trend forecast, this year will be all about female health, femininity, fertility, hormones and cycle syncing. The concept of cycle syncing was first introduced by Alisa Vitti, whose book I devoured last year. She really is a pioneer in this field. I was also inspired by hormone expert Laura van de Vorst, whom I met last year. I admire her work and as I know how many women (and men) are struggling with their hormonal balance, Laura's and Alisa's work is of such immense importance. So I began to dive deeper into the world of hormones last year because I find this whole topic fascinating.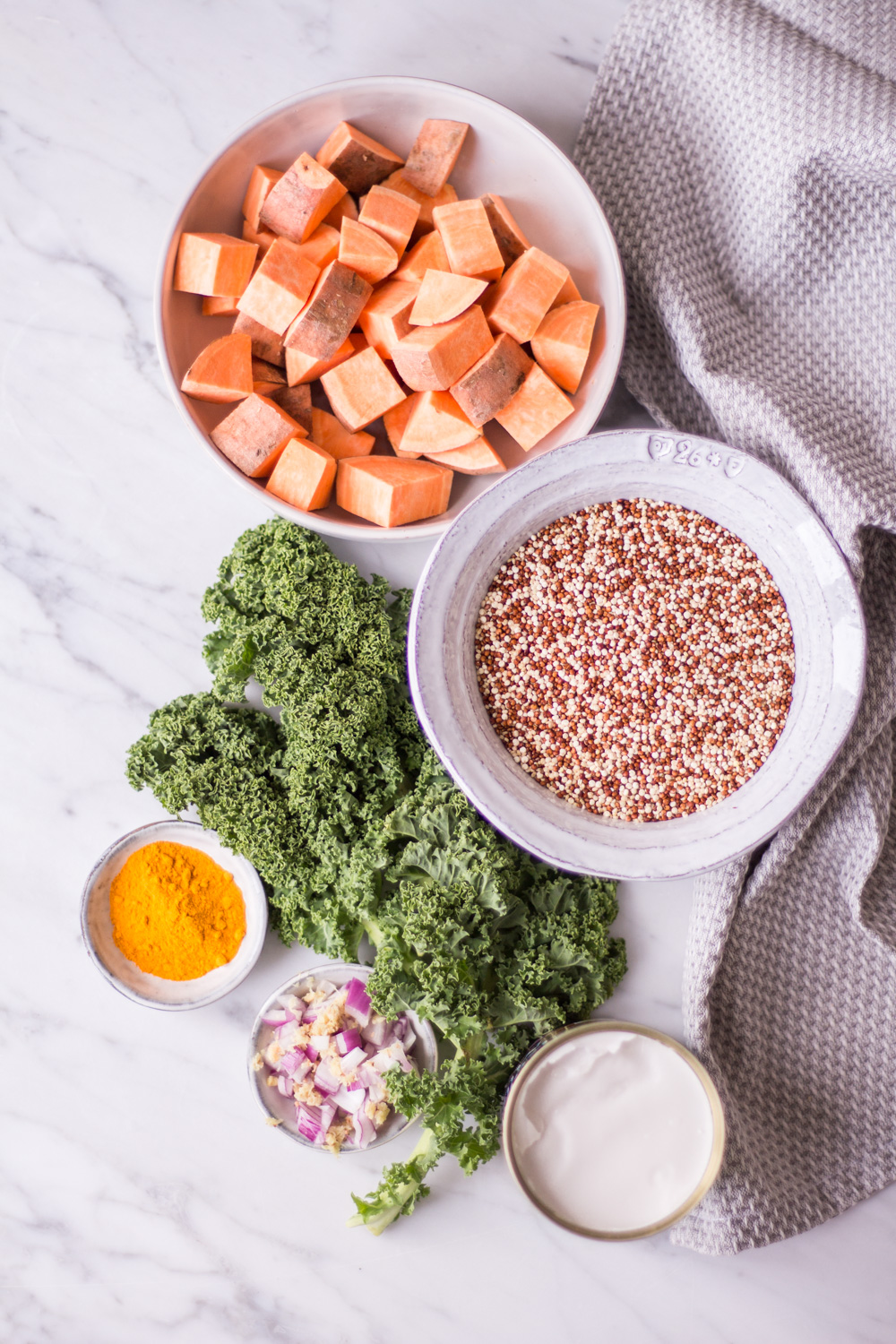 Today I brought you this bowl that consists of wonderfully delicious ingredients, all of which have a positive effect on our hormonal balance. The idea behind cycle syncing is that our body and needs different foods depending on the cycle phase it is in. This simplified overview might give you an idea what cycle syncing is all about:
– In the follicular phase (7-10 days) the concentration of all hormones is rather low. Therefore, we can (basically) eat anything as long as it is fresh and full of nutrients. Think aats, avocados, citrus fruits, beans and lentils, as well as cashew nuts or brazil nuts.
– During ovulation (3-4 days) women should eat lighter grains such as amaranth or quinoa, but still enjoy plenty of vegetables such as red bell peppers, eggplants, spinach or endives (to name just a few examples) and fruit with high antioxidant levels such as berries.
– During the luteal phase (10-14 days), when many women suffer from PMS symptoms, Alisa recommends vegetables and fruit with lots of fiber such as sweet potatoes, squash or apples. They help to stabilize our blood sugar, which helps eliminate mood swings.
– In the last cycle phase (3-7 days), the menstruation, it is important to eat foods with a high nutritional content that are low in sugar and have a high water content. The female body is renewing in this phase and so we must be particularly supportive of our bodies in this phase.
(Source: Womancode of hormone expert Alisa Vitti)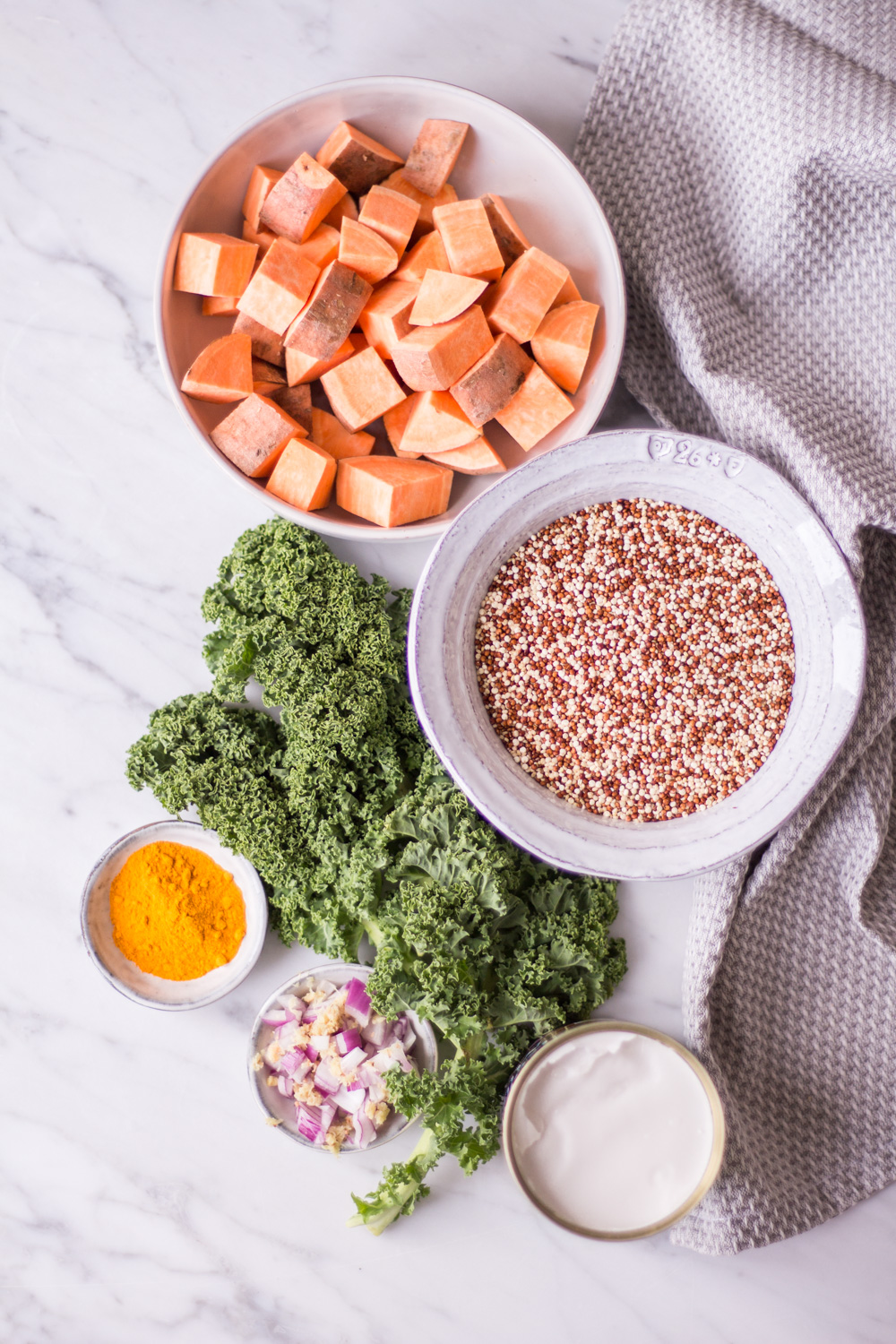 Of course, a diet rich in complex carbohydrates, fats, vegetable proteins, lots of fresh vegetables and fruits is already very beneficial for a balanced hormone balance. However, I find it very exciting to take special care of my body during ovulation or during menstruation. Isn't it exciting to have a list of foods to prefer during a special phase? It makes the decision of what to cook on any day so much easier, don't you agree?
Let's examine this dish in detail:
– First we have quinoa. The pseudo-cereal (which by the way is already grown in Europe and in parts of Germany), contains a lot of fiber, which are important for a healthy intestine. The good intestinal bacteria feed on fiber and therefore quinoa promotes intestinal health. Because our hormones are produced in the intestinal areas, fiber should be on the menu at every stage of our cycle.
– Next we have sweet potatoes, which score with their high fiber content, too. In addition, sweet potatoes contain magnesium, zinc and B vitamins, which are especially recommended during the luteal phase. During the third phase of the cycle, so-called estrogen dominance plays a major role. If estrogen and progesterone are in a disbalance (too much estrogen, too little progesterone), PMS symptoms can occur. Unfortunately, this is almost normal these days as our stressful lives, processed meals or the anti-baby pill promote this imbalance. B vitamins in turn help stimulate the production of progesterone. Other good B vitamin sources are almonds, walnuts, sesame, asparagus, sprouts or mushrooms.
– The avocado in this dish represents the importance of fats in the diet. Maybe some of you remember the "low-fat" madness in the 2000s and also noticed how the nails got softer, the hair got thinner? Many women even got their periods more irregularly? These are all symptoms of a low-fat or fat-free diet. Since our sex hormones consist of fats only, one can easily imagine the effect of a fat-free diet on our hormones.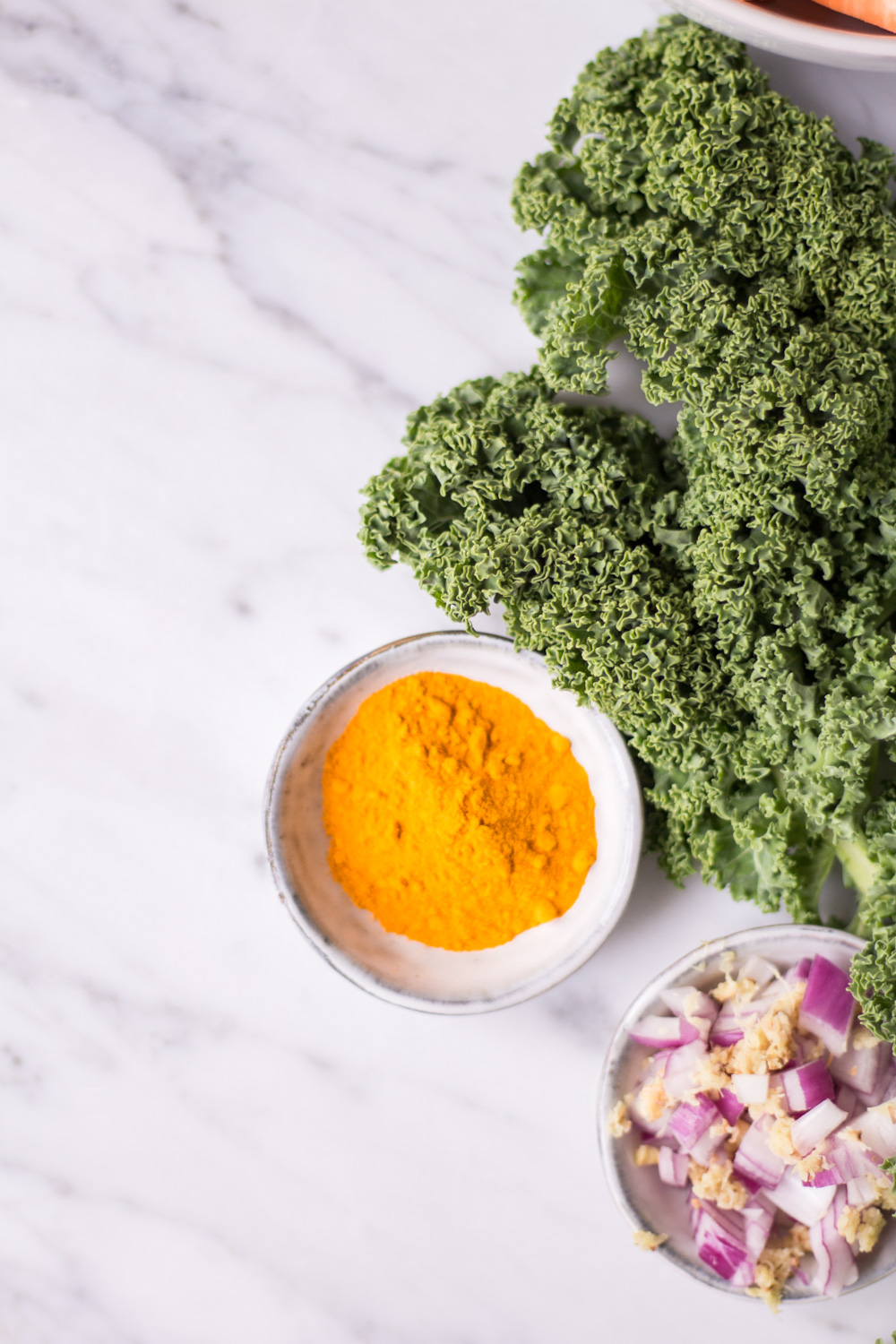 – Turmeric also helps to bring our hormones balance back into balance. It is be a strong testosterone booster. And no, that's not bad. Because often women actually suffer from a testosterone deficiency, which can be expressed in depressed mood and lack of energy.
– Kale is a very local food that should be eaten especially in the luteal phase as well as during our period. Kale is only an example of dark, leafy green – other great options are spinach, chard, rocket or herbs such as parsley. Kale scores particularly with its favorable combination of calcium and magnesium, which counteracts water retention during the luteal phase.
What do you think about this way of thinking about food? Let me know in the comments below.
Enjoy the recipe
xx
Lynn

Hormone Balancing Bowl
Ingredients
1 red onion
a thumb-sized piece of ginger
200g of quinoa
2 medium-sized sweet potatoes
2 tablespoons of coconut oil or olive oil
200 ml of coconut milk
2 teaspoon of turmeric powder
200 ml of water or vegetable broth
1 teaspoon vegetable broth paste or ½ tsp granulated broth if only water is used at the top
½ teaspoon of apple cider vinegar (optional)
about 100 g of kale
2 avocados
Salt and pepper to taste
Optional toppings:
Toasted coconut flakes
Chopped walnuts
Chopped cashew nuts
Instructions
Finely chop the onion and grate or chop the ginger. Wash quinoa well. Peel the sweet potato, dice it and put it on a baking tray with a little olive oil, sea salt and pepper. Roast the sweet potatoes for approx. 20 - 25 minutes at 180 ° C in the oven.
In the meantime, heat the remaining oil in a saucepan and fry the onions and ginger. Reduce the heat slightly and add the turmeric powder and sauté for about 30 seconds. Now add quinoa, coconut milk, water or vegetable broth and apple cider vinegar and bring everything to a boil over high heat. Reduce the heat and simmer for about 10 minutes.
In the meantime, remove the kale from the stalk and wash well and cut into bite sized pieces. Chop any toppings or roast the coconut flakes briefly in a pan without fat.
After the quinoa has simmered for 10 minutes, stir in the kale and add some water or vegetable stock. Simmer together for another 3-4 minutes.
Serve the quinoa with the sweet potatoes and a quarter or half an avocado and sprinkle with the toppings.
Notes
The dish is great for meal prep, so the quinoa can be stored a few days in the fridge airtight. However, if you are to keep it longer than two days, please omit the kale or add it fresh.
Enjoy!