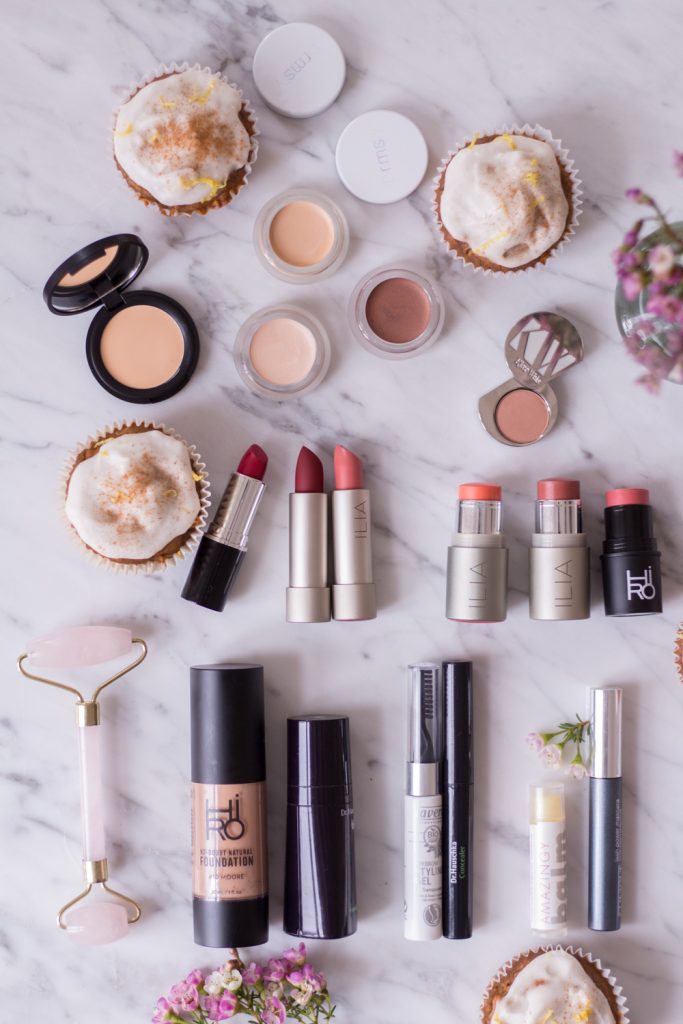 *This post contains PR-Samples from Amazingy.
A few weeks ago, I shared a glimpse into my bathroom in this post. For some reason it was one of the most clicked articles ever, so I thought some of you might be interested in my make-up bag, too. Don't worry, I will not turn into a beauty blogger any time soon. In fact, I am really just a mascara and foundation kind of girl. I barely wear eye make-up and red lipstick is a once in a year kind of thing for me. However, I've recently learned how to underline my features, rather than hide my face under make-up from my friend Lisa Scharff. She stands for the "Beauty Inside and Out" approach, which is also one that I follow. The following products are some of my current favorites. Of course, I do not wear all of the products at once, but it never hurts to have some options, right? Some of the products were sent to me by the lovely girls from Amazingy, an online shop for natural skincare and make-up products. Amazingy also launched their first brick and mortar store last year in Berlin, which I will hopefully finally visit this month when I'm going to Berlin.
A glimpse into my make-up bag
Face
Hiro Foundation # 10 Moore: Lisa Scharff helped me pick out the color of this foundation that matches my skin tone. I love how it covers up redness really well, and that is kind of smells like white chocolate to me. The only thing that I have to criticize is the pump mechanism of the bottle in comes in.
Dr. Hauschka Foundation #2: I use this foundation mostly during the summer, when it's warm outside, such as recently when I was in Spain. It does not cover as well as the Hiro Foundation, but it's enough for a warm summer day when you don't want to wear a lot of make-up.
RMS "Un" Cover Up Concealer: Since I am still struggling with acne prone skin, my concealers are everything to me. This one covers up pimples and dark circles under the eyes perfectly.
Hiro Out of Space Balm #04 Nala: Since I am a big fan of Hiro products, I also tested this concealer by Amazingy's signature brand. It covers up almost as well as the RMS concealer and also comes with a small mirrow, which is especially practical for when I'm on the go.
Dr. Hauschka Concealer: I love Dr. Hauschka products, but this concealer did not quite convince me. It does not cover as well as the previously mentioned concealers so my dark circles underneath my eyes are definitely still visible after I apply this one. Why did I add it in this list? Because my mom is quite happy with this product. 🙂
RMS Magic Luminzer: I was never a highlighter kind of person until about a year ago. Now I think they are amazing to add some freshness and life to my face. This one is by far my favorite one. It definitely gets you "the glow".
Lavera Highlighter: This is my other favorite highlighter, and one for every wallet, too. It's very affordable and an amazing product if you're new to the highlighter world.
RMS Buriti Bronzer: Contouring is not my strength. However, I really love this bronzer, as it adds a sun-kissed touch to everyone's face.
Hiro Multi-Stick "Backstage": I am a big fan of multisticks. I use them all the time. Mostly for my cheeks, but even sometimes for my eyes and lips. They are the perfect way to freshen up a little during a busy day. This color is a little darker, and perfect for fall and winter.
Ilia Multistick "I Put a Spell on You": This is my new favorite product ever. I just love the peach color, which has me so excited for spring and summer. You all have to get this product!
Eyes
Kjaer Weis Eyeshadow "Charmed": I have to admit that I am not a big eye make-up person. That's why I only have one eyeshadow color, no color palette or anything. This Kjaer Weis color just about goes with everything so I can highly recommend it.
Un' Gretel Eyeliner: In case I feel like really dressing up, I use this eyeliner, which I got as a Christmas present from Stefanie Luxat from OhhhMhhh. I really love this company, its products and its design.
Un' Gretel Cream Eye Stick: Like I said, eyes are not my expertise. That's why I have recently tried out this eye stick from the same brand. It's perfect for people like me who have no idea how to do a proper eye make-up. I love the creamy texture and the color.
Lips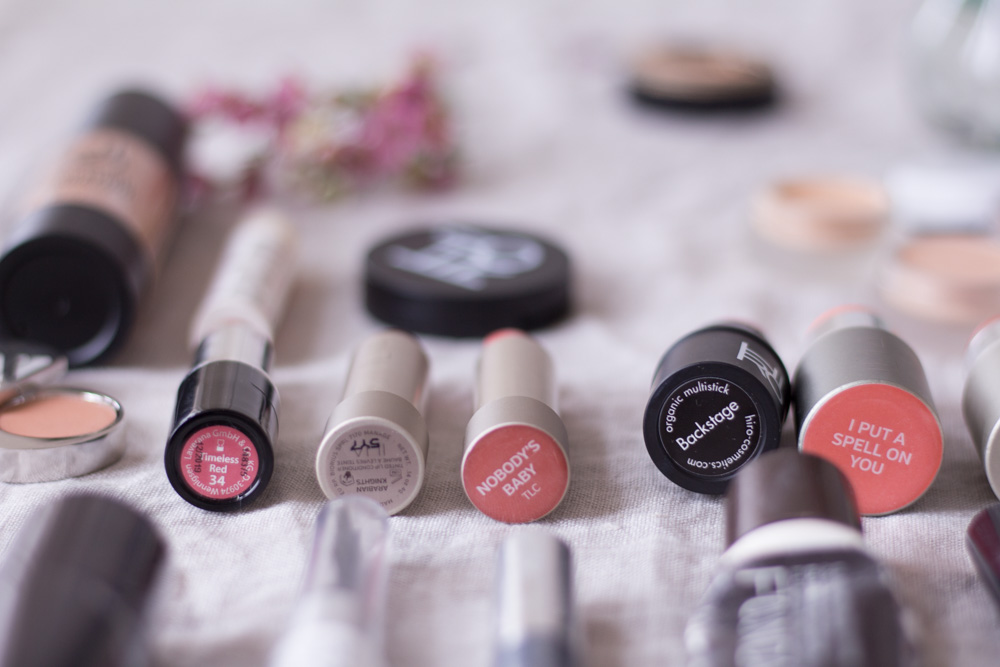 Ilia Tinted Lip Conditioner | The Bride "Nobody's Baby": Besides the Ilia Multistick, this is one of the best natural make-up products I have ever tested. It nourishes the lips perfectly, and the color is almost nude and oh so beautiful. Big recommendation.
Ilia Arabian Nights Lippenstift: Ever since I visited Paris again a few weeks ago, I have re-found my fable for red lips. It's very rare to see me with red lips, but then again, I think they are great for datenight or a girls night out.
Lavera Lipstick "Timeless Red": This is a product that I bought right before I left for Paris, and I have been wearing it there like a real Parisienne. It's quite affordable, especially if you only wear it once or twice a year like me – ha!
Amazingy Balm: Everyone needs a good lip balm in their handbag, right? This coconut lip balm from Amazingy is not only super affordable, but also so small that it fits into every purse.
Eyebrows
Lavera Eyebrow Styling Gel: Still my favorite product ever when it comes to eyebrows. I bought this after Lisa Scharff recommended it to me, and now my whole family swears by it.
My tip:

Amazingy Rosenquartz-Roller: this cooling rose quartz is perfect for swollen eyes after a night out or a long work-day. You simply roll it over your face in the morning and give yourself a little face massage. In the summer, I will keep it in the fridge to get my face glowing in the morning.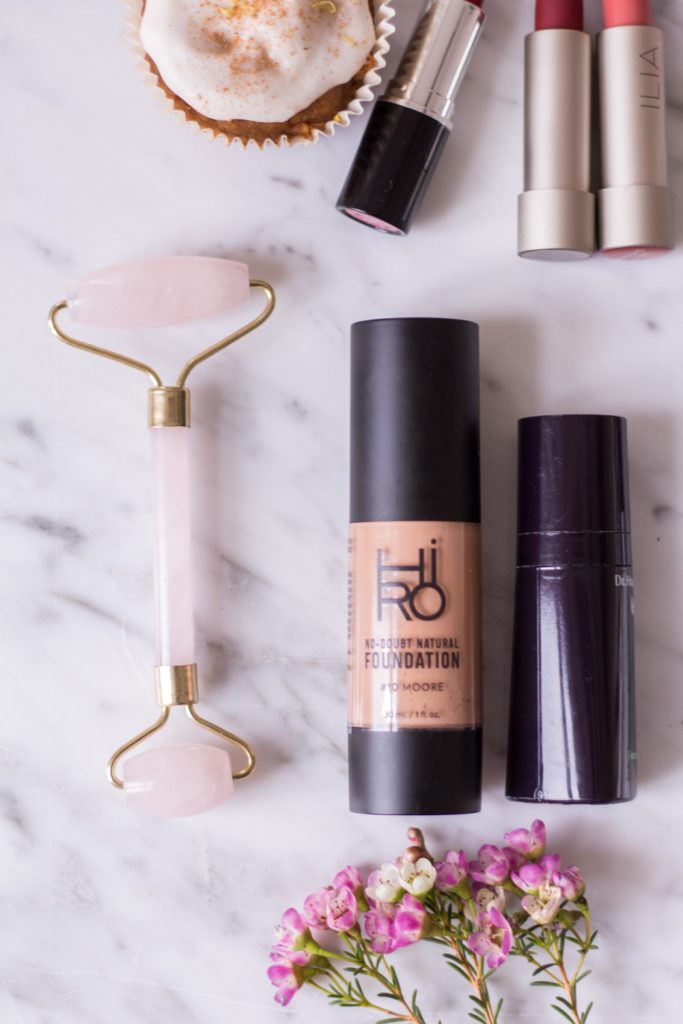 My conventional cosmetic products:
I know that for all of the products below, there are amazing natural equivalents. But somehow, I cannot seem to replace the these products with natural ones:
Clinique Mascara: Like I mentioned in my previous post on natural make-up, this is has been my mascara for probably 15 years now. I love that you can rinse it warm water and that it is still water proof in the summer.
Smith's Lip Balm: Also one of these products that I have been loving for quite some time. I always buy this brand when I'm in the United States, but you can already get it in Germany at Kauf dich Glücklich or online.
Rituals Hand Creme: I love the rituals hand lotions, their smell and how quickly they are absorbed into the skin. I know, they are not natural cosmetics…but they just smell so good.
Neutrogena Hand Creme: I keep the Neutrogena hand creme on my nightstand – I always have. It works like a miracle and keeps my hands smooth. Not perfect, I know. But then again, who is?
---
*This post contains PR-Samples from Amazingy. I bought most of the products myself, however.