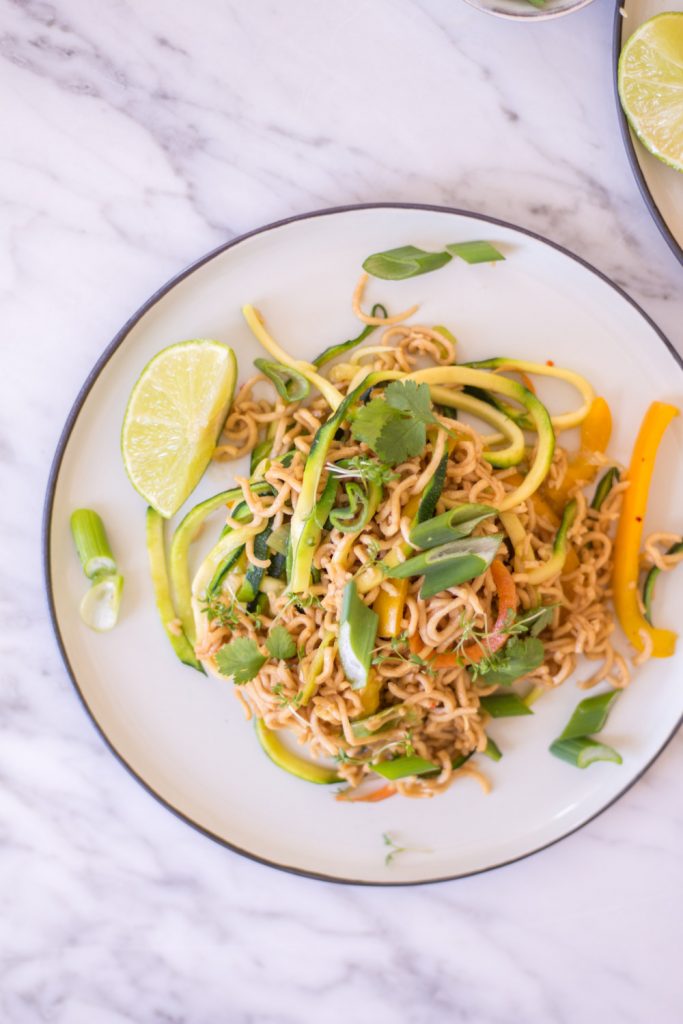 *This post includes unpaid mentionings of brands that I love and trust.

Hello friends!
As life is clearly getting ready for spring, I have been thinking a lot about our trip to Bali last year. Perhaps it also has got to do with two friends who are getting ready to move to this beautiful place in a few weeks. For a year. How amazing is that?! I admire the courage of my friends, to just leave everything behind and follow their dream. What's the worst that can happen? They have to go back? Well, but then at least they tried, right?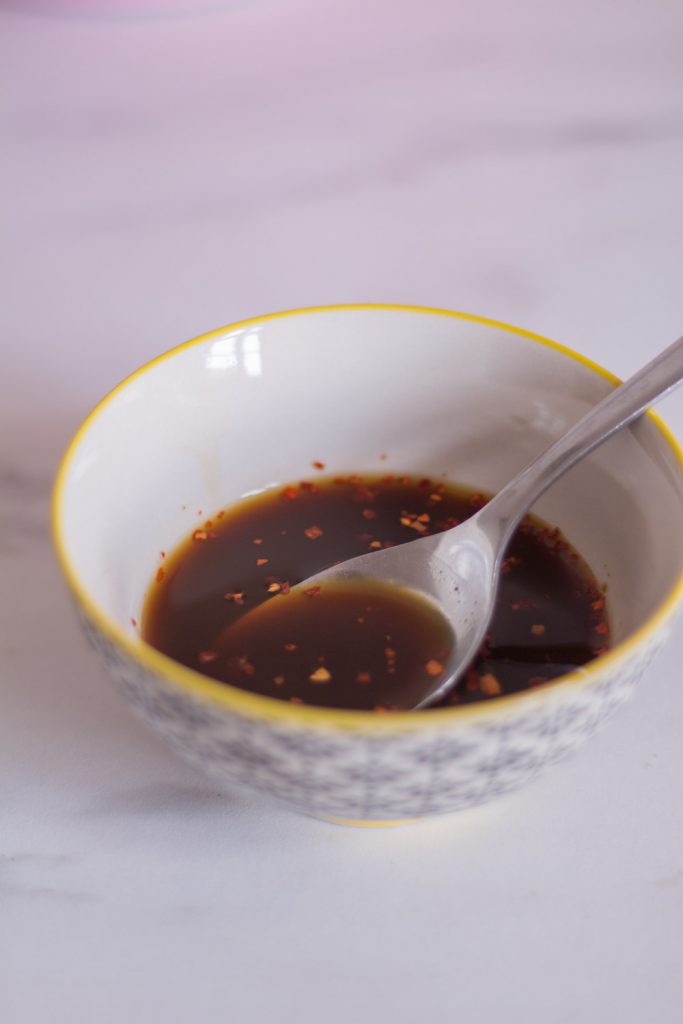 So as I won't be going to Bali any time soon, I have a tiny trick to get me into the Bali mood anyways: my heavenly Mie Goreng! Mie Goreng is a traditional Indonesian noddle dish that includes fried mie noodles, vegetables, eggs and sweet Indonesian soy sauce. Of course I have tweaked the recipe a bit according to my liking: no refined sugars, healthier mie noodles and loads of vegetables. Are you excited? I certainly am.
There is a reason why it has taken me so long to post this recipe. It's not easy to find healthy mie noodles in Germany. After a long search, I have settled with Albgold Mie Noddles. However, none of their products are 100% perfect for my liking. Their spelt mie noodles are not whole-grain, their whole-grain noodles are made with wheat (and are not 100% whole-grain either) and their spelt and buckwheat version is also not entirely whole-grain. It's a pity, but that's the best mie noodle company I could find here in Germany.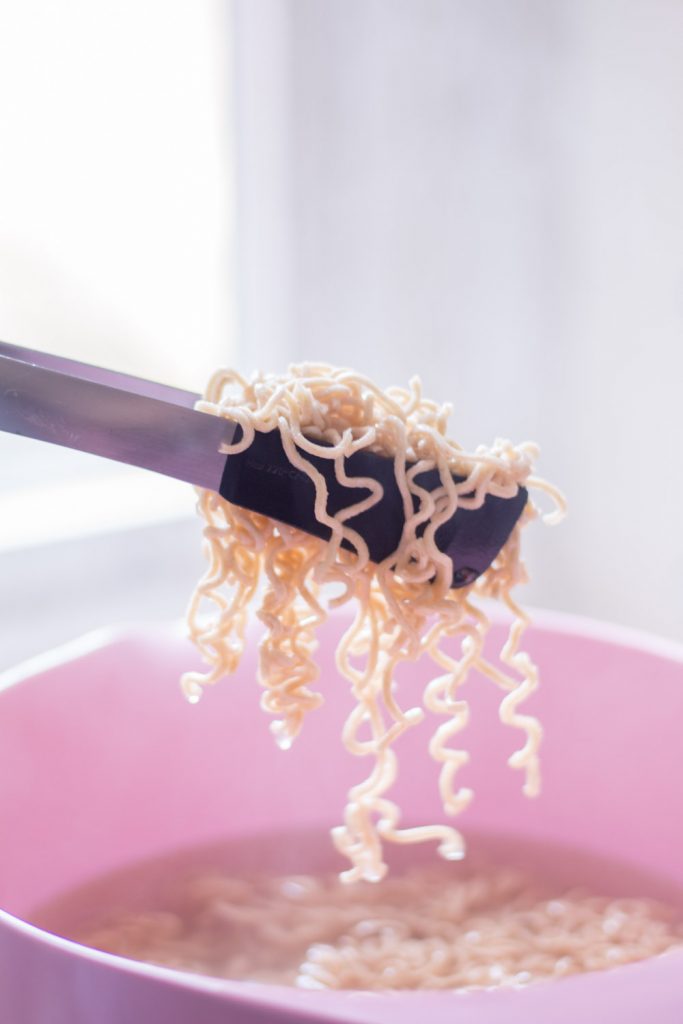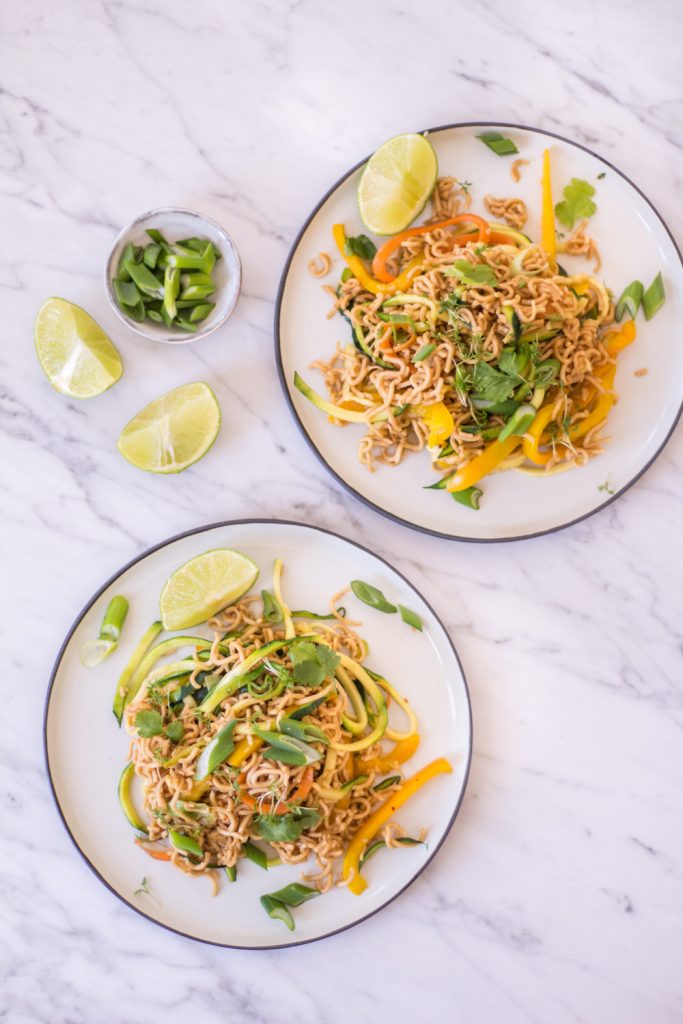 I strongly suggest that you give the Alnavit buckwheat spaghetti a try. They are 100% gluten-free and whole-grain and contain only buckwheat flour, which also has some amazing health benefits (such as fiber and protein en masse).
For the sauce, I strongly suggest that you find Vegan No Fish Sauce (I use the No Fish Sauce by Arche Naturküche). The sauce is made with algae and tamari, so it's rich in minerals and gluten-free, too. If you cannot find No Fish-Sauce, then simply use vegetable broth as a substitute. It will of course taste differently, but delicious nevertheless.
I hope that this dish will take you right into the Balinese jungle or the Balinese beach – wherever you'd rather be at the moment.
Enjoy!
xx
Lynn

Heavenly Mie Goreng
Ingredients
For the Mie Goreng:
200g whole-grain mie noodles, z.B. von AlbGold
2 zucchini
2 carrots
1 bell peppers
3 spring onions
1 tablespoon of sesame oil
For the sauce:
4 tablespoons of tamari
3 tablespoons of no fish sauce, I use Arche Naturküche (substitute with vegetable broth)
2 tablespoons of coconut blossom sugar, see notes
2 tablespoons of white vinegar, such as white wine or rice
1 teaspoon of chili flakes
the juice of ½ lime
Instructions
Cover the mie noodles with boiling water and let them soak for about 5 - 7 minutes. Drain and set aside.
Wash the vegetables, spiralize the zucchini and carrots and thinly slice the bell pepper. Finely slice the spring onions.
Mix all of the ingredients for the sauce.
Heat the sesame oil in a wok or large pan. Add about ¾ of the spring onions and fry for about a minute. Add the vegetables and fry them for about 4 - 5 minutes. You do not want them to get moushy. Set the vegetables aside.
Add some more sesame oil into the pan and fry the mie noodles for about a minute. Add the sauce and let the noodles soak up the sauce for another minute. Add the vegetables and heat everything for about a minute or two.
Serve with the rest of the spring onions and fresh lime juice according to your liking.
Notes
You can alter the amount of coconut blossom sugar according to your liking.
If you are not vegan, then you can add an egg into the pan when you are frying the mie noodles. Let it sit for a minute and then swirl it around so the egg covers all of the noodles. Then add the vegetables.
Enjoy!
*Advertisement. This post is in no way sponsored by any of the mentioned brands. I have bought all of the mentioned products myself. They have no idea that I am mentioning them in this post. However, due to German media law requirements, I am still obliged to declare this post as advertisement as I am linking to the brands that I am using.