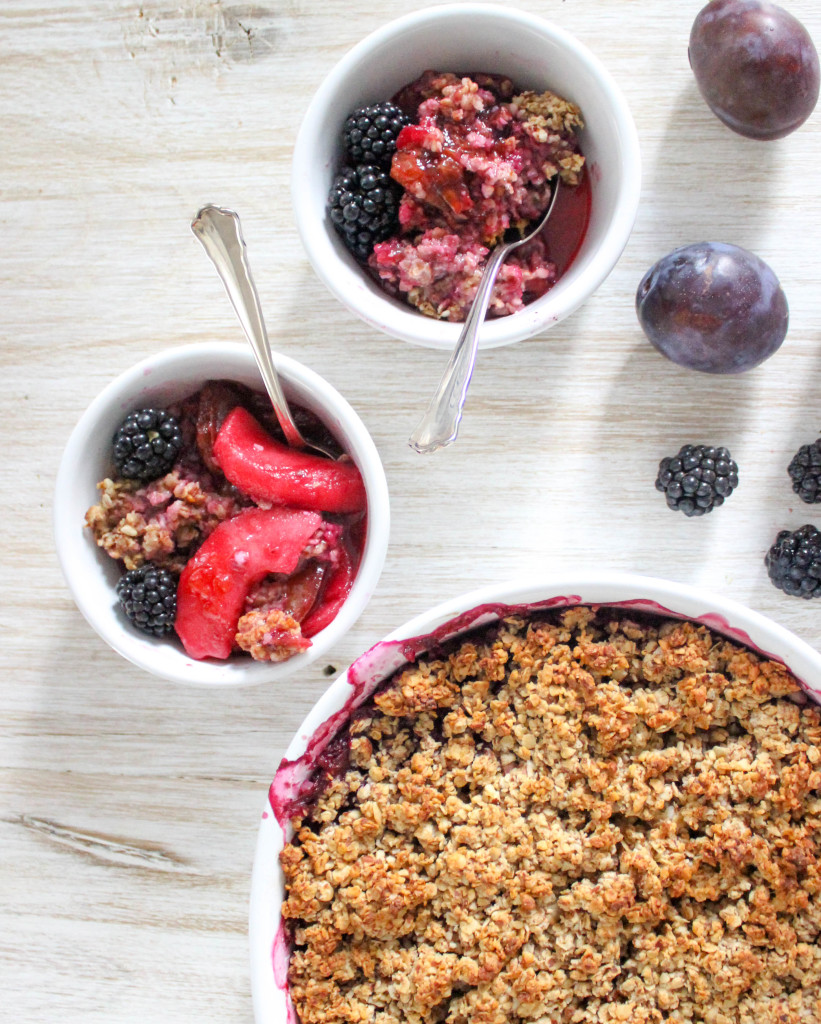 This crumble is literally my favorite crumble in the world. I am just so in love with autumn, it's my favorite of all four seasons, and this crumble tastes so much like fall, that it's my welcome-fall-dish.
As I was strolling through the farmers market last Saturday I really noticed the change in seasons when looking at all the new produce that was offered. There were still traces of summer with blueberries and blackberries and even the last strawberries of the season, but there were also the first signs of fall such as plums, damsons and even pumpkins.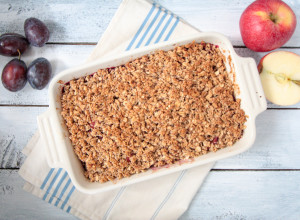 For me fall is such a special season as I have so many great memories from my childhood that involved fall. For starters I love fall sunlight, which is so warm and comforting and nothing like bright summer sunshine. It turns everything around you into the prettiest colors: red, orange and even pink and I find such comfort in running through leaf-covered trails in the morning. Fall makes me start to reflect on what has already happened throughout the year, and it makes me look forward to wearing sweaters, boots and coats. It just makes me want to cuddle up on the sofa which a mug of hot almond milk chocolate or ginger lemon tea. I think you get the picture: I love fall.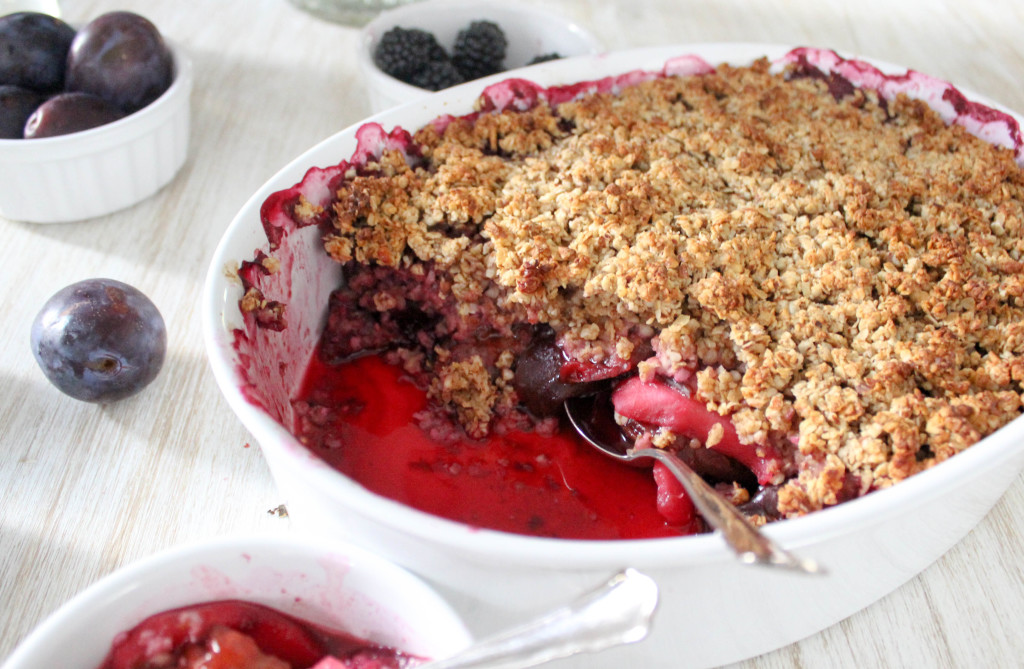 This crumble is the perfect dish to say farewell to summer and hello to fall – the damsons and apples are the first fall produce and the blue- and blackberries are the last summer berries that you can still get fresh from the farmers market. Topped with a crunchy oat and maple topping, and a touch of cinnamon, it really is the perfect dessert for the transition between summer and fall. So if you're like me, then your perfect Saturday would start with a run in the morning followed by some awesome coconut porridge with fresh figs, it then continues with a long stroll through the local farmers market and it ends with an evening spent with friends, laughing and eating damsons, apple and blackberry crumble.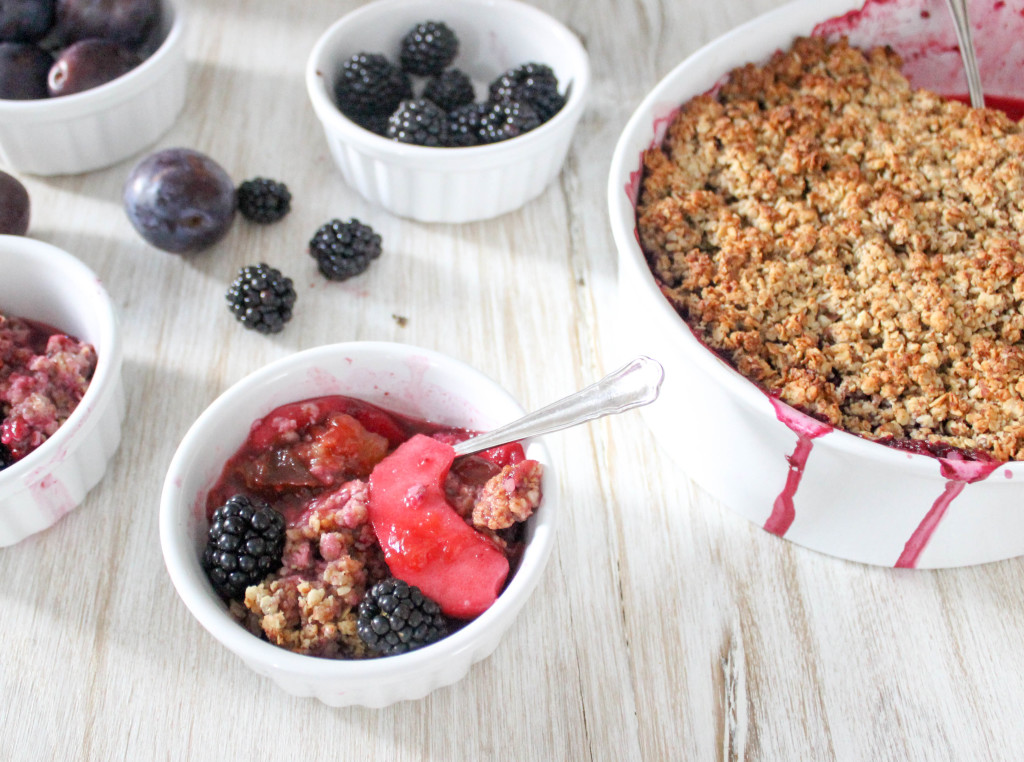 Damson, Apple & Blackberry Crumble
Ingredients
For the damsons, apple and blackberry filling:
1 pound damsons (500g) or plums
300g apples (about 2-3)
200g blackberries and/or blueberries
1 tbsp maple syrup
1 tsp cinnamon
1 tsp coconut oil
For the oat and coconut topping:
2 cups (200g) whole almond
2 cups (200g) oats
3 tbsp coconut oil
¼ cup + 2 tbsp (110ml) maple syrup - 2 tsp cinnamon
a pinch of salt
Instructions
Pre-heat the oven to 180°C (356°F) and grease a baking tin with coconut oil.
Place the almonds into a food processor and blend until a nice flour forms. Pour the flour into a bowl and add the oats and a pinch of salt.
In a small pot, heat the coconut oil. Once it's completely melted, add the maple syrup and cinnamon and stir well. Pour the sweet coconut oil mix over the oats and almonds and mix well with a spoon so you get a sticky and crumbly oat topping.
Now wash the damsons and remove their stones. Peel the apples, remove their stones and slice them. Wash the blueberries and blackberries.
Place the fruit into a large skillet and add the maple syrup and cinnamon. Heat everything over medium heat until it starts to bubble slightly. Reduce the heat to low and let it simmer for about 8 - 10 minutes.
Pour the fruit into the baking tin and cover it with the oat-almond mix, using your hands to spread it evenly.
Bake the crumble for about 20 minutes until the oats are starting to get a bit brown on top.
Remove it from the oven and serve immediately while still hot.
Notes
To make the crumble nut-free, use sunflower seeds instead of almonds or substitute them with more oats.
If you don't have a food processor use store-bought (organic) almond meal.
Use certified gluten-free oats for a gluten-free version.
 I love to eat leftover crumble for breakfast the next morning.
Enjoy!
---
DID YOU MAKE THIS RECIPE OR HAVE ANY SUGGESTIONS, QUESTIONS OR COMMENTS?
Feel free to leave a comment below, and don't forget to tag your creations on social media using #heavenlynnhealthy.
I'd love for this blog to be a dialogue.
---