Healthy Blueberry Millet Pancakes not just for Pancake Day!
Today is Pancake Day! Yaaaaaay!
I know that Instagram will be going crazy today, so expect to see A LOT of pancake photos in your feed and probably everywhere on social media. I always wonder who exactly decides that February 28th is the official Pancake Day? Probably some Pancake Company with a House in their name. Seriously though, if you know the answer to this question, please put me out my misery and let me know in the comments below.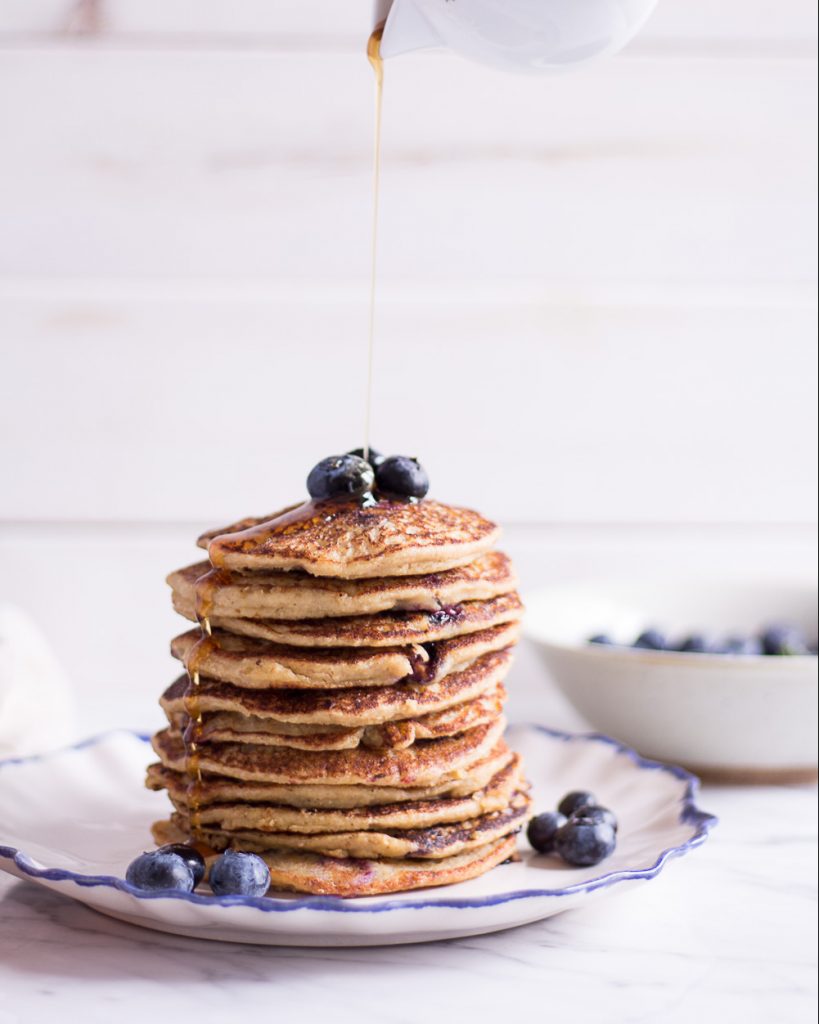 Even though I am not the biggest pancake addict (I have to admit that I prefer crêpes), these blueberry millet pancakes really turned out great. I have been wanting to use millet flour for the longest time, so when I read that February 28th was Pancake Day, I knew that I wanted to use millet flour for a new pancake recipe.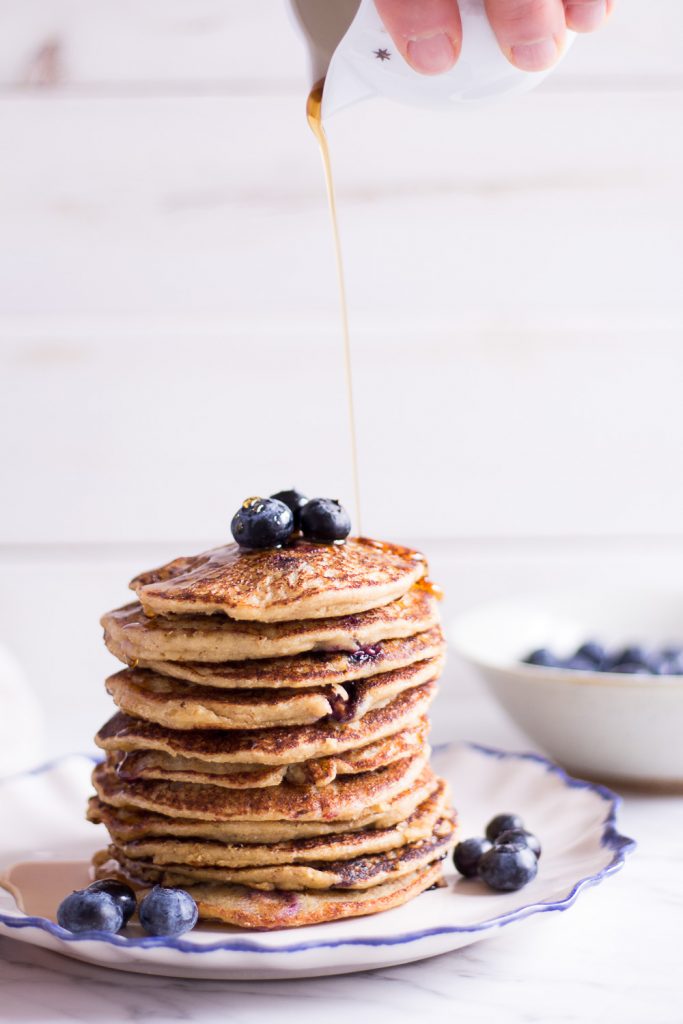 So, we need to talk about millet. I have used millet before in a couple of older recipes such as this blueberry millet granola (wow, I wonder who thought of this genius flavor combination), and millet tabbouleh, which is actually an amazing recipe that needs an urgent photo upgrade. Millet is an ancient grain with a similar structure as wheat, however, millet is completely gluten free and contains lots of plant based protein. Another great characteristic of millet is that it contains the amino acid tryptophan, which aids in weight control by keeping us satisfied for longer. Tryptophan is also responsible for increasing our seratonin levels, which helps release stress and increase our mood.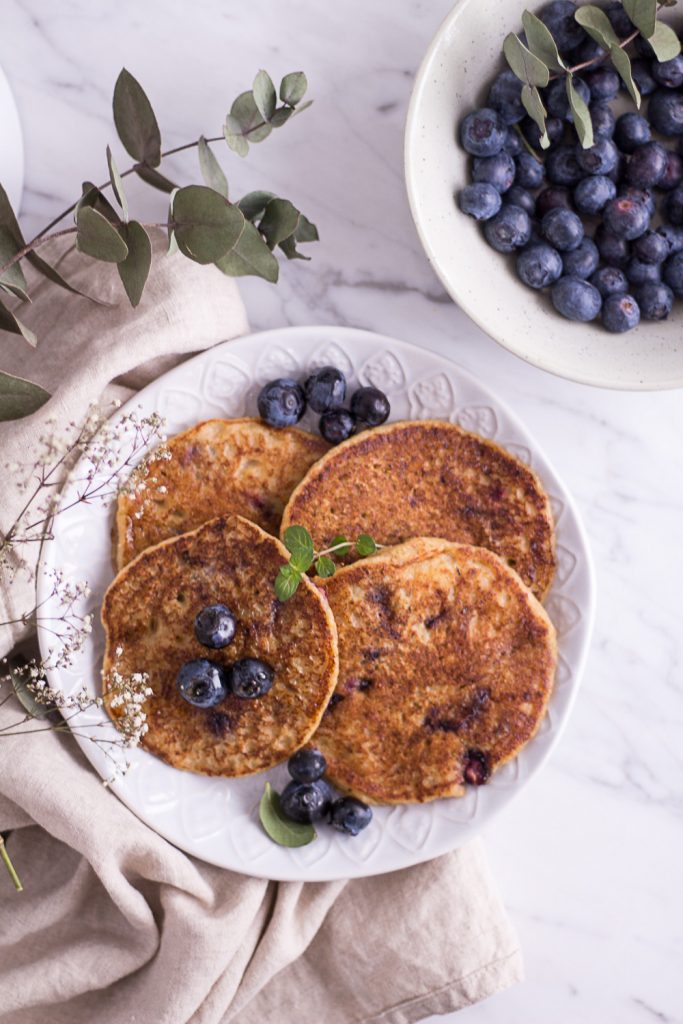 So there is your proof that pancakes are great for happiness.
Besides from being super healthy, these pancakes also contain no added sugars and are naturally sweetened with bananas. The sparkling water that I use for all my pancake and crêpes recipes make them especially fluffy, so no need for eggs either.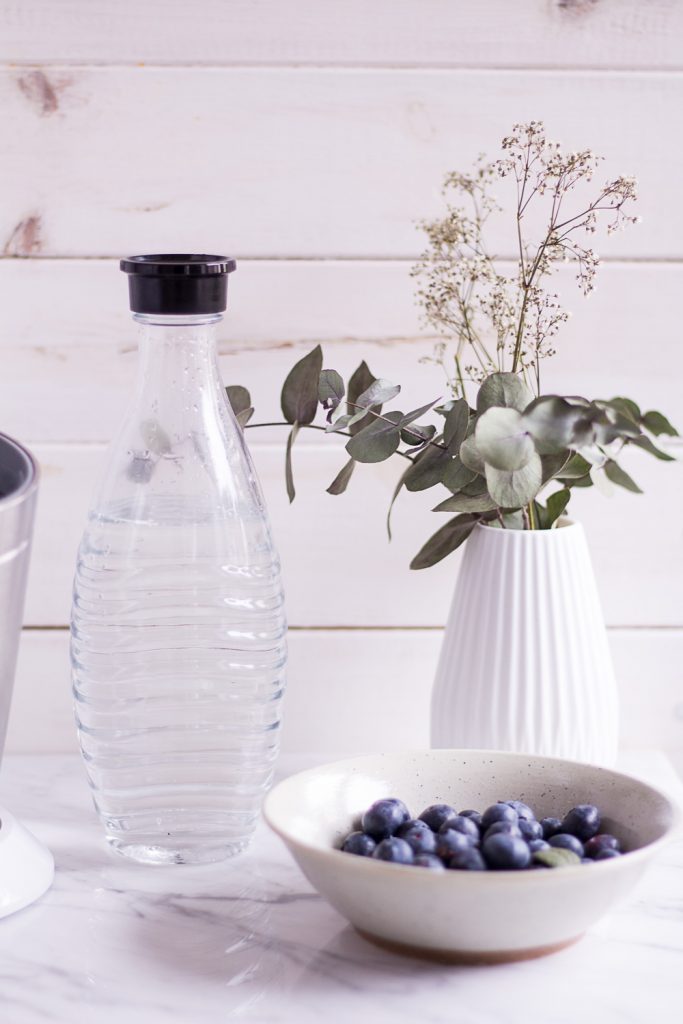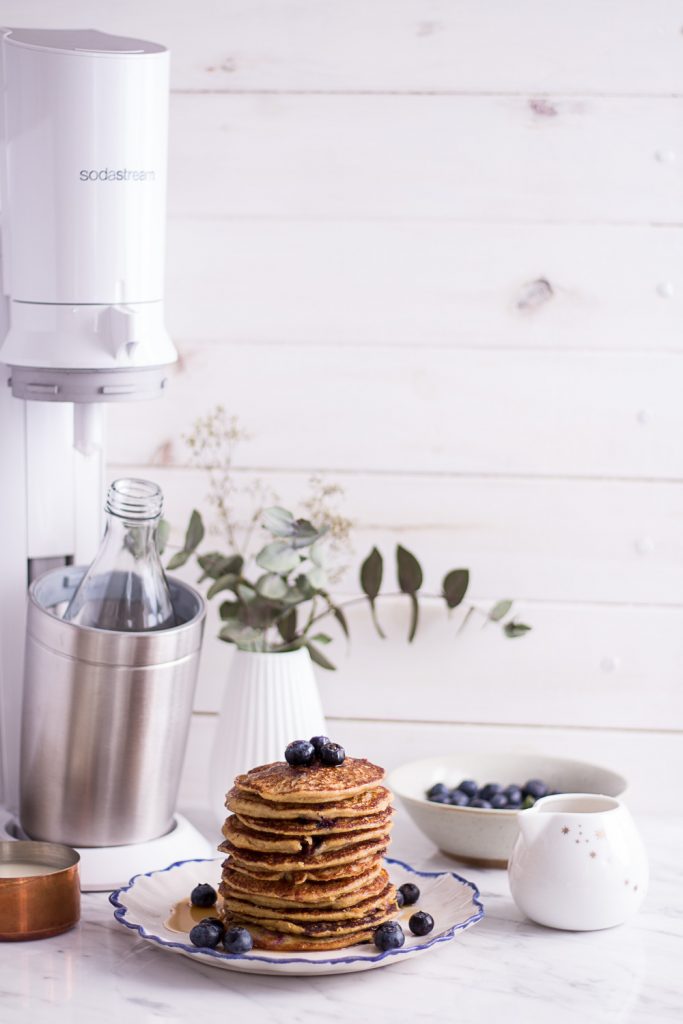 By the way, if you live in Germany, you can win a SodaStream* on my German blog this week. Head over there for a change to never have to carry water bottles again.
Wishing you all a great Pancake Day and oh, by the way, Happy Birthday to Heavenlynn Healthy, who is turning 2 this week!

Healthy Blueberry Millet Pancakes
Ingredients
1 cup (130g) of millet flour
½ cup (50g) of oats
½ cup (125ml) of almond or (gluten-free) oat milk
¾ cup (150ml) of sparkling water
1 cup of blueberries
2 tablespoons of coconut oil
2 bananas
2 teaspoons of aluminum-free baking powder
½ teaspoon of of cinnamon
½ teaspoon of vanilla powder
a pinch of salt
Instructions
Start by blending the oats into a flour using your food processor. Add the millet flour, the baking powder, vanilla powder, cinnamon and salt.
Mix the banana with the almond or oat milk and the coconut oil using a mixer or food processor.
Combine the wet ingredients with the dry ingredients. Gradually pour the sparkling water into the batter and mix with a whisk. Carefully add the blueberries to the batter and stir until just combined.
Place a saucepan on the stove and heat it for about a minute or two until it's hot enough. Grease it with a teaspoon of coconut oil. Wait until the coconut oil has melted, then add a quarter cup of the batter (about two tablespoons) to the middle of the saucepan. Form a round pancake with your spoon and wait until little bubbles form on the upper side of the pancake before flipping it over.
Allow the other side to cook for another one or two minutes, then remove the pancake and move on to the next one. Repeat this procedure until you've used up all the batter. Depending on the quality of your saucepan, you'll probably not need to use a new teaspoon of coconut oil for every pancake.
*Sponsored Post. This recipe was created in cooperation with SodaStream. Thank you for supporting the brands that support Heavenlynn Healthy. 
Enjoy!
---
DID YOU MAKE THIS RECIPE OR HAVE ANY SUGGESTIONS, QUESTIONS OR COMMENTS?
Feel free to leave a comment below, and don't forget to tag your creations on social media using #heavenlynnhealthy.
I'd love for this blog to be a dialogue.
---