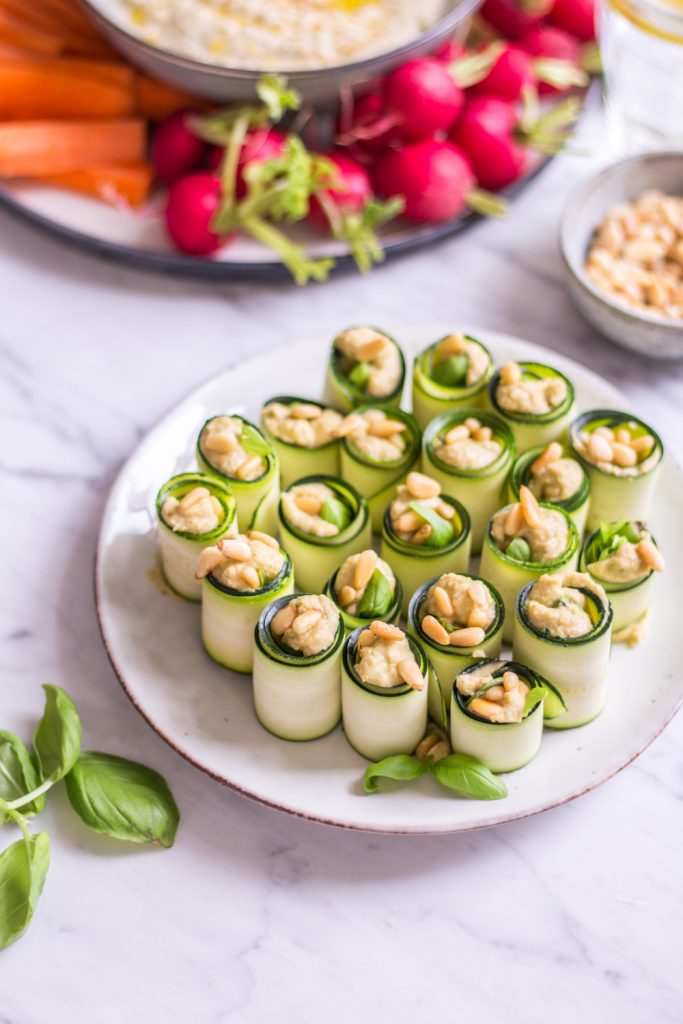 You guys, I know. It seems like my finger food selection is all about zucchini – and it totally is. But there is absolutely nothing wrong with it, because I am using zucchini in different ways in my finger foods, which makes this a total win for everyone. For you, because zucchinis are sold everywhere and are very affordable and for your guests because few people are allergic to zucchini (correct me here if I'm wrong). This time, I've wrapped up one super delicious basil hummus and pine nuts! Ok, scratch the allergy-comment above, because pine nuts are definitely an allergen, so make sure you ask your guests before hand, if they have any allergies or simply tell them exactly where to find pine nuts in their food.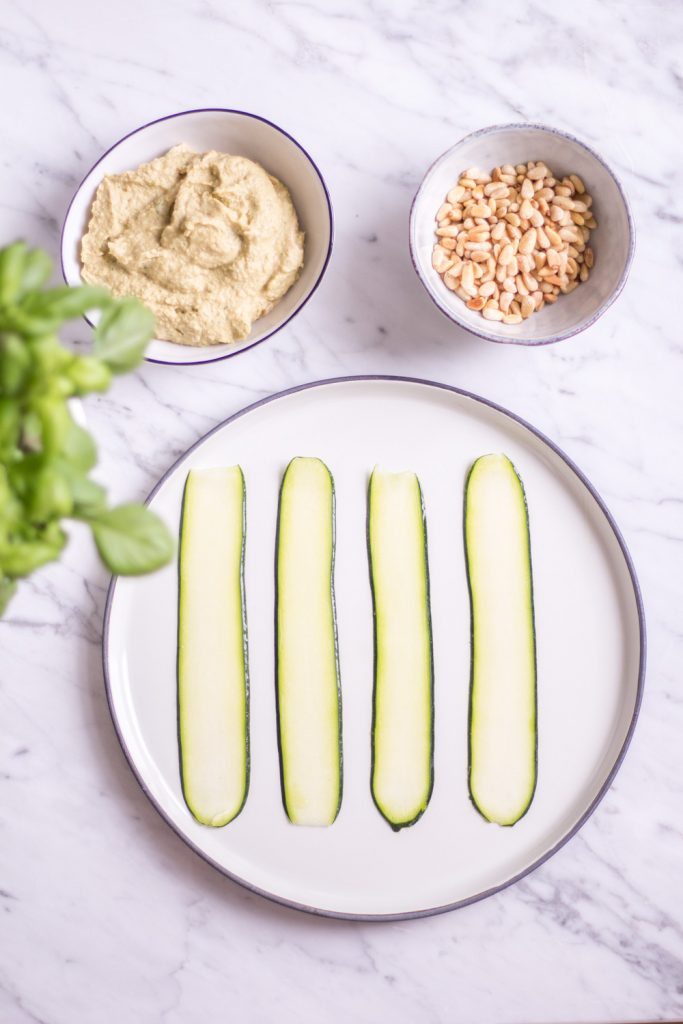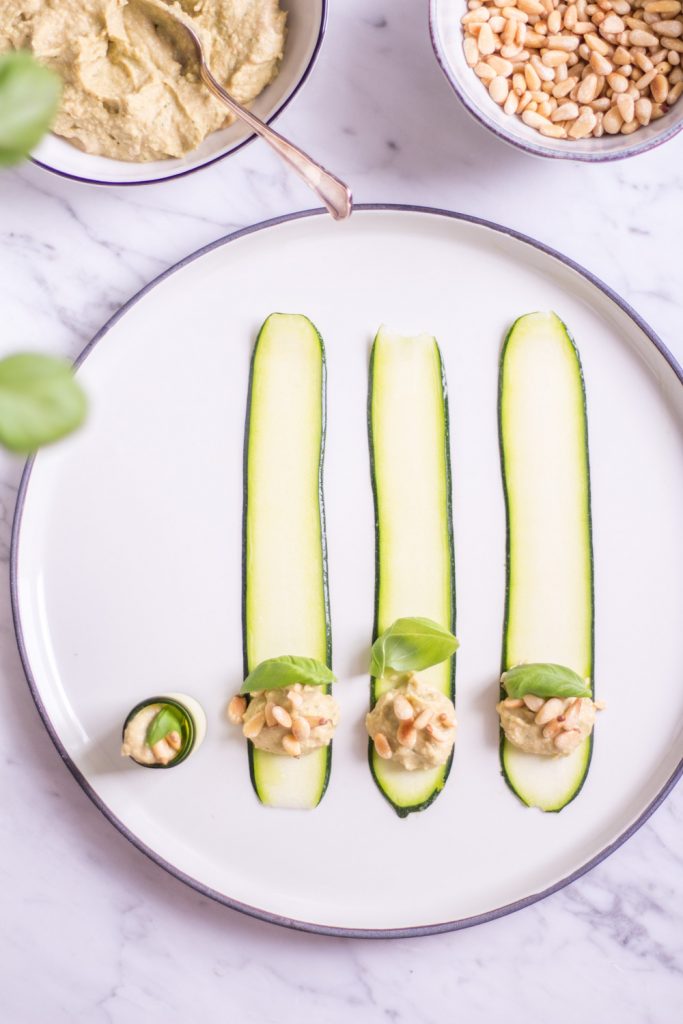 These rolls look much much more complicated than they are. All you need is zucchinis, a vegetable peeler, hummus, basil and pine nuts. Super easy, super simple. Now, I am all about making your own hummus. Totally. But I also understand that especially when you're throwing a party, time is limited, so feel free to use store-bought hummus for this version. That sad, I have not yet come across a hummus brand that I really love here in Germany. Most hummuses that I found are filled with vegetable oil, sugar or other additives, which I try to avoid if possible. Also, making your own hummus literally takes 5 minutes including washing up, so time should actually not be a reason not to make your own hummus.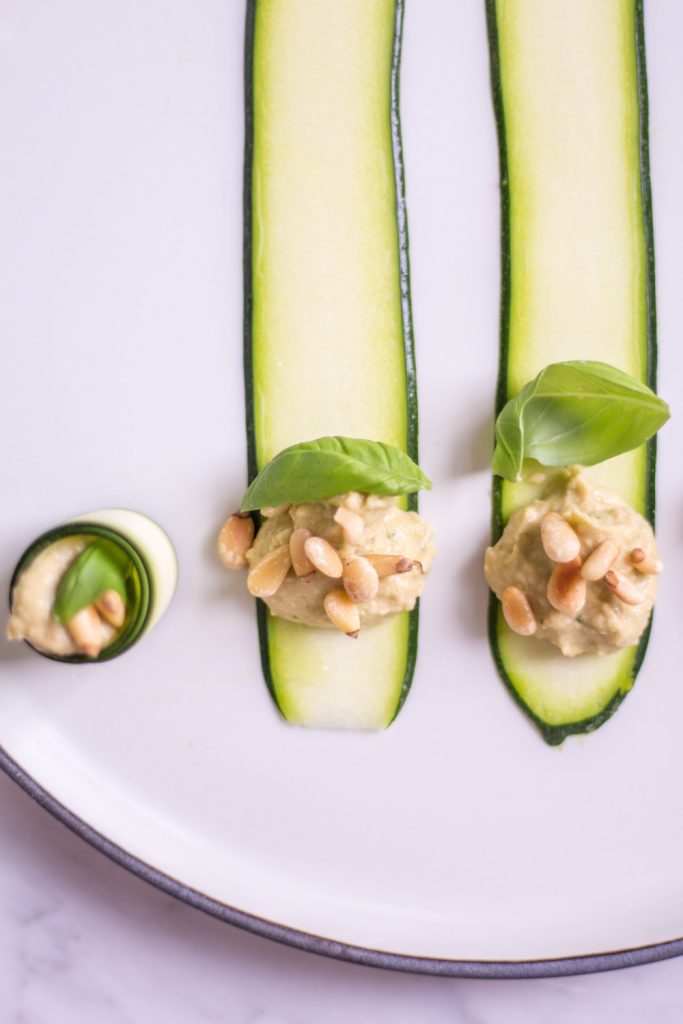 For these rolls, I added a good handful of fresh basil leaves to my hummus to give it some extra flavor. I also rolled one basil leaf in each zucchini roll, to make it even more flavorful. Such a good idea! Also, this will prevent the typical run for the basil leaves on the caprese salad (mozarella and tomato), where basil leaves are usually limited. In this roll, basil leaves are equally distributed so that each guest will be sure to get a basil leaf. So genious, if you are a basil lover. If not and you have absolutely no idea what I am talking about then go on to the next paragraph.
To make these rolls, all you need is to carefully slice about 2 zucchini, add a bit of hummus, basil and pine nuts on one end and then carefully roll them up. Such small effort with a huge a-ha effect.
Now let's get rolling:

Zucchini Basil Rolls with basil hummus
Ingredients
60 g (about ¼ cup) of pine nuts
2 zucchini / courgettes
1 portion of homemade or store-bought hummus
1 good handful of fresh basil + about 20 single leaves
Instructions
Roast the pine nuts in pan without oil for about 5 mintues on medium heat until golden brown. Watch them carefully as they burn pretty quickly.
Slice each zucchini into long slices, setting aside the very first two to three slices as they are usually too thin. Once you reach the small inner seeds and the slices start to thin, turn the zucchini around and start peeling from the other side. At one point, you will also reach the seeds. Put this zucchini aside. You can use it in a stir-fry or in my zucchin hummus.
In a food processor, mix the hummus with the basil. If you don't have a food processor and you've bought hummus, finely chop the basil and mix it under the hummus.
Place as many zucchini slices as possible next to each other on a plate or cutting board. This step will safe you some time. Add about 1 teaspoon of hummus on one end of the zucchini slice. Add a few pine nuts and one basil leaf on each hummus drop. Repeat this with the other zucchini slices.
Roll the slices away from you or towards you, depending on which end you put the hummus. The zucchini will stick at the end, so you should not need wooden stick to hold them together.
Repeat until the zucchini slices are all rolled up. You can also serve these rolls the next day as they will keep fresh in an air-tight container for at least one day.
Enjoy!