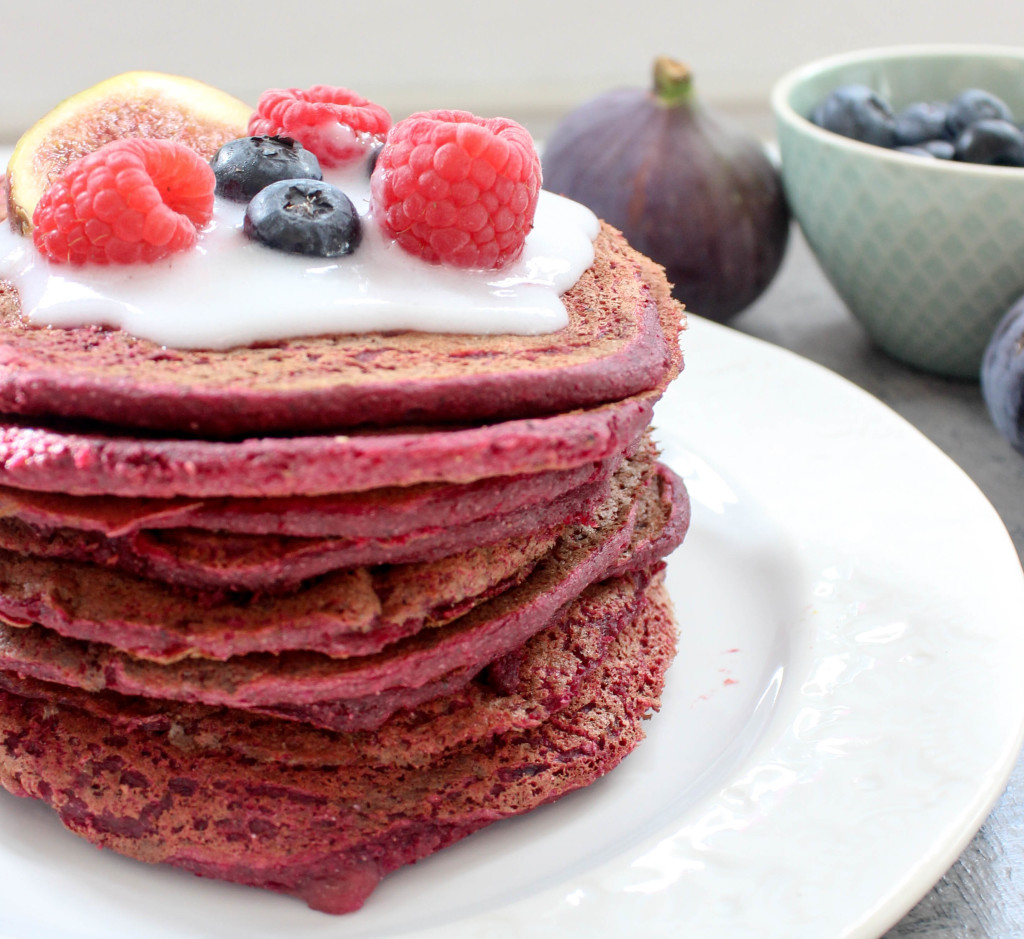 These beetroot pancakes not only look amazing, they also taste amazing! I normally make them whenever I have some pulp left from making beetroot juice, which is a great way to eliminate waste and get some more nutrients into your system. Since I love having special dishes for breakfast on cozy Sunday mornings, these pancakes made last Sunday extra special. Pancake Sunday reminds me of my time in the U.S. and sometimes I dream about making colorful pancakes for my future family (it's still a far away dream, just saying). These pancakes are amazing on so many levels. First of all, they are so healthy, that you can enjoy them absolutely guilt-free. There is absolutely no refined sugar in them as they are naturally sweetened with banana and apple puree. They are made with oat flour, which also adds a touch of sweetness, and lots of healthy nutrients to the breakfast dish.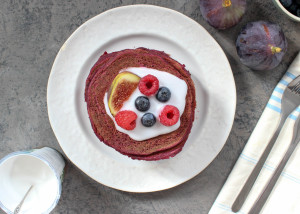 Oats are actually some of the healthiest grains out there, which is great because they are also the cheapest of all grains. Only amaranth and quinoa can top them in terms of nutrient density. Not only do oats contain more than twice as much iron as meat, they are also one of those "beauty" foods due to their high biotin content. Biotin is responsible for healthy, glowing hair, skin and nails. Another great vitamin found in oats is vitamin B6, which is important for a healthy psyche. So if you suffer from fatique or sleep deprivation, then try adding some oats to your breakfast, and you should feel the difference.
Secondly, I love these pancakes because they are pink! I love to color my food naturally, and beetroot juice just creates the most beautiful pink food color. However, I don't just add beetroot for the color. Beets are so healthy, because they are packed with lots of iron, potassium and folic acid. Potassium regulates the blood pressure and is said to lower cholesterol. Pancakes are a beautiful and fun way to incorporate more beets into your and maybe even your family's diet. Some of my other beetroot favorites include beetroot-soup, beetroot-granola and of course beetroot juice with carrots, ginger and apple.
Depending on how much of a beetroot fan you are, you can decide for yourself how much beetroot you want to use in your pancakes. I found that 1 tablespoon of beet pulp and 2 tablespoons of beet juice produced the best result and the least beety taste.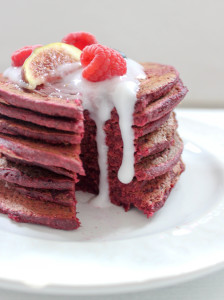 INGREDIENTS:
– 1 cup (110g) oats
– 1 cup (110g) buckwheat flour or more oats
– 1 cup (250ml) sparkling water
– 1 cup (250ml) almond milk
– 1 banana
– 1/4 cup apple puree (unsweetened, preferably homemade)
– 1 tbsp beetroot pulp, see note
– 2 tbsp beetroot juice, from juicer
– 1 tsp (5g) coconut oil
– a pinch of salt
– ½ tsp of cinnamon (optional)
NOTES:
If you don't have a juicer to make beetroot pulp or juice, then you need to roast your beet and make beet puree. Wrap the whole beet in tin foil (with the skin) and place it in the oven at 200°C for about 60-75 minutes. After an hour or so, take the beet out of the oven. It'll be done when you can easily put a knife through the skin. Peel it and put it into a strong blender or food-processor until you have a smooth beet puree. You might need to add some water if your blender isn't strong enough.
If you're in a hurry, then use pre-cooked and packaged beets instead.
You can buy beetroot juice at any health store or make it yourself in a juicer.
METHOD:
Start by crushing the oats into a flour using your food processor. You can also use two cups of oats if you do not have any other flour at hand.
Add all other ingredients and blend until a smooth mixture forms.
Let the batter stand for at least an hour.
Place a saucepan on the stove and heat it for about a minute or two until it's hot enough. Grease it with a teaspoon of coconut oil. Wait until the coconut oil has melted, then add a quarter cup of the batter (about two tablespoons) to the middle of the saucepan.
Form a round pancake with your spoon and wait until little bubbles form on the upper side of the pancake before flipping it over. Allow the other side to cook for another one or two minutes, then remove the pancake and move on to the next one.
Repeat this procedure until you've used up all the batter. Depending on the quality of your saucepan, you'll probably not need to use a new teaspoon of coconut oil for every pancake.
I love to top my pancakes with coconut yoghurt, maple syrup, or fresh berries, banana or apple slices.
Enjoy!