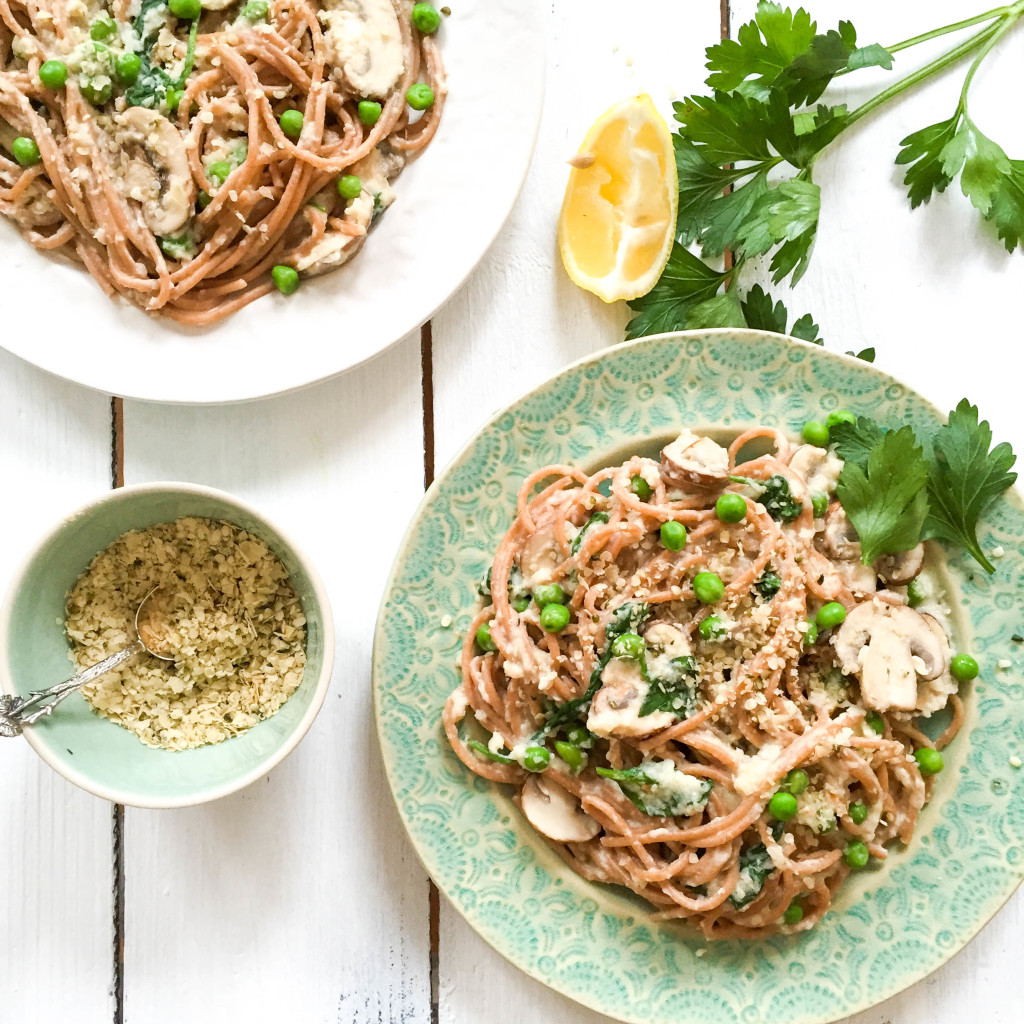 What can I say, this healthy spaghetti carbonara with creamy cauliflower-sauce and superfood parmesan is simply amazing! I have been a huge carbonara fan when I was little, however, once I started eating healthier, carbonara pasta was not on my food list anymore. It was just too heavy for me, with all the cheese, cream and eggs. I loved the taste, but my body just couldn't handle it. But since I missed the taste, I wanted to create a lighter and healthier carbonara. Most plant-based carbonara or alfredo sauces that I found in my cookbooks and favorite blogs use cashew or some sort of nut butter to create the creamy sensation that makes carbonara sauces so special. Since cashew-based sauces are just too heavy for my taste, I tried using cauliflower instead and the result is simply amazing*. Trust me, you will love this sauce just as much as I do. It's really easy to make and only takes a few minutes to prepare, and it's completely healthy too. For those suffering from nuts, it's also nut-free, which I know will make many of you very happy.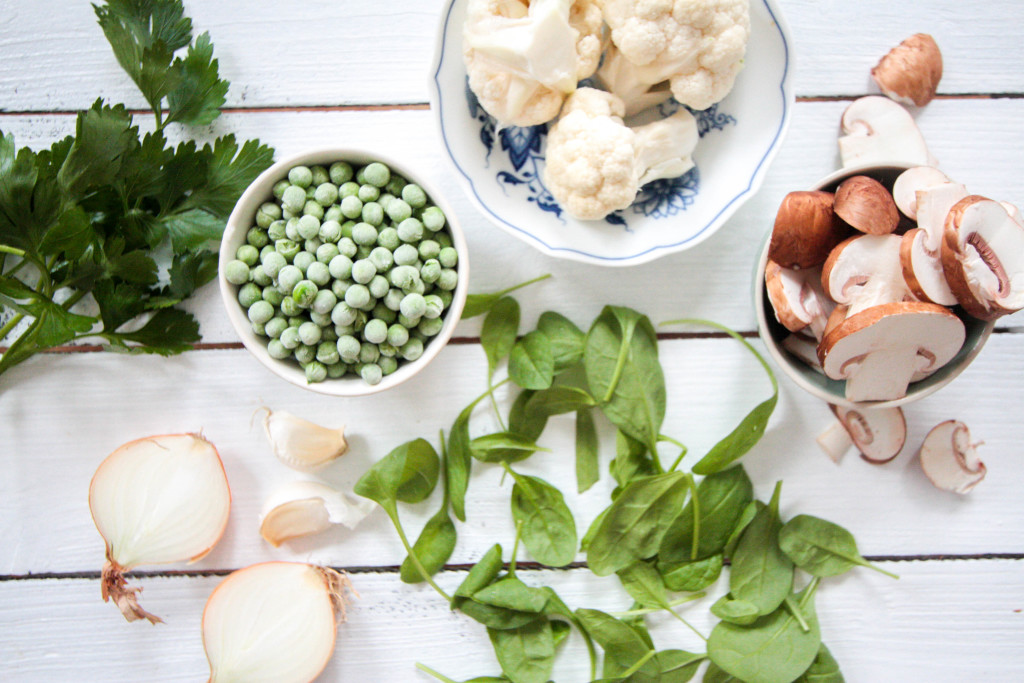 Another perk of not using nuts as a cream base, is that there is no soaking time, and you can throw this sauce together without having to plan 24 hours ahead of time.
The cauliflower gives this sauce such a creaminess, that you won't even miss the traditional animal based cream. Combined with the olive oil, almond milk and lemon juice, and fresh garlic, it really creates the idea of a creamy carbonara sauce. I love it with spelt or brown rice spaghetti, and I also love adding a few veggies such as green peas, mushrooms and spinach. Those vegetables worked really well in the sauce as they all develop a creamy taste when cooked with the sauce. For the cheesy and egg-like flavor I love adding some nutritional yeast.
What is nutritional yeast?
Nutritional yeast is deactivated yeast that is bursting with nutrients. You can get it at any health store or online. It is such a superfood because it is packed with B vitamins that help you extract the energy from other foods and help produce red blood cells. It also contains vitamin B-12, which is usually found in animal-products only. For vegans, nutritional yeast is one of a few sources for this nutrient. It's also a complete protein because it contains all essential 18 amino acids that our body cannot produce.
In terms of minerals, nutritional yeast comes with a significant amount of iron, selenium and zinc, and is also a great source of fiber.
In this dish I combined it with some hemp seeds and salt to create a parmesan-like texture. Of course it's not the same as parmesan, but I honestly think it's much better.
If you're still not sure about this cauliflower-based sauce, then let me tell you that my boyfriend finished the entire spaghetti bowl in just a few minutes. It's a very different food experience, but as long as you're open to new things, you are going to love this sauce.
*The idea of using cauliflower as more than just a boring side dish is from the lovely Lyndsey, from Pinch of Yum. Thank you, Lyndsey, for inspiring this delicious sauce.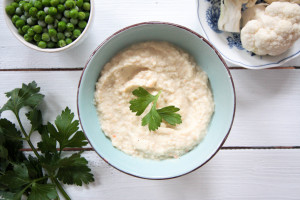 INGREDIENTS:
– 250g spelt, whole-wheat or gluten-free spaghetti
– 1 tsp salt or homemade veggie stock
– 1 cup frozen peas
– 10 mushrooms (250g)
– 1 handful fresh baby spinach
For the cauliflower carbonara:
– 200g cauliflower (4 – 5 florets)
– 1 – 2 cloves garlic
– 1/2 onion
– 1 tbsp fresh lemon juice
– 2 tbsp extra-virgin olive oil
– 1/4 cup nutritional yeast
– 1/2 cup (120ml) unsweetened almond milk
– salt and pepper to taste
For the superfood parmesan:
– 2 tbsp nutritional yeast
– 1 tbsp hemp seeds
– a pinch of salt
NOTES:
For a nut-free version use oat milk or rice milk instead of almond milk.
For a gluten-free version use gluten-free pasta such as quinoa or brown rice pasta.

METHOD:
1. Start by steaming the cauliflower for about 10 minutes until they become really soft.
If you don't have a steamer, then start by putting the cauliflower florets into a medium sized pan and cover with water. Bring to a boil, reduce the heat and let simmer for about 5 minutes until fork tender. Drain and set aside.
Bring a large pot of water to a boil. Add 1 tsp salt or homemade veggie stock and cook the spaghetti according to instructions on package.
2. While the spaghetti cook, mince the garlic and finely chop the onion. Heat 1 tbsp of the olive oil in a skillet and sauté the garlic and onion for about 1 – minutes until fragrant, but not brown.
3. Transfer the cooked cauliflower, sautéed onion and garlic into a high speed blender or food processor. Add all remaining ingredients and blend until a smooth sauce forms. You want it to be super smooth, so blend it for a good minute. Scrape down the sides if needed. Set aside.
4. Now wash and slice the mushrooms. Put them in the skillet that you used for the onions and add the frozen peas and washed spinach. Heat everything on medium to high heat until the peas are defrosted and the spinach is wilted. Then add the cauliflower sauce and re-heat everything for another 2 minutes on medium to low heat. Then turn off the stove but leave the skillet on it to keep it warm.
5. Once the spaghetti are al-dente, drain the water and shortly rinse them with cold water.
Transfer to the plates and serve with the carbonara sauce.
6. For the superfood parmesan, mix the hemp seeds with the nutritional yeast and sprinkle on top of your carbonara pasta.
Enjoy!