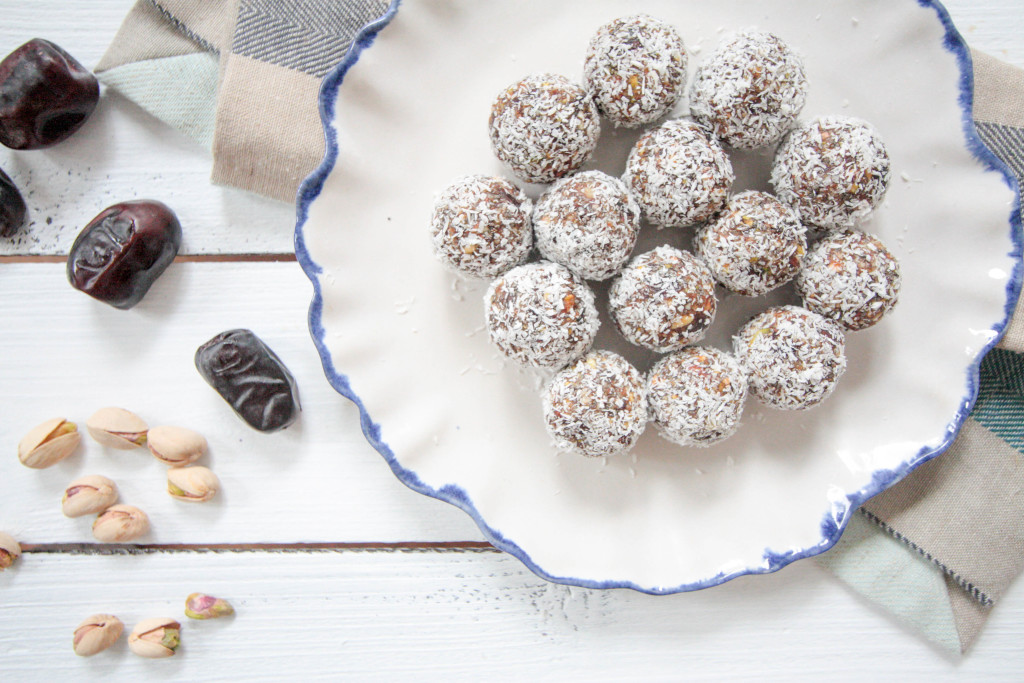 These superfood energy balls are absolutely amazing! Honestly, I've never made such a delicious yet healthy treat before and everybody, especially my boyfriend, loves them. They are super easy to make and only require a few basic ingredients that you are more than welcome to play around with depending on any food allergies or intolerances you might have.
The main ingredient in these energy balls is medjool dates, which are probably my favorite natural sweet in the world. I love how they melt in your mouth and how they satisfy any sugar cravings I usually get in the afternoon.
Medjool dates are also packed with goodness such as iron and potassium. Iron is especially important for oxygen transportation through the body and potassium helps maintain a healthy heart and a normal blood pressure. They are also one of the best energy foods because its sugar is easily broken down in the body, providing instant energy boosters.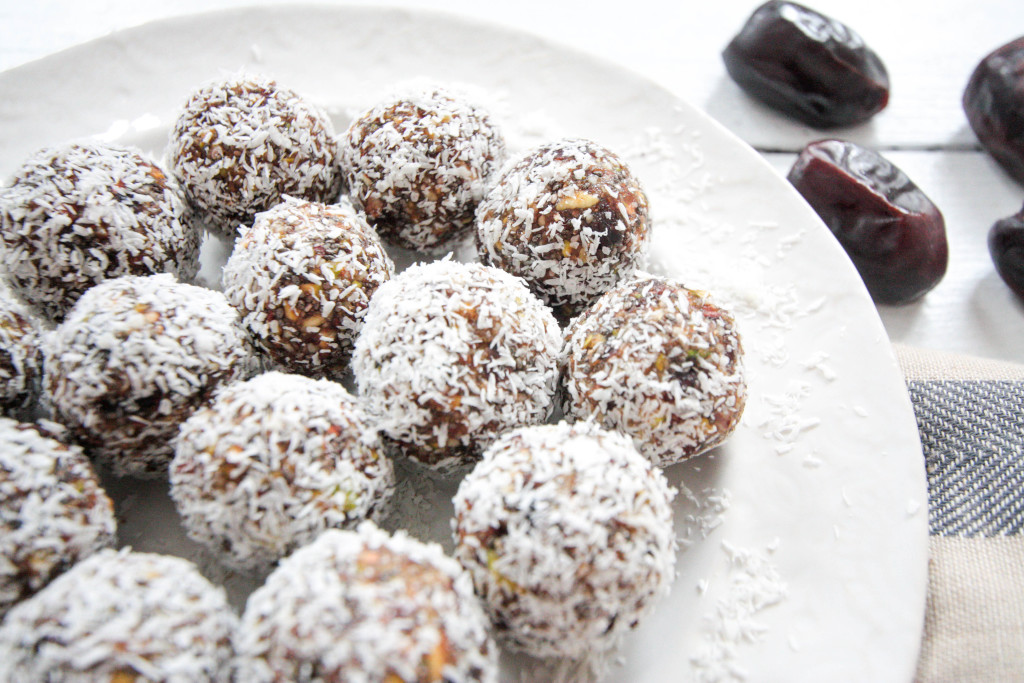 More goodness comes from the nuts, which are one of the best plant-based sources of protein out there. Almonds contain lots of vitamin E, the beauty vitamin that is important for healthy nails and hair and lets our skin glow from the inside out. Besides almonds, pistachios are one of the healthiest nuts, containing the most amount of monounsaturated fats that keep our heart healthy. To top it all, the chia seeds in these energy balls provide a healthy amount of omega-3-fatty acids, which also help to protect our heart. They are also bursting with fiber, which keeps us satisfied for hours and prevents our blood sugar level from increasing rapidly.
INGREDIENTS:
– 1 cup medjool dates (150g, about 10)
– 1/4 cup (25g) almonds
– 1/4 cup (30g) pistachios
– 1/4 cup (30g) pecans or walnuts
– 1 tbsp chia seeds
– 1 tbsp hemp seeds (optional)
– 1 tbsp shredded coconut
NOTES:
Healthy side note: These superfood energy balls are not a low-calorie food, in fact they are calorie bombs. Just because they are healthy and packed with healthy nutrients, does not mean I recommend over-indulging in them. I usually eat one or two a day as a healthy on-the-go snack or brain food when I'm doing office work all day. They are also a great energy boost before a workout or refuel after a workout. My boyfriend loves them before a soccer game to give him some extra energy. Just use common sense and treat them like sweets.
– To make the balls nut-free, simply substitute the nuts for sunflower and/or pumpkin seeds or flax seeds. You will probably need a food processor then.
METHOD:
With a food processor:
Place the almonds into the food processor and grind them to a flour. This should take about 30 seconds depending on the strength of your food processor.
Transfer the almonds into a bowl and set aside.
Now place the pistachios and pecans or walnuts into the food processor and pulse for a few seconds until they are crushed, but still remain some texture (you should still identify them as nuts).
Then remove the stones from the medjool dates and put them into the food processor along with the ground almonds.
Mix them until a sticky dough forms (about 30 seconds). Then add the chia seeds, hemp seeds if you are using them. To form the balls, read below.
Without a food processor:
If you don't have a food processor it's a little bit more messy work.
First of all, you need to buy almond meal if you cannot make your own. Almond meal can be found in the baking isle of any grocery store.
Then start by placing the pistachios and pecans or walnuts into a kitchen towel. Make sure you wrap them in the towel completely. Using a hammer or any other hard device, crush the nuts until they are broken down into pieces. Open the towel and place the crushed nuts into a bowl.
Add the almond meal, chia seeds and hemp seeds if you are using them.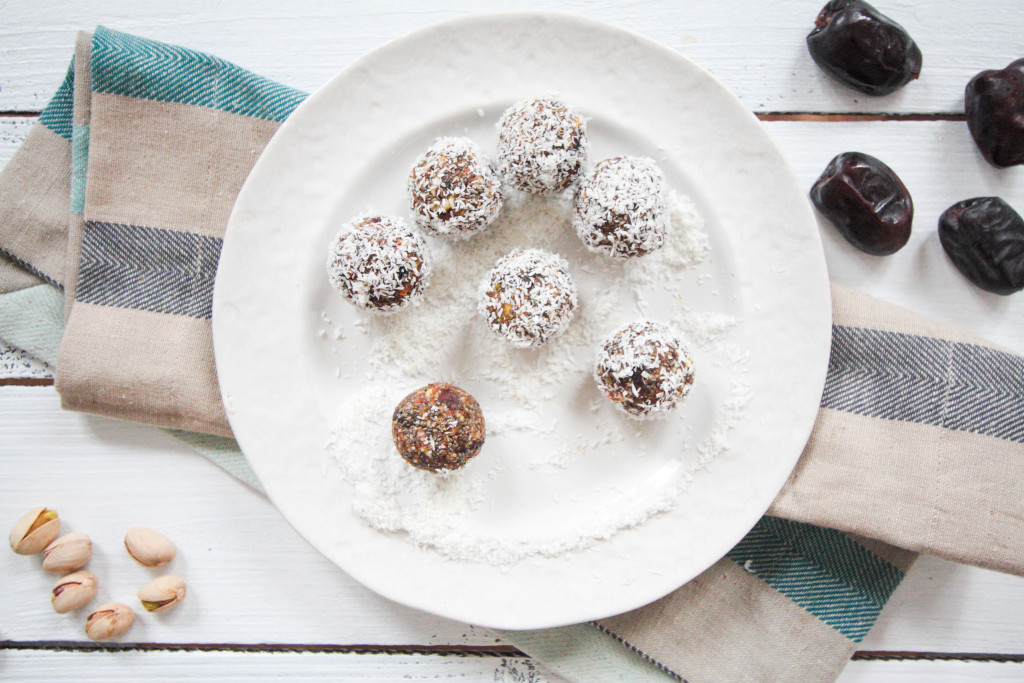 Now pit the dates. This is where it gets messy. Squeeze the dates between your hands and form them into a sticky dough. Once you have one sticky big ball of mashed dates, place the ball into the bowl of nuts and chia seeds. Combine everything using your hands, this should get easier because the almond meal serves as a flour, making the dough less sticky.Now pour the shredded coconut flakes in a small bowl or plate.
Now form the balls using your hands. I use about one teaspoon for each energy ball.
Place the balls into the bowl of shredded coconut and cover them completely, rolling the balls around.
Place the covered balls on a small plate and put them in the fridge to set for a couple of hours.
Enjoy!