Tomorrow is St. Lucia, the Swedish festival of lights. Since I grew up in a town of Swedish heritage, its a tradition that I am quite familiar with. Every year the Swedish queen of lights, Santa Lucia, would visit our town, our pre-schools and elementary schools. Seeing this beautiful girl dressed in a white dress, wearing a crowd of actual candles on her head is one of the brightest memories from my childhood. While I still don't know if the whole thing was staged and Santa Lucia and her people were actually Germans, the memory always makes me smile.
If you haven't already had a deep love for Sweden and its traditions, then google "St. Lucia Sweden" and I guarantee that you'll love it. The Sweds are just the coolest people on the planet and I sometimes wish I was one of them. In one of my favorite podcasts, someone said something very true recently: he said that the Germans are just not the type of people you would ask for opinions on art or food or anything related to enjoyment. We are a working people and that's what we're good at. We're surrounded by countries with such an amazing sense of style of taste, but all we can do is buy style and buy taste. And I could not agree with them more, and I have not laughed so hard in a long time, I can tell you that.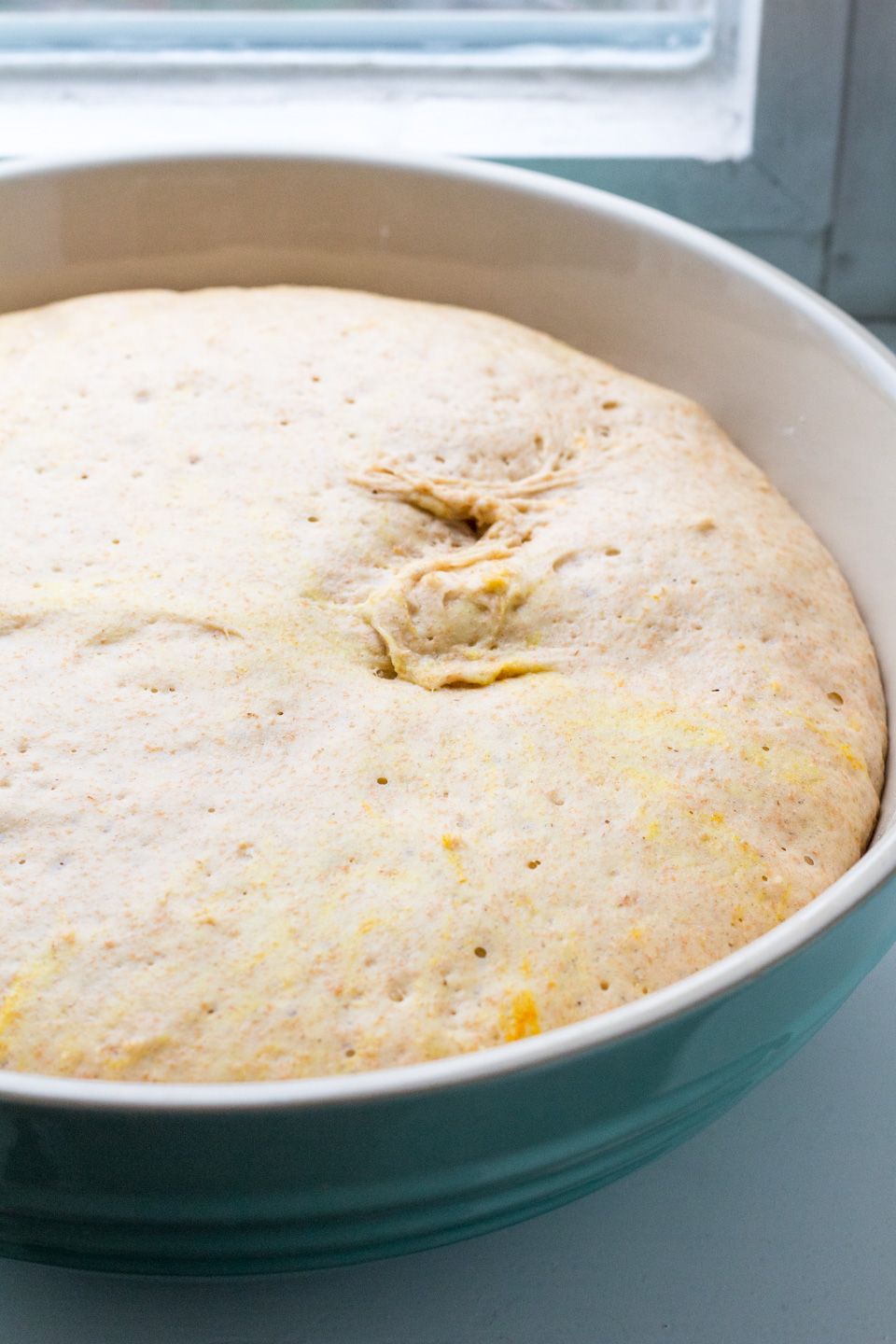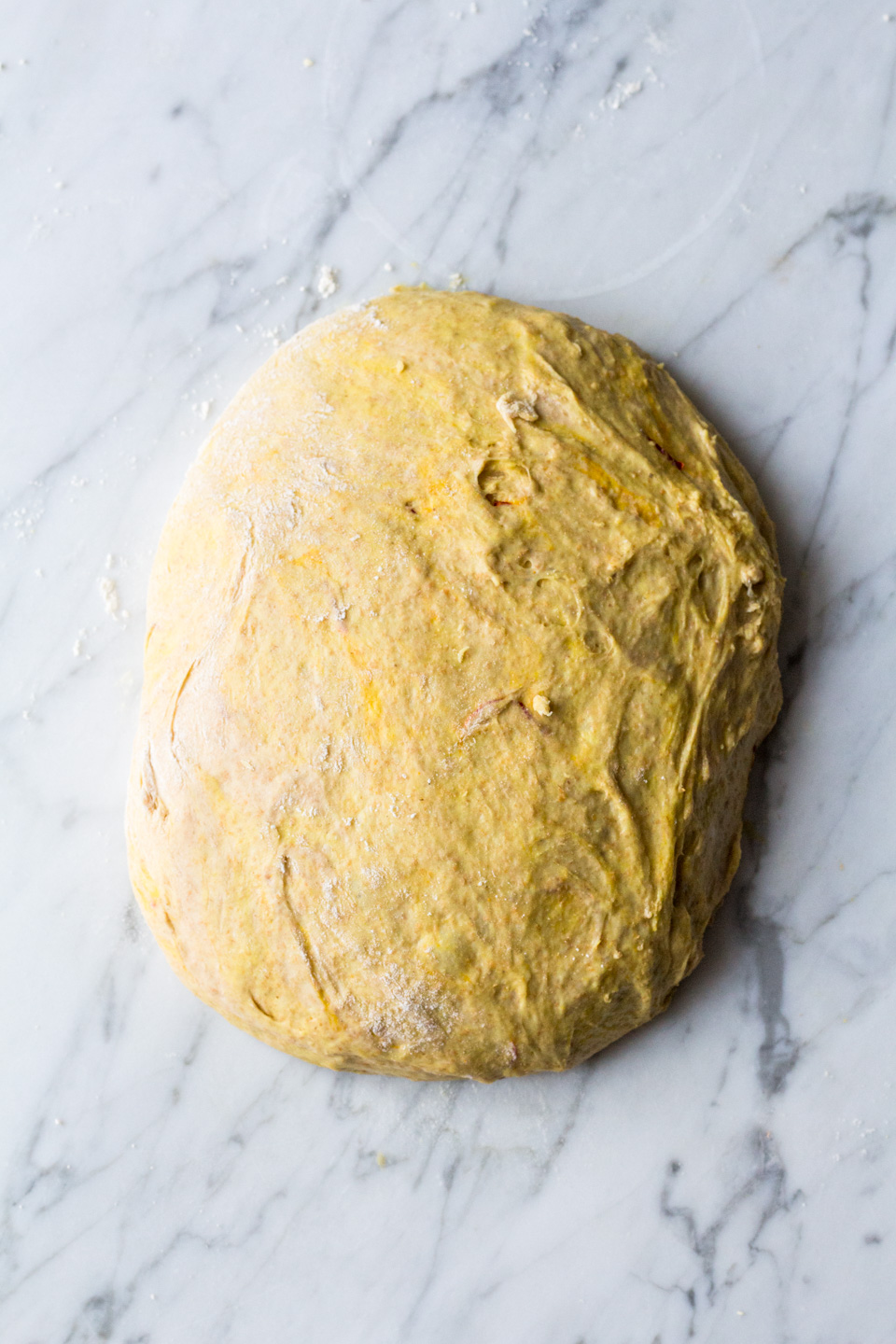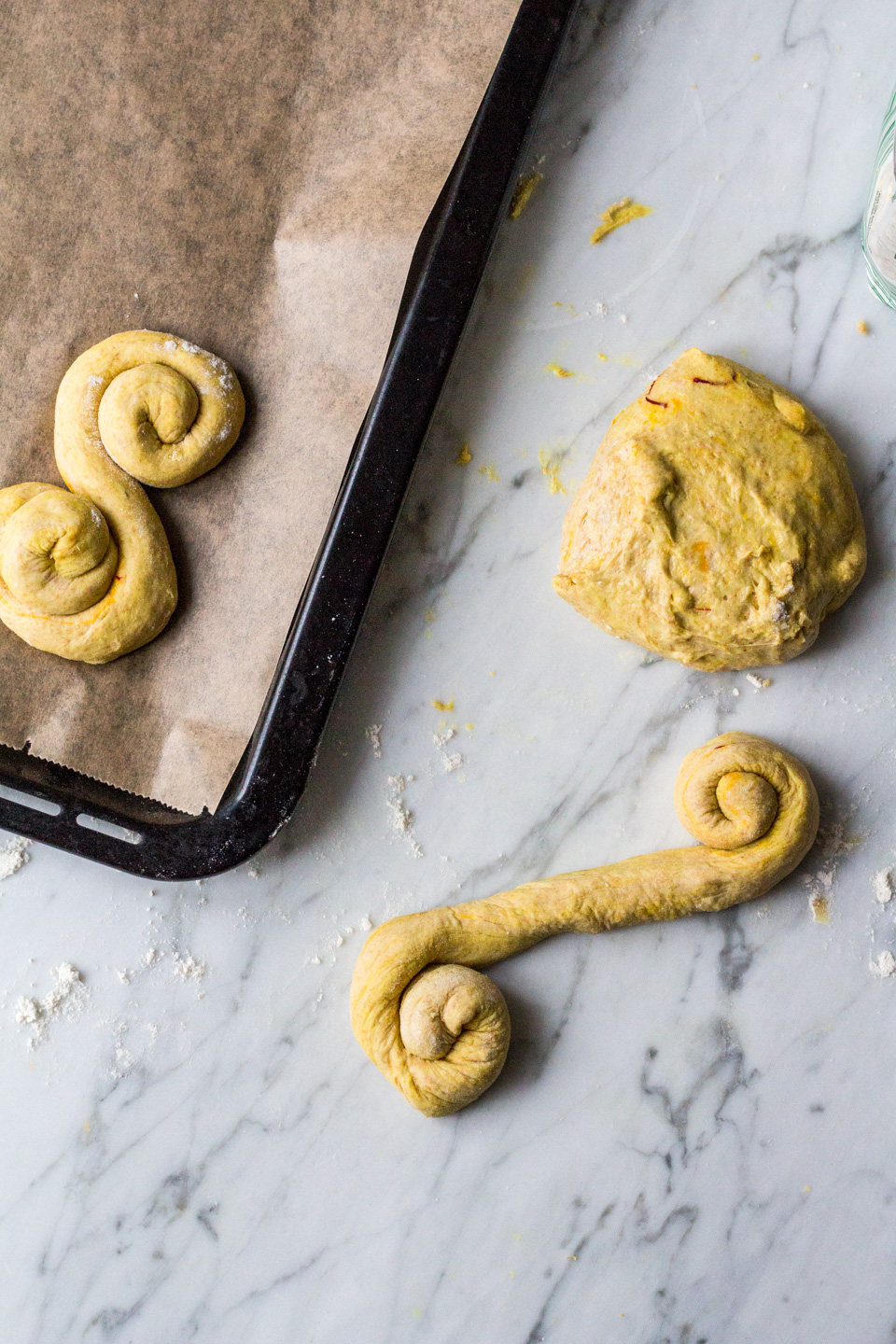 But hey, with this blog, I'm at least trying to be more of a Freigeist and do more creative things. Like developing a plant-based, gluten- and refined sugar-free recipe for Swedish saffron buns, also correctly called Lussebullar or Lussekatter). These buns are traditionally eaten from St. Lucia day on December 13th until Christmas if I am not mistaken. They taste absolutely incredible, because, well they consist of yeast and bread. Need I say more? Saffron gives them their unique yellow color and raisons makes them look even prettier. Lussebullar come in all sorts of shapes and size, and you can find them in most Swedish bakeries at this time of the year. I like to imagine that all Swedish families are baking them today or tomorrow and somehow that thought makes me smile.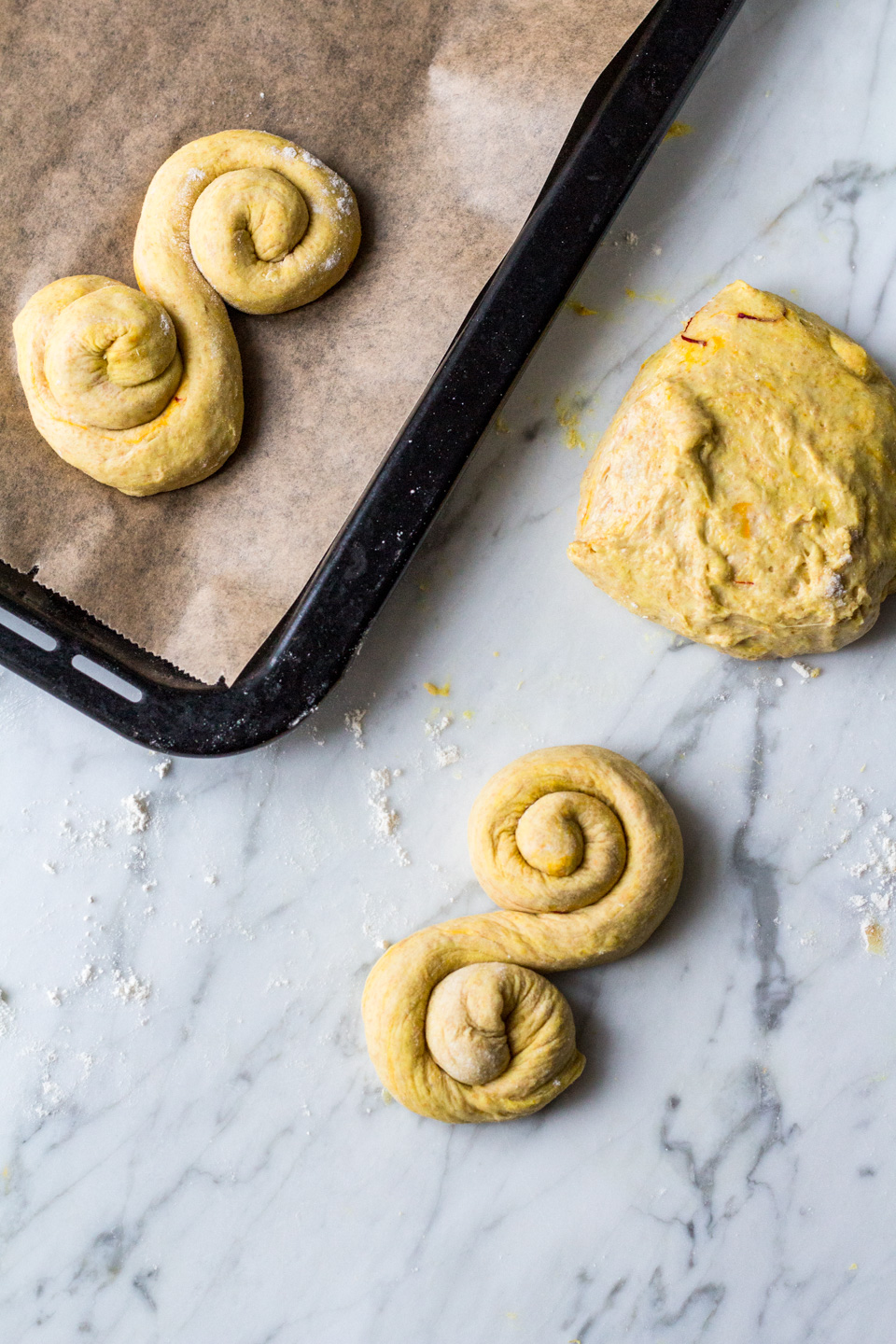 Lussebullar are traditionally made with wheat flour, yeast, sugar and eggs. I have made the recipe plant-based and I've even tried a gluten-free version. While I am not gluten-free, lots of people (including my beloved sister) are, so I've come up with two versions today. I obviously prefer the spelt flour version, because I like bread and I like fluffy dough. The gluten-free version is a bit denser, I can't deny it, but it tasted just as delicious.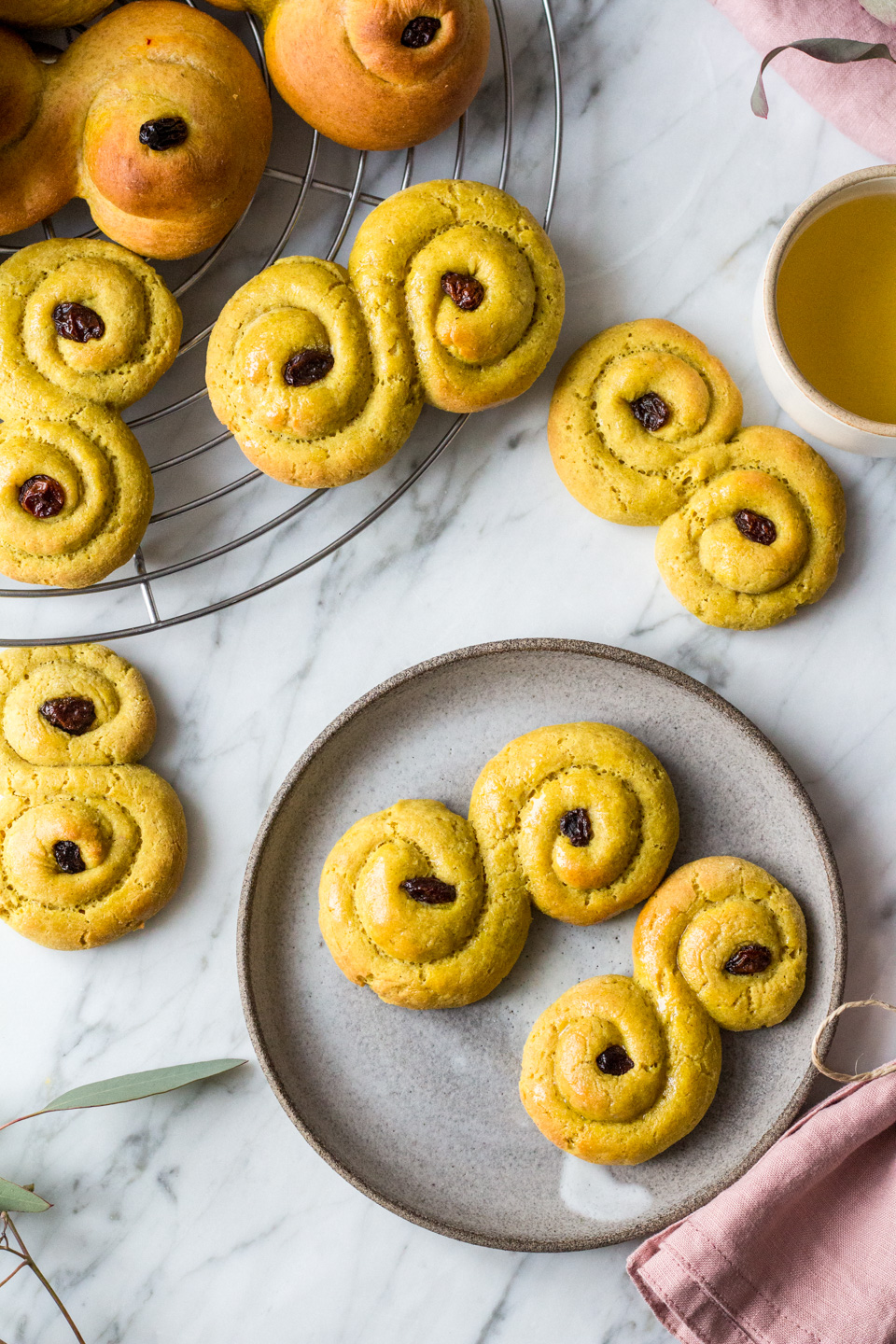 Heavenly for body and soul, because …
… these Lussebullar bring you a piece of Sweden into your kitchen. Instead of using white wheat flour, I used a mixture of whole-grain and type 1050 spelt flour. This way, the buns contain a lot more nutrients than white bread. Make sure to use a whole-grain gluten-free mix if you're making these buns gluten-free. Lots of gluten-free bread mixes contain mostly cornstarch, which is basically nutrient-free. Make sure cornstarch is not the first ingredient in your gluten-free flour mix.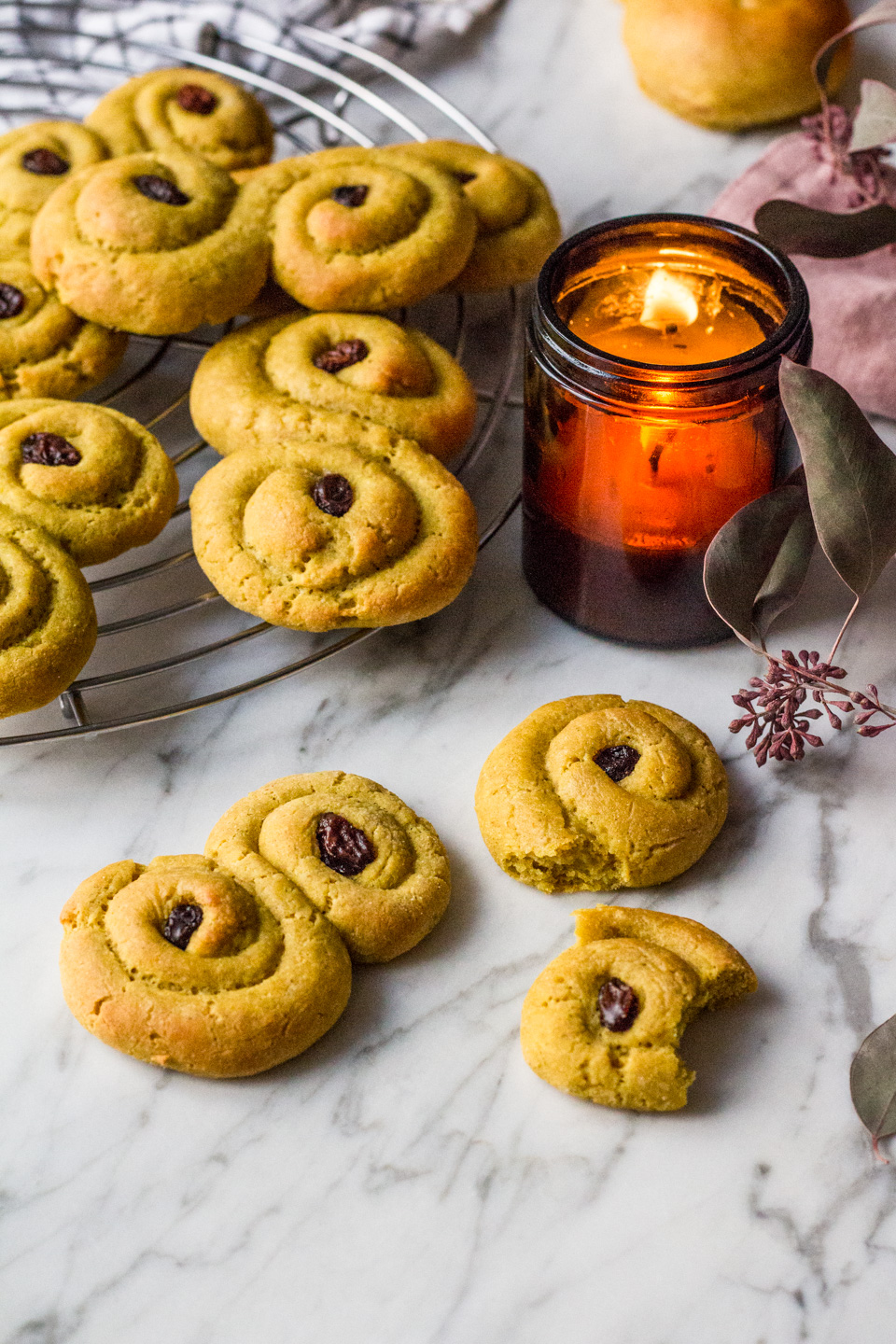 [tasty-recipe id="7605″]
[tasty-recipe id="7606″]