For those of you who've been following me on Instagram, these are my go-to-pancakes when I feel like eating something other then oatmeal for breakfast. I love how easy they are to prepare and how much healthy goodness they give your body. You literally won't be able to tell that they're healthy by the taste of it. They are just the perfect pancakes to make any Saturday or Sunday morning extra special. They are wonderfully savory in flavor, but the banana makes them naturally sweet at the same time.
Of course they're also incredibly healthy, too. They are completely dairy-free, refined sugar-free and gluten-free if you use gluten-free oats and buckwheat flour. Oats are some of the healthiest grains out there. Only amaranth and quinoa can top them. Not only do oats contain more than twice as much iron as meat, they are also one of those "beauty" foods due to their high biotin content. Biotin is responsible for healthy, glowing hair, skin and nails. Another great vitamin found in oats is vitamin B6, which is important for a healthy psyche. If you suffer from fatique or sleep deprivation, then try adding some oats to your breakfast. I hope you'll love these pancakes just as much as I do. I would love to hear your thoughts in the comments below.
Vitamins, nutrients and minerals in these healthy pancakes:
– biotin (important for blood sugar balance and skin health; building healthy fats for soft skin)
– iron (important for healthy red blood cells that transport oxygen through your body)
– magnesium (important for a healthy nerve system, muscle health, energy production)
– potassium (lowers cholesterol levels and blood pressure)
– protein (important for a healthy metabolism, immune
systems, production of enzymes)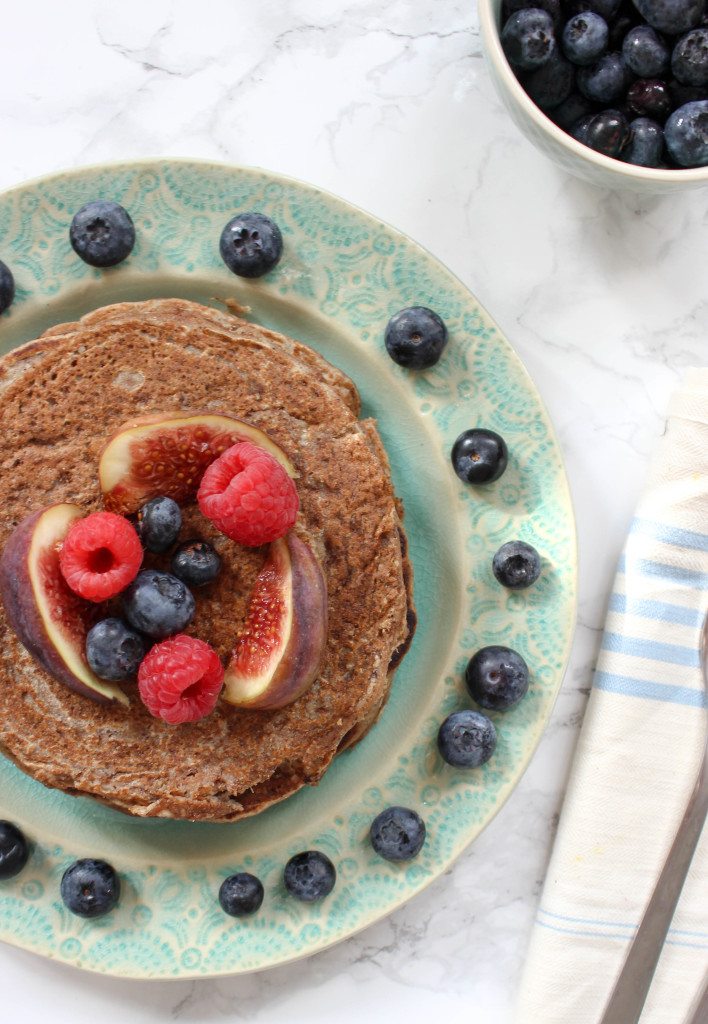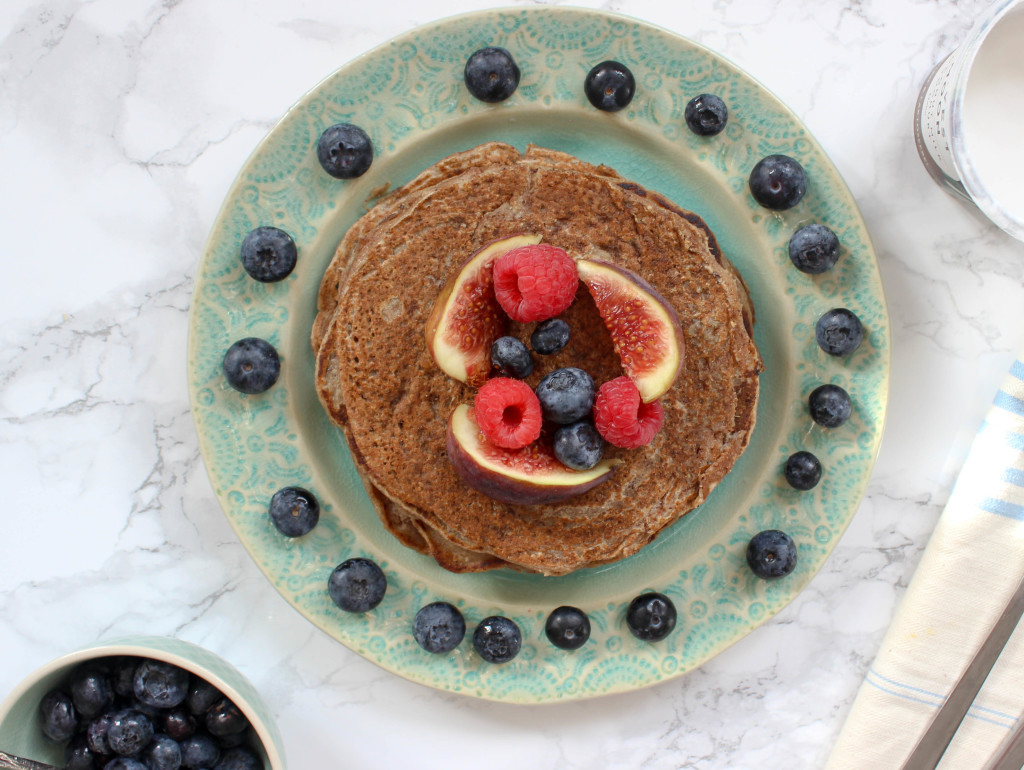 Healthy Pancakes
Ingredients
1 cup (110g) oat crushed into a flour or buckwheat flour
1 cup (110g) spelt or more buckwheat flour
1 cup (250ml) sparkling water
1 cup (250ml) almond milk
1 tsp (5g) coconut oil
a pinch of salt
1 banana
½ tsp of cinnamon (optional)
Instructions
Start by crushing the oats into a flour using your food processor. You can also use two cups of oats if you do not have any other flour at hand. Add all other ingredients and blend until a smooth mixture forms. Then let the batter stand for at least an hour.
Place a saucepan on the stove and heat it for about a minute or two until it's hot enough. Grease it with a teaspoon of coconut oil. Wait until the coconut oil has melted, then add a quarter cup of the batter (about two tablespoons) to the middle of the saucepan. Form a round pancake with your spoon and wait until little bubbles form on the upper side of the pancake before flipping it over. Allow the other side to cook for another one or two minutes, then remove the pancake and move on to the next one. Repeat this procedure until you've used up all the batter. Depending on the quality of your saucepan, you'll probably not need to use a new teaspoon of coconut oil for every pancake.
Enjoy!
---
DID YOU MAKE THIS RECIPE OR HAVE ANY SUGGESTIONS, QUESTIONS OR COMMENTS?
Feel free to leave a comment below, and don't forget to tag your creations on social media using #heavenlynnhealthy.
I'd love for this blog to be a dialogue.
---