This salad is a variation of my Oriental Chickpea Salad à la May. If you haven't tried it yet, you really have to because it's absolutely divine. I already mentioned last week that I wasn't going to let asparagus season pass without adding a couple more recipes with the healthy vegetable to the blog.
Like I just mentioned, this is actually not really a new recipe, but I did change it up a little by adding avocado and asparagus to this healthy and delicious salad. As most recipes, this one happened when I had no idea what to do with my leftover asparagus from the day before. The salad only takes 15 minutes to prepare, and it only requires two fresh ingredients: asparagus and avocado.
The key ingredient in this salad is chickpeas which are my all time favorite plant-protein. Combined with the other amazing ingredients they form an incredibly delicious plant-based salad that I'm sure you're going to love if you love asparagus. If you can't get white asparagus where you live, then just try using the green one instead. I tried it and it tastes just as great.
Health Benefits in this oriental asparagus salad:
– iron (important for healthy red blood cells that transport oxygen through your body)
– lycopene (antioxidant that helps fight various diseases)
– manganese (for nerve health)
– protein (important for a healthy metabolism, immune systems, production of enzymes)
– vitamin C (good for your immune system, tissue health)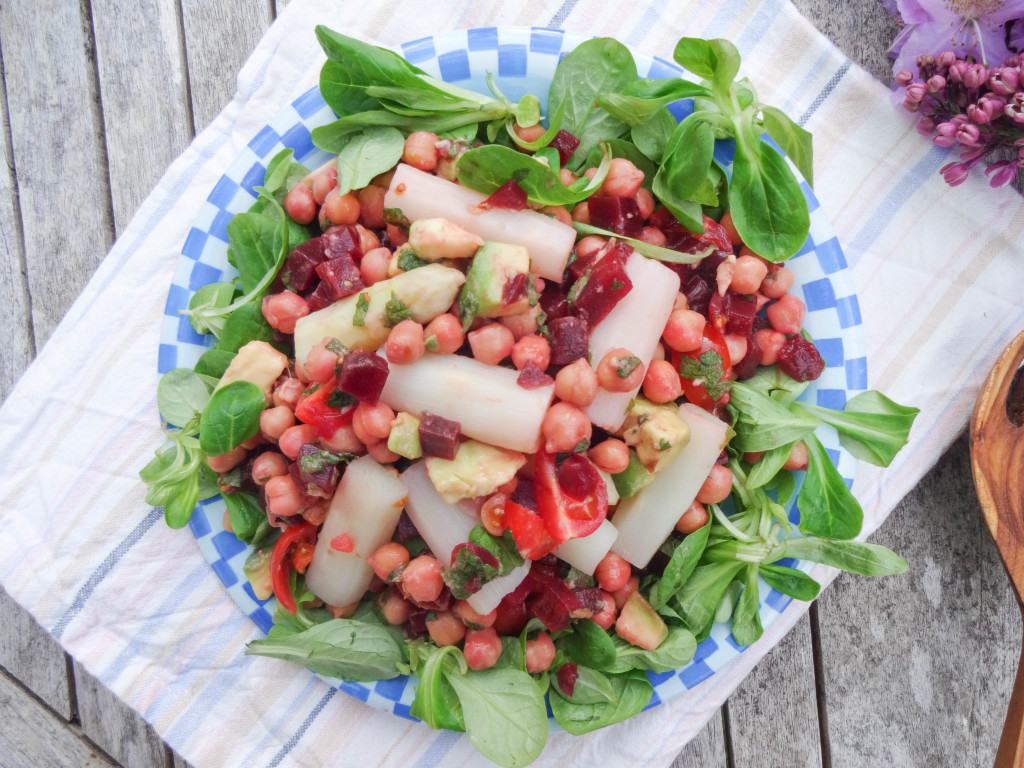 Ingredients:
– 500g asparagus
– 1 can of chickpeas
– 3 pre-cooked beets
– 1 cup of cherry tomatoes
– a good handful of fresh mint
– 1 avocado
– 3 tbsp apple cider vinegar
– 1 tsp agave
– salt and pepper to taste
Start by pre-heating the oven to 200°C, then peel the asparagus. Then cut off about 1 cm of the ends, because these tend to taste pretty wood-like. Cut the remaining asparagus into bite-sized pieces (about 3 cm or 1 inch). In a large pot, heat up enough water to cover the asparagus entirely. Add a pint of salt and agave, and cook it for about 15-20 minutes.
In the mean time rinse the chickpeas well and place them into a large salad bowl. Cube the beets and add them to chickpeas. Next, add the chopped fresh mint and the tomatoes. Cut the avocado in half; remove the pit and scope out the flesh with a spoon. Cube the avocado and add it to the other ingredients.
Finally drain the asparagus and place it on top of the salad, add the apple cider vinegar, agave, salt and pepper and stir well. Serve with (gluten-free) bread as a main dish or use it as a side dish.
Enjoy!