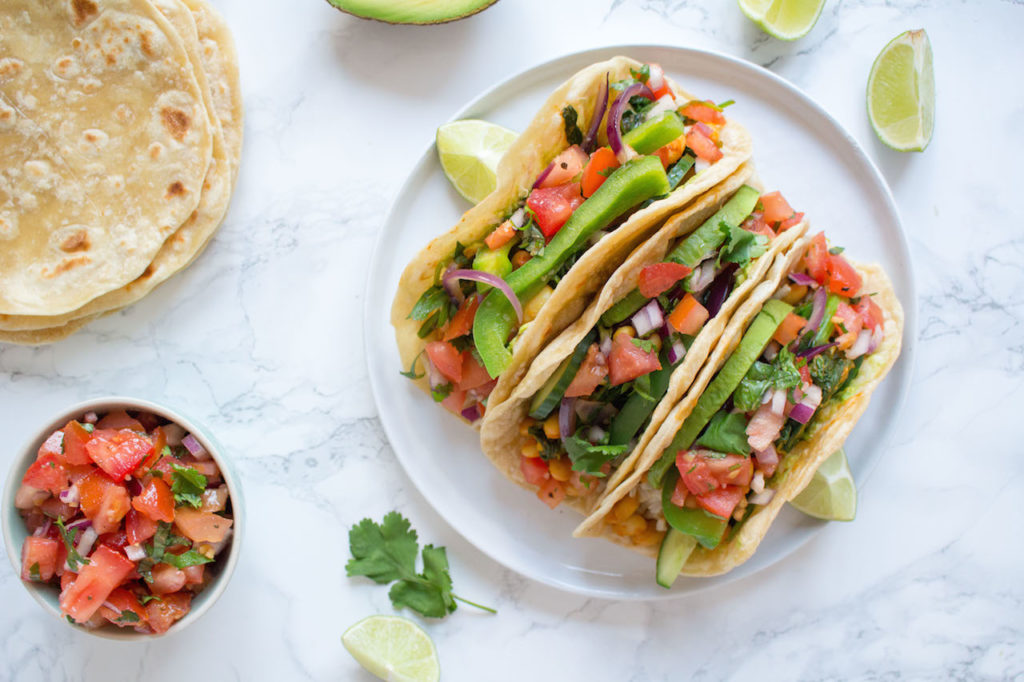 It's the first summer-like weekend here in Germany, and people are outside, eating ice cream, barbecuing, riding their bikes, or just sitting in the sun. Such beautiful weather reminds me of my time in the United States, mostly Texas. That's why today's recipe is a Tex-Mex inspired dish, that I modified, well, maybe a lot. For some reason, Germans are not too much into Tex-Mex, which I think is really a pity. I love tacos, burritos, enchiladas and guacamole, and I could eat it at least once a week. Unfortunately the traditional Tex-Mex kitchen is very rich in cheese and saturated fats. However, the traditional Mexican cuisine includes so many fresh ingredients, lots of nutrient-rich ingredients and healthy plant based proteins that it's not hard to make delicious plant based tacos.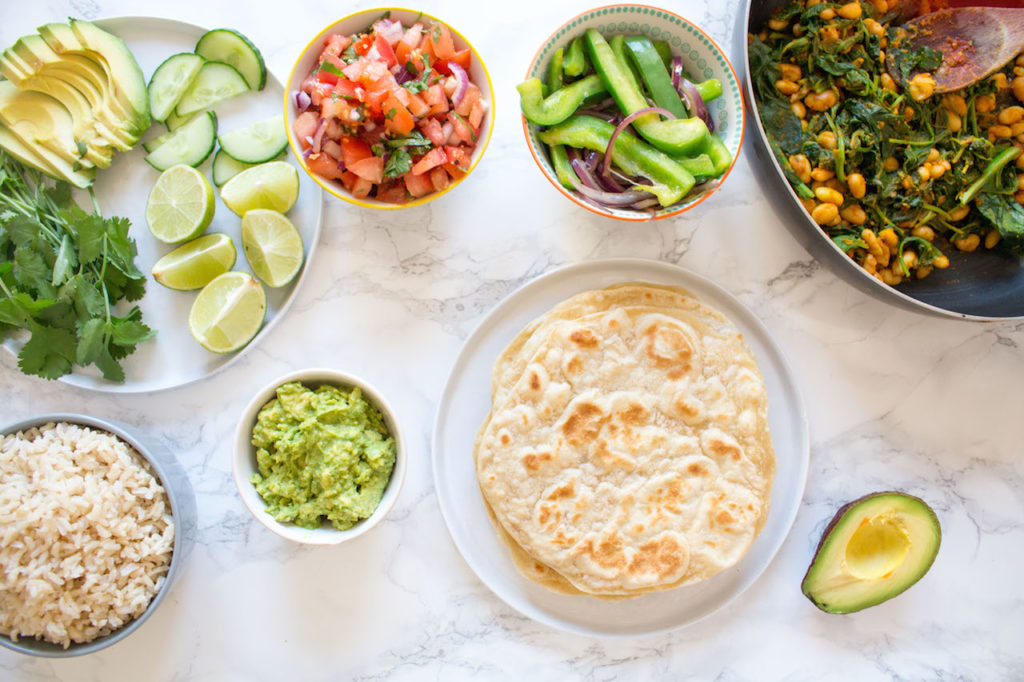 Eating beans and legumes is my favorite way to add plant based protein to my diet. I have to admit that I am pretty bad at soaking them, so I usually just buy the canned ones. If you buy canned beans, be sure to buy the ones free from funny additives, which can mostly be found in the organic sections of grocery stores. Beans are rich in fiber and protein, which help stabilize blood sugar. The high fiber can also help lower cholesterol, thus reducing the risk of heart disease.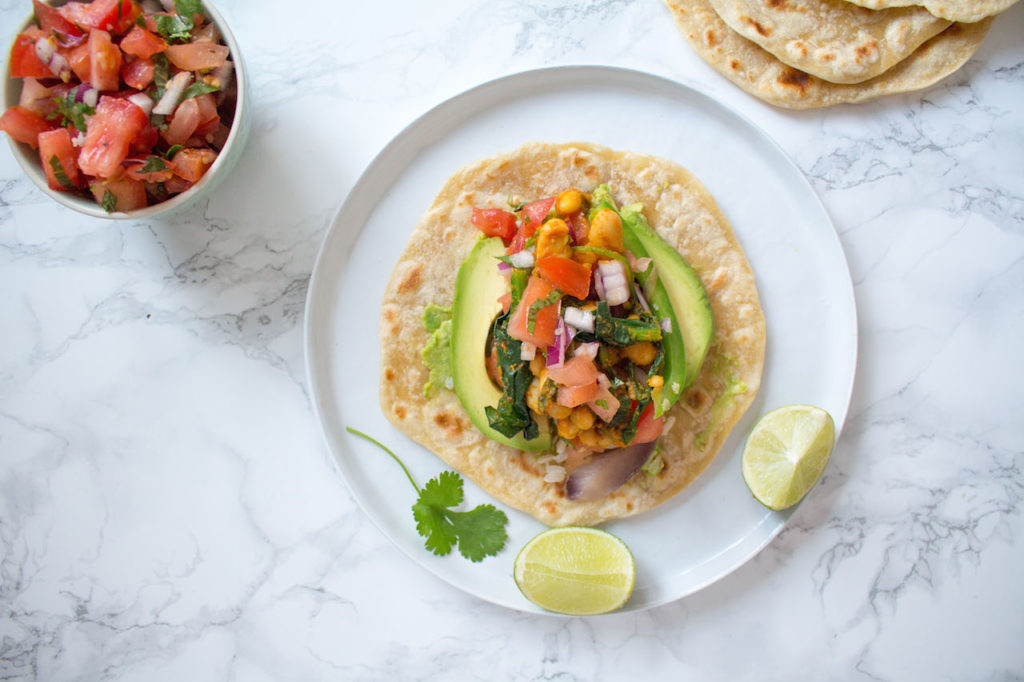 Ok, if you look at the ingredient list, and the different little dishes – those are simply suggestions of things you can fill your taco with. Those of you who are familiar with the Tex-Mex cuisine will probably notice that this is not a typical taco recipe – it's actually more of a burrito filling, and you're absolutely right. Most tacos are usually just filled with meat or tofu and topped with some lettuce and cheese. These tacos, however, fuel your body with all the goodness that it needs to survive the next day at work, in school or battling your three and five year old children. There's so many colors, flavors and textures in these tacos that every bite is a sensation in your mouth.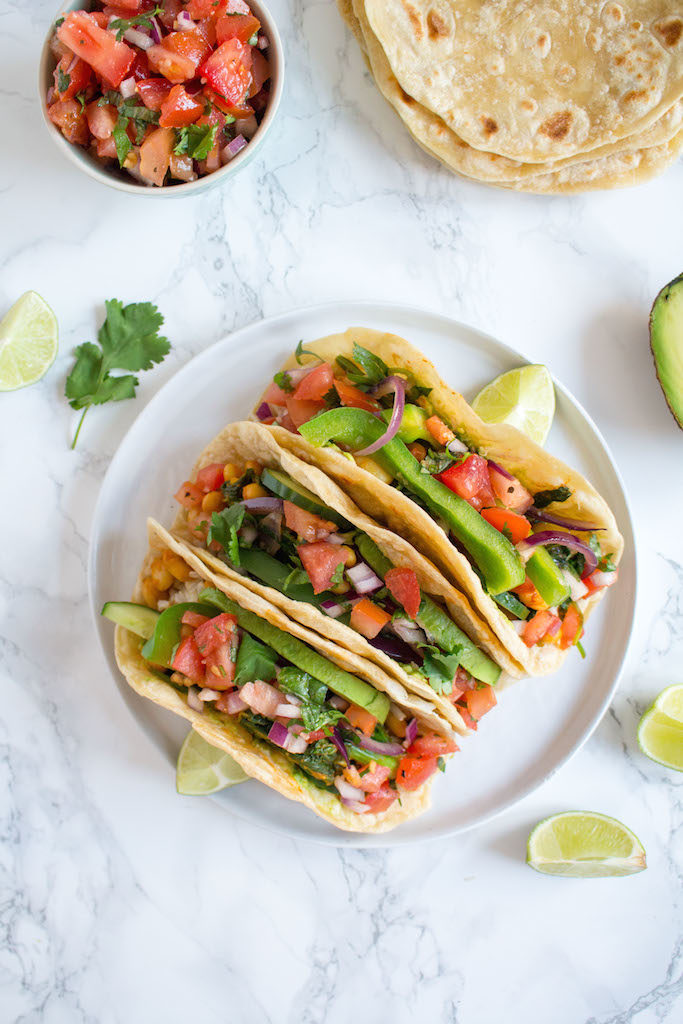 If you don't have all the ingredients, it's totally fine. Just improvise with what you have at hand. I do recommend trying the bean spinach filling, because this is what makes the tacos filling and nutritious. For this recipe, I also made the tortillas (the wraps) myself, and it was super easy! I used spelt flour, but you can use any other flour that you like. If you don't have time or aren't too much into baking, just buy the store-bought ones, but be sure to get the whole-wheat or gluten-free kind.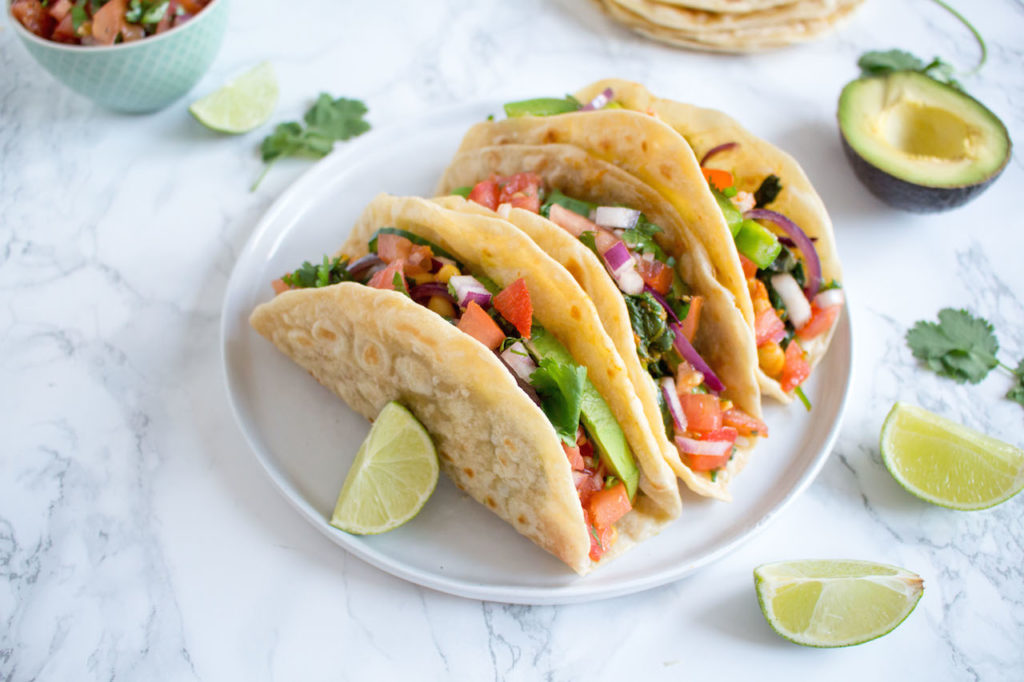 That's all I have to say about this recipe, because I think the photos and ingredients speak for themselves. What's your favorite way to stuff your tacos? Do you make your own tortillas? I'd love to chat about it in the comments below.

The best home made tacos
Ingredients
For the tacos:
½ cup brown rice
½ cucumber
Some fillings of you choice, some suggestions below.
For the tortillas:
2 cups of spelt, rye, whole wheat flour or gluten free flour
3 tablespoons of extra-virgin olive oil
⅔ cup of warm water
¾ teaspoon of salt
For the guacamole:
2 avocados
the juice of 1 lime
chili flakes
seas salt
For the green bell peppers:
1 green bell pepper
½ red onion
½ tablespoon of extra-virgin olive oil
sea salt
pepper
For the cilantro salsa:
2 ripe tomatoes
½ red onion
1 handful of fresh cilantro
the juice of ½ lime
sea salt
pepper
For the bean spinach filling:
1 tablespoon of extra virgin olive oil
1 garlic clove
2 tablespoons of tomato paste
1 teaspoon of cumin
1 teaspoon of oregano
½ teaspoon of turmeric
sea salt
3 handful of spinach
1 regular can of white beans (425g total weight)
Instructions
For the tacos:
Cook the rice according to instructions.
Slice the cucumber.
For the tortillas:
Add flour, olive oil and salt to a bowl and mix well with a spoon. Gradually add the water while stirring constantly. Add a little more water if needed.
Knead the dough with your hands for about two to three minutes. Transfer dough back to the bowl and let it sit for 20 minutes.
Next, divide the dough into 8 equal balls. Roll each ball into a thin taco using your hands or a rolling pin. I like to do this between two sheets of baking paper.
Heat a saucepan on the stove and grease with a little olive oil. Turn head to medium - high and place the first taco into the saucepan. Cook for one minute until bubbles form. Flip over, press the bubbles down with a spatula and cook for another minute.
Repeat with the other 7 tacos.
For the guacamole:
Cut the avocados in half, remove the seeds and scoop out the flesh with a spoon. Mash the avocado with a fork and add salt, lime juice and chili flakes.
For the cilantro salsa:
Cube the tomatoes and red onion and finely chop the cilantro. Add them to a bowl with the other ingredients and mix well.
For the green peppers:
Slice the red onion and green bell pepper. Heat the olive oil in a saucepan, and add the onion and green pepper. Cook for 4 - 5 minutes until the onions are starting to become brown. Remove from heat and set aside.
For the bean spinach filling:
Drain the beans and wash the spinach. Place the garlic into a garlic press. Heat the olive oil in a saucepan. Add garlic, tomato paste, and spices and cook for a minute until the flavors have fully evolved. Add spinach and beans and cook until the spinach is wilted. Season with salt and pepper.
To assemble:
Fill each taco with 1 tablespoon of brown rice, 1 teaspoon of guacamole, 2 tablespoons of the bean spinach mix, 2 teaspoons of salsa and about 2 to 3 green peppers and red onions. Add some cucumbers for an extra touch of freshness.
You can eat the leftovers the next day as a burrito bowl.
Notes
If the tortillas turn out too hard, place them on top of each other. The heat will soften them again.
Enjoy!