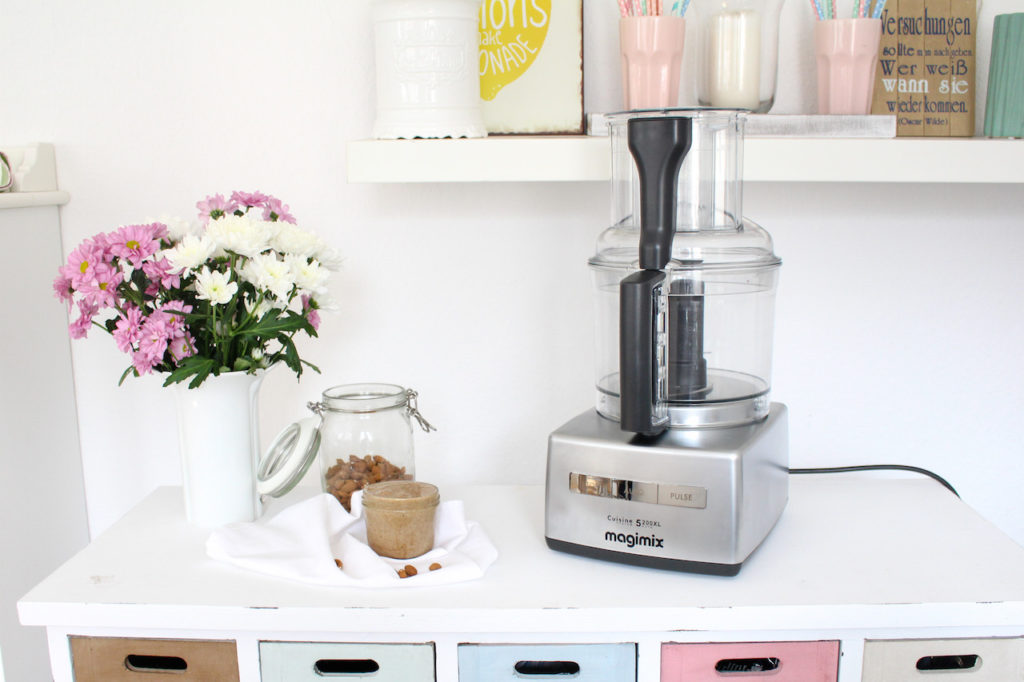 Ever since I published my articles about blenders, I have been getting so many questions about food processors, that I really tried to publish this article sooner, but testing, asking friends, other food bloggers and readers for their experience took me longer than expected. I think I should start by once again explaining what the difference between a food processor and a blender is.
The difference between a food processor and a blender is that a blender requires liquid to perform, and a food processor does not. The other difference is the size of the blade. A food processor has a large blade that allows it to break down nuts, grains and vegetables without needing liquid, whereas blenders tend to have a smaller blade that is perfect for blending smoothies and other liquid-based foods. Blenders also have a higher number of rotations that is needed to make smoothies really smooth.
Why do I need a food processor?
I use my processor at least once a day. Food processors have the ability to break down food in ways that no blender can. In my healthy kitchen I use it mostly to break down almonds or nuts into nut butter, to make hummus or raw treats such as energy balls. Food Processors are also great to make side dishes like pesto, dips or spreads, and cookie or bread dough.
What you need to look for before buying a food processor:
When buying a food processor, there are four features that you should pay attention to in order to find the right gadget for your kitchen:
power
size/capacity
functions
extras and add-ons
Power
If you want your food processor to handle tough jobs such as energy balls, nut butter or kneading stiff dough, you should invest in a model with at least 600 watts. Food Processors with less than 500 watts sometimes struggle with creamy hummus or nut butter.
Size/Capacity
Before buying a food processor you need to ask yourself: "How many people am I cooking for?" and "How much storage room do I have?". These two questions are very important, because food processors vary in size and capacity. If you cook for only two people, then 1.6 liters should suffice. If you cook for an entire family, however, I strongly recommend buying the bigger models with at least 2 liters (or even better 3 liters) capacity. It's never fun to do things twice, at least not in the kitchen.
Functions
Most food processors only have one motor speed, which I found really strange in the beginning, because I was used to several speeds from my blenders. The better models also have a "pulse" function, which is needed to give quick but powerful impulses and to crush foods like nuts or herbs roughly.
Extras
Many food processors come with a large array of extras such as  different blades for grading, different bowl sizes or even citrus presses. These attachment need a lot of storage capacity, so if storage is a scarcity in your kitchen, you might want to get a smaller machine in the beginning. However, the good models usually come hand in hand with the attachments and extras, so you might want to make some room in the basement or attic.

How to choose the best food processor:
My recommendations vary once again depending on the budget that you are willing to spend on a new food processor. I am sorry to break it to you, but as with most kitchen equipment, the more money you spent, the more you will get in return. Of course there are leaders in the food processor business, but there are also cheaper alternatives that are well suited for beginners or for those who do not want to spend a fortune on a kitchen equipment.
High Price Segment: The Magimix
The leader on the European market is the French brand Magimix, who kindly provided me with the 5200XL model. I have been using the Magmix for quite some time now, and what can I say, it's the best food processor that I have ever used. I love that it comes with three different compartment sizes, blades, and even a citrus press. As a semi-professional blogger and food photographer, I use my food processor almost every day, so I need it to be powerful and big. With 1100 watts and 3.6 liters capacity, the Magimix is perfect for my needs. As a real German, I also highly appreciate the 3o year motor warranty, that guarantees a life long companionship between you and your Magimix. I have to admit that I rarely use the other functions other than the citrus press, because the cleaning process takes too much time if you don't have a dish washer like me. And even though I got a dish washer last week, I still clean the knifes and bowls by hand, because I do not want them to become dull. The long cleaning process is one thing that I do not like so much about my Magimix. The other point of critique, or better what Magimix could improve in my opinion is a to integrate a scale into their machines. This is one feature that would absolutely upgrade the Magimix even more. The Magimix also comes with a pretty heavy price tag of 449 Euros, and I can understand that many people do not have the money or are not willing to spend that much money on a food processor.
Middle Price Segment
Fortunately, Magimix also has a cheaper alternative. The 3200XL model sells at 299 Euros and still comes with almost all the features of the 5200XL, but with only 650 watts. My blogger friend Marie from 8thandlake uses this machine for all her beautiful food creations such as almond butter or pestos, and she told me that it is the best kitchen equipment that she has ever bought. If you are lucky and you live in the UK or the US, then you can even get the 3200XL in white, which I would have loved. On the German market, you can only get it in silver chrome. In the US, there are very few retailers that sell the Magimix, but Marie told me that you can now finally get in at Williams-Sonoma. I know that especially in the US and UK, the KitchenAid Artisan is also quite popular. I have not tried this machine personally, but I think that 299 Euros for 300 watts is quite expensive. If you have experience with the KitchenAid food processors, I'd love to read about it in the comments below.
Lower Price Segment
If you are just starting to make your own dips, spreads and raw desserts, then there are various other brands that sell cheaper, but also good food processors. I can recommend the brand Kenwood, that is available in most European countries. The model FPP 225 compact sells at around 70 Euros, and even has a powerful motor with 750 watts. It is perfect for things like hummus and pestos, and for turning almonds or oats into flour. However, the Kenwood machines struggle with nut butter and kneading stiff doughs, and they tend to overheat quickly. I would not recommend buying anything cheaper than 70 Euros, 80 dollars or 50 pounds, because chances are high that those gadgets break after just a few uses, and you will end up having to buy a new one.
Magimix vs Thermomix – a direct comparison
If you live in Europe, then you have probably heard of the Thermomix. I have been the proud owner of the Thermomix for a couple of years now, and I would not want to miss it. Comparing the Magimix with the Thermomix actually makes no sense, because they are two completely different types of kitchen equipment. The Thermomix is a complete kitchen machine that can blend, mix, heat and even steam food. The Magimix is a food processor that is specialized in making smooth spreads, nut butters and cookie, cake or bread dough. The Magimix is not supposed to heat or blend soups and other hot liquids. However, the makers of the Thermomix advertise that it can do all the things that a powerful food processor can. I have to say that this is true, however, there are things like hummus, bean dips, energy balls or plant based brownie dough where the Thermomix struggles to produce satisfying results. There are always pieces of chickpeas in my hummus, and if you do not use enough chickpeas, the Thermomix really disappoints. The Magimix, however, always produces the creamiest hummus, raw desserts and nut butters, no matter how much raw ingredients you use. I know that I am being very picky here, because I am comparing two of the most trusted brands in the kitchen equipment industry, but you've asked for my honest opinion so this is it. If you love creamy hummus and spreads, then the Magimix is my number one pick. If you want a piece of equipment that can cook, steam and blend, all in one, then the Thermomix is your best choice.
To summarize, you need a food processor in order to make dips, spreads, doughs or nut butters. In my opinion, the best pick in terms of price and value is the Magimix 3200XL, as you really get the most for your money with this model. I am very satisfied with the 5200XL, but you only need this machine if you use it once or twice a day, like I do, or if you are a professional chef. Otherwise, the 3200XL is totally sufficient, and a great long-term investment with a 30-year motor guarantee. If you are only starting out, and you're not quite sure how often you'll use your food processor, then the Kenwood machines are a great and affordable way to start.
*I am lucky to have been giving a Magimix 5200XL for the purpose of testing food processors for this article. All opinions are my own. 
Thank you for supporting the brands, that equip and support the Heavenlynn Healthy kitchen, thus making hour-long recipe testing sessions possible.