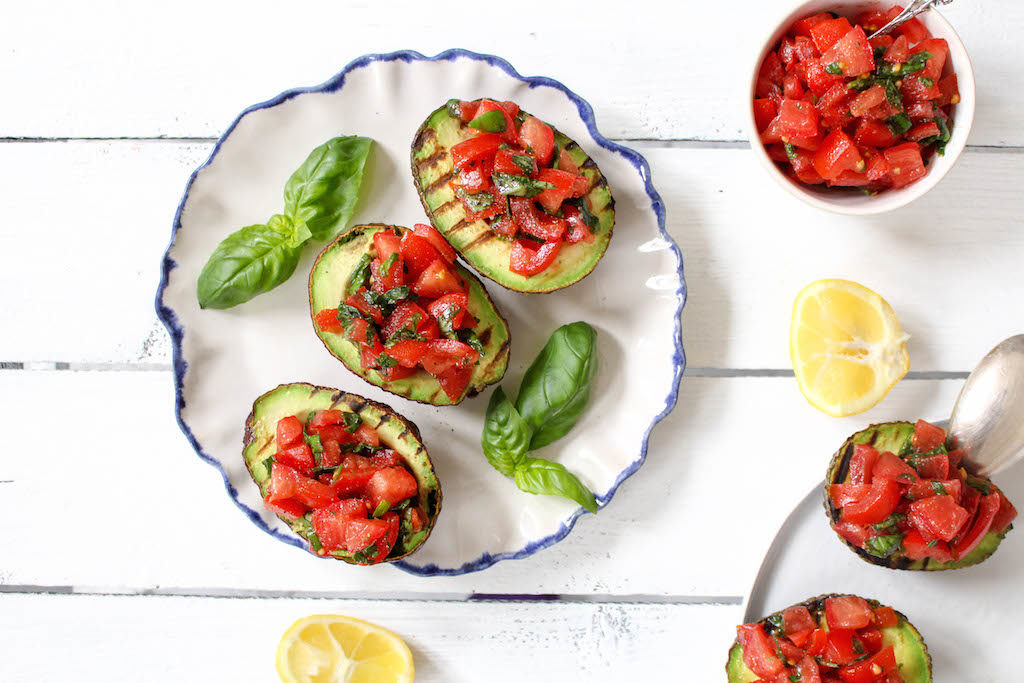 As this past week has been so beautiful with lots of sunshine and spring temperatures, I thought I'd post another BBQ recipe today. Bruschetta is one of my favorite BBQ side dishes, and I could actually just eat it until I'm full. Instead of grilled bread (which is obviously my #1 choice) I used grilled avocados in this recipe, and oh my, I didn't even miss my beloved bread. The avocado base almost turns it into a salad equivalent – fresh and light.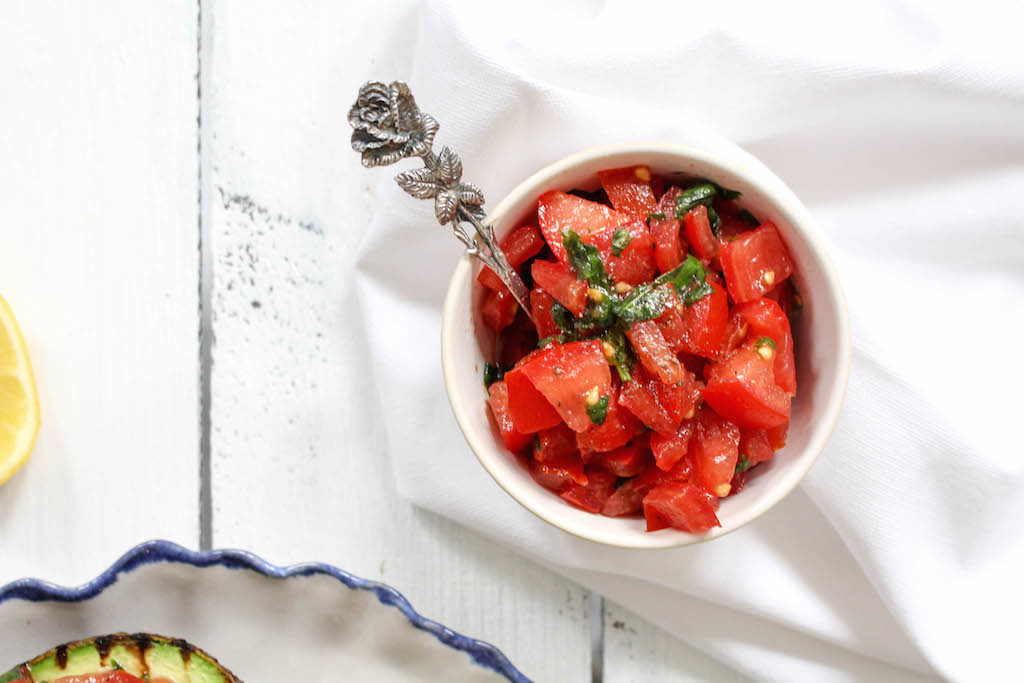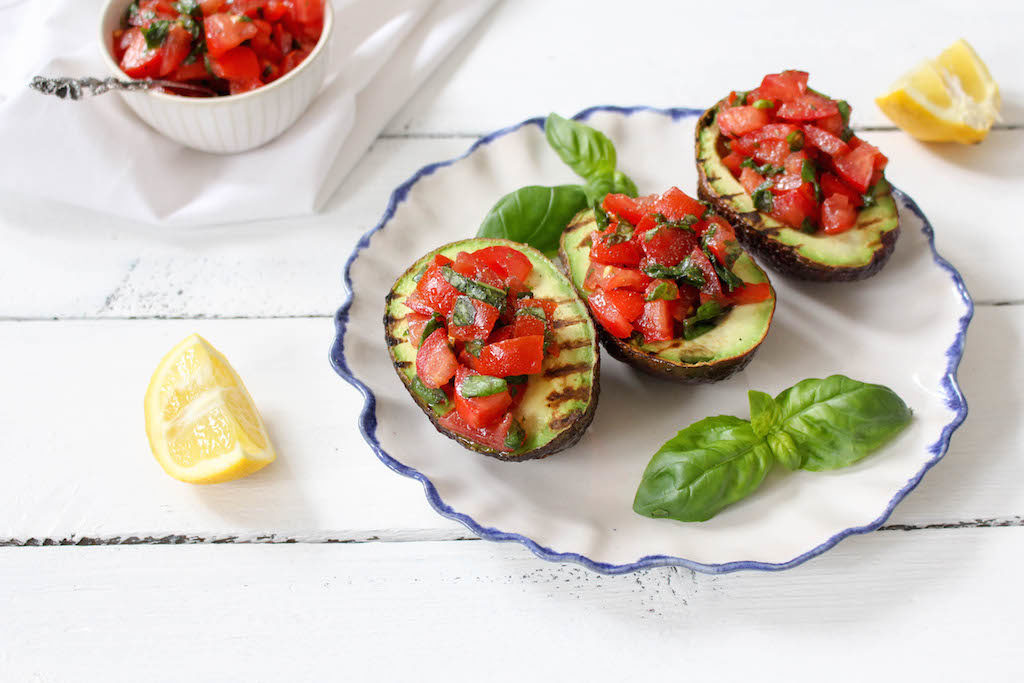 After I found out that you can actually bake avocados, I desperately wanted to try to grill them, too. It gives them kind of a smokey flavor that only a BBQ can achieve, and I think it tastes absolutely terrific. Of course if you don't have a grill or it's too cold for a BBQ, you do not have to grill the avocados at all, but I think it adds a nice delicious touch to it. I did a little calculation the other day and realized that I am spending more money on avocados in a month than I spend on going out with friends – foodie problems I guess. But hey, what can I say, I just love my avocados. They are the best way to get healthy fats into your system, and to protect your heart from chronic diseases. I consider my avocado intake as a form of health insurance, so I might as well spend some money on this.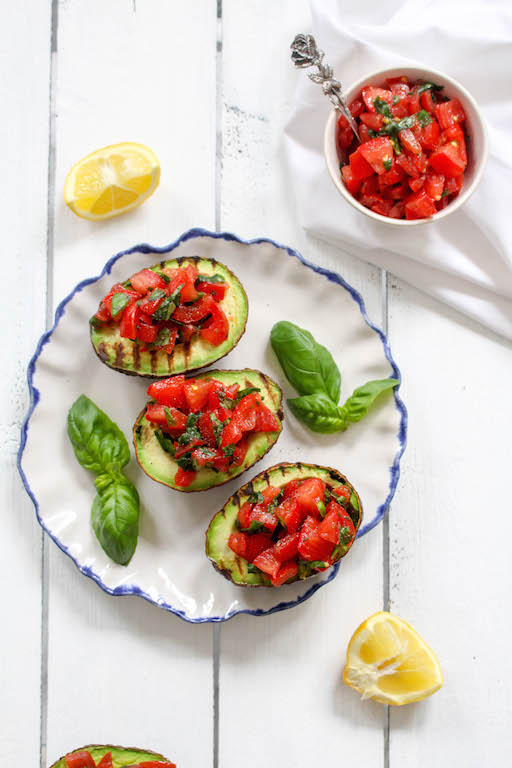 What are your thoughts on avocados? Do you love them? Do you think they're o.k., or do you actually do not really like them? I think I've never met someone who doesn't like avocados, but I'd love to hear your thoughts about it in the comments below.
I hope you'll love this bruschetta variation just as much as I do. It will definitely bring your BBQ game to a whole new level.

Grilled Avocado Bruschetta
Ingredients
3 ripe avocados
4 ripe tomatoes
1 -2 tablespoons of extra-virgin olive oil
1 garlic clove
1 handful of fresh basil, more to decorate
a squeeze of fresh lemon juice
sea salt
freshly ground pepper
Instructions
Cube the tomatoes and remove the seeds. Finely chop the basil and the garlic clove.
Mix the tomato cubes, basil, olive oil and garlic in a bowl, and season with sea salt, freshly ground pepper and a squeeze of fresh lemon juice.
Cut the avocados in half, remove the seed, and grill the avocados face down for about 2 to 3 minutes, until they are warmed up.
Fill the avocado halves with 1 or 2 tablespoons of tomato cubes, and sprinkle some more fresh basil on top.
Enjoy!