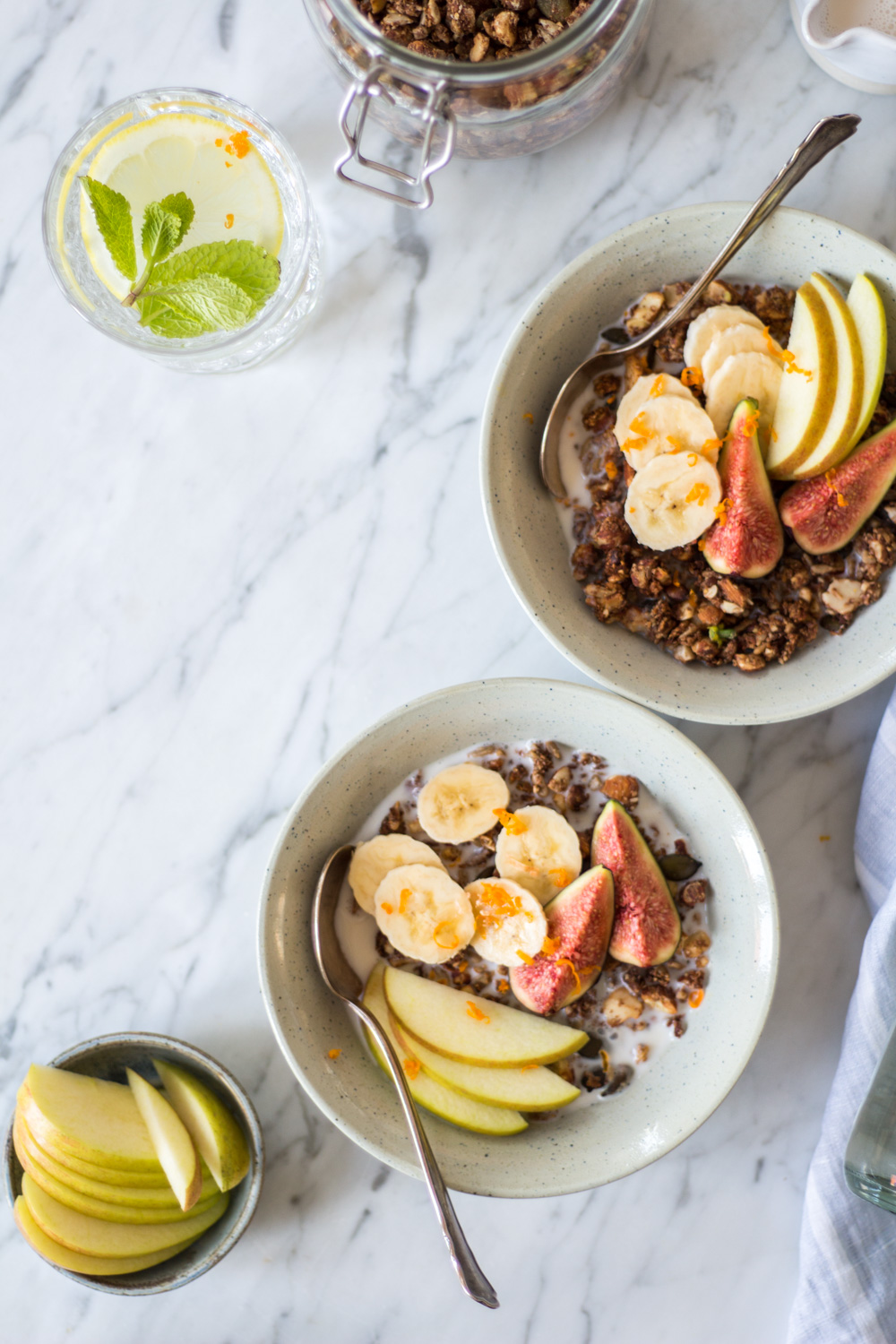 No worries, I have not gone grain-free over night. I love grains, I tolerate them well, but sometimes, it's nice to try something new, don't you think? This grain-free and sugar-free granola is the result of my New Year's curiosity in the kitchen. Whereas I'm always a bit tired to try new things during Christmas time, I am always excited at the beginning of the new year, to experiment in the kitchen again. Maybe it's that new year's vibe, maybe it's the gloomy post-Christmas blues that always hits me after the Holidays.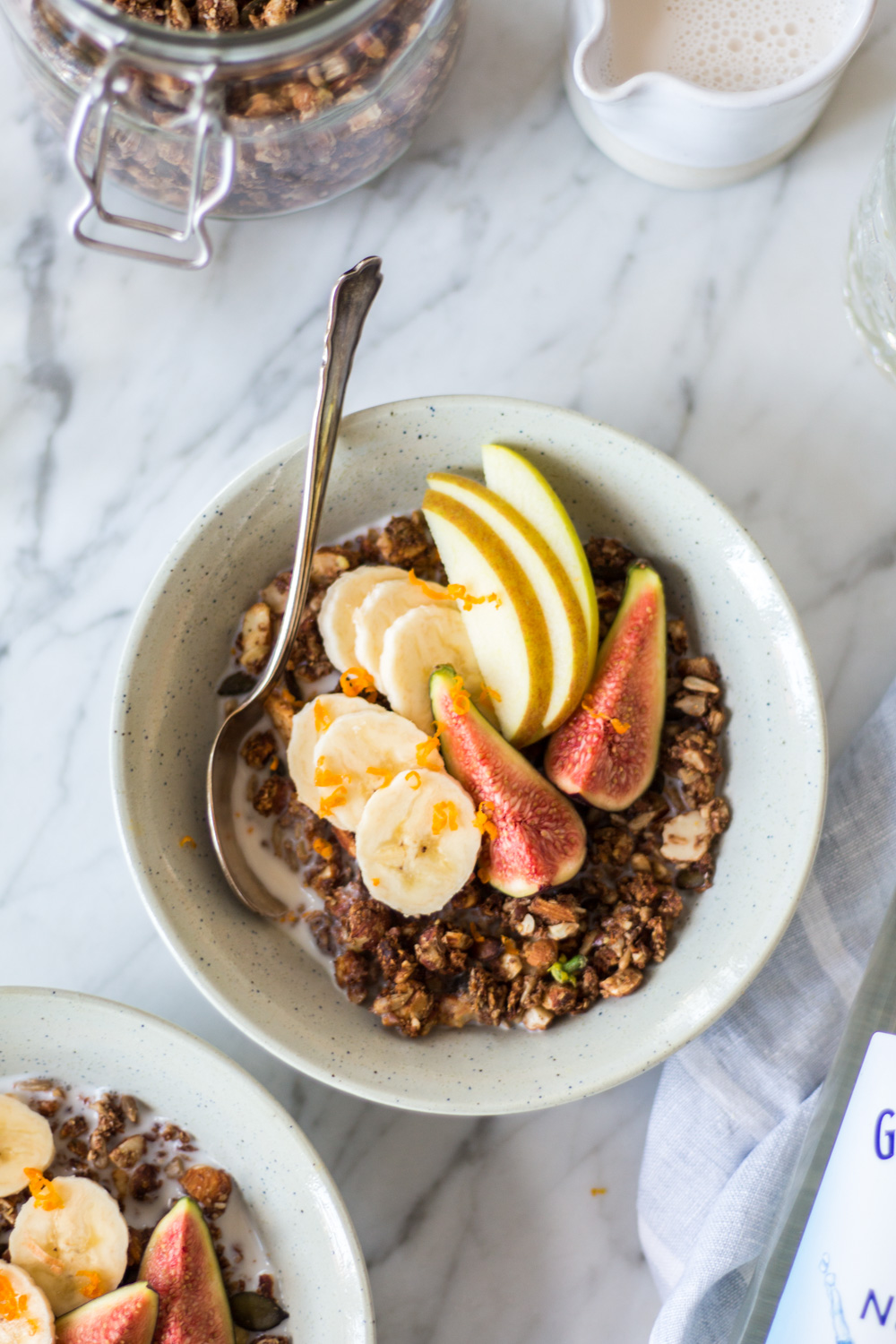 I made this granola for my sister, who visited us over New Year's Eve. My sister is a celiac, so she is highly sensitive to gluten, and has to avoid it at any cost. Since I was out of gluten-free oats, I decided to finally give grain-free granola a try. I've had it in Cape Town and in the US during my last trips over there, and to be honest, I was not really fond of it back there. The reason being that it was simply too heavy and too sweet for my liking. As grain-free granola contains soley nuts and seeds, it is quite nourishing and filling. Therefore, adding a ton of sugar to it, makes it almost not eadible in my opinion. That's why I was super keen on making my own version with nothing but apple sauce to sweeten. And something that would give it a fresher note than the other granolas I had tried.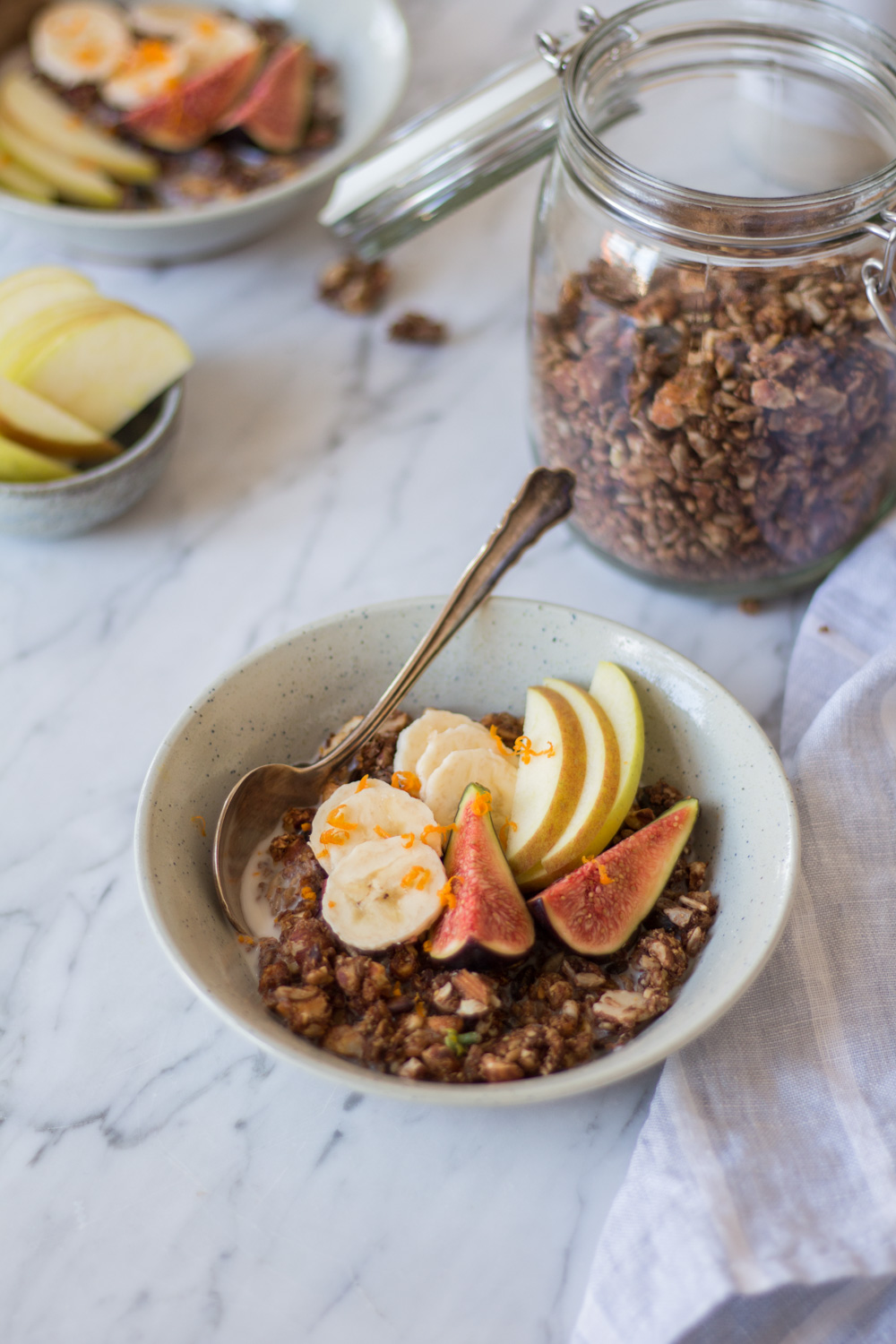 The final touch is orange peel, similar to this recipe here. It makes the world of a difference, trust me! You only add the orange peel at the end of the baking process, yet it instantly makes the whole granola smell like orange. So fresh and delicious!
Heavenly for body and soul, because …
… the nuts and seeds full are full of good nutrients. Almonds contain, for example, vitamin E, the beauty vitamin, and pumpkin seeds and raw cocoa are a natural magnesium supplier. Flaxseed is one of the best plant omega-3 sources. That's why this cereal-free and sugar-free granola lubricates our brains for breakfast, because omega-3 fatty acids support natural brain function.

Grain-free & refined sugar-free granola
Ingredients
100 g of hazelnuts
100 g of almonds
100 g sunflower seeds
30 g pumpkin seeds
50 g of shredded flaxseed (preferably freshly shredded, otherwise store-bought ground flax)
2 tablespoons of native coconut oil
80 grams of apple sauce
1 tbsp raw cacao
1 teaspoon ground cinnamon
½ tsp ground cardamom
a pinch of sea salt
the peel of 1 organic orange
Instructions
Preheat the oven to 160 ° C circulating air (180 ° C top and bottom heat).
Chop the nuts roughly or pulse briefly in a food processor. Mix the chopped nuts, sunflower and pumpkin seeds and shredded flax seeds in a mixing bowl.
Heat the coconut oil in a small pan on low heat. Add the apple sauce, cacao powder, cinnamon and cardamom and mix everything to a sticky paste.
Add the paste to the dry ingredients and mix well with a wooden spoon so that everything is well covered with the sticky mix. Spread the granola on a baking sheet lined with baking paper and roast for about 20 minutes.
Remove the baking tray, loosen the granola a little and stir. Turn the baking sheet around, and bake for another 5-10 minutes in the oven.
Just before the end, add the orange peel and spread it over the granola. Roast everything for another 1-2 minutes until the orange peel becomes fragrant.
Remove the granola from the oven, allow to cool completely and store in an airtight glass container.
Enjoy!