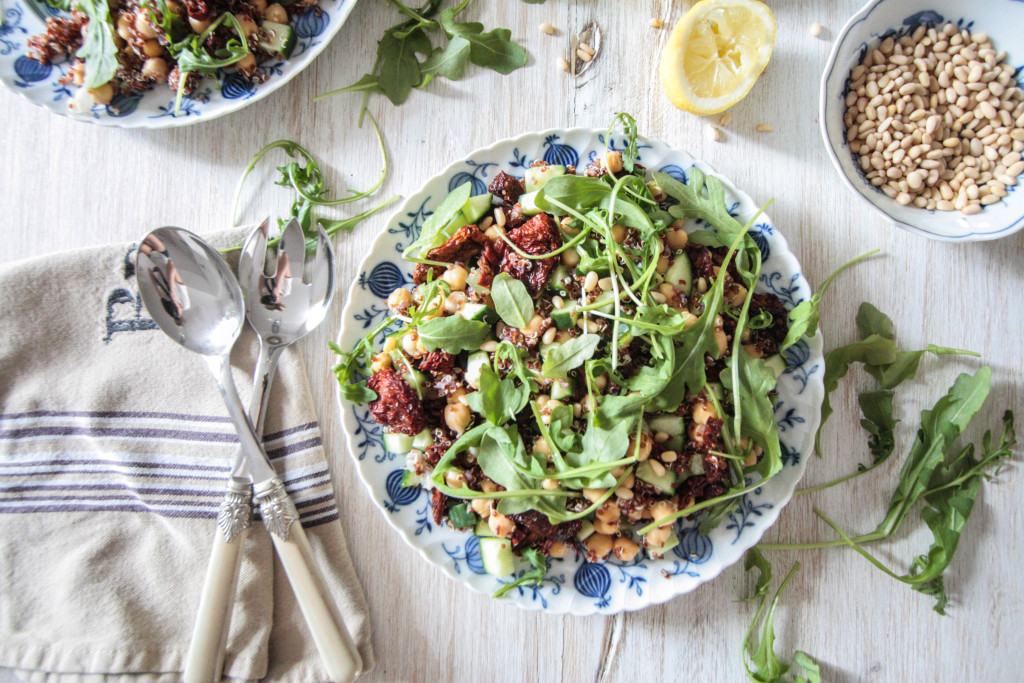 This salad is truly heavenly. It combines all of my favorite ingredients: quinoa, chickpeas, sun-dried tomatoes, pine nuts, and rocket (arugula). The quinoa and chickpeas have a more nutty flavor, while the sun-dried tomatoes add a more salty, savory flavor, which perfectly rounds up this summer salad. It is also packed with protein from the quinoa and chickpeas. Quinoa contains all essential nine amino acids, which makes it a complete protein equal to meat or dairy! It's also a great source of fiber, which keeps us satisfied for hours, regulates our blood sugar and aids digestion. It's also a great source of iron, which is vital for the transportation of oxygen through the body. The lack of iron leads to fatigue and exhaustion, so quinoa is a very important energy booster when you don't eat meat or dairy.
Combining chickpeas with quinoa may seem a bit odd in the beginning, but I've tried it and let me tell you – it tastes amazing. The two proteins compliment each other so well, and the delicious sun-dried tomatoes, rocket and cucumbers add the desired freshness to the salad. The light lemon-vinaigrette gives it an extra sprinkle of freshness and healthiness, and turns the whole salad into a delicious and filling summer dish. It's perfect for a barbecue and can also be easily boxed and enjoyed the next day at work. So what are you waiting for? Give your body some much needed protein, iron and lots of minerals and vitamins with this summer quinoa, chickpea and sun-dried tomato salad.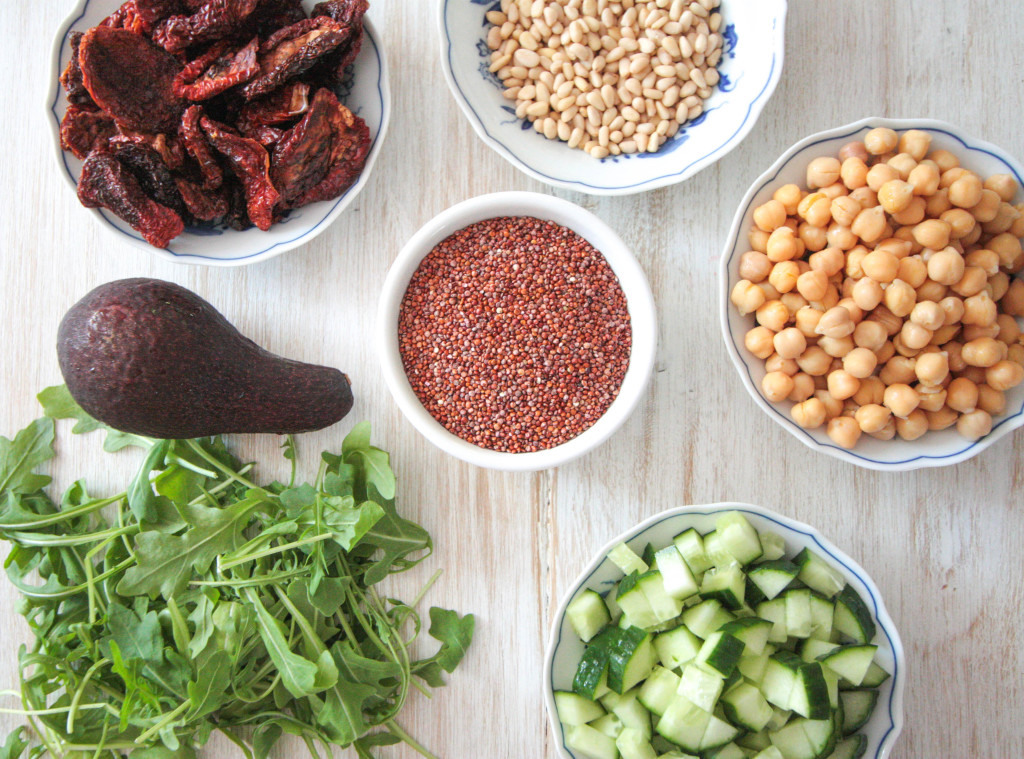 Ingredients:
Serves 4
– 1/2 cup (100g) quinoa
– 1 can chickpeas
– a handful (125g) sun-dried tomatoes
– 1/2 cucumber
– 1/4 cup (30g) pine nuts
– 2 handful rocket (arugula)
– 1/2 avocado (optional)
For the dressing:
– juice of 1/2 lemon
– 2 tbsp extra virgin olive oil
– 2 tbsp apple cider vinegar
– 1 tsp honey or agave
– salt and pepper to taste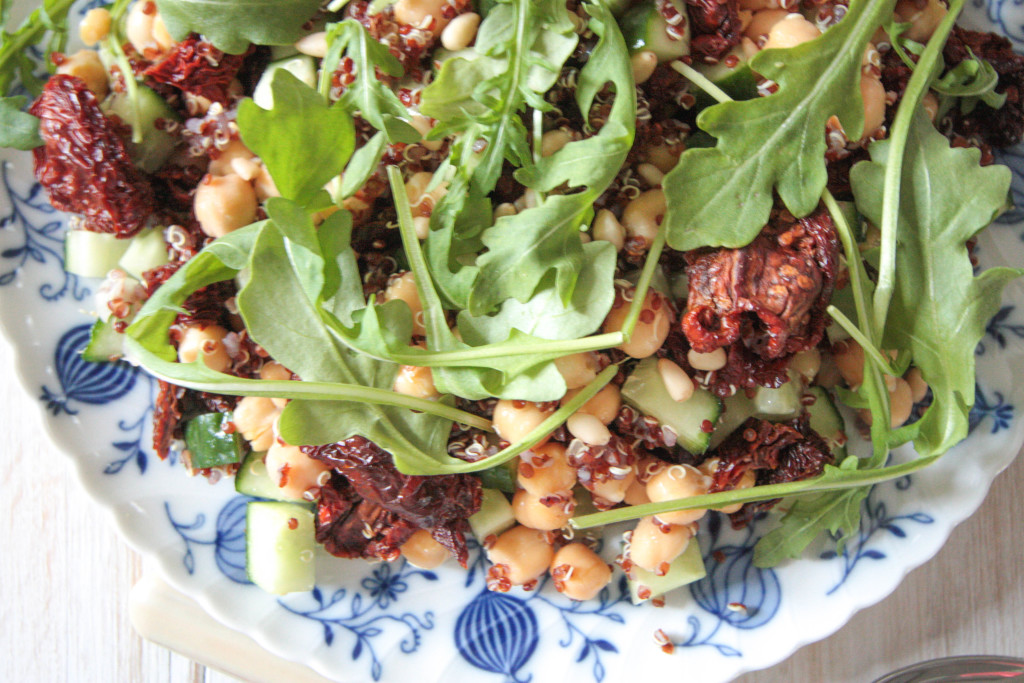 Start by rinsing the quinoa under hot water, then place it into a large enough saucepan (pot) and add about 1 cup (250ml) water. Bring to a quick boil on high heat, then reduce the heat and let it simmer for about 20 minutes.
In the meantime, rinse the chickpeas under running water and place them into a salad bowl.
Cut the sun-dried tomatoes into stripes and add them to the chickpeas.
Rinse the cucumber, cube it, and also add it to the bowl.
Wash and dry the rocket and give it to the other ingredients.
Now heat the pine nuts in a small skillet on medium to low heat. Be sure to stir them frequently and do not leave them unattended, because they burn quickly. Once they have a golden-brown color, remove the skillet from the heat and pour the pine nuts over the salad.
Once the quinoa is done, drain it into a sieve and allow the water to drip off completely.
Add the quinoa to the salad bowl.
To make the dressing, simply combine all the ingredients in a small bowl and whisk it with a spoon. Pour the dressing over the salad and serve.
Enjoy!