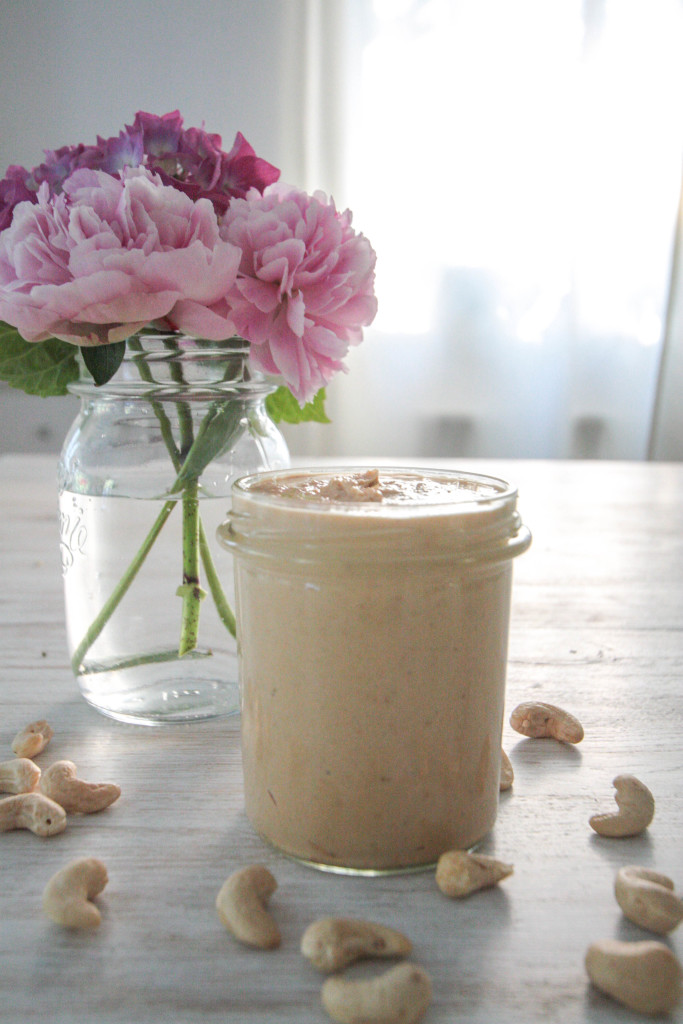 Ever since I've fallen in love with almond butter, I seriously can't get enough of nut butters. Even my sister told me the other day that her Nutella consumption has immensely decreased ever since she started making nut butters, which, if you knew her, is a big deal for her. The good thing about nut butters is that you can literally make them with every kind of nut: almonds, cashews, hazelnuts, pistachios (recipe coming soon) and even brazel nuts. Since I absolutely love roasted cashews, this cashew butter is my new favorite. I added some sea salt, which makes it the perfekt savory spread – similar to peanut butter, which I love. I eat it with literally anything: on bread, with apple slices, in my porridge and overnight oats, in smoothies and in baked goods. It's incredibly versatile and it's the perfect butter substitute, just try spreading some healthy chia jam on top – absolutely heavenly! 
Cashews are also incredibly healthy. As all nuts, they have a high mono-unsaturated fatty acids content which protects the heart from heart disease. They also contain lots of manganese, a mineral that is mainly important for healthy bones, nerves and thyroid function.
It's also very easy to make. As with all nut butters, you need a strong food processor though. I've tried it in a regular blender, and the result was anything but satisfying. It's really worth it to invest in a food processor – you can already get great ones for as little as 60 Euros, so it doesn't even have to be extremely expensive. Think about all the great things that you can make with them – including this healthy cashew butter with sea salt.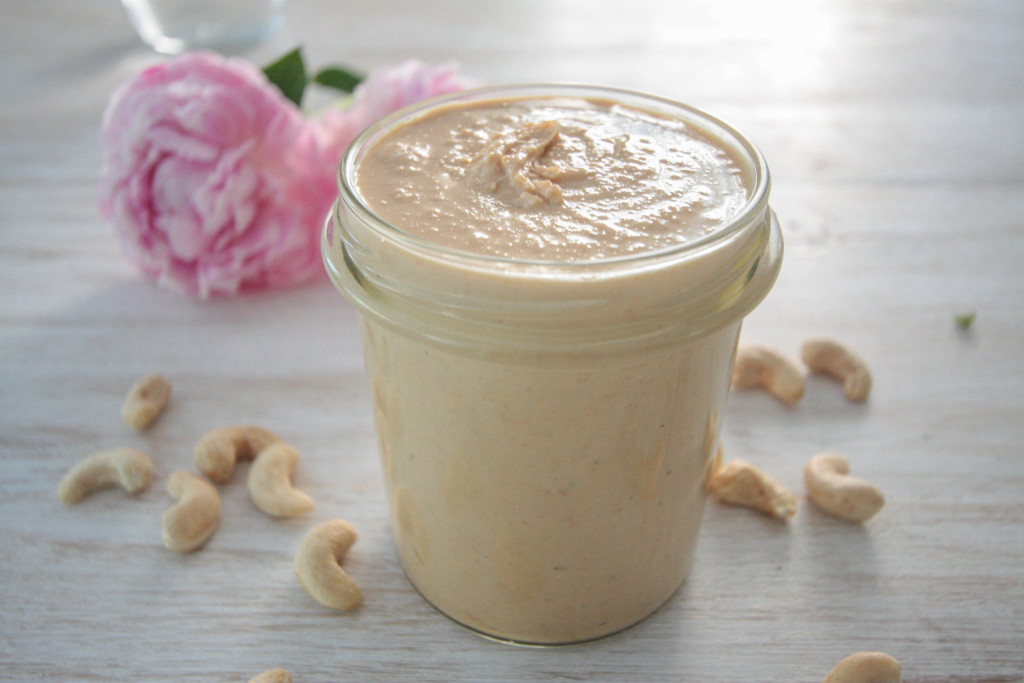 Ingredients:
– 2 1/2 cups (250g) natural cashews
– 1/4 tsp sea salt
Start by pre-heating the oven to 180 °C. Spread the cashews onto a baking sheet and roast them for about 8 – 10 minutes. Be sure to watch them carefully, so they don't burn.
Remove the cashews from the oven and let them cool off completely. This is so important that I cannot stress it enough. If you don't let them cool, the recipe might not work.
Pour the cashews into your food processor and blend for about 10 minutes until the cashews have completely transformed into a creamy butter. You might need to scrape the butter down from the side a couple of times depending on your food processor. Finally, add the sea salt and blend for another 10 to 20 seconds.
Stored in an air tight container in the fridge, the cashew butter lasts for about 2 – 3 weeks. (It never lasts that long in my family though, but that's not due to spoiling).
Enjoy!