These baked avocados were literally the biggest hit on Instagram when I posted them last week. I didn't even think about it, but the fact that you could actually eat avocados warm, apparently surprised many of you. I first realized that you could actually bake avocados when I saw this post by Ella Woodward in the Telegraph. I have to admit that I was a bit sceptic at first, because I had only ever eaten avocados raw, but after I tried it for the first time, I was instantly in love. A whole new world opened up to me, and I think I never want to eat another appetizer ever again. Speaking of appetizers, I realized that I didn't really post that many appetizers yet, so I am going to try to change this in the future. I doubt, however, that I will ever find something more delicious than these little baked avocados.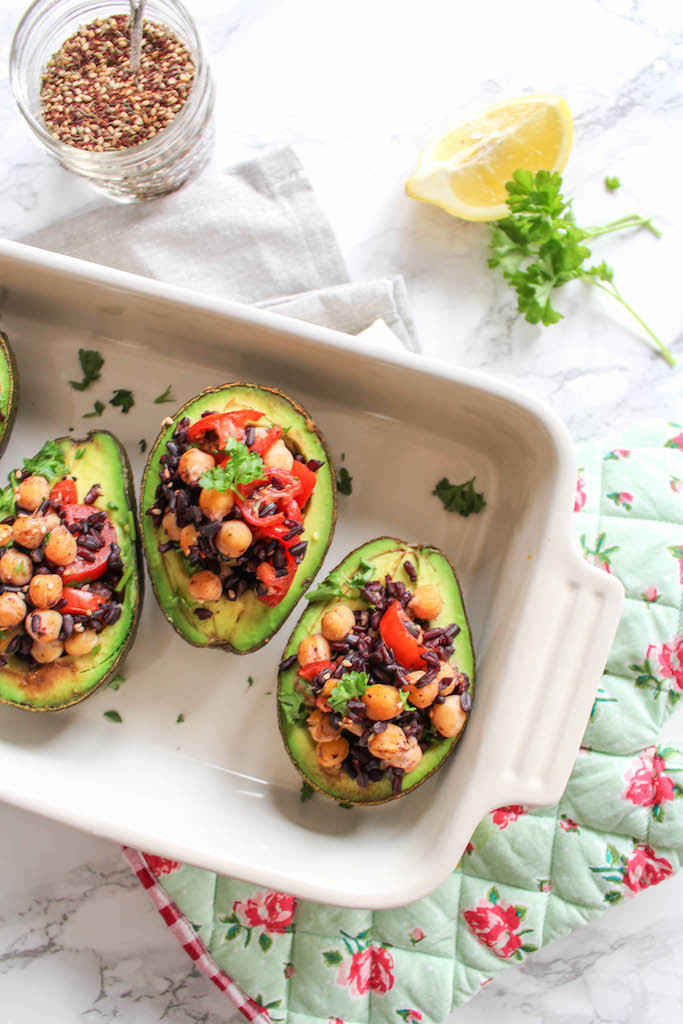 So besides from the mind blowing fact that you could actually bake avocados, this recipe also has another amazing ingredient that I discovered recently: za'atar. Za'atar is a middle eastern spice blend that is most commonly mixed with olive oil and spread on flat bread. It's also often used in dips or to marinate vegetables or meat. In this recipe it is a wonderful addition to the black rice and chickpea filling and gives this appetizer the final, and most delicious oriental touch. You can buy za'atar in any middle eastern market, but many supermarkets with a well sorted spice isle will also carry it. However, I prefer to make my own, as it is much cheaper and absolutely fun to make it yourself. The secret ingredient in za'atar is sumac. In case you haven't heard of sumac yet, you need to listen carefully now. Sumac is a ground deep red berry that grows on the sumac bush in the Middle Eastern regions. It has a nice tangy flavor, similar to lemons, although it is much less tart than lemon flavor. You can sprinkle it on literally anything that needs a balanced tangy touch. I think it goes really well with hummus or even tabbouleh.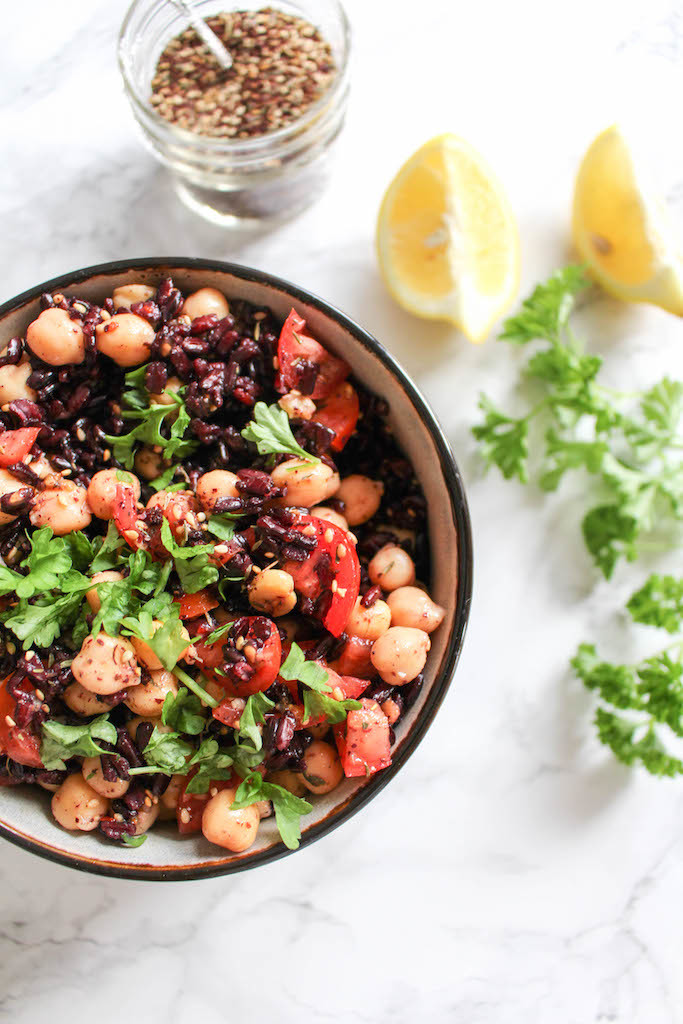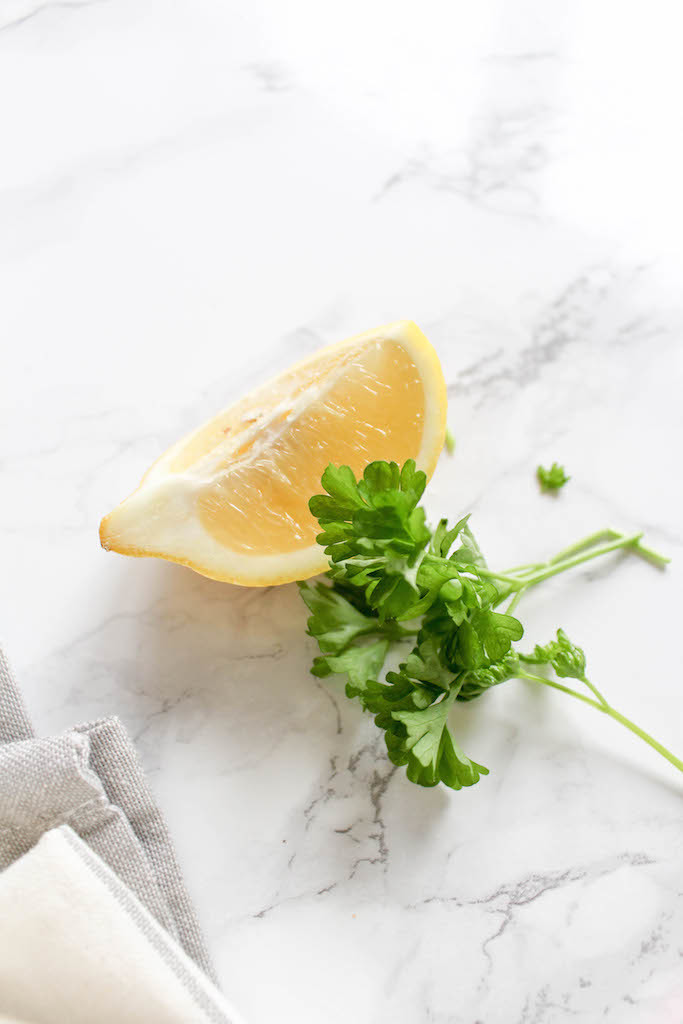 Combined with the chickpeas, the delicious black rice, sweet cherry tomatoes, fresh lemon juice and fresh parsley, it creates the most wonderful kind of salad, that I almost always end up eating out of the bowl before I have a chance to scoop it into the avocados. I strongly encourage you not to follow my example, because combined with the warm avocados, it tastes even better.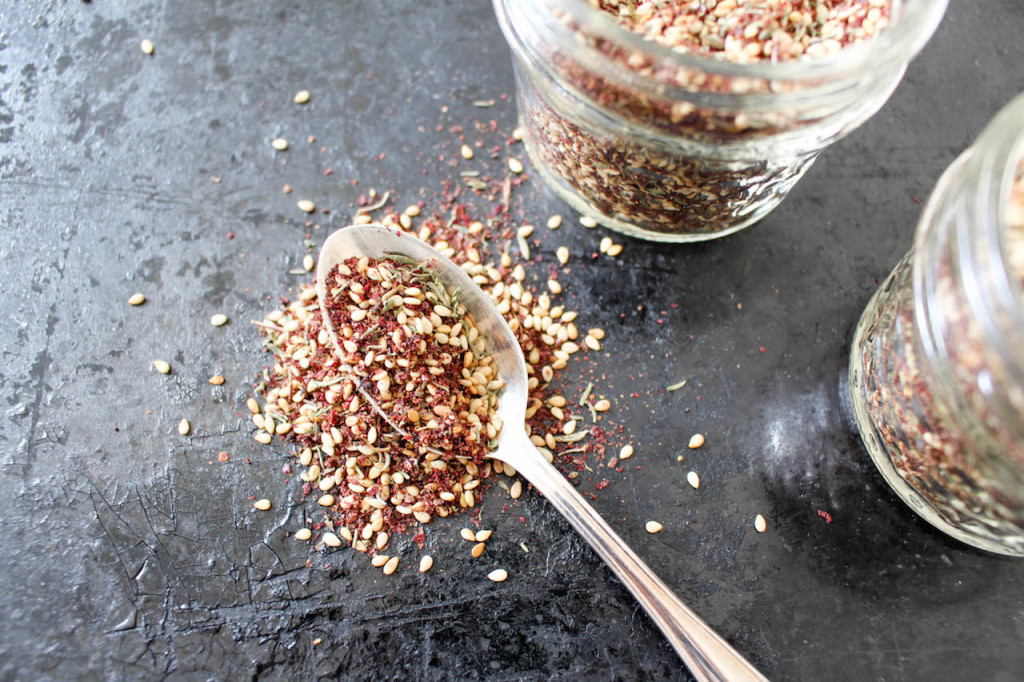 Baked Avocados with Rice and Chickpea Za'atar Filling
Author:
Heavenlynn Healthy
Ingredients
3 avocados
⅔ cup (100g) of chickpeas (soaked or canned)
½ cup (100g) of dry black rice
8 cherry tomatoes (about 75g)
1 garlic clove
1 tablespoon of extra-virgin olive oil
2 tablespoons of za'atar spice blend (see below)
1 teaspoon of cumin
½ teaspoon of paprika
½ lemon
1 pinch of salt
1 pinch of cinnamon
1 pinch of chili flakes (optional)
1 handful of parsley
freshly ground pepper
For the za'atar spice blend:
4 tablespoons of toasted sesame seeds
4 tablespoons ground sumac
1 tablespoon of dried thyme
1 teaspoon of ground cumin(optional)
1 pinch of sea salt
Instructions
For the za'atar spice blend:
Heat the sesame seeds in a skillet over medium heat for a few minutes until they turn slightly brown. Remove from heat and let cool completely. Mix the sesame seeds with all the other spices and mix well. Store in an air tight container. Keeps for many months.
For the baked avocados with za'atar rice and chickpea filling
Cook the rice according to package instructions.
In the meantime, cut the cherry tomatoes into small pieces, finely chop the parsley, juice the lemon and mince the garlic. Add all ingredients except avocados to a bowl and mix well.
Once the rice is ready, drain it and let it cool for a few minutes. Then add it to the other ingredients.
Pre-heat the oven to 180°C.
Cut the avocados in halves and remove some of the flesh to make room for the filling.
Scoop about 2 tablespoons of the za'atar rice filling into each avocado half and place them into a baking dish.
Cook the avocados for about 12 minutes and serve immediately.
Enjoy!