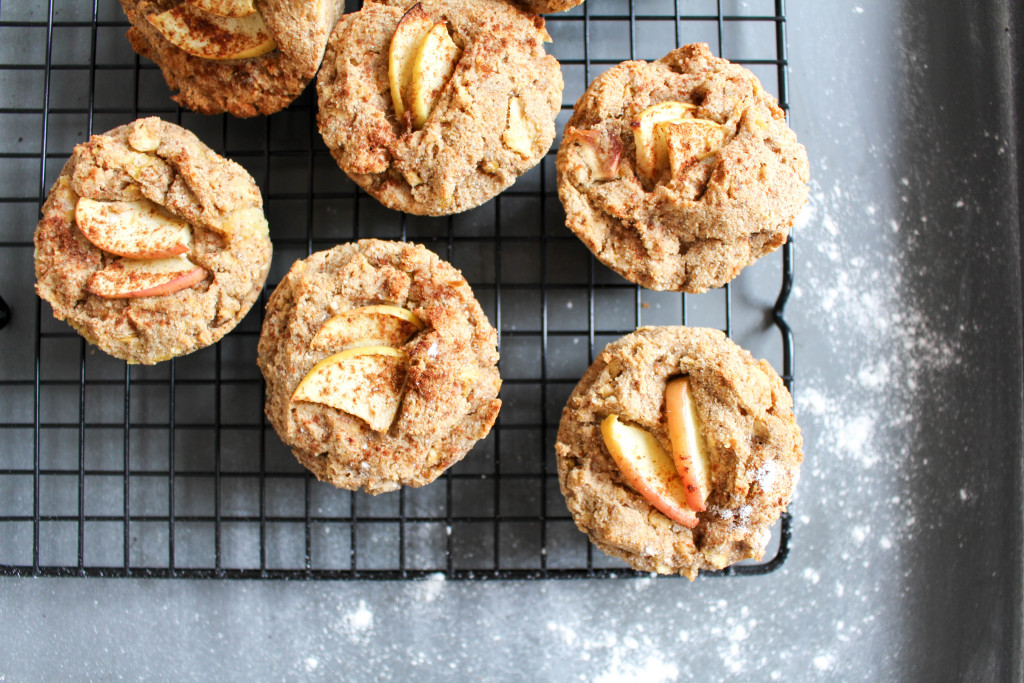 These apple cinnamon muffins are simply heavenly (otherwise they wouldn't be on this blog of course). I've uploaded a photo of them on Instagram a few weeks ago, and have been asked every day since then when I was going to share the recipe on the blog. I wasn't 100% satisfied with their texture, so I had to make a few more batches to finalize the recipe, and today it is finally ready to be shared with you. 
Growing up in an area that is home to the most delicious apples, I have a special connection to the little red (or green) fruits. Unfortunately I am a tad bit spoilt when it comes to apples, and I only like the really crisp and sweet and sour ones like Braeburn. For this recipe, however, the sweeter the apples the better.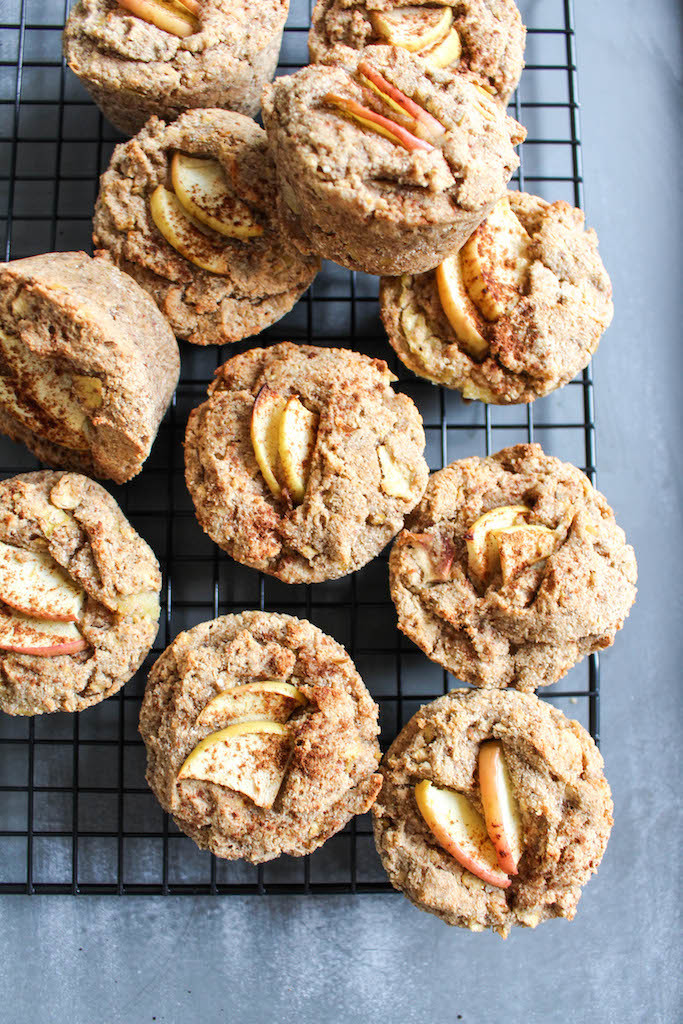 Apples are one of the healthiest fruits on the planet. They are an amazing source of the fiber pectin, which aids digestion and regulates blood sugar. They also contain a whole array of vitamins and minerals, such as vitamin C, one of the most well-known antioxidants, and minerals such as magnesium, iron or potassium, all of which are vital for healthy body functions.
Instead of refined white flour, which can be found in most apple-cinnamon muffins, I use a mixture of ground almonds, buckwheat and oats. This not only makes the muffins gluten free, but also adds a huge amount of healthy, plant based protein to the treats. They also come with a heavenly chore of apple sauce, which is my favorite part about them. If you think that this is strange, then just leave this part out, but I swear, then you'll be missing out.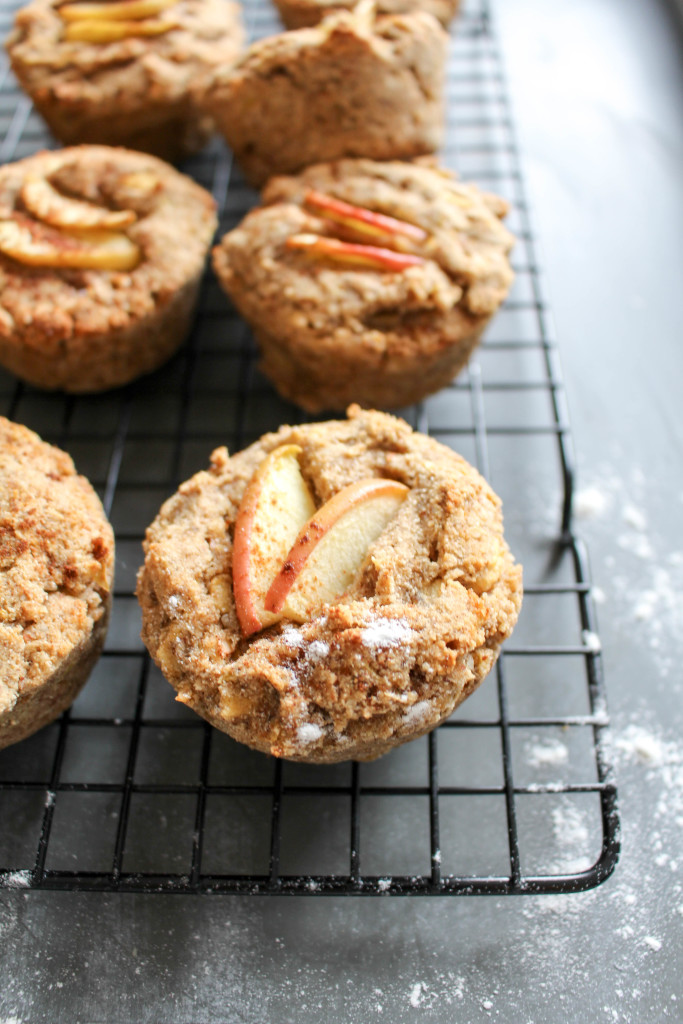 Finally I just want to add one more thing before I let you indulge in their deliciousness: as with all baked goods, these muffins still contain sugar, fat and carbohydrates. Even though they are a healthier option, and their sugar is unrefined, and their carbs are mainly fiber, I would treat them like regular muffins. As I always say: go crazy on the veggies and moderately enjoy sweet treats. And now enough of the lecture and happy baking.

Healthy Apple-Cinnamon Muffins
Ingredients
1 cup (100g) of ground almonds
1 cup (100g) of (gluten-free) buckwheat flour (or coconut flour)
¾ cup (75g) of (gluten-free) oats
1 cup (150g) coconut sugar
1 cup (240ml) of almond milk ( (gluten-free) oat milk or rice milk)
2 apples (mine weighed 150g each)
½ cup (120g) of homemade apple purée
⅓ cup (80g) of extra-virgin coconut oil (+ 1 or tablespoons for greasing )
2 tablespoons of chia seeds + 6 tablespoons of cold water
2 teaspoons of cinnamon
1 teaspoon of apple cider vinegar
1 tablespoon of arrowroot powder (or any other plant based thickener)
1½ teaspoons aluminium free baking powder
½ teaspoon of baking soda
a pinch of salt
Instructions
Start by pre-heating the oven to 200°C (400°F). Grease the muffin tin with coconut oil.
Add about three tablespoons of the almond milk and the arrowroot powder to a bowl and whisk well until the powder has completely dissolved. Then add the rest of the almond milk and the teaspoon of apple cider vinegar and set aside.
Now add the chia seeds and water to another bowl and let it thicken for about 10 minutes.
Grate one of the apples and cut about half of the other one into thin strips. This will be used to decorate the muffins. You can either eat the other half or store it in the fridge for breakfast.
Now add the oats to a food processor or strong blender, and break them down to a flour. Add all the other dry ingredients and mix well. Now add the chia-egg, almond milk, coconut oil and about ⅓ a cup (80g) of the apple purée. You can either mix it in your food processor or you can use a hand mixer to do so. Now add the grated apple and carefully mix it into the dough. If you are using a food processor, be careful not to use too much power or the apple will completely dissolve in the dough.
Next, add the dough to the muffin tin, only filling the holes half way up. Add about a teaspoon of the remaining apple sauce to each muffin, and cover with the rest of the dough.
Grease the apple slices with coconut oil, cut them in half and stick them into the muffins, gently pressing them down while you do so.
Bake the apple cinnamon muffins for about 25 minutes until they are golden brown and you can pull a fork out of it clean (you want to do the test somewhere around the sides, as the apple purée will still be wet in the middle, which is supposed to be this way.)
Enjoy!
The recipe is adapted from Cookie & Kate and Love & Lemons.
Enjoy!