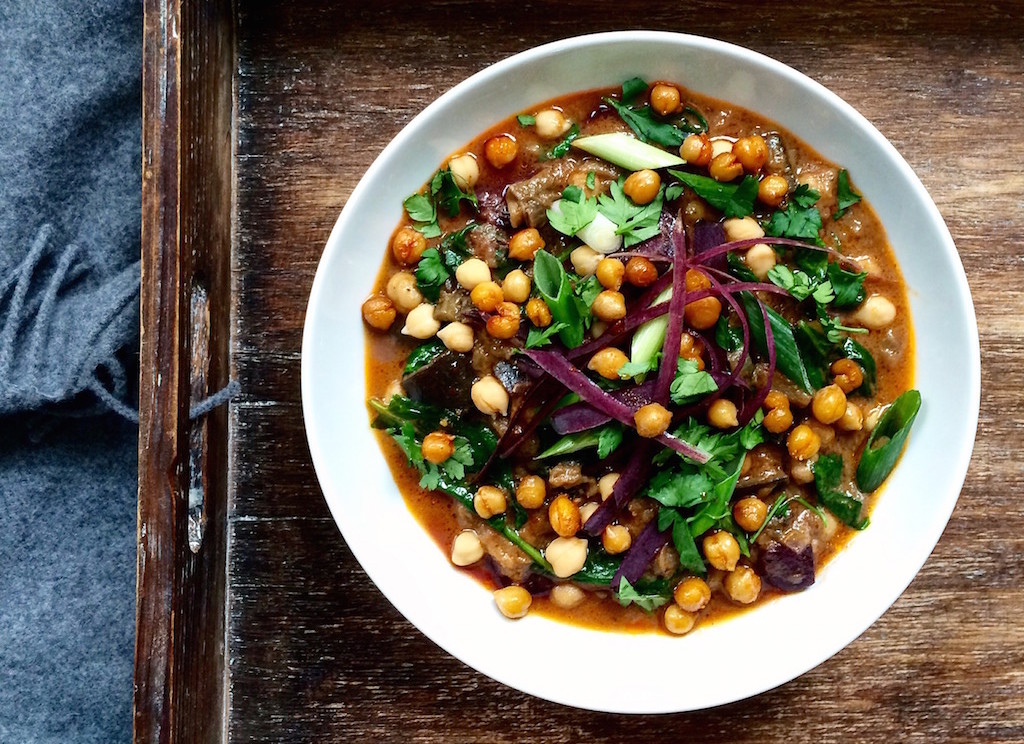 Today I'm starting a new section of the blog called "Heavenlynn's friends from around the world". As my blog is approaching its first blog birthday on the 1st of March, I asked some of my blogger and Instagram friends to join my birthday party by contributing a healthy recipe or anything else health-related. If you follow me on Instagram, you've probably noticed that I am quite active on this social media channel. Instagram has really helped my blog grow over this past year, and it has allowed me to connect with like-minded, health-conscious people from around the world.
One of these people is the lovely Kathrin, who was so kind to share this gorgeous looking and heavenly tasting eggplant curry with us. Kathrin is one of the first people that I connected with through Instagram, and her feed is absolutely stunning and you need to check it out asap if you have Instagram. Almost 50,000 people follow Kathrin's healthy journey, and her style is so unique that you could recognize her photos amongst thousands. I am so honored that Kathrin agreed to sharing one of her favorite recipes with us today, and let me tell you, this curry is such a flavorful dish that I could eat it every night. The roasted chickpeas make this curry so unique and add a nice unexpected crunch to the meal. If you haven't roasted chickpeas before, you need to give this a try, because they aren't just the best snack, but also a great topping for salads or soups. The number of spices (9!) that Kathrin uses for this curry may seem like a lot, but trust me, every single one is worth it, and makes this curry so unique and delicious.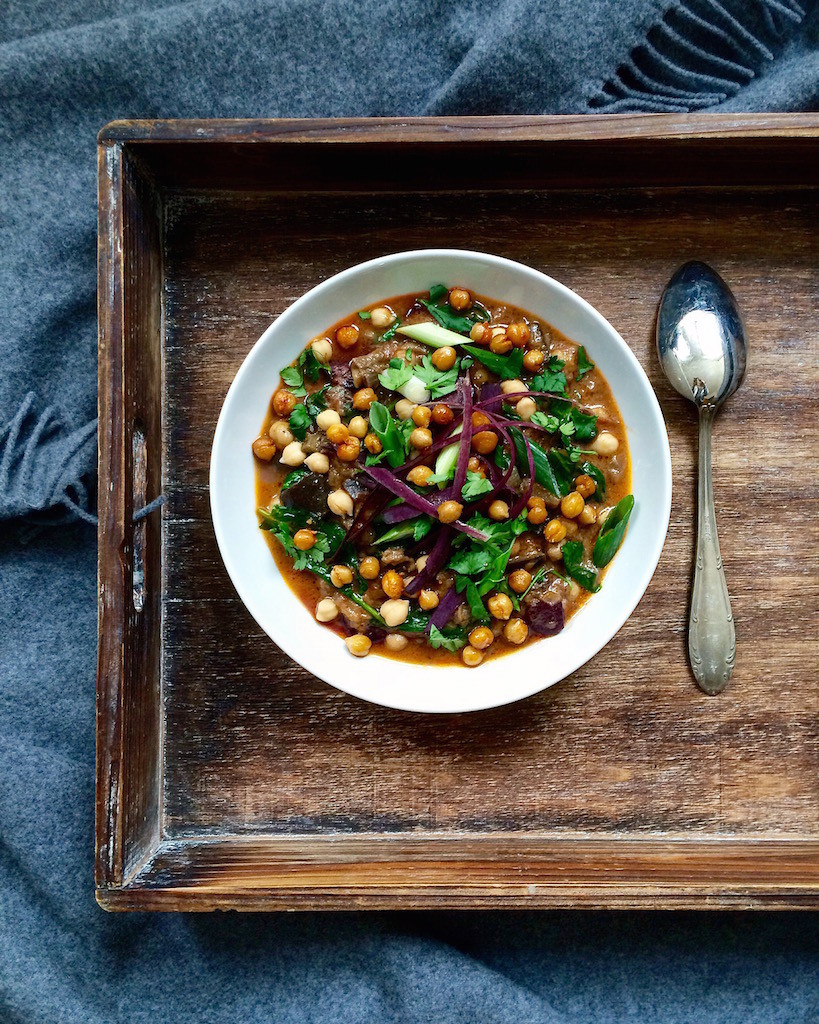 Below the recipe, you'll find a short and inspiring interview with the developer of this recipe, Kathrin.

Eggplant Curry with Roasted Chickpeas
Ingredients
1 onion
1 garlic clove
2 eggplants
3 carrots (purple or regular)
3 big handful of baby spinach
1 can of chickpeas, rinsed
1¼ (about 300 ml) of coconut milk
1 tablespoon of tomato puree
1 tablespoon of coconut oil
1 tablespoon of extra virgin olive oil
dried herbs
turmeric
coriander
ginger
fennel seeds
thyme
rosemary
chili flakes
fenugreek
paprika (mix a pinch of all herbs to a curry mix and adjust according to taste)
for the topping:
chickpeas
fresh cilantro
scallions
Instructions
Finely chop the onion and garlic. Heat the coconut oil in a large pot or dutch oven, then add the onion and garlic and sauté for about a minute on high heat until they become translucent. Add the tomato puree, cubed eggplant, carrots and dried herbs and sauté for another 2 - 3 minutes on medium to high heat. Add the coconut milk, bring to a boil, then reduce the heat and let it cook for about 20 minutes over medium to low heat.
Pre-heat the oven to 180°C (360°F).
While the curry cooks, add half of the chickpeas to a bowl, and add one tablespoon of olive oil and a bit of sea salt, and mix everything together. Roast the chickpeas in the oven at 180°C (360°F) for about 20 minutes until they are nicely crunchy. Take them out, whisk them in a bit of cayenne pepper and set aside.
Add the spinach and the other half of the chickpeas to the curry and let it cook for another 5 minutes or until the spinach is wilted.
Season with salt, pepper and chili according to your taste.
Serve with fresh cilantro, chopped scallions, the roasted chickpeas, brown rice or naan.
An interview with Kathrin
Who are you and what do you do?
Most of the day I am an online editor, social media manager and consultant at a PR firm in Hamburg. The rest of the day, you can find me in either in my small kitchen, practicing Yoga, or spending time with my friends. I am 28 years old (every time I write this, I think to myself: "Oh wow, that's already really old!" :)).
Where do you live?
In Germany's most most beautiful city, Hamburg. I live in an exciting small neighborhood with many restaurants, cafés and boutiques close to the river Alster.
What inspired you to eat healthy? 
I've always loved to eat and to cook. When I was a child, my mom used to incorporate lots of vegetables and fruit into my diet, and I was a child that basically ate anything (spinach was my favorite thing in the world). So when I moved out when I was 19 to go to university, I started eating even more consciously, paying closer attention to regional food that I bought on the farmers' market. Most of my meals (well, except for the school cafeteria food) were already healthy back then. About a year and a half ago, I started eating even more consciously, and some awesome blogs like Nutrition Stripped and Green Kitchen Stories introduced me to this clean, holistic way of eating. After I started my Instagram account about a year ago, my passion for healthy food grew even more, because I was exposed to so many more great accounts, that inspire me every day to eat healthy and consciously.
Why do you care about the healthy, holistic way of eating? 
When I was a child, I used to have problems with allergies and skin irritations, which forced me to cut certain foods like milk or wheat out of my diet, to test if they were the reason for my problems. These health issues still follow me today, and I've come to notice that I can really help my skin by restricting myself from eating milk or wheat. This kind of diet also significantly improved my immune system and mood. For me eating healthy means eating balanced and consciously.  I eat a lot of vegetables and fruit, legumes, spelt or whole wheat products, but I also can't say no to pizza, pasta or sweets all the time. I think it's important to find the right balance, and then you don't need to restrict yourself from eating certain foods. However, I try to cook most of my meals from scratch, and I avoid packaged foods and ready-to-eat meals.
What is your all time favorite meal that you could eat every day? 
Smoothies, definitely. Greens, beeries, mango or banana. I love smoothies. And almond butter. When it comes to savory dishes, I'd say definitely sweet potato fries and avocados.
Savory or sweet? 
Principally, I love to eat savory. Except for breakfast, them I like it sweet.
Breakfast person or dinner-lover? 
Breakfast is the most important meal for me. I even get up at 6am sometimes, to fit it into my busy schedule. But I could never go to bed without having had dinner.
Thank you for this lovely recipe and the interview, Kathrin.