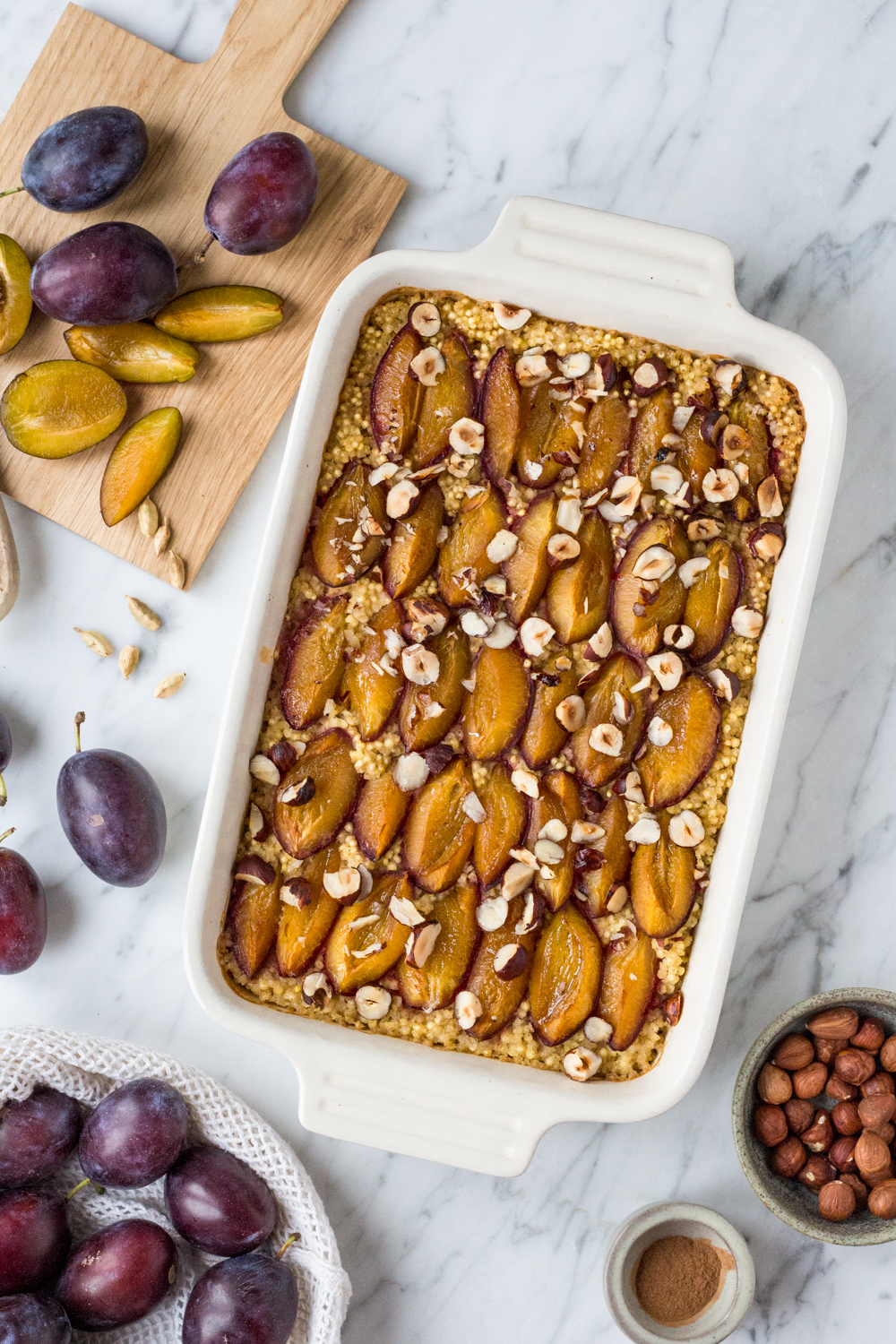 I deeply appreciate living in a country where you can see, feel and taste the seasons. When I woke up yesterday, it was still dark outside. This made me realize that fall really is just around the corner. On the farmer's market, however, fall has already taken over. It's a colorful assortment of produce, and the bright pumpkins and shiny damsons definitely overshadow everything.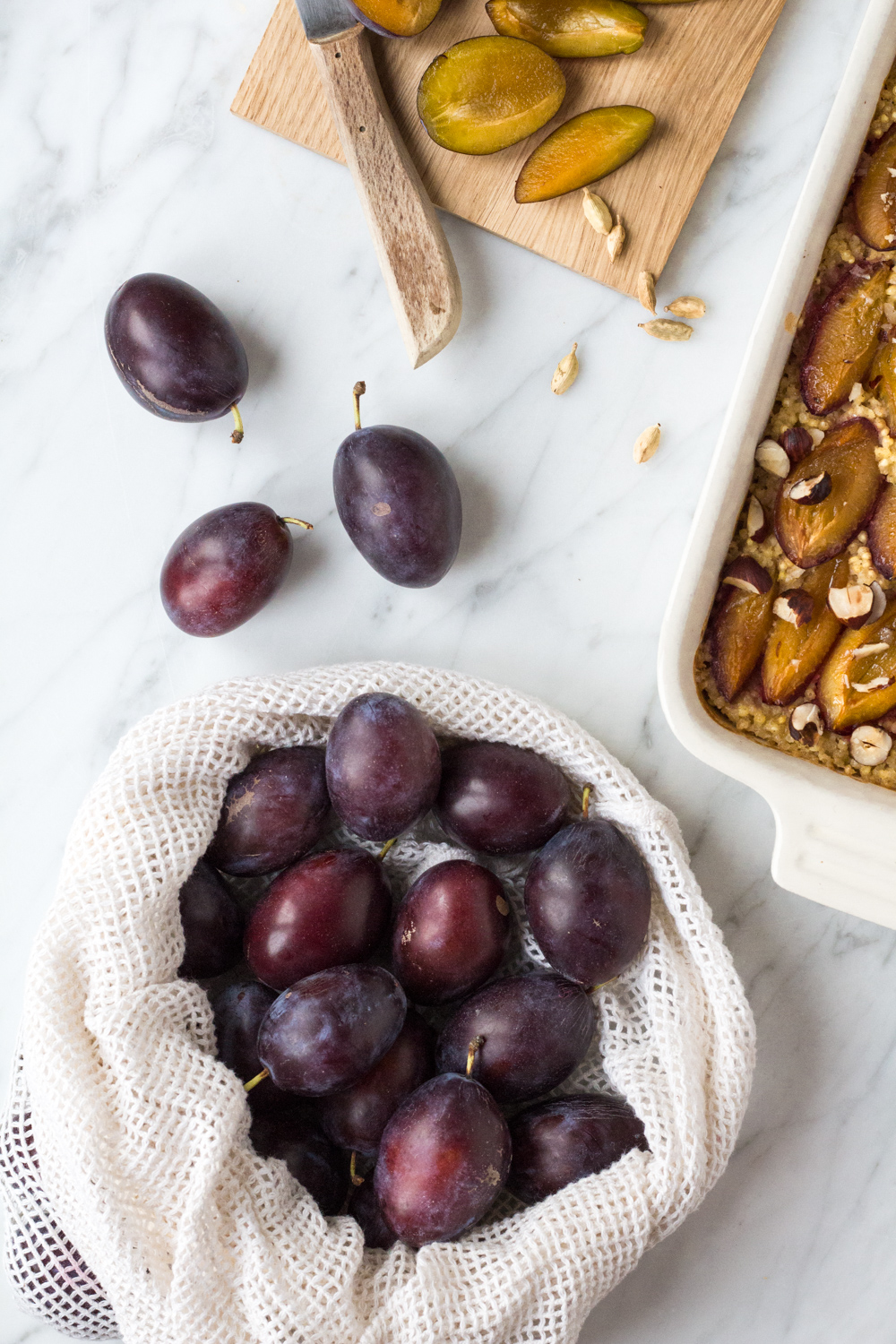 My husband (it does have a nice ring to it) lovingly laughed the other day when I smelled my damson before I ate it. Yes, I like to absorb my food with all of my senses and I do not mind being made fun of for doing so.
So now let's talk about this heavenly bake. I was not really sure what I should call it in English. But I guess because it is baked in a baking dish it's safe to call it a millet bake. Go figure. It literally requires three main ingredients, millet, damsons (or plums) and oat milk. The others are condiments or sweeteners that I'm sure most of you have in your pantry anyways. The dish really makes me appreciate this late summer. The way that the damsons leave this purple color on the millet reminds me of the changing leaves that are already beginning to glow in the late summer sun.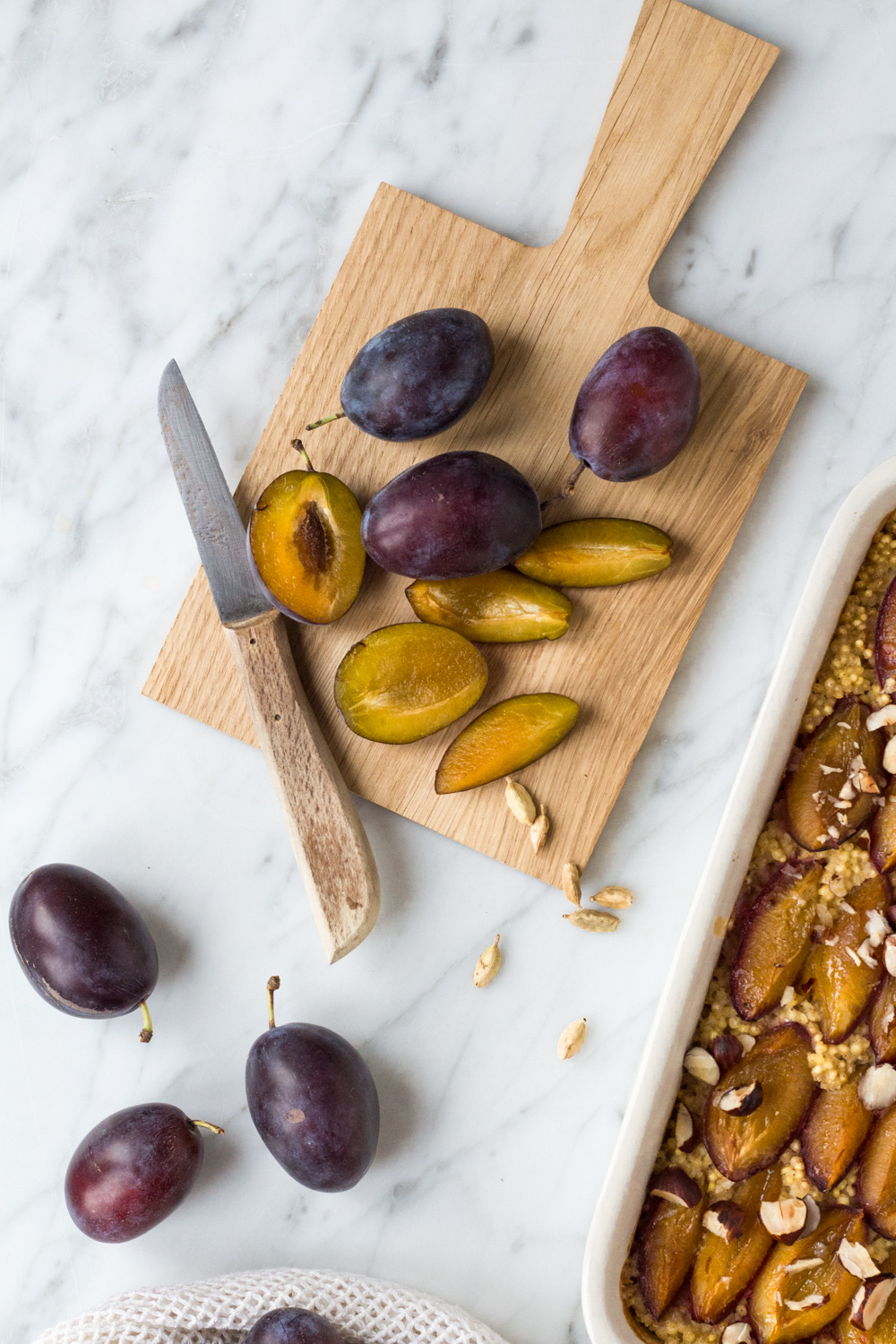 I really don't know why, but this season brings back so many beautiful memories that it definitely is – without a doubt – my favorite season of the year.
Anyways, back to this dish. Basically, you cook the millet with lots of warming spices, then you fill it into a baking dish, cover it with damsons and then you bake it. And 30 minutes later you have a rich, warming cake-like dish that everyone in the family will love. You could even make this for breakfast on the weekends to make Sunday morning even more special. Perhaps enjoy it after a lovely run through the forest and then cuddle up on the sofa and watch some Chesapeak Shores. I believe this TV show is the reason why today's blog post sounds like a written Hallmark movie.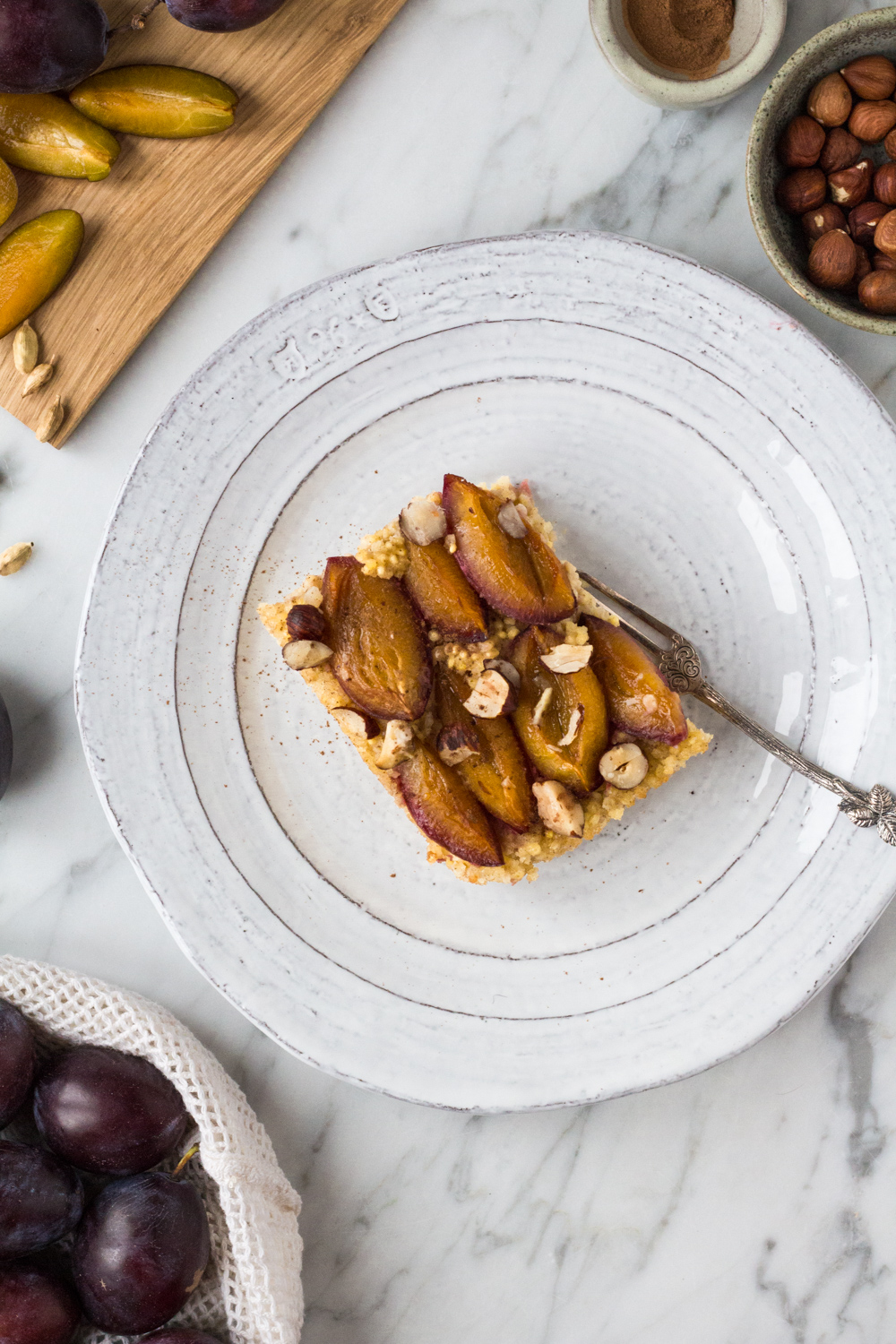 If you don't know what Chesapeak shores is, you must watch it. It's on Netflix and it's pretty much a total feel-good show. Though the lack of diversity in this production really is questionable.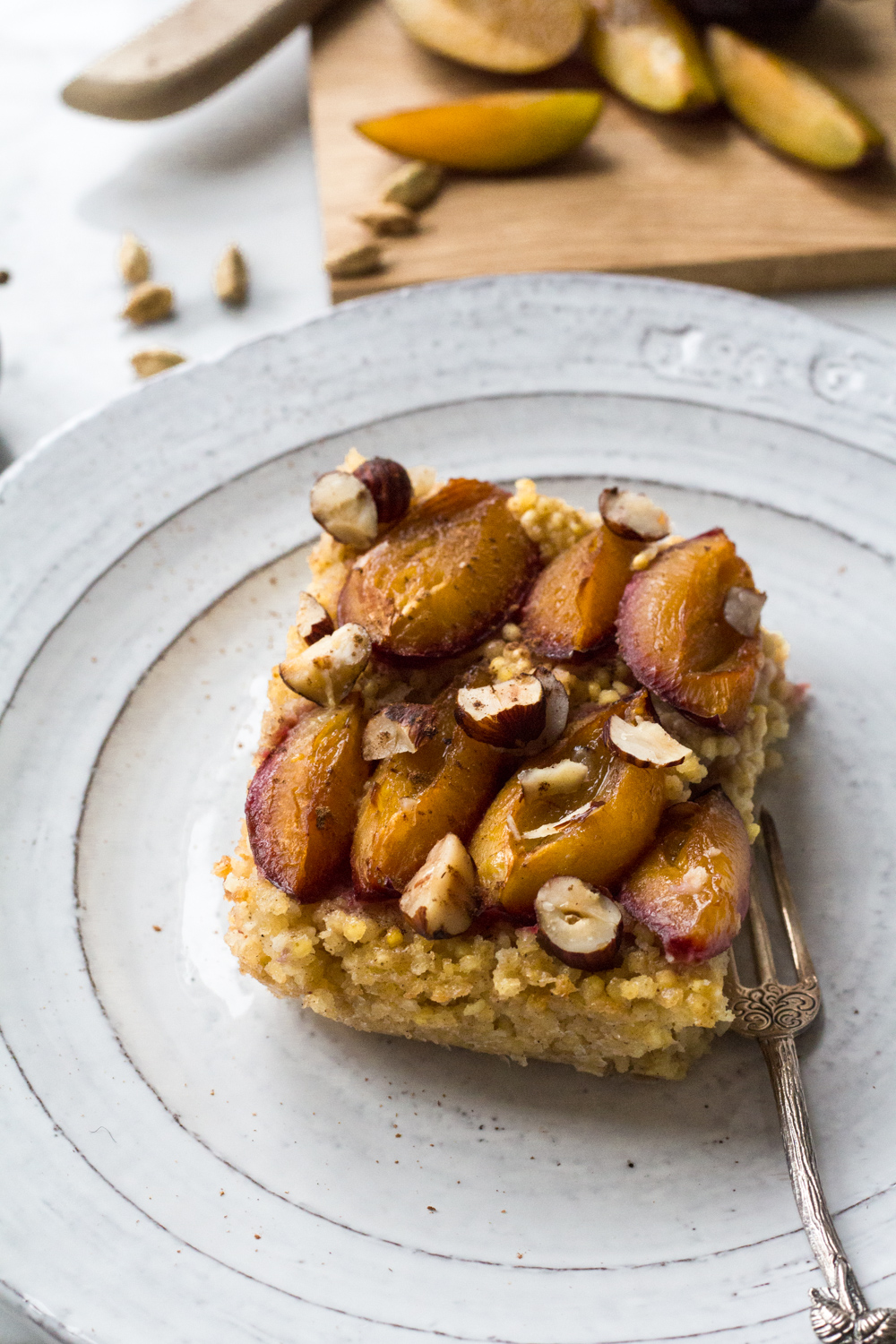 Of course I am not saying good-bye today without giving you some food for thought. Here's how today's dish is …
Heavenly for body and soul, because …
… damsons (and plums) are real power foods. In my opinion, their beautifully shiny skin already gives them away. If you have indulged in plums or damsons as a child, you might remember their effect on our digestive system. Plums and damsons are rich in fiber, especially the fiber pectin, which aids digestion. The good bacteria in our gut love pectin, so by eating damsons and plums, you're feeding your good bacteria. And yes, that's a great thing!
Damsons and plums are of course also rich in minerals and vitamins. They are a good source of potassium, which is important for a healthy heart and water circulation. Furthermore, they are rich in carotenoids, such as beta-carotene, which is turned into Vitamin A in our body. Damsons and plums are also rich in antioxidants due to their high content of anthocyanin. This blue plant compound is supposed to have antioxidative properties and can therefore have anti-aging effects.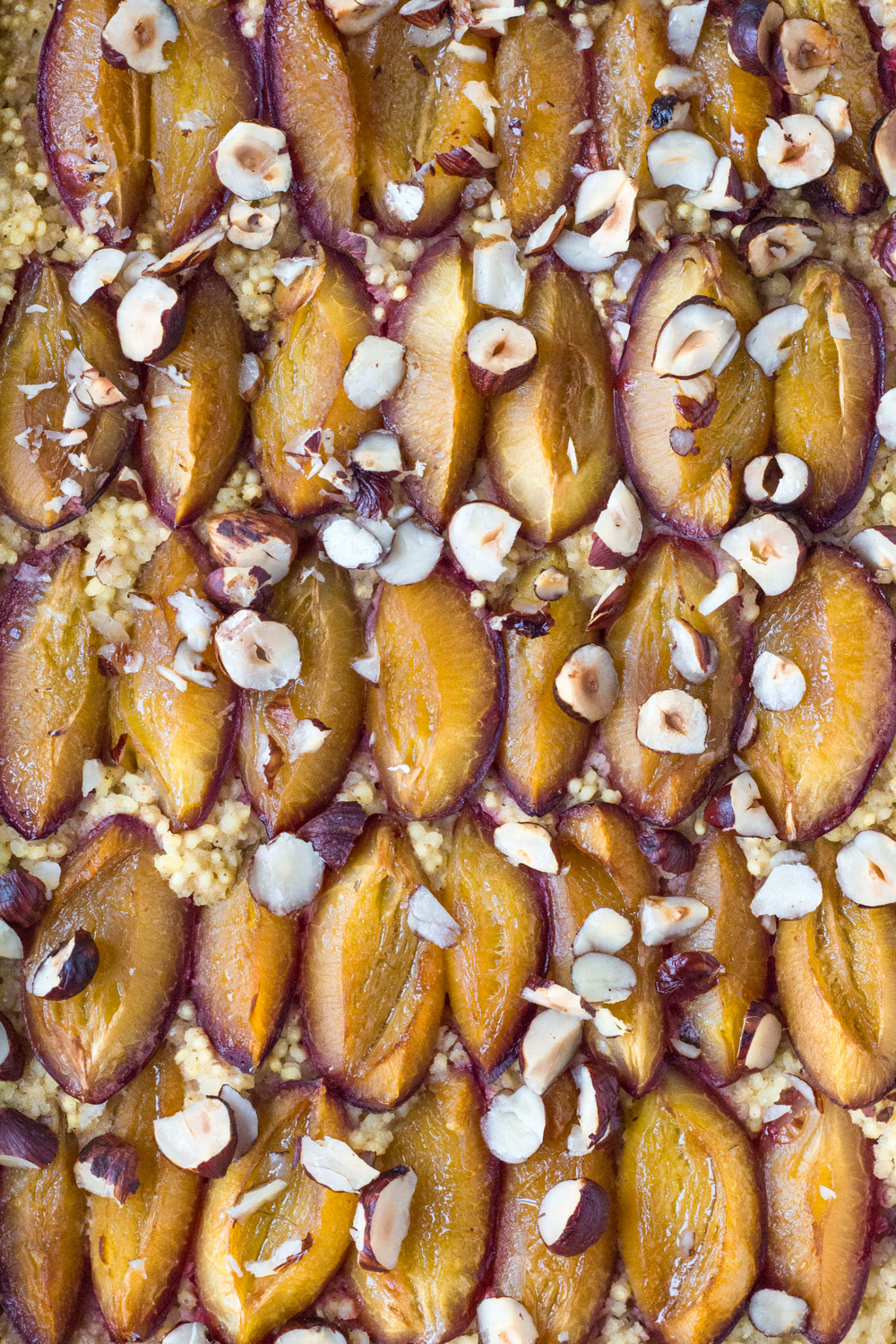 Also, I forgot to photograph the vanilla sauce. I know, I know, it's the most important part of this dish and I forgot it. If you make this, do not repeat my mistakes. Make the sauce and enjoy this beautiful autumnal bake.
xx
Lynn
Print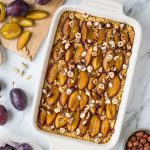 Damson millet bake
---
Author:

Total Time:

50 minutes

Yield:

6

1

x
For the millet bake:
200 g

of millet

600

ml of (gluten-free) oat milk

1 teaspoon

of cinnamon

2

pinches of cardamom
a pinch of sea or rock salt

3 tablespoons

of maple syrup (or honey)

300 g

of damsons (or plums)

30 g

of hazelnuts

1 tablespoon

of coconut oil, more for greasing
For the vanilla sauce:
3 tablespoons

of white almond butter (or cashew, hazelnut butter)

200

ml of warm water

1/2 teaspoon

of cinnamon

1

good pinch of vanilla powder (or the inside of

1/2

vanilla pod)

1/2 teaspoon

of arrow root powder (or corn or potato starch)
---
Instructions
Soak the millet in clear water for about an hour or at least 10 minutes. Drain the millet and place it in a pot together with 400 ml of oat milk. Bring to a boil then lower the heat and add cinnamon, cardamom, salt, vanilla and 2 tablespoons of maple syrup. Cook the millet for 10 minutes then set aside to rest for another 10 minutes to dwell.
In the meantime, pre-heat the oven to 180 °C fan setting. Half the damsons, remove the core and then slice them again into quarters. Roughly chop the hazelnuts and grease a baking dish with coconut oil. Place 1 tablespoon of coconut oil in a small oven-proof dish and melt the coconut oil in the oven.
Add another 200 ml of oat milk to the cooked millet in the pot, then pour everything into the baking dish. Place the damsons on top of the millet, then add the hazelnuts. Mix the melted coconut oil with the remaining tablespoon of maple syrup and drizzle on top of the dish.
Bake the dish for 30 minutes and then enjoy warm or cold for breakfast the next day.
For the vanilla sauce, simply whisk all of the ingredients together in a bowl and serve with the bake.
Prep Time:

10

Cook Time:

40