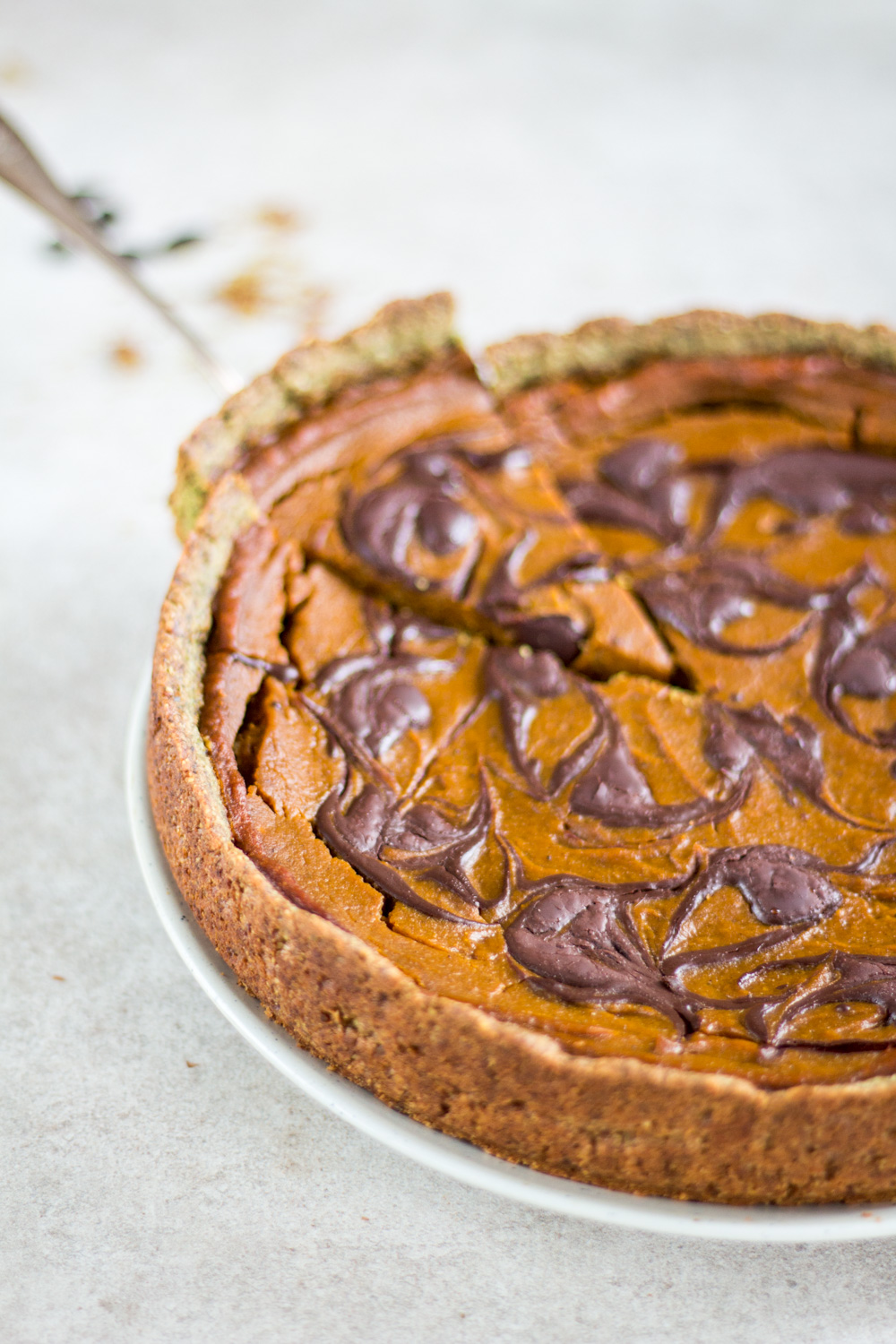 It's been a while, but these days I really miss my life in the United States. The Golden Summer, pumpkin spice everything and the excitement of the upcoming holiday seasons. Even though, at the moment, I would not like to go back to that time, I do sometimes get reminiscent about my student life in the States. I especially miss the care-freeness. Having no worries except for the next paper deadline or what to do on the weekends.
I know that I romanticize this time now, because of course student life is not always as care-free as it seems. I spent most of the Golden Summers locked away in my tiny dorm room studying or writing some kind of paper. But then there were these moments when my roommate and dear friend Katie would drive us to Starbucks (yes, I know, I know) and we would discuss life, dreams and the next party. Sometimes, I would like to go back and tell my 22-year-old-self to enjoy life a little more. To go out for coffee with Katie more. To stop worrying about GPAs and acing every exam. To go to concerts, to travel more. Perhaps I will be able to pass on this wisdom to someone in the future.
Anyways, I did not intend for this post to become so emotional. After all, this pumpkin pie with chocolate swirl is reason to celebrate. Pumpkin Pie is not a traditional or often-baked dish in Germany, we are just now starting to catch-up on this American tradition. I still remember my first bite of pumpkin pie back in 2006 in a small town in South Dakota. I wasn't like anything I had ever tasted before and honestly, it blew my mind that you could bake with pumpkin.
Ever since that first bite, I have been in love with anything that has pumpkin puree in it. I often baked pumpkin brownies in my dorm room in North Carolina, and made it a tradition to bake pumpkin brownies at least once a year. This pumpkin pie is definitely not one of those 30-minute-recipes, but trust me, the effort of making this pie will be rewarded. I especially love the chocolate swirl on top, which gives it a little something extra.
Before I leave you with the recipe, let's quickly examine the health benefits of this pie.
Heavenly for body and soul, because …
… pumpkin is one of the healthiest vegetables that fall has to offer. Its red color indicates that it is full of beta-carotene, the pro-Vitamin A that is converted into Vitamin A in the body. Vitamin A is crucial for our eyesight, but it is also essential for an intact immune system.
Have a lovely rest of the week.
xx
Lynn
Print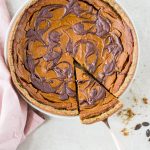 Pumpkin Pie with Chocolate Swirl
---
Author:

Total Time:

1 hour 30 minutes
For the base:
150 g

(gluten-free) oats

140 g

pumpkin seeds (or sunflower seeds, or a mix)

1 tbsp

ground linseed +

2 tbsp

water

70 g

extra-virgin coconut oil

65

ml maple syrup
a pinch of sea salt or rock salt
For the pumpkin filling:
550 g

homemade pumpkin puree

1

can (400 ml) of coconut milk (of which

100 g

coconut is needed, see instructions)

55 g

coconut blossom sugar

60

ml maple syrup

2 tbsp

ground chia seeds

½

TL vanilla powder or the content of a vanilla pod

2 tbsp

(gluten-free) oat or almond milk

½

TL ginger powder or

1/2

TL freshly grated ginger

2 teaspoons

cinnamon

½

TL nutmeg

¼

TL ground cloves
a pinch of sea salt or rock salt
For the chocolate swirl:
50 g

vegan dark chocolate, min. 70 % cocoa (I like Vivani sweetened with coconut blossom sugar)
---
Instructions
Place a can of coconut milk upside down in the refrigerator for about 2 hours so that the coconut separates from the water. Take out the can, turn it over, open it and scrape out the coconut on top. Measure 100 g of it and put the rest aside for curries or smoothies.
Preheat the oven to 180 °C  (160 °C fan setting) and line a baking tin (26 cm diameter) with baking paper.
Mix the flaxseeds with the water and set aside. Place the pumpkin seeds and oats into a food processor or blender and blend for approx. 20 – 30 seconds to a flour. Add the remaining ingredients for the base (incl. the flaxseed mix) and mix for another 10 – 20 seconds into a crumply mix.
Pour the mix into the baking tin and press it firmly into the tin using your hands, making sure to form a high barrier alond the edges .
Pre-bake the base for about 10 minutes.
In the meantime, prepare the filling. Mix the the maple syrup with the chia seeds in a small bowl with a whisk. Add the oat milk, stir until smooth and leave to stand for approx. 10 minutes so that the mixture thickens.
Mix the pumpkin puree, coconut puree, coconut blossom sugar, vanilla powder, grated ginger, cinnamon, nutmeg, ground cloves and a pinch of salt in the Food Processor until you have a smooth dough. Once the chia mixture has thickened, add it to the rest of the dough and mix again.
Take the baking tin out of the oven and add the pumpkin filling.
Melt the chocolate over a water bath and add little chocolate blobs on top of the filling. Stick a wooden stick into a blob and swirl around in the cake connecting the blogs. There is no right and wrong here.
Bake uncovered for about 40 – 45 minutes.
After 30-35 minutes, check the cake surface to see if it is getting too dark on top. It should be slightly browned but not burnt. For the remaining baking time, place a baking tray on the rail above the cake. Continue to bake the cake and to complete the 45 minutes and let it cool for at least one hour.
Unfortunately, the cake needs another 6 – 8 hours or preferably overnight in the fridge to set.
Prep Time:

30

Cook Time:

60