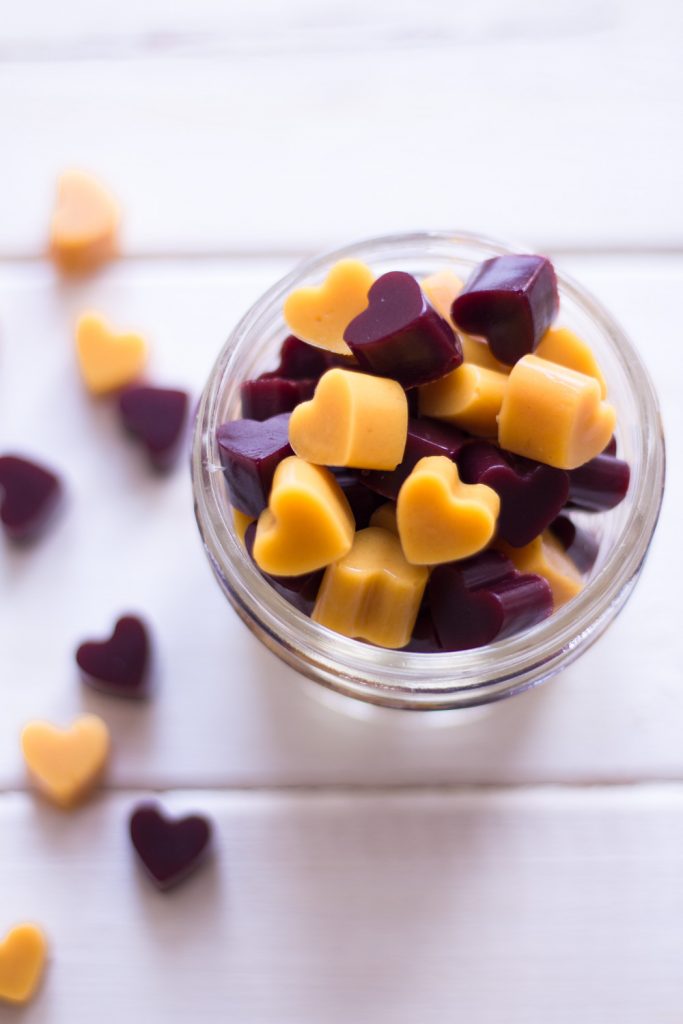 Friends! I know it's crazy, but summer is over. Ha – bet you already knew that. But what you did not know is that I take my job very seriously. Which is why I have already prepared for cold season back in August, when it was 37 degrees celcius out there. Yes, these cold-fighting ginger gummy bears first saw the light of day back in this year's heat wave. Can you imagine how hot it was when I shot the photos for this recipe? If you're wondering why I did that, then you're probably not alone. I did it because I am currently working on my master's thesis which leaves me with limited time for blogging. As I take my hobby / full-time job very seriouly, I wanted to be prepared for a time when I don't have a lot of time for recipe development.
Anyways, you probably do not care about the struggles of a food blogger, so let me tell you a little bit about these healthy, plant-based, refined sugar-free cold-fighting ginger gummy bears. They are hot! Ha! Yes, they are hot, because there is a lot of ginger juice in them. Ginger juice is my secret weapon. I use it in the summer to diffuse my water and I use it in the winter to health-up my teas or even turmeric lattes. It's an easy and fun way to take advantage of the healing powers of ginger.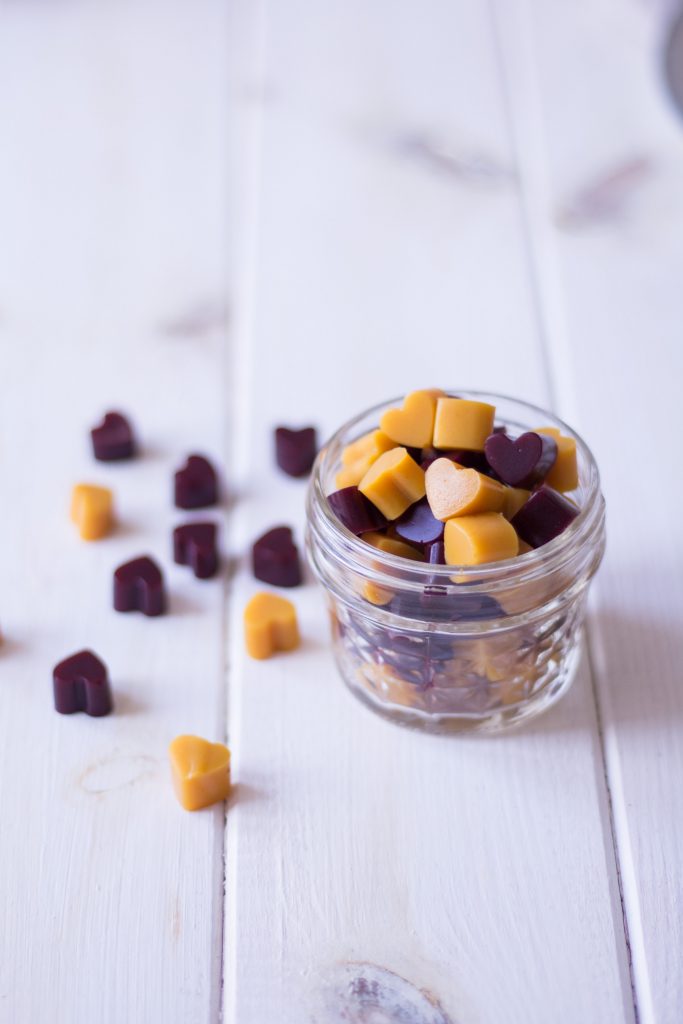 Ginger is known for its antibacterial and anti-inflammatory properties, but several studies have also linked ginger to pain-reducing abilities. Isn't that amazing? One trick that I have used before is to turn to ginger during nausea. I was driving through Ibiza with my family, when all of the sudden I got so motion sick that we had to stop driving for at least 30 minutes. Lucky for us, there was a tiny stand selling produce right next to the road where we stopped. I remembered reading about ginger and nausea, bought one and chewed on this hot root for the rest of the tour. It definitely eased my pain and the nausea. So ever since then, ginger is my go-to 100% natural nausea fighter.
But ginger also helps soothe sore throats and cold-related symptoms, which is why I made these fun vegan and refined sugar-free gummy bears. They are super easy to make and only require one fancy ingredient: agar agar. This plant-based gelantine is derived from yet another root and really forms an amazing gel-like texture when combined with liquids. You can get agar agar at any health store, and it isn't even that expensive.

Healthier ginger gummy bears (vegan!) for cold season
Ingredients
200 ml of smoothie, homemade fruit juice or 100% natural juice from the store
50 ml of ginger juice, from the health store
6 g of agar agar
2 teaspoons of coconut sugar or raw honey (if not vegan)
a splash of lemon juice
Also:
a gummy bear silicone form
Instructions
Combine the smoothie or juice, ginger juice and agar agar in a small sauecepan. Whisk it and let it stand for about two minutes to thicken.
Place the saucepan onto the stove, and gradually heat the mix on medium heat. Stir in the coconut sugar or raw honey and a splash of lemon juice. Heat it for another 2-3 minutes, then take off the heat and let it cool for another minute or two.
Fill the silicon molds with the mix using a small spoon. Do this quickly as the mixture will start to thicken very quickly.
Place the silicon form into the fridge for at least 2 hours to thicken. Then remove the gummy bears from the form. They will last in an air-tight container for at least one week.
Notes
The following ratio of fruit juice and ginger juice is quite spicy. It really should be seen as cold-fighting gummy bears. You can always reduce or eliminate the ginger juice if you do not like ginger or cannot find ginger juice. Especially for kids, I would not suggest using ginger juice as it will be too spicy for them.
Enjoy!
xx
Lynn