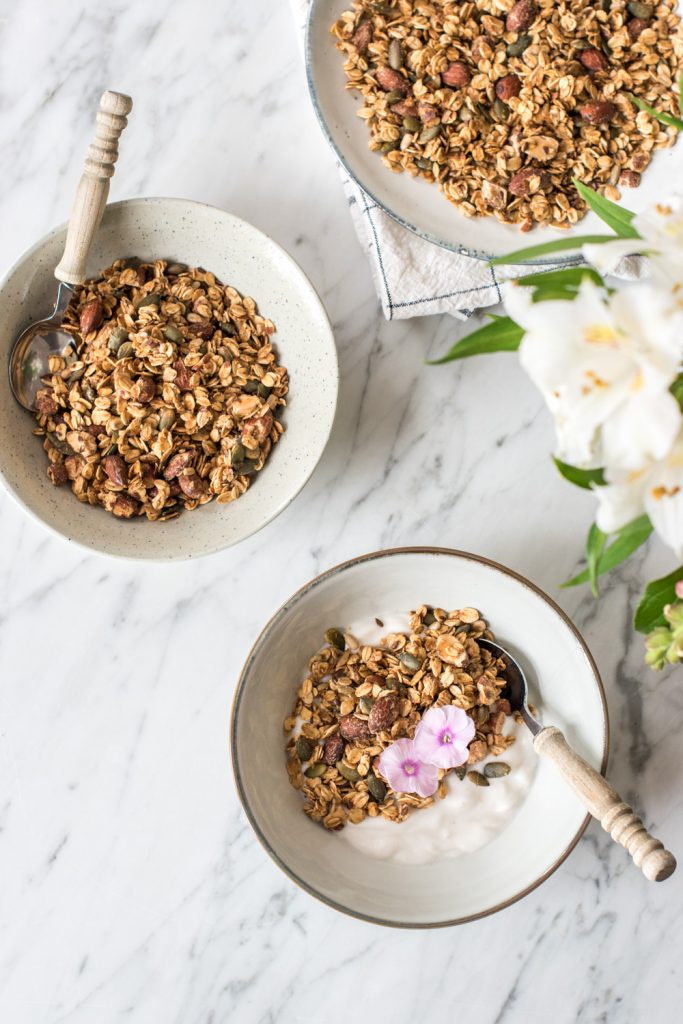 Before I continue with the recipe, I need to thank you all. I know that the book has not been published in English yet, but I so hope so, because the the feedback from those who already have it is overwhelming.
Let's keep our fingers crossed that an English publisher will pick up the book soon. I would love for you all to be able to buy it too!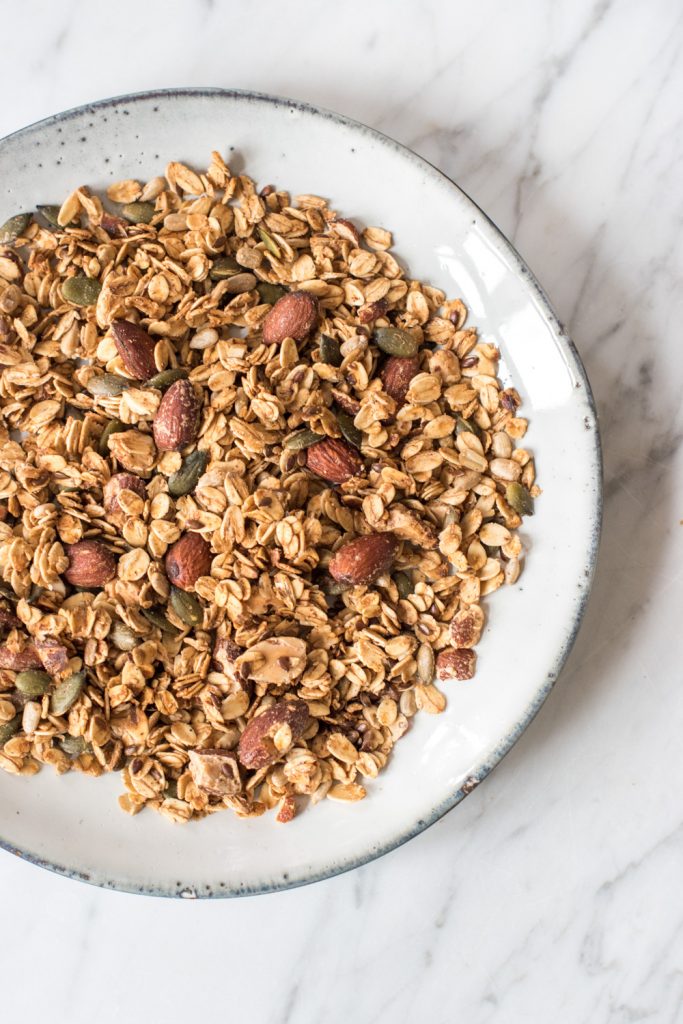 Oh and please do not think: oh, now she has written a book and will neglect the blog, then I can assure you that this will definitely not be the case. In addition to the preparations for the book tour this month, I have already prepared many great recipes for you, which will bring you right into the Golden Summer in a spirited and healthy way.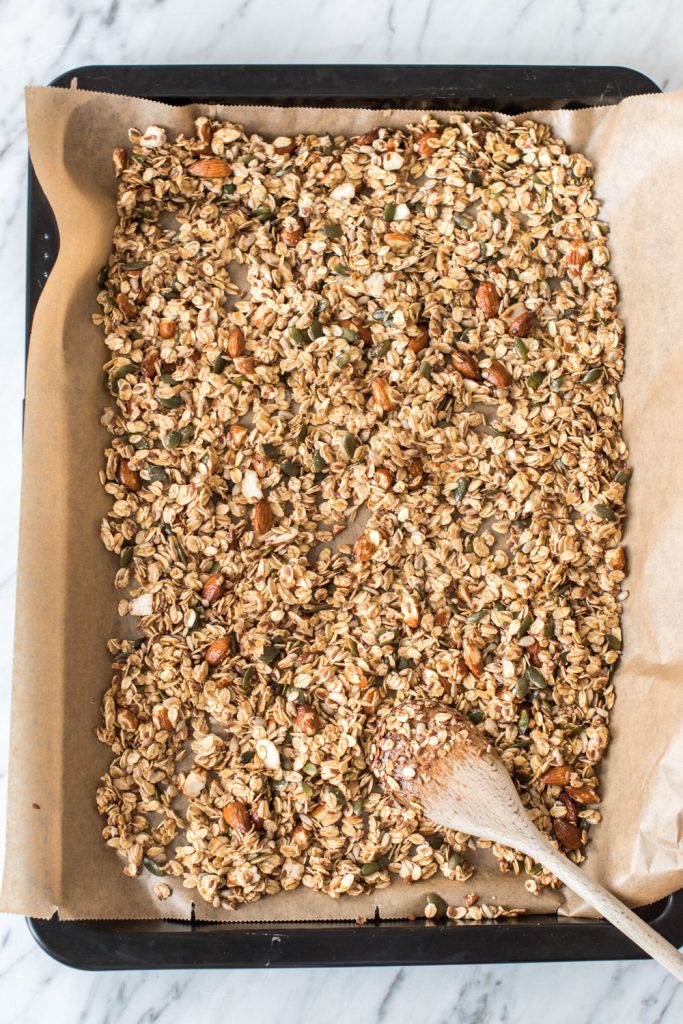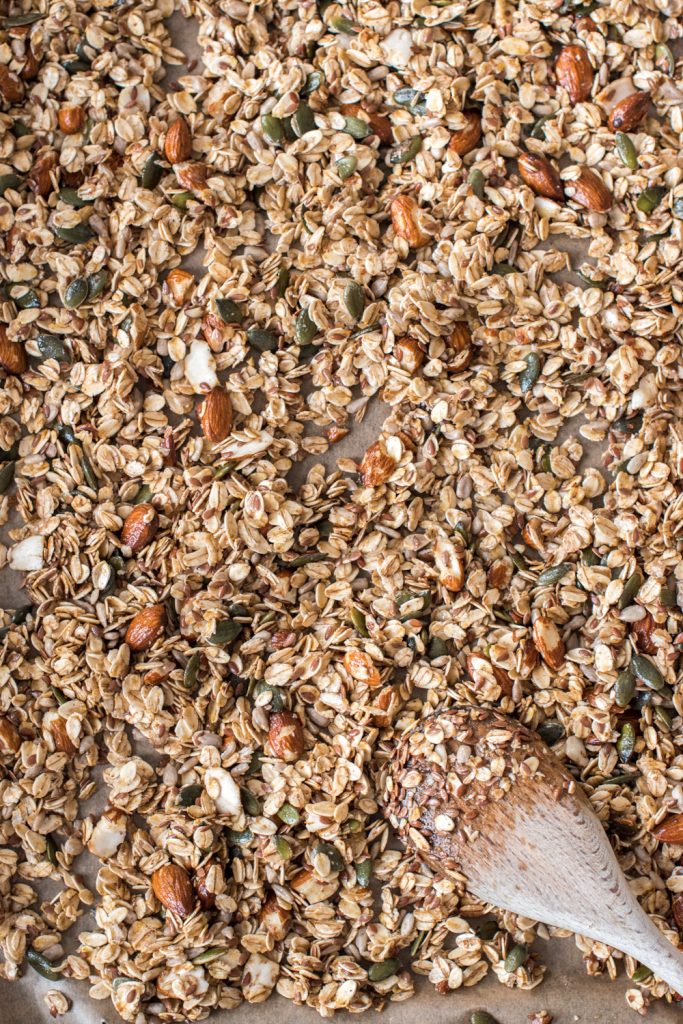 Today I brought you an autumnal breakfast recipe: this incredibly delicious Pumpkin Spice Granola. If you live in an English-speaking country, then Pumpkin Spice is a common term in your language. If you're German, then you've probably heard of pumpkin spice with regard to the American coffee chain whose Pumpkin Spice Latte is legendary (and contains a legendary amount of sugar.) By the way, have you tried my healthy Pumpkin Spice Latte?)
As soon as it gets uncomfortable outside, I prepare my own Pumpkin Spice mixture. It's super easy to make and lasts all winter long. I add it to my coffee, to my golden milk, to my morning porridge and also to granola. Oh, your whole apartment will smell so wonderful, believe me!
Homemade granola was one of the first recipes that I tried after changing my diet. At that time I was still totally unsure of how to make the best granola. But now I think it's safe to say that I've mastered the art of granola making. What's most important is that all dry ingredients have to be covered with the sticky mix of coconut oil, maple syrup or honey and spices. You can add almost everything into the granola. It will taste good with any ingredients: nuts and seeds and all kinds of cereal flakes. Traditionally, I mostly stick to oats, but puffed millet or quinoa would also be great.
Heavenly for body and soul, because …
This Pumpkin Spice Granola complements the warm morning porridge that I love to enjoy in the fall and winter months. Incidentally, the main ingredient of cinnamon has a positive effect on the blood sugar level. That's why I add cinnamon to every breakfast, even in summer. A great to start the day.

Pumpkin Spice Granola
Ingredients
For 1 baking tray:
70 g of almonds
200 g (gluten-free) oats
30 g of flaxseed
30 g pumpkin seeds
2 tablespoons of native coconut oil
2 tablespoons of maple syrup (or brown rice syrup)
2 tsp Pumpkin Spice (see below)
For the Pumpkin Spice Mix (all ingredients in ground form):
2 tablespoons of cinnamon
1 tsp ginger
½ tsp allspice
½ teaspoon nutmeg
¼ tsp cloves
Instructions
Preheat the oven to 160 ° C fan.
Chop the almonds roughly or pulse briefly in a food processor. Mix almonds, rolled oats, flax seeds and pumpkin seeds in a mixing bowl.
Heat the coconut oil in a small pan on a low level. Add maple syrup and pumpkin spice and stir well. Add the sticky mix to the dry ingredients and mix well with a wooden spoon.
Spread the granola evenly on a baking sheet lined with baking paper and roast for about 20 minutes. Remove the baking sheet and loosen the granola a little, giving it a good stir. Put the sheet back in the oven and roast for another 10 minutes.
Remove the granola from the oven, allow to cool completely and then store in an airtight glass container.
Enjoy!