Edible DIY Gifts with printable gift tags – because edible gifts are simply the best!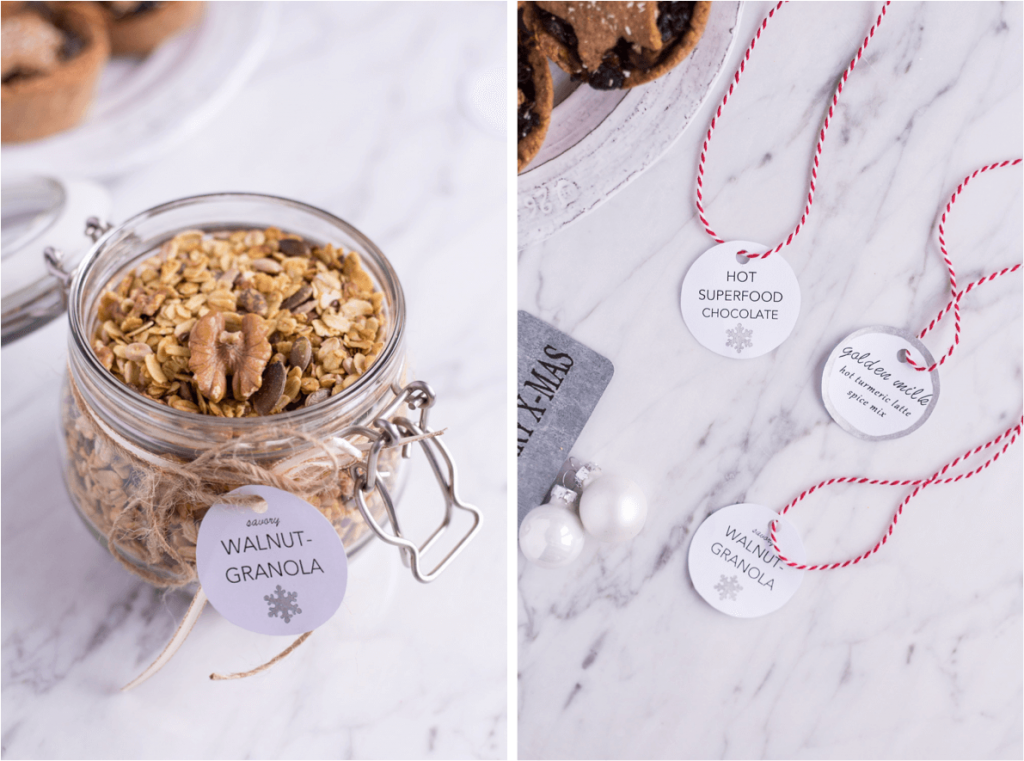 Do you love wrapping gifts? Well, I do, but I am terrible at it. Every year, when I place my neatly wrapped gifts under the Christmas tree, I look at them and think to myself: well, Lynn, you did o.k. Then I see my sister's superbly wrapped presents with so much love for detail that I always wonder why I even make an effort. She is the Queen of Gift Wrapping, and I am just down here, trying to make semi-acceptable gift wrapping efforts. So this year, I come prepared and designed my own printable gift tags for three of my favorite edible gifts: a savory walnut granola, a spice mix for turmeric latte (golden milk) and my beloved superfood hot chocolate. 
The great thing about edible gifts is that they do not end up in some corner of the house but are really appreciated at the receiving end. This year I will be giving friends and family spice mixes of the most popular recipes from my blog, which are the turmeric latte and the hot superfood chocolate. Other readers' favorites are my granola recipes, which is why I created a brand new recipe for savory walnut granola.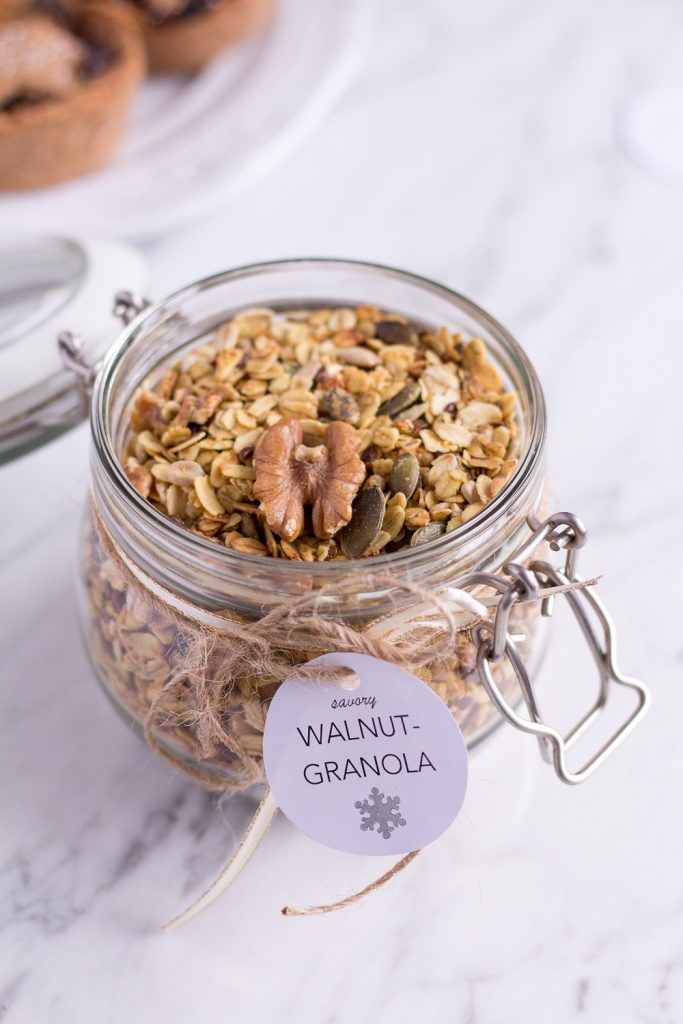 Savory granola is totally underrated in my opinion. It is THE best incentive to eat salad not only in the summer. Adding savory granola to salads upgrades them instantly, and adds some healthy protein and fats to your meal. I also love to sprinkle it on top of roasted veggies, soups or stews. This version is a heavenly combination of crunchy walnuts, sunflower and pumpkin seeds and oats with a subtle rosemary and dijon mustard flavor. YUM!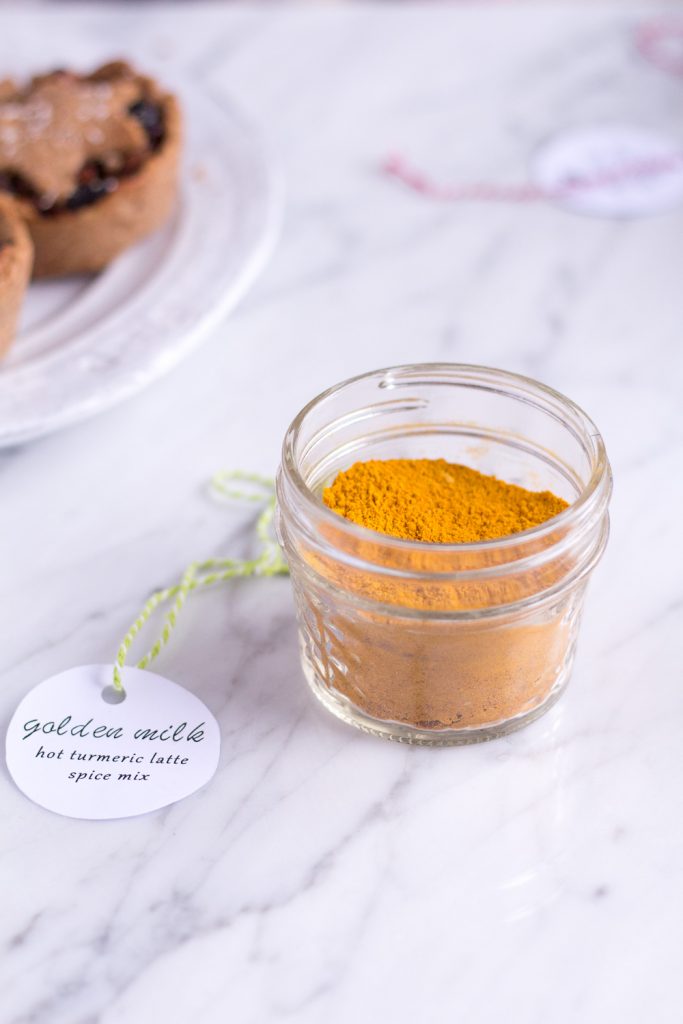 Turmeric latte or golden milk is my favorite drink of 2016. I love how warming it is and how good it makes me feel. It's also the best substitute for coffee, if you like to switch it up sometimes. I always have a jar of turmeric latte spice mix at home, so I can basically have myself a golden milk whenever I feel like it (basically all the time).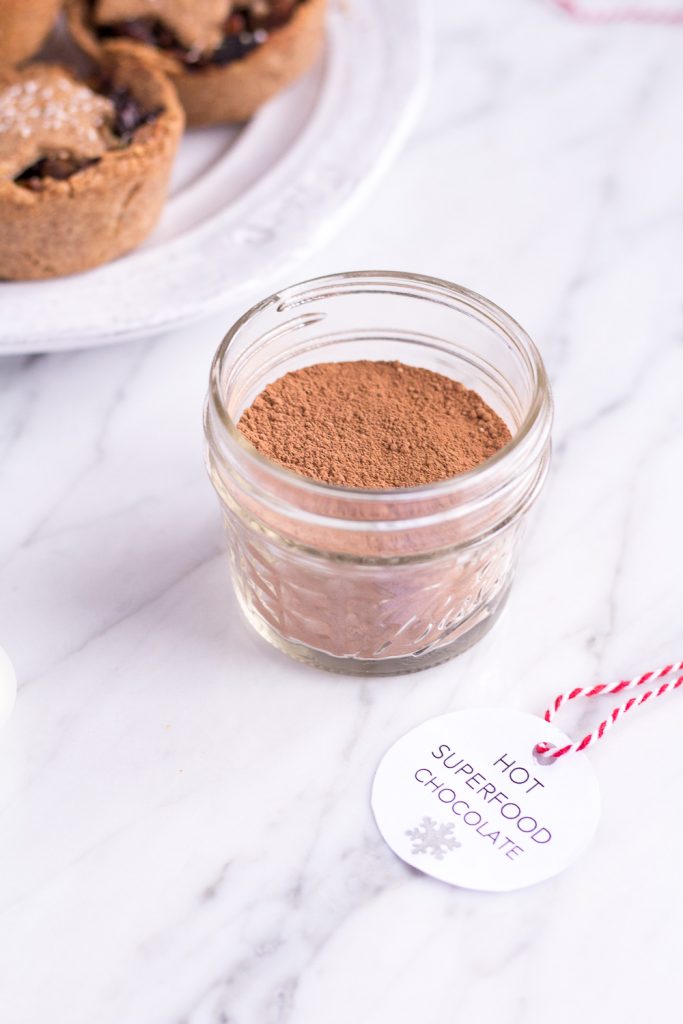 Beside turmeric latte, I have also come to love my hot superfood chocolate, which is a mix of raw cacao, turmeric and maca powder. I highly recommend enjoying it cuddled up in a blanket watching your favorite movies (such as Christmas favorites like Love Actually or The Holidays). If you are giving this hot superfood chocolate away to family and friends you're basically giving them a much needed excuse for some me-time. So considerate of you!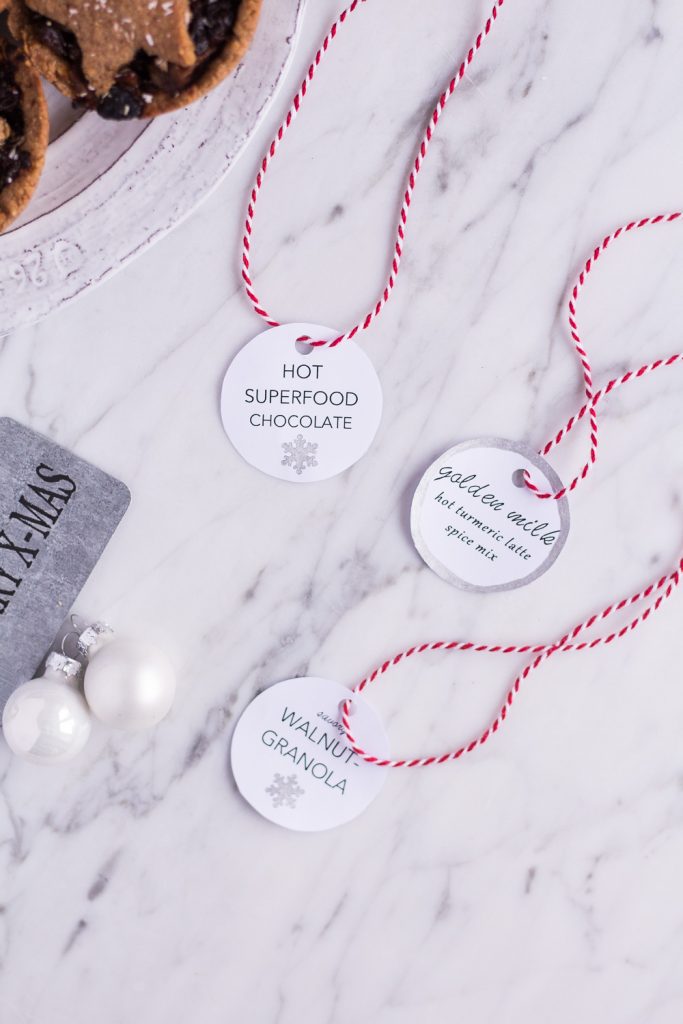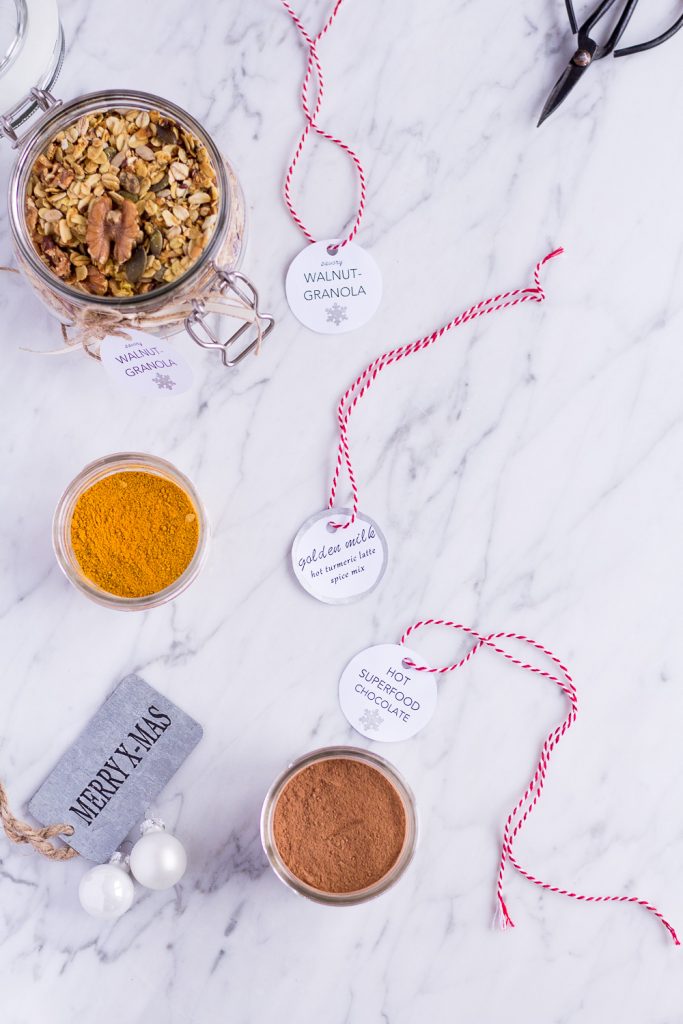 I also prepared some recipe cards that you can attach to a Christmas card or add to the wrapping. That's as far as my imagination goes but I am pretty sure you'll find some pretty awesome use for it.
Download the printable edible DIY gift tags here.
Download the printable recipe instructions here.
Don't forget to tell your friends and family where you got these recipes from (that's of course only if they like them) because, you know, sharing is caring.

Happy Gift Wrapping!
---
Share the Health!
Don't forget to tag me on Social Media @heavenlynnhealthy and use the hashtag #heavenlynnhealthy.
---