Stollen is a German Christmas specialty that you will find on every Christmas market in the country. This is a healthy stollen version, which tastes even better than the original.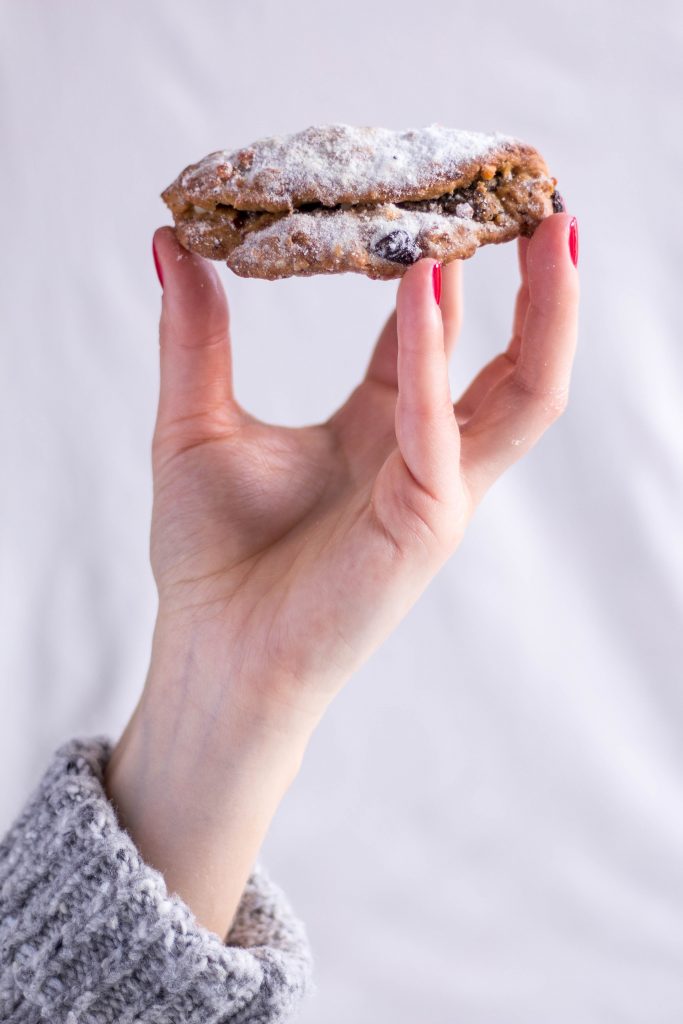 Does anyone of you have this really old family recipe that you don't dare to change?
Well, I do have one of these recipes. It's actually even written on typewriter.
Yup, it's that old – and I dared to change it.
I am talking about my grandmother's stollen recipe, which is a German specialty cake that you only eat around Christmas. Stollen is usually already made in November, because it needs time to develop its flavors so it can be enjoyed in December. Ever since my grandma from my Dad's side passed away, my mom has been taken over her role as CSO – Chief Stollen Officer in our family. She even bakes my grandma's stollen for my dad's brothers. Pretty nice of my mom, right?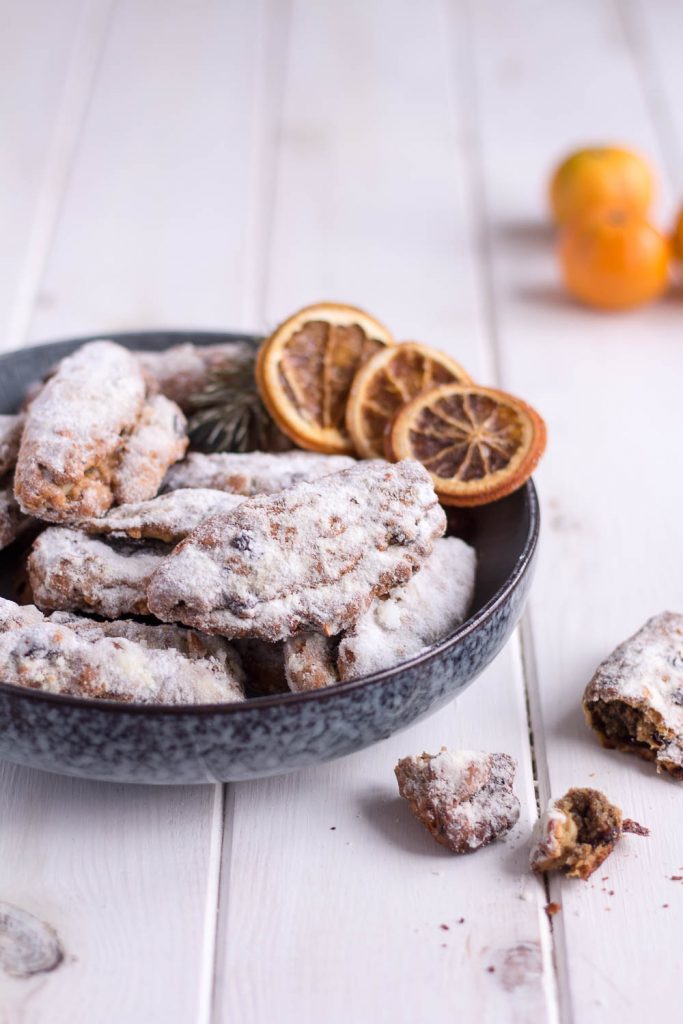 For this recipe, I teamed up with Delinero* again, an online delivery service and one of my most trusted online supermarkets. Honestly, if you are doing two, three recipe testings a day, you are more than happy when the bell rings and your favorite mail man delivers all your favorite ingredients so you do not have to run to the stores anymore.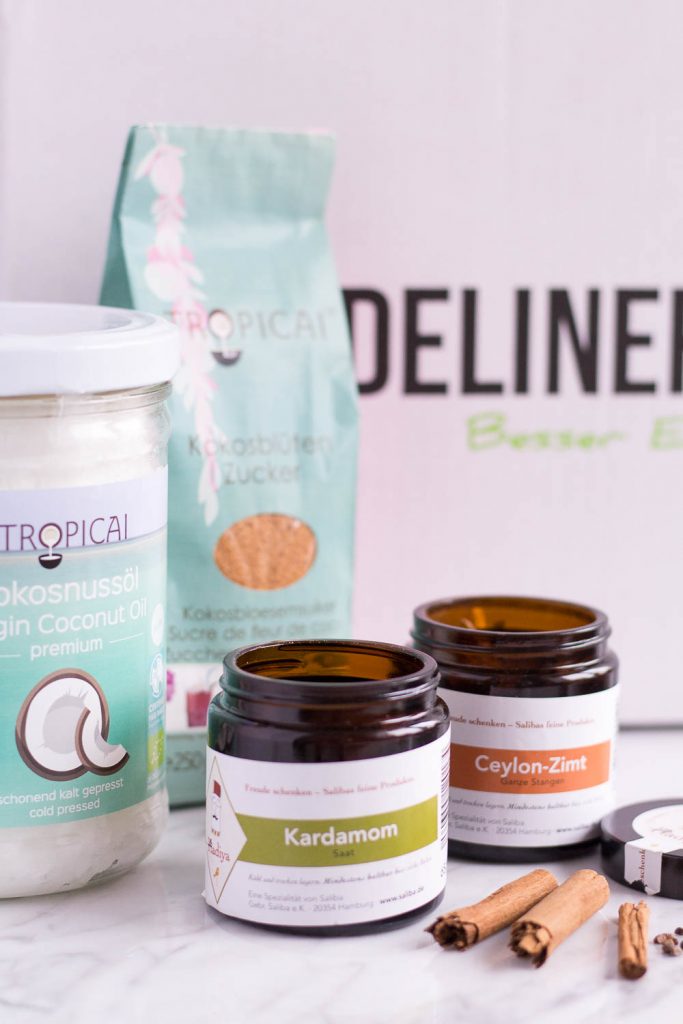 I had no idea how much I would ever appreciate online grocery shopping, but it's been a life saver for me lately. And Delinero carries all my "not so normal" grocery items such as coconut oil or coconut sugar, which is even better.
 What is "Stollen"?
So, if you are not German, then you probably have no idea what a stollen is. I don't blame you, it's not like you can get decent Stollen anywhere across our country borders. Stollen is basically a yeast-based fruit cake with lots of sugar, butter, raisins, rum aroma and powdered sugar. Traditionally there is also high fructose corn sirup involved, so not exactly what you would call a healthy treat (but pretty delicious tbh). It tastes very Christmassy and you can get it on many of the famous German Christmas markets, which are my favorite things in the entire world.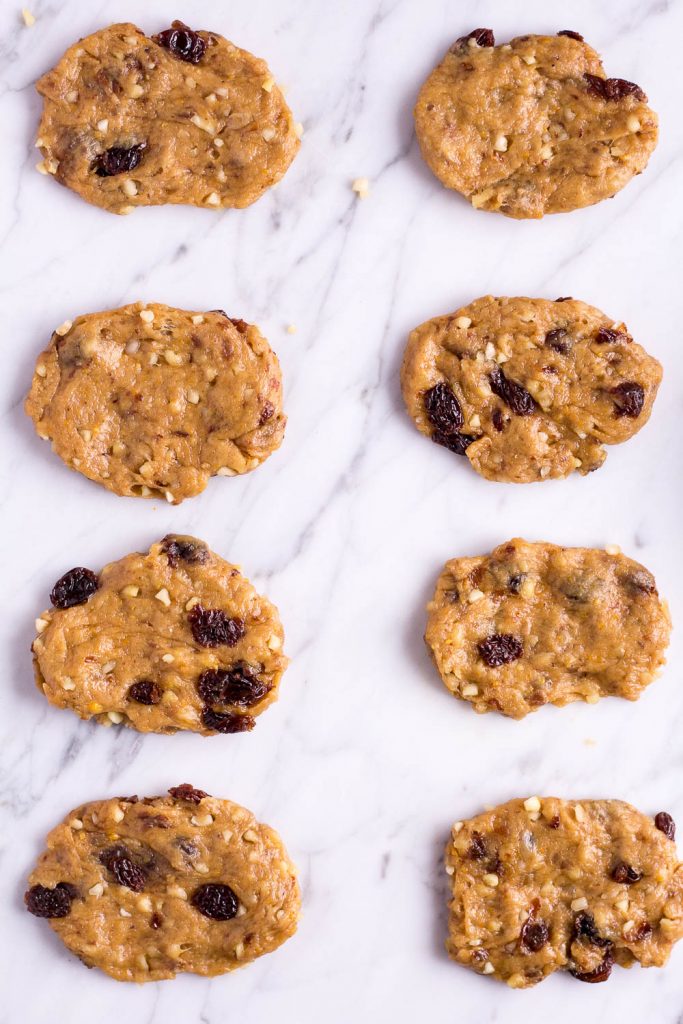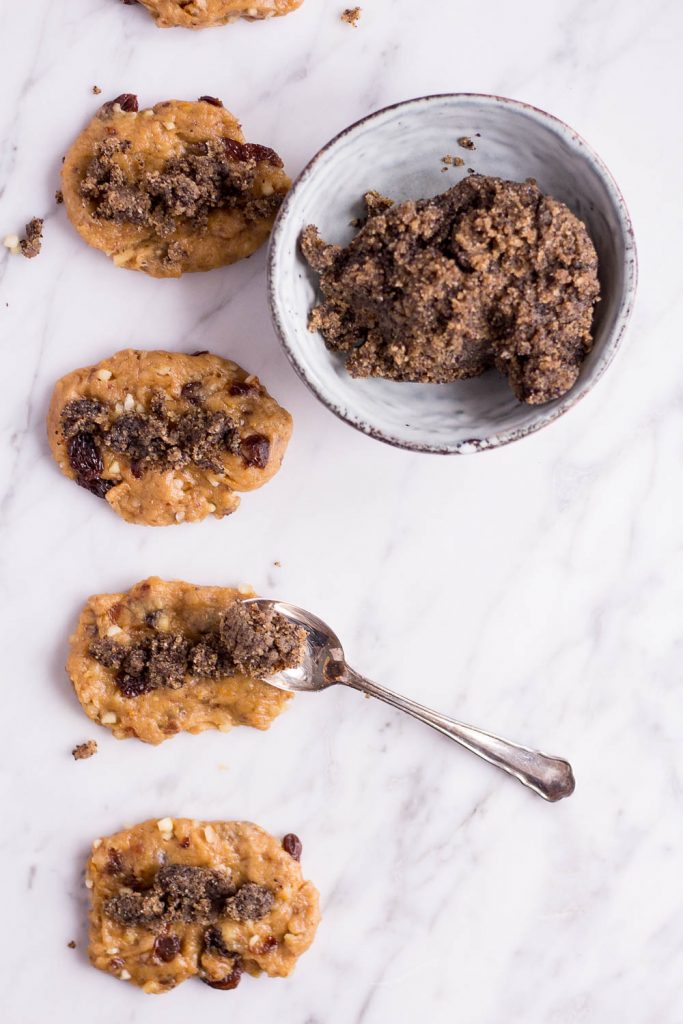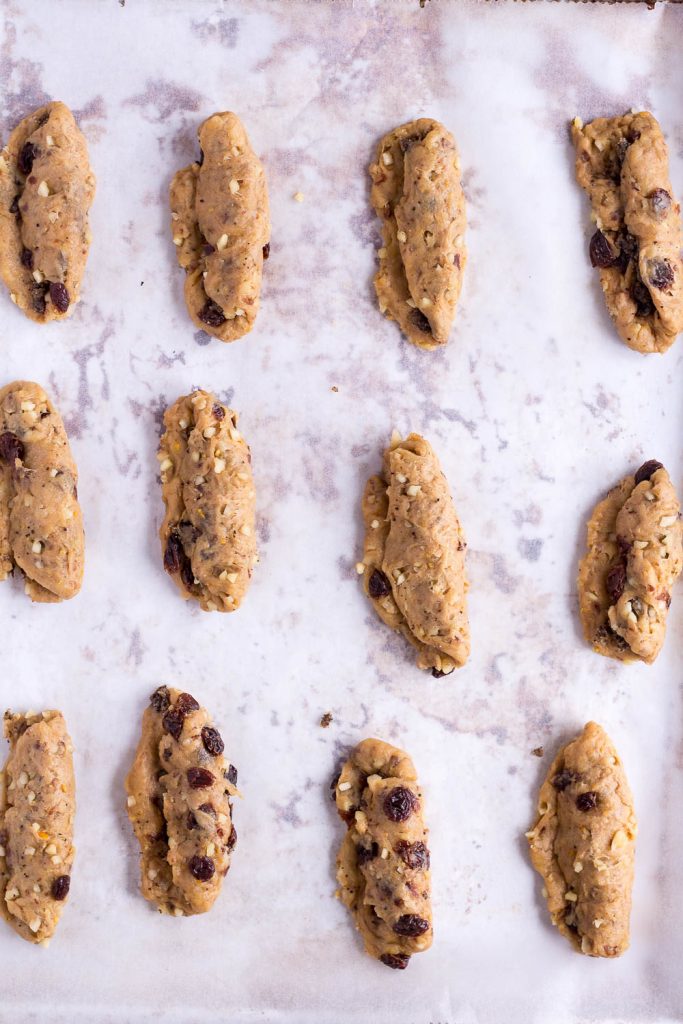 Instead of butter and white flour, I used coconut oil and whole wheat spelt flour, which is not only good for blood pressure, it is also full of fiber to keep you satisfied longer. The stollen gets its Christmas flavors from lemon and orange zest, raisins, cinnamon, cardamom and the amazing marzipan-poppyseed-filling.
Oh my, marzipan!
I LOVE marzipan, which is a mix of ground almonds, coconut sugar, and water. Well, the original recipe obviously knows nothing about coconut sugar, but I think it gives marzipan a whole new kick. Also, this home made version of marzipan is totally unrefined, unprocessed and full of healthy nutrients such as fiber, protein and vitamin E, the beauty vitamin that's great for pretty skin, nails and hair.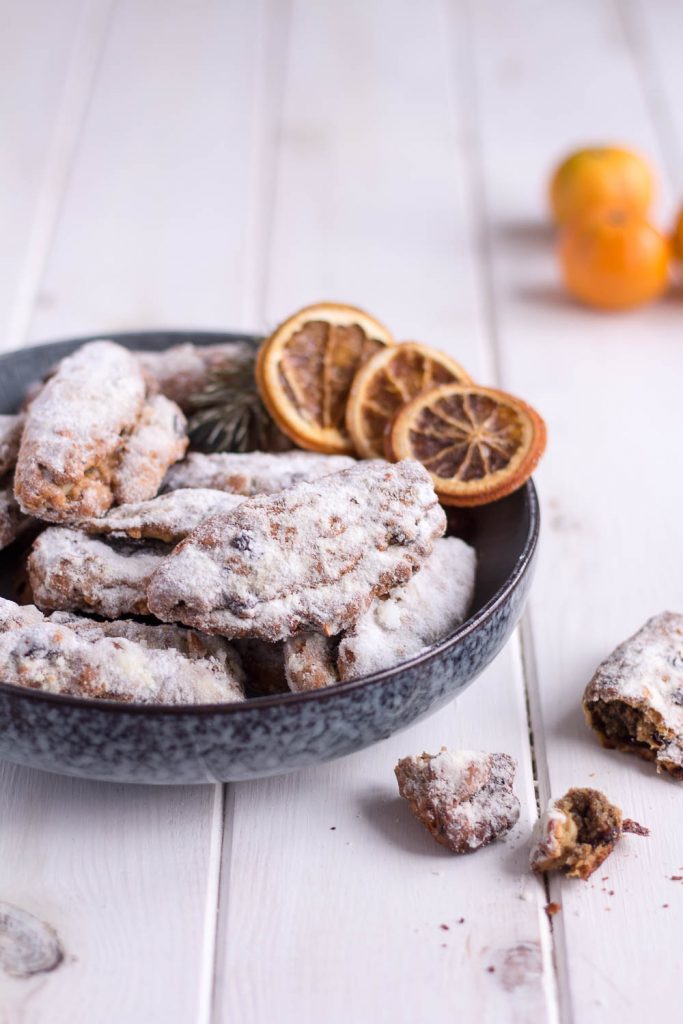 If you want to experience a bit of the German Christmas market flair, then make yourself some home made beetroot and apple glögg and prep this healthy stollen – it'll be just like a visit to a Christmas market.

Healthy Stollen (German Christmas Bread)
Ingredients
For the Stollen dough:
80g raisins
the juice of two oranges
9g dry yeast
6 tablespoons of almond milk
4 tablespoons of coconut sugar
200g of whole-wheat spelt flour (or a mix of brown rice and buckwheat flour)
90g extra virgin coconut oil, liquid
50g of finely chopped almonds
the zest of one organic lemon
the zest of one organic orange
½ teaspoon of cinnamon
a pinch of cardamom
a pinch of sea salt
powdered xylit for decoration
For the marzipan-poppyseed filling:
60g blanched almonds
3 tablespoons of coconut sugar
3 tablespoons of poppy seeds
10g of water
Instructions
Soak the raisins in the fresh orange juice over night or for at least 30 minutes.
Quickly heat the almond milk until lukewarm. Mix the yeast, almond milk and two tablespoons of coconut sugar in a small bowl and set aside to activate for 10 minutes. There should be some visible bubbles if the yeast is active.
Combine spelt flour, activated yeast, two tablespoons of coconut sugar, the liquid coconut oil, lemon and orange zest, salt, cinnamon, cardamom in a bowl and knead with a hand mixer, your hands or simply combine everything in a food processor. Then gradually add the drained raisins and chopped almonds and work them into the dough. Place the dough in a large bowl, cover with a kitchen towel and let rise for 30 minutes in a warm place.
In the meantime, prepare the marzipan-poppyseed-filling: Finely ground the almonds to a flour using a food processor or blender. Add the coconut sugar, poppy seeds and water and mix to a rough paste.
Once the dough has doubled (if it hasn't 100% doubled, don't worry it's not mandatory as we will make mini stollen and not one large one), divide the dough into 15 - 20 equal pieces (roughly 1 tablespoon of dough per stollen), and roll each piece out into a rectangle. Place about 1 teaspoon of the marzipan-poppyseeds-filling in the center of each stollen. Fold the dough over the marzipan and press to seal. Place the stollen onto a baking tray aligned with baking paper. Cover with a kitchen towl and let sit for another 30 minutes.
Pre-heat the oven to 180°C (350°F). Bake the mini stollen for about 15 - 20 minutes until golden brown.
Roll the warm stollen in powdered xylit. They are ready to eat now, but they do taste better the following days.
Enjoy!
*This post is sponsored by Delinero, one of my most trusted online grocery shops. Thank you for supporting the brands that make hour long recipe testings in the Heavenlynn Healthy kitchen possible. 
---
DID YOU MAKE THIS RECIPE OR HAVE ANY SUGGESTIONS, QUESTIONS OR COMMENTS?
Feel free to leave a comment below, and don't forget to tag your creations on social media using #heavenlynnhealthy.
I'd love for this blog to be a dialogue.
---