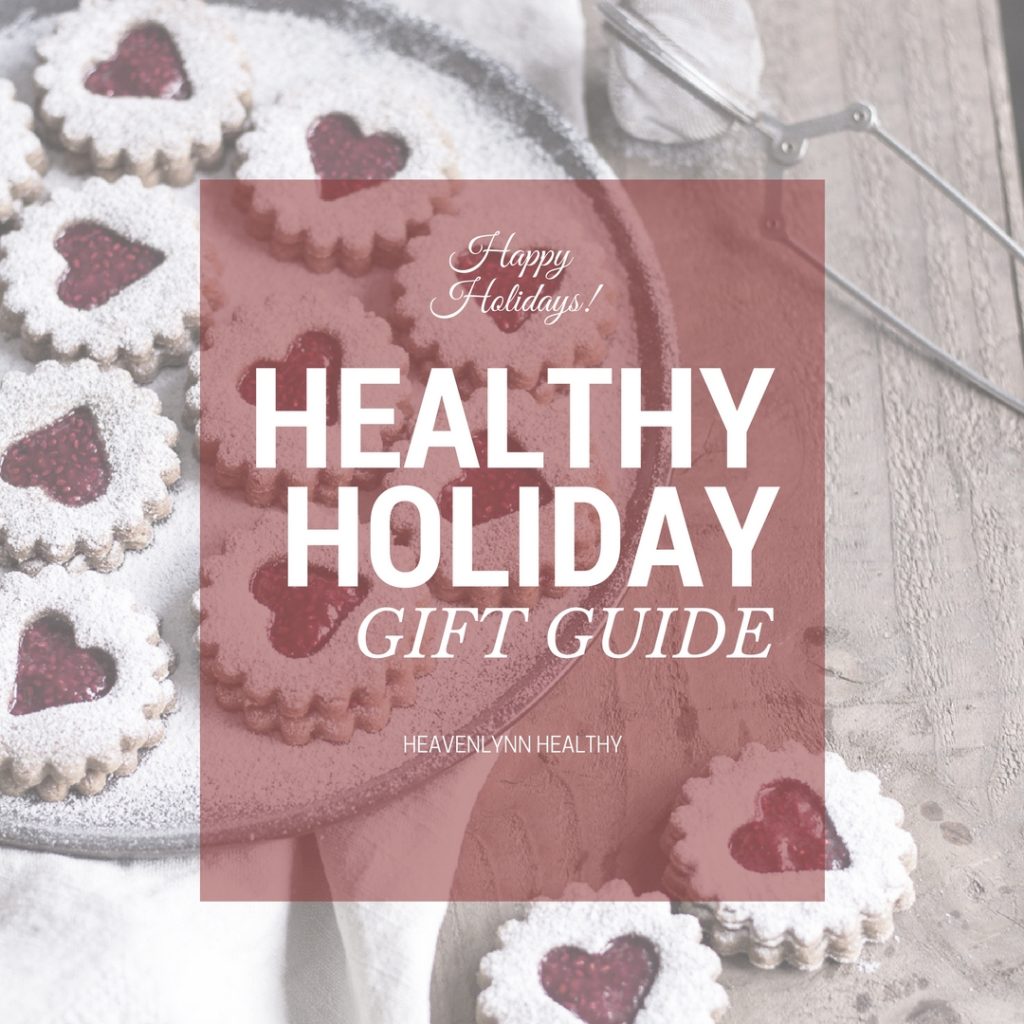 This Healthy Holiday Gift Guide is basically a collection of things that I already own and love or that I will give away to family and friends this Christmas. I have always loved holiday gift guides, so I thought, why not make my own this year? Of course most of the things are kitchen related, but being a girl also means that I love fashion and beauty, so I've piled up my favorites in this guide as well. I really hope you'll find something cool and unexpected or maybe even something you haven't heard of before. Happy Holiday Shopping!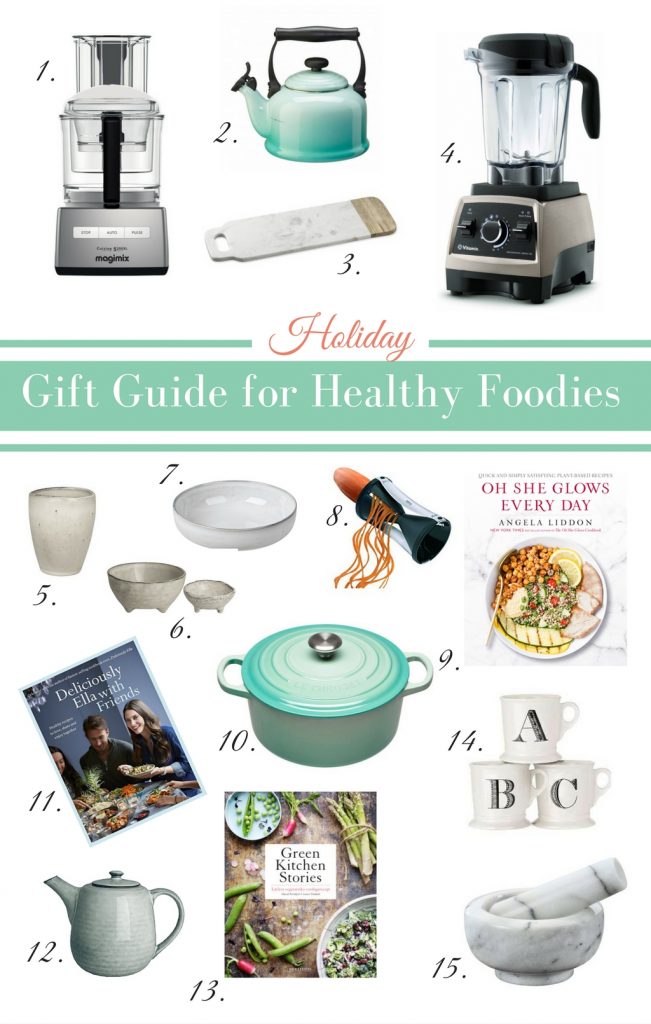 1. Magimix food processor | 2. water kettle | 3. marble cutting board| 4. Vitamix high speed blender | 5. Coffee or Tea Mug | 6. small bowls | 7. large bowl | 8. spiralizer | 9. Oh She Glows Every Day Cookbook | 10. dutch oven | 11. Deliciously Ella Cookbook | 12. tea pot| 13. Green Kitchen Stories Kochbuch | 14. letter mugs | 15. mortar
Cookbooks:
Just like every year, I love giving cookbooks to family members and friends that I know will appreciate another beautiful cookbook. My all-time favorites are the Green Kitchen Stories cookbook as well as Deliciously Ella's book, because both are just beautiful.
Kitchen tools:
I cannot stress it often enough, but having the right kitchen tools makes cooking so much easier. Now I know that the ones I picked here are in the top price segment, but I believe that in this field you really get what you pay for. I have assembled a list of different options in this article about food processors and blenders if you want some cheaper options.
Tableware:
Do you know what I love about my generation? We are not expected to have a matching set of 24 plates and bowls anymore. Mixing and matching is so much more fun, don't you think? However, I do appreciate my 8-piece plate set by Broste Copenhagen, which we will set this year's Christmas table with. I love the danish company's timeless design, and I could not recommend their products more.
Letter mugs:
Ever since I posted my letter mug on Instagram, I have been getting tons of questions on where to find it. It's from my favorite brand Anthropologie and they ship both to most countries worldwide.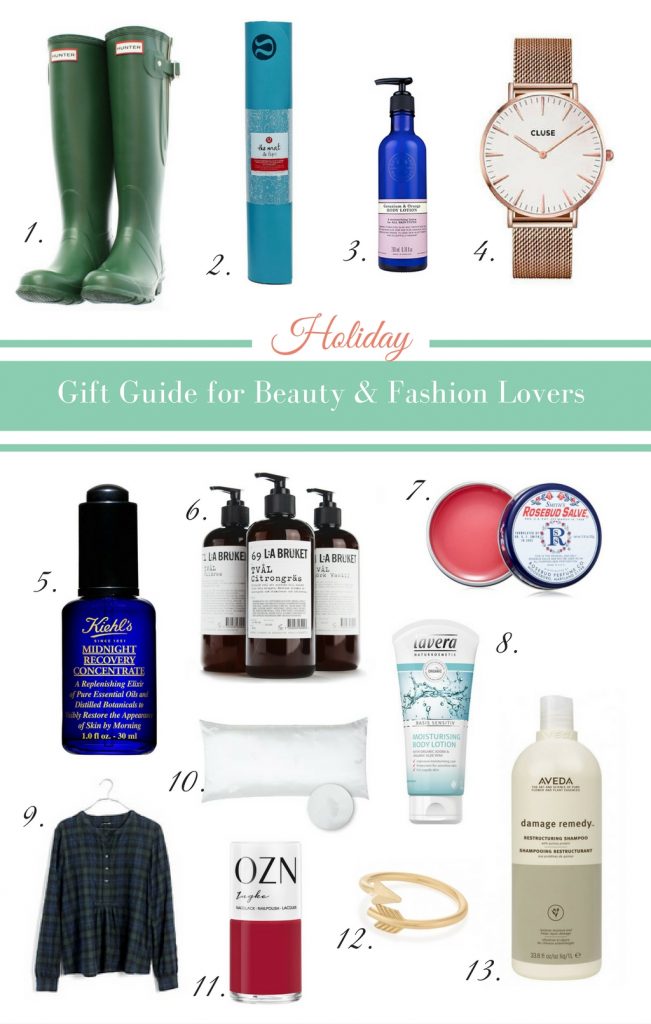 1. Hunter Boots | 2. Yoga-Mat | 3. Neil's Yard Body Lotion | 4. Cluse Watch | 5. Kiehl's Midnight Recovery Concentrate | 6. La Bruket organic soap | 7. Smith's lip balm | 8. Lavera moisturizing body lotion | 9. Madewell Blouse | 10. silk pillow case | 11. OZN nail polish | 12. Alex & Ani arrow ring | 13. Aveda Damage Remedy Shampoo
Rain boots:
If you live in a rather wet and cold area like me, rain boots are mandatory. I am a big fan of timeless style, so Hunter boots are still one of my favorites when it comes to rain boots.
Jewelry:
One piece that I especially love this year is my Cluse watch. This Amsterdam based brand still make watches with small diameters, which is great for small wrists like mine. While I was in Miami this year, I also treated myself to an Alex & Ani ring to match my bracelet collection. I fell in love with Alex & Ani while I was in Boston three years ago, and have introduced all my friends to their "Made in the United States" products.
Toxic-free nail polish:
I recently discovered a startup company that makes toxic-free and vegan nail polish. Their color selection is huge, and I love that they only produce in Germany. OZN Vegan ships internationally, too, so go get em, folks. Colorwise, I can highly recommend the Christmas red "Sina".
Natural Beauty products:
Natural beauty products make for the best gifts this year, especially for sustainability focused people. Honestly, doesn't using a natural beauty product makes you feel so much better than applying something with tons of chemicals in it? For the past two years, I have been trying to switch to natural beauty products as much as I could. My favorite brands include Aveda, Kiehl's, Lavera, and La Bruket. Not quite 100% natural is my favorite lip balm by Smith's. However, I swear by this brand, and could not recommend it more.
Silk pillow case:
A silk pillow case? Yes, you've heard right. I love extraordinary gifts, and a silk pillow is definitely one of them. It will come totally unexpected and will surprise anyone. Sleeping on a silk pillow case is great for your skin, and will prevent your roots from splitting. I take mine wherever I go, and will never go back.
---
What are you giving to family and friends this year? Let me know in the comments below!
So this was my 2016 Healthy Holiday Gift Guide. Of course I am also always looking for inspiration, so please shoot me a comment with your favorite gifts this season. I am wishing you a great pre-Christmas Advent time! Happy Holiday Shopping!
---
*Disclosure: this page contains affiliate links, which means that I earn a small commission if you purchase products through my links. The price for you is the same as anywhere else. Thank you for making hour-long recipe testing in my kitchen possible. I really appreciate your Heavenlynn support!