Healthy peanut butter jelly christmas cookies cookies to get this Christmas bakery started!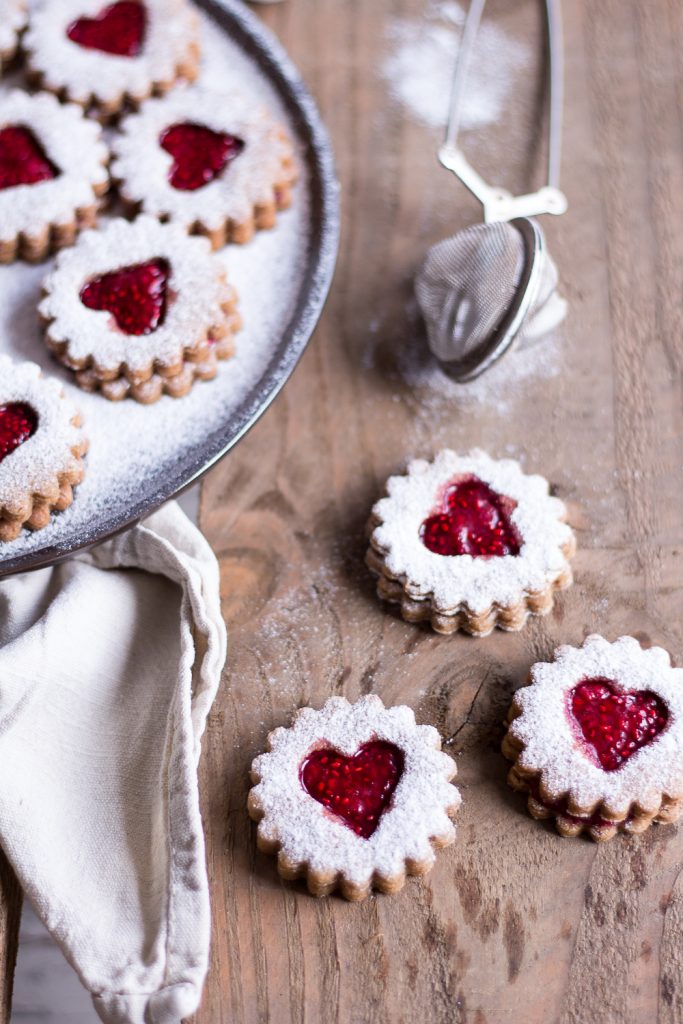 It's happening, guys! Christmas season is finally here! Now, I know that for many of you, Thanksgiving is the event to talk about this week, but since we do not officially celebrate Thanksgiving in Europe, all our minds are focused on Christmas right now. Most Christmas markets are already open, I heard the first Christmas song on the radio yesterday (one of my favorites by Michael Bublé), and if you haven't made plans to see your friends in December yet, chances are that they are already completely booked. 
Well, that's Christmas and I love it. My favorite time of the year (besides fall, obviously) always involves baking. Last year, I already published three healthy christmas cookie recipes: healthy almond and cinnamon christmas stars, healthy gingerbread cookies, and healthy vanilla crescent christmas cookies. If you've loved these, you're going to love these healthy peanut butter jelly christmas cookies.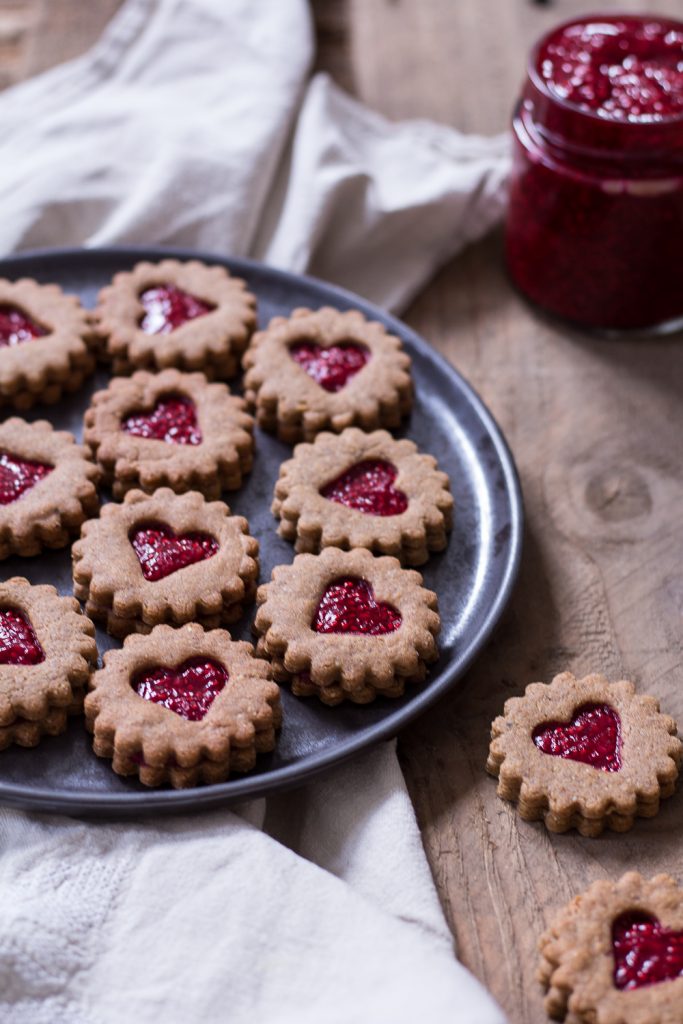 These healthy peanut butter jelly christmas cookies are pure heaven! I especially love the chia jam filling, because it makes them incredibly moist and hard as stone, like many other christmas cookies. Besides from their delicious taste, they are also much butter for you than the usual sugar loaded treats you find this time of the year. Buckwheat and oat flour provide fiber and protein, which keep you full for longer. The peanut butter and coconut oil both add healthy fats that are needed in a wholesome diet, and coconut sugar prevents your blood sugar level from spiking rapidly. Who knew Christmas cookies could be this healthy?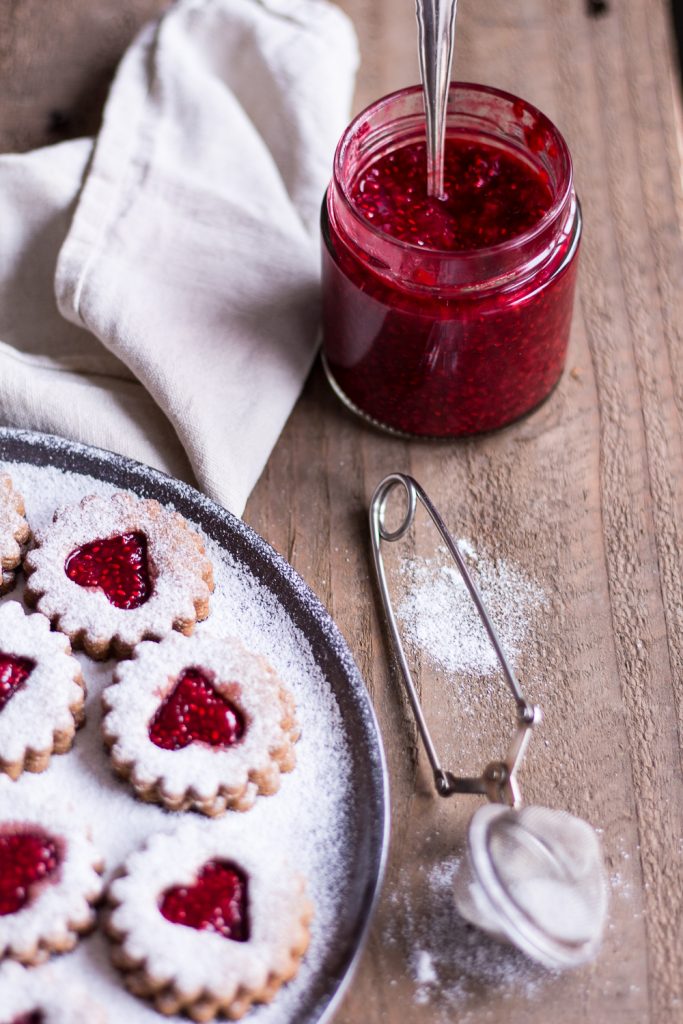 By the way, there is another event coming up this week, that we need to talk about:
GILMORE GIRLS IS BACK!!!
Oh my, I really cannot handle it, especially since I just finished watching all seasons in a row. Took me about half a year, just kidding, it probably took me about a months, but it was so worth it. I am so deeply emotionally involved right now, that I just cannot wait to see how my favorite characters have evolved, and who Rory will finally end up with.
Team Logan! Or Team Jess! Both would be fine with me. Or actually, Team Rory is probably the best and most emancipated answer. Who knows? (We will, in just two days!!!)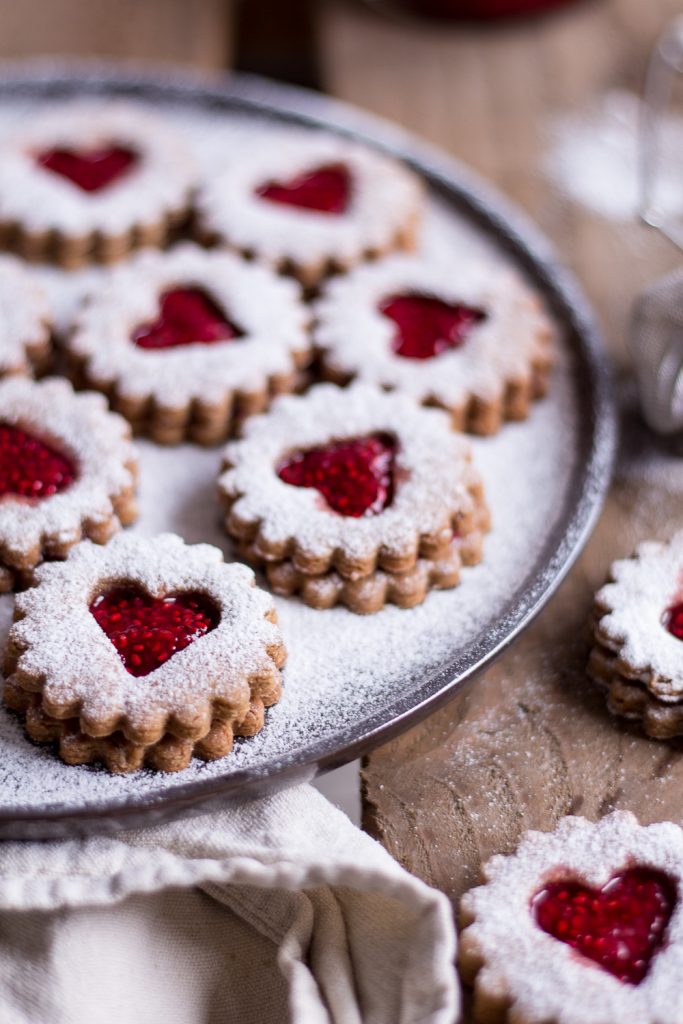 Now, I hope you'll be prepping some of these healthy peanut butter jelly christmas cookies to watch the four new Gilmore Girls episodes, because we all know that Lorelai and Rory's food choices aren't exactly sustainable or healthy.
Happy Thanksgiving or happy Gilmore Girls Revival, everyone!

Healthy Peanut Butter & Jelly Christmas Cookies (German Spitzbuben)
Ingredients
100g of (gluten free) oats
100g of buckwheat flour or spelt flour (spelt is not gluten free)
70g of ground almonds
90g of coconut sugar
70g of extra-virgin coconut oil
60g of peanut butter
1 tablespoon of of ice water
1 tablespoon of chia seeds + 3 tablespoons of water
1 vanilla bean
1 teaspoon of aluminum-free baking powder
a pinch of salt
a bit of powdered xylit to sprinkle
For the filling:
Instructions
Place the oats into a food processor or mixer and until ground to a flour. Set aside.
Place the chia seeds and water into a small bowl, stir and set aside to thicken for about 10 minutes. Stir it at least once again.
Heat the coconut oil in a small pot, and then fill it into a mixing bowl or food processor. Add coconut sugar, peanut butter, chia-mix, the inside of the vanilla bean and mix until well combined, for about 30 seconds to one minute.
Now add the ground oats, ground almonds, buckwheat or spelt flour and mix well. If the dough is too dry, add one tablespoon of ice-cold water. Place the dough into the fridge for one hour.
Pre-heat the oven to 180°C.
Place the dough on the kitchen counter that you sprinkled with buckwheat flour. Knead it quickly, then roll out the dough with a rolling pin. Cut out circles with cookie cutters. Cut smaller shapes into the middle of half of the circles. (I used hearts, but circles would work just as well).
Place the cookies onto a baking sheet aligned with baking paper and bake for 8 - 12 minutes. Be sure to check them after 8 minutes to determine the final baking time. They burn quickly.
Let the cookies cool for a bit, then place about half a teaspoon of healthy chia jam on the cookies without the whole in them. Place the cookies with the whole on top of the chia jam and gently press them down.
Enjoy!
---
DID YOU MAKE THIS RECIPE OR HAVE ANY SUGGESTIONS, QUESTIONS OR COMMENTS?
Feel free to leave a comment below, and don't forget to tag your creations on social media using #heavenlynnhealthy.
I'd love for this blog to be a dialogue.
---