Amazingly delicious vietnamese banh mi bowl with the most amazing vegan meatballs!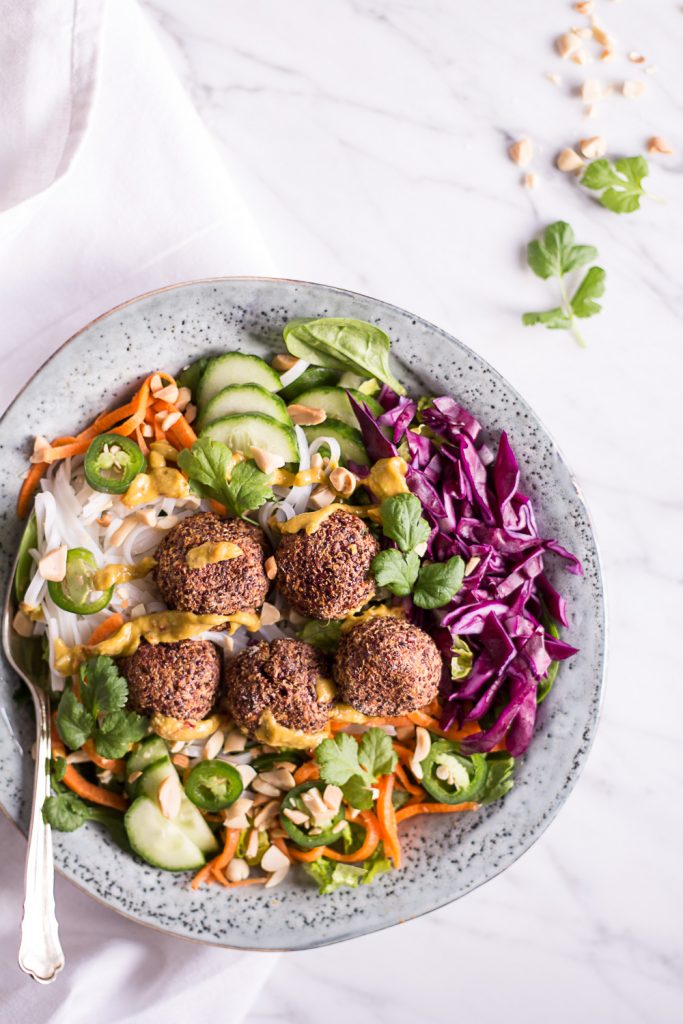 For those of you unfamiliar with the term banh mi, it is a vietnamese baguette traditionally filled with pork, cilantro, pickled carrots, cucumber and a bit of lettuce and mayo. When I first tried banh mi at an authentic vietnamese food truck in Houston, Texas (yes, I do get the irony in my words) – I thought it was the most delicious thing I had ever eaten. However, I can indeed say that my taste experience was traditional as I went there with one of my colleagues who was born and raised in Vietnam.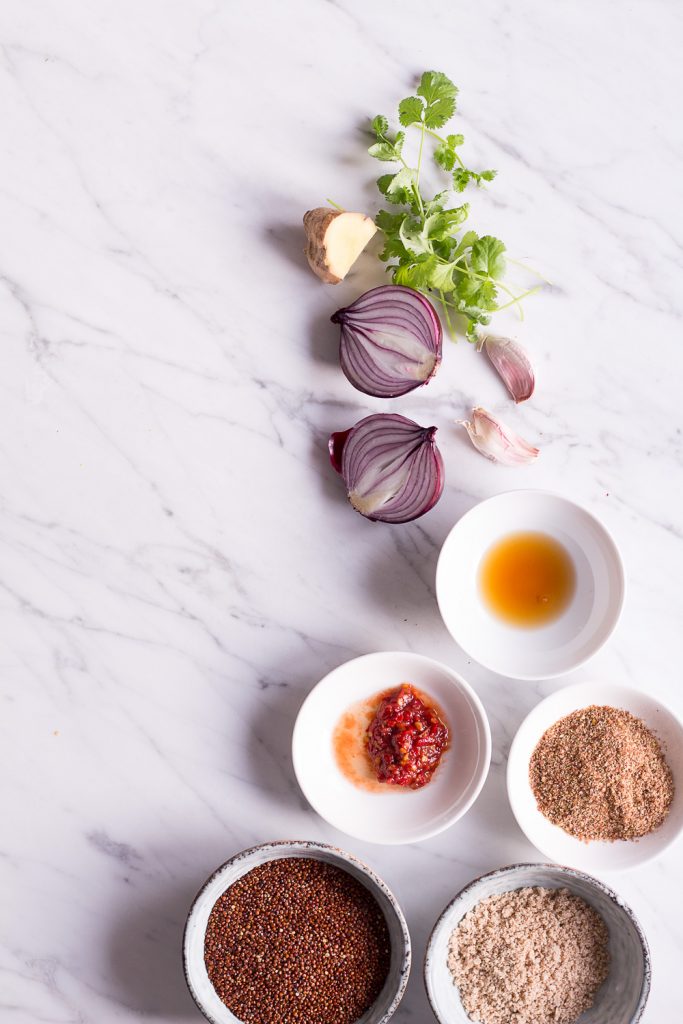 Nico, my vietnamese colleague, also introduced me to Pho (which is actually not pronounced with an "o" but rather with a long "a" at the end (yes, you're welcome), and that very sweet vietnamese coffee made from sweet milk. During me six-months-internship, I learned so much more about Vietnam because Nico and I shared an office, and we taught each other to say things in Vietnamese and German. Apparently I am really bad at Vietnamese, because he would just laugh every time I pronounced something. Yes, apparently Vietnamese people are even more straight-forward than Germans are.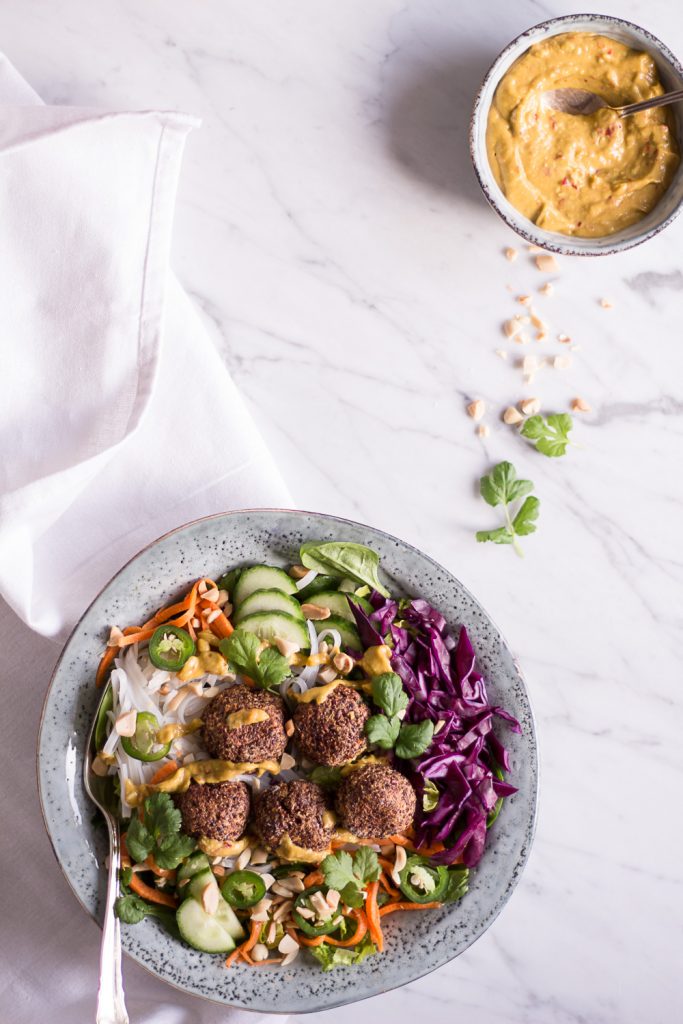 So, when I had a banh mi at the Amsterdam Foodhallen again last December, I knew I wanted to make a recipe out of it for the blog. Of course I wanted it to be healthy, but still delicious, which was not that easy given all the rather unhealthy ingredients such as mayo and pork that you find in the traditional dish. So as my boyfriend and I are totally addicted to "bliss bowls" (basically a fancy name for salad bowls of random ingredients mixed with a delicious dressing), I knew that I would simply turn it into a banh mi bowl.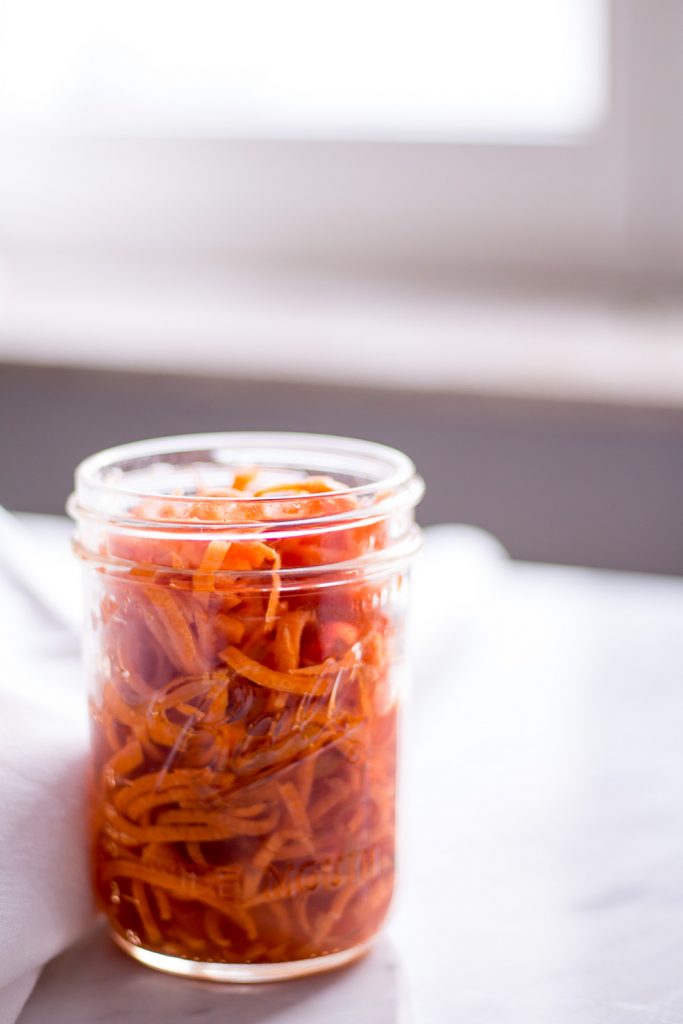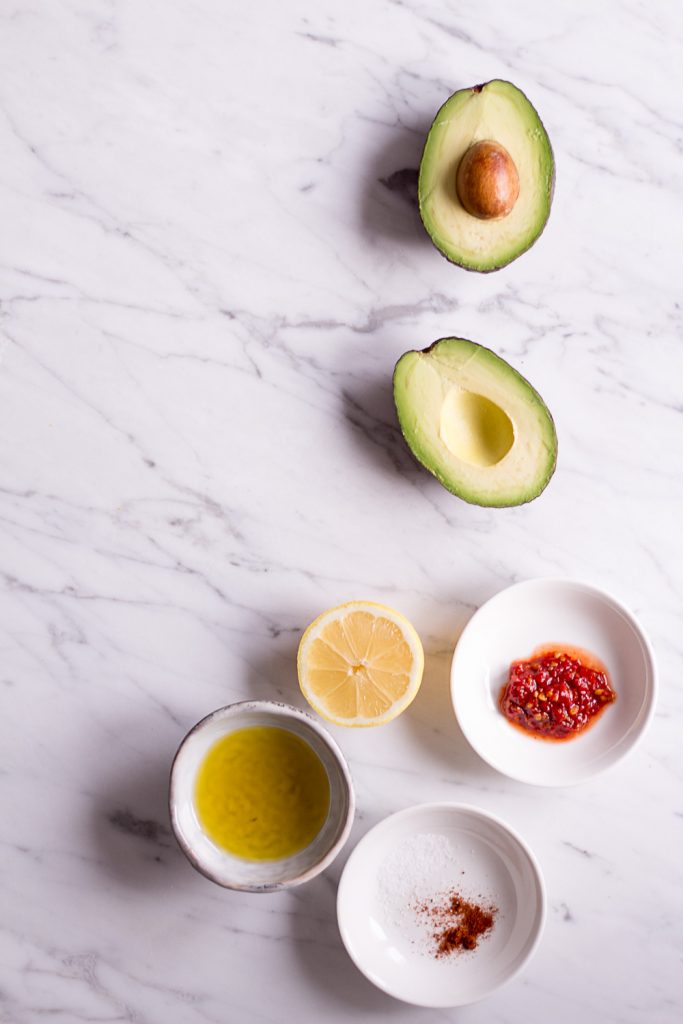 However, I still needed something to make it a bit fancier by adding some kind of meat-substitute and tofu wasn't an option here. I am usually not a big fan of meat-substitutes, and I never buy them, but I do think that every salad needs some kind of protein. This led me to quinoa, which then led me to the absurde idea to turn quinoa into meatballs. Since I am not really good at making meatballs either, I looked up a simple recipe that showed me how to make regular meatballs, and I realized that it all comes down to onions, herbs and salt and pepper.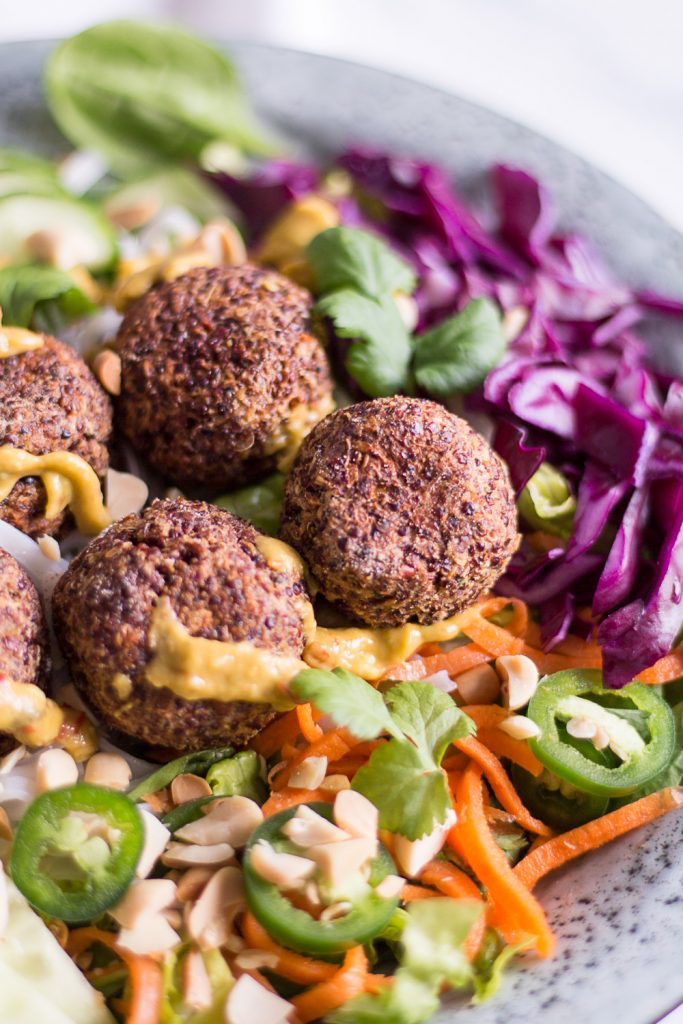 So long story short, I simply mixed quinoa with cilantro, red onions, garlic, ground nuts for texture, a flax egg and a bit of sambal olek for spice – and I was in pure meatballs heaven.
Seriously, it's the onions that make meatballs taste like meatballs. Not the meat.
As I have a weird sense that someone will criticize me for this sentence, I better stop now and present you the delicious recipe. Now, I know that it looks like a lot of ingredients, but you actually just need the ingredients for the quinoa "meat"balls and avocado mayo and use the ingredients you have in your fridge

Vietnamese Banh Mi Bowl with plant based quinoa meatballs
Ingredients
For the plant based quinoa "meat"balls:
1 cup (200g) of uncooked dark quinoa
a thumb-sized piece (20g) of of fresh ginger
½ a red onion
1 - 2 cloves or garlic
1 handful of fresh cilantro
¼ cup (50g) of ground almonds or pecans
1 tablespoon of ground flax seeds + 3 tablespoons of water
1 teaspoon of sambal oelek or ½ teaspoon of chili flakes
1 teaspoon of maple syrup
½ teaspoon of sea salt
a pinch of black pepper
For the banh mi bowl:
50g of rice noodles
two handful of spinach, rocket or green leaves of your choice
½ cucumber
½ cup of pickled carrots (see below)
¼ cup (20g) of red cabbage
a few chopped peanuts
cilantro to garnish
For the pickled carrots:
2 carrots
1 tablespoon of sesame oil
2 tablespoons of maple syrup or coconut sugar
6 tablespoons of rice vinegar
a pinch of salt
For the avocado mayonnaise:
1 avocado
3 tablespoons of rapeseed oil
1 teaspoon of sambal oelek
½ lemon
sea salt and back pepper to season
Instructions
Pre-heat the oven to 180°C (360°F).
For the pickled carrots, simply spiralize the carrots and place them into a sealable glass container with all the other ingredients. Let sit for at least 30 minutes to an hour.
Cook the quinoa according to package instructions. Mix the flax seeds and the water in a small bowl and let thicken for 10 minutes.
For the quinoa balls, finely chop the ginger, red onion and garlic or pulse them in a food processor. Then place 1½ cups (300g) of the quinoa into a food processor or blender with all the remaining ingredients and the flax seed egg. Pulse until a sticky dough forms. Use about 1 tablespoon of dough for each quinoa ball. I like them smaller so they get cooked through more easily. Place the balls on a baking sheet aligned with baking paper and a bit of gluten free flour, and bake them for about 35 - 40 minutes. They should be crunchy from the outside but still soft in the inside.
For the bowl, simply wash and slice the veggies and the green salad leaves. Finely slice the red cabbage, if using. Place the rice noodles in a bowl with boiling water and let soak for 10 minutes until tender. Drain and add equally to the two bowls with all the other ingredients. The amounts may be too much for two bowls, so just keep the remaining ingredients for next day's lunch.
For the avocado mayo, simply add the avocado flesh and all ingredients to a food processor and blend to a fine sauce.
Place about 4 to 6 quinoa balls on top of each bowl, add the remaining quinoa and drizzle with the avocado mayo. The bowls can be stored in an air-tight container for up to 3 days.
Enjoy!
---
DID YOU MAKE THIS RECIPE OR HAVE ANY SUGGESTIONS, QUESTIONS OR COMMENTS?
Feel free to leave a comment below, and don't forget to tag your creations on social media using #heavenlynnhealthy.
I'd love for this blog to be a dialogue.
---