Orange granola for a bright and happy start of the day!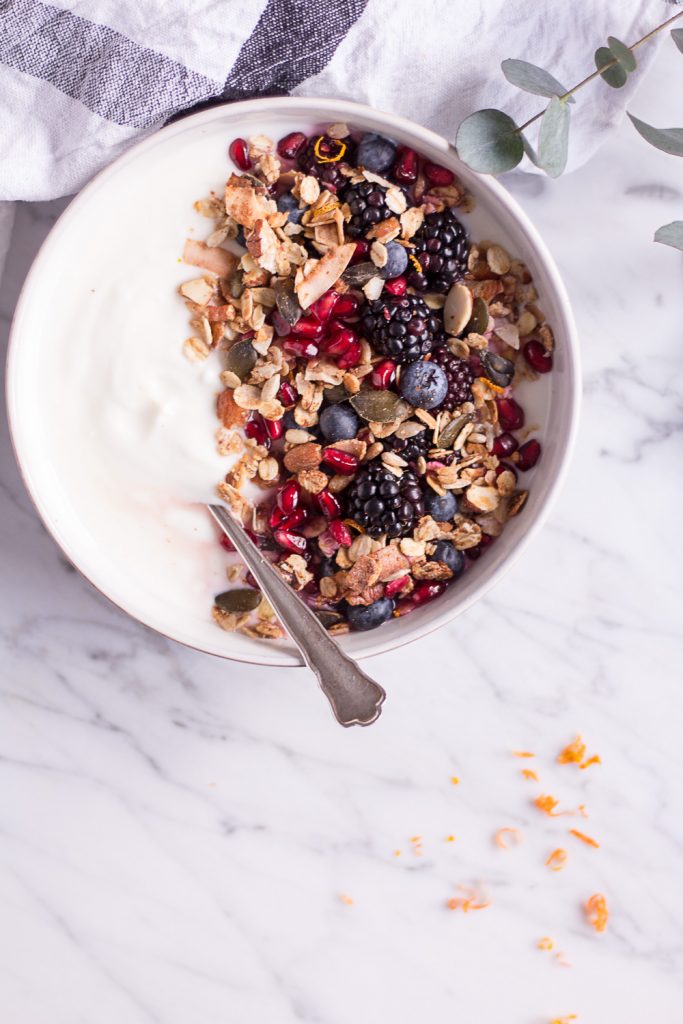 Winter is the season of citrus fruit, and even though it is the darkest time of the year, all the oranges, tangerines, lemons and limes brighten up any day, don't you think? They are just like sunshine, and that's why I love using them in my recipes in these cold and dark winter months. This orange granola will bring so much sunshine into your kitchen that you are bound to start the day in a happy and positive way.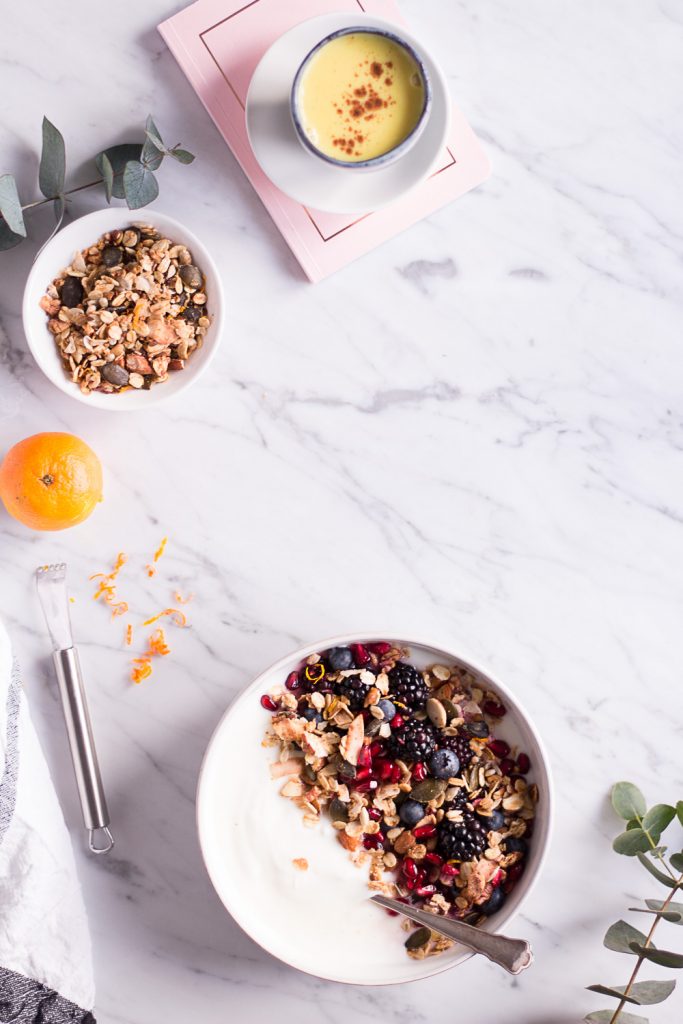 Now, this granola isn't like any other granola. It also isn't granola covered in orange juice –  it is much more fragrant and delicious than that. The key to this orange granola is using the zest, not the juice.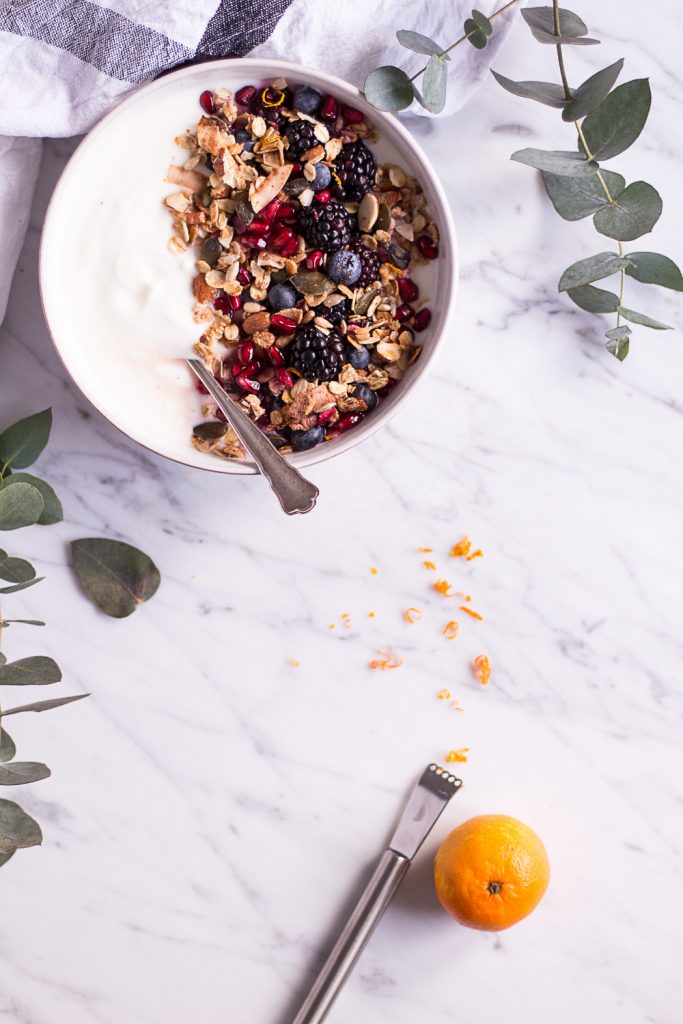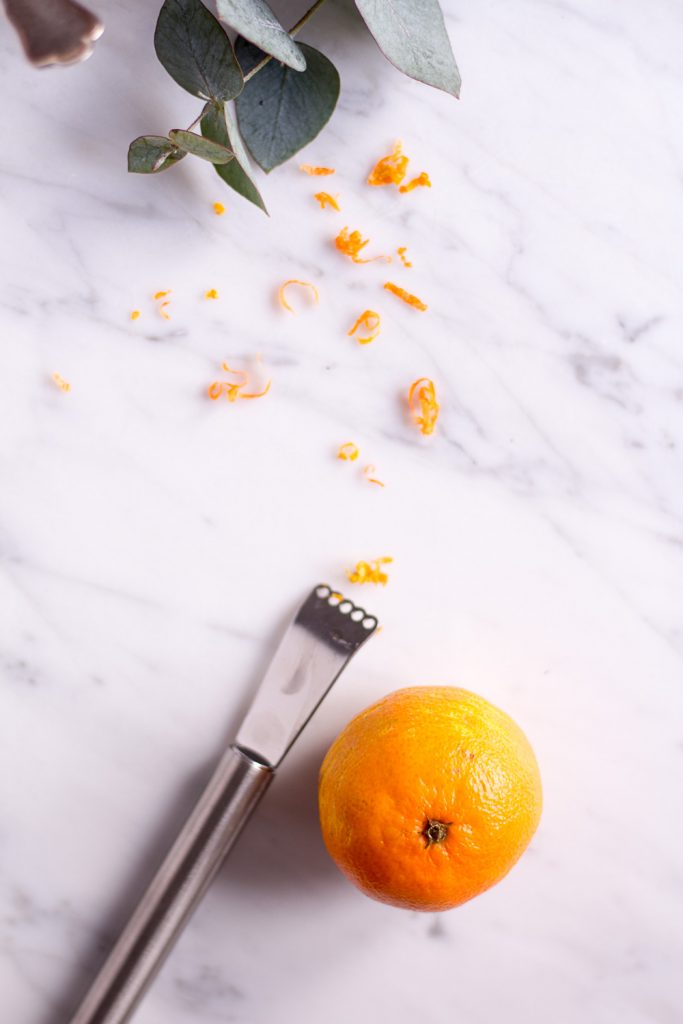 I got the idea from our English friend Sandra, the mother of my sister's former flatmate Ellie. When my sisters and I visited Ellie and her family near Watford last year, her mom made us the most delicious dinner and breakfast (and everything else), and we were definitely in food heaven. We were especially addicted to her granola, because that's what this granola is: addicting. Therefore I am not claiming credit for this idea, this is all Sandra.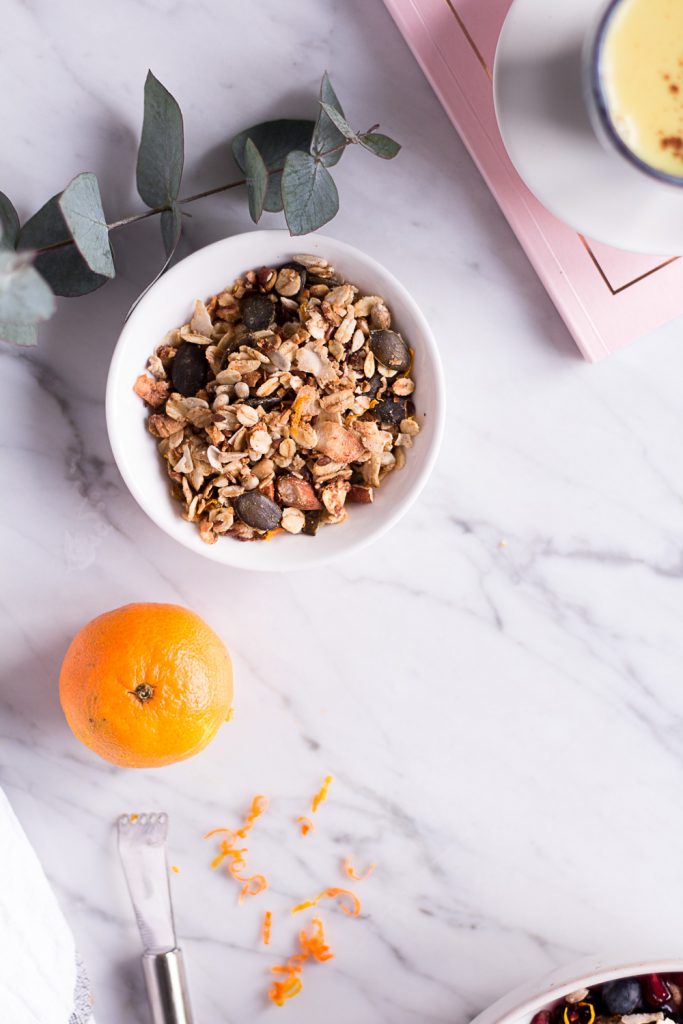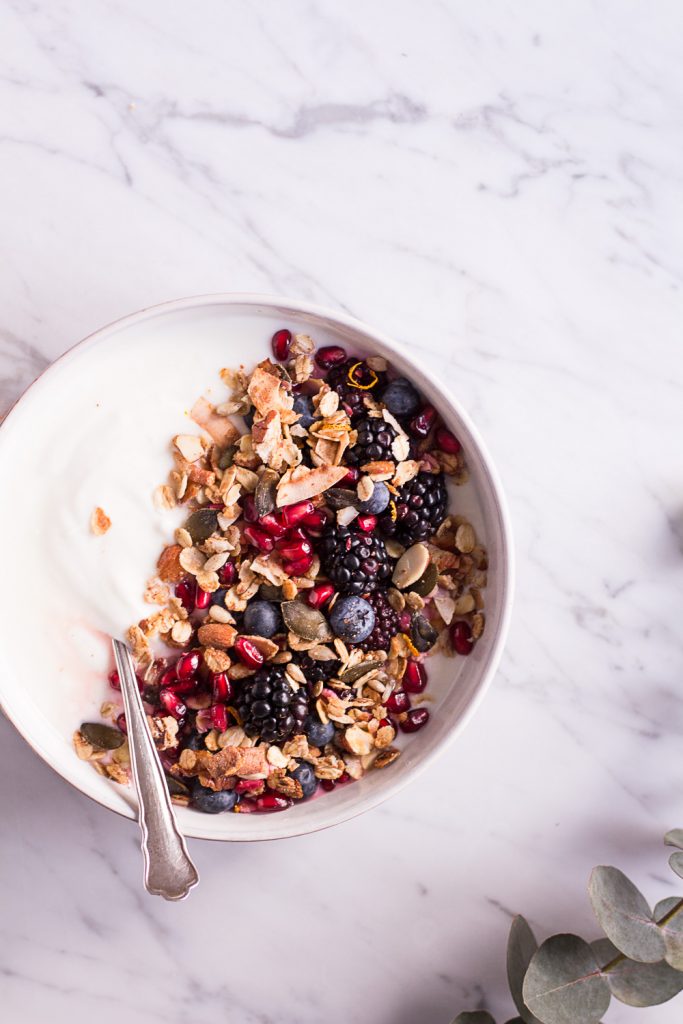 Spending time with Ellie and her family showed me once more, how special it is to have friends all over the world. There is nothing more precious than being invited into a family's home, because that's how you get to know and understand a different culture. It does not happen when you simply visit the tourist sites of a country. Talking, laughing and exploring the country with locals is worth so much more, and I am very grateful that Ellie's family hosted us for the two days.
Thank you, Sandra, for the lovely inspiration and for having us!

Orange Granola
Ingredients
½ cup (75g) of almonds
⅔ cup (60g) of pecans
½ cup (70g) of cashews
1⅔ cup (160g) of (gluten-free) oats
½ cup (60g) of pumpkin seeds
¼ cup (30g) of sunflower seeds
¼ cup (35g) of flax seeds
⅓ cup (30g) of coconut flakes
2 tablespoons of coconut oil
3 tablespoons of maple syrup
2 teaspoons of cinnamon
1 organic orange or mandarine
Instructions
Preheat the oven to 160°C (320 °F).
Start by putting the nuts into a food processor and crush for 2-3 pulses until they are broken into pieces. They should not be completely crushed, you still want to be able to identify them as nut pieces. Place the crushed nuts into a large bowl. Add all the dry ingredients except cinnamon, and stir well until the ingredients are combined.
Next, melt the coconut oil in a small sauce pan. Add the maple syrup and cinnamon, and stir well until everything is dissolved.
Now pour the sweet coconut cinnamon mix over the dry ingredients and mix well until everything is slightly sticky.
Pour the granola on a baking sheet which you have aligned with parchment paper, and bake for about 20 minutes. After 10 minutes or so, take the pan out and stir well so the outer edges do not get burned. Repeat this every 5 minutes for the rest of the time.
Just before the granola is ready, take the tray out of the oven and sprinkle the orange zest over the granola using a citrus zester.
Bake the granola for another 2 - 3 minutes until it crunchy but not burned. Let the granola cool for at least 20 minutes before eating it.
Serve with non-dairy milk, greek or non-dairy yogurt, and top with fruits. Stored in an air-tight container it should taste amazing for up to 6 weeks.
Enjoy!
Orange Granola Video
---
DID YOU MAKE THIS RECIPE OR HAVE ANY SUGGESTIONS, QUESTIONS OR COMMENTS?
Feel free to leave a comment below, and don't forget to tag your creations on social media using #heavenlynnhealthy.
I'd love for this blog to be a dialogue.
---