These healthy pumpkin muffins are great for using leftover Halloween pumpkins!
Hi there, welcome to another espisode of "Lynn is obsessed with pumpkin". Since my freezer is basically completely stuffed with homemade pumpkin puree, I've been experimenting with so many different pumpkin recipes lately. My ultimate goal was to make the best healthy pumpkin muffins ever. It turns out that this experiment was more difficult than I had ever expected it to be. First they were too mushy, then they were so hard that you could barely tear them apart. Finally I found a way to get the consistency right, and I could not be happier about it. 
After many hours of testing these beauties, I realized that what really matters was the right amount of flour versus wet ingredients. It also matters what kind of pumpkin you use. Americans tend to use sugar pumpkins, which has a denser texture than hokkaido pumpkin, which is German's favorite. I found that hokkaido flesh makes these muffins fluffier, while sugar pumpkins make them tenser, yet more flavorful. Either way, the muffins will taste incredible due to the spices and other ingredients.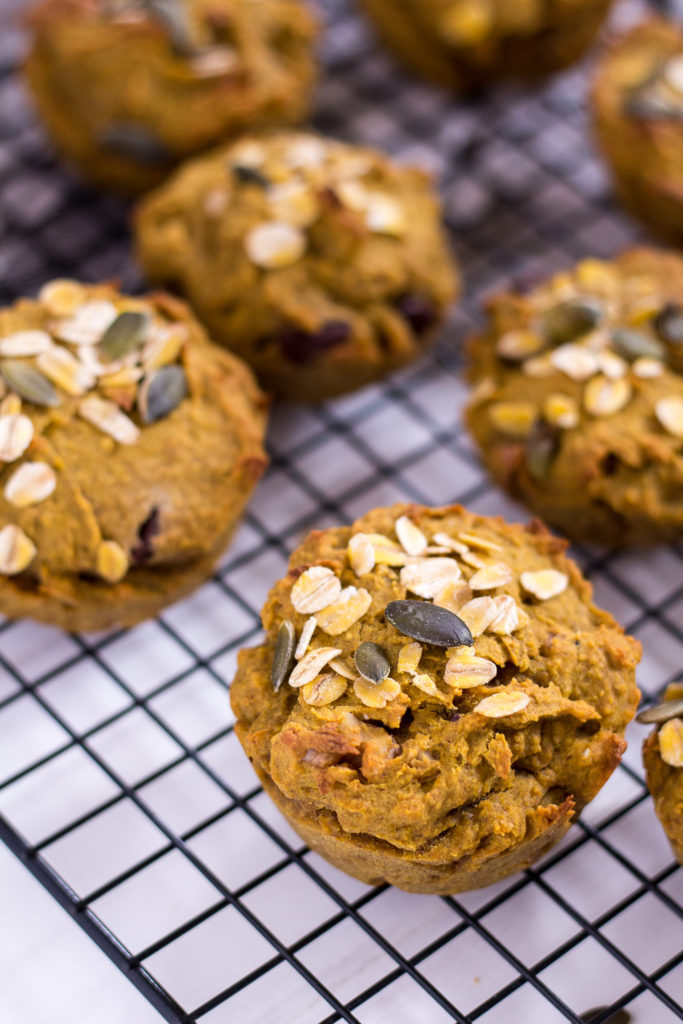 Mhh…I am talking cinnamon, nutmeg, ginger and a pinch of cloves and all-spice.
Sounds like Christmas if you ask me. It's actually funny, because what Americans consider to be pumpkin spice, Germans would call Christmas spice. Which totally makes sense, because gingerbread spice is basically the same thing as pumpkin spice. So let's all get excited for Christmas, ok?
Now, let's talk ingredients. These healthy pumpkin muffins only include natural, whole ingredients that will nourish your body, and make you feel incredible. We have my favorite flour mix out of buckwheat flour and ground oats, moist and nutrient rich pumpkin puree, nutty almond milk, a delicious banana and a chia egg for binding purposes, maple syrup for sweetness, and then of course the signature pumpkin spice mix. All of these ingredients can be found in any well-equipped supermarket so there are no excuses not to get into the kitchen this weekend.

Healthy Pumpkin Muffins
Ingredients
⅓ cup (80g) of coconut oil
¼ cup (60g) of maple syrup
1 very ripe banana
1 tablespoon of chia seeds + 3 tablespoons of water
1 cup (225g) of pumpkin puree
¼ cup (60ml) of unsweetened almond milk
1¼ cup (150g) of buckwheat flour
¾ cup (60g) of oats
½ teaspoon of sea salt
1 teaspoon of aluminum-free baking soda
the insides of one vanilla pod
1 teaspoon of cinnamon
¼ teaspoon of nutmeg
¼ teaspoon of ginger
a pinch of allspice
a pinch of ginger
25g of naturally sweetened chocolate chips (I use Ombar) (optional)
a handful of oats for sprinkling (optional)
a handful of pumpkin seeds for sprinkling (optional)
Instructions
Pre-heat the oven to 170°C (340°F). Grease a muffin pan with coconut oil if necessary.
Heat the coconut oil in a small pan. Combine the chia seeds with water in a small bowl and set aside for 10 minutes. Blitz the oats in a food processor or mixer until a flour forms and set aside.
In a mixing bowl or food processor, combine coconut oil, maple syrup and banana, and mix with a hand mixer or whisk. If you are using a food processor, mix well for about 20 seconds.
Add the pumpkin puree, almond milk, chia mix, baking soda, spices, salt and the insides of the vanilla pod, and whisk well.
Add the buckwheat flour and ground oats, and gentlly incorporate it into the wet ingredients. If you are using chocolate chips, add them now.
Use about 2 - 3 large tablespoons to fill each muffin cup. I like to fill them up a bit higher, but then you'll end up with only 9 - 10 muffins instead of 12. Sprinkle the muffins with additional oats and pumpkin seeds.
Bake the muffins for about 25 - 30 minutes until you can pull a fork out of the center of it clean.
Place the muffins onto a cooling rack and wait until they are cooled down completely before taking them out.
Stored in an air-tight container, the muffins will last for about 4 days. They do get denser the longer they are stored.
Enjoy!
---
DID YOU MAKE THIS RECIPE OR HAVE ANY SUGGESTIONS, QUESTIONS OR COMMENTS?
Feel free to leave a comment below, and don't forget to tag your creations on social media using #heavenlynnhealthy.
I'd love for this blog to be a dialogue.
---