An easy-peasy winter stew with sweet potatoes, kale & buckwheat that's here to keep you warm this freezing winter season.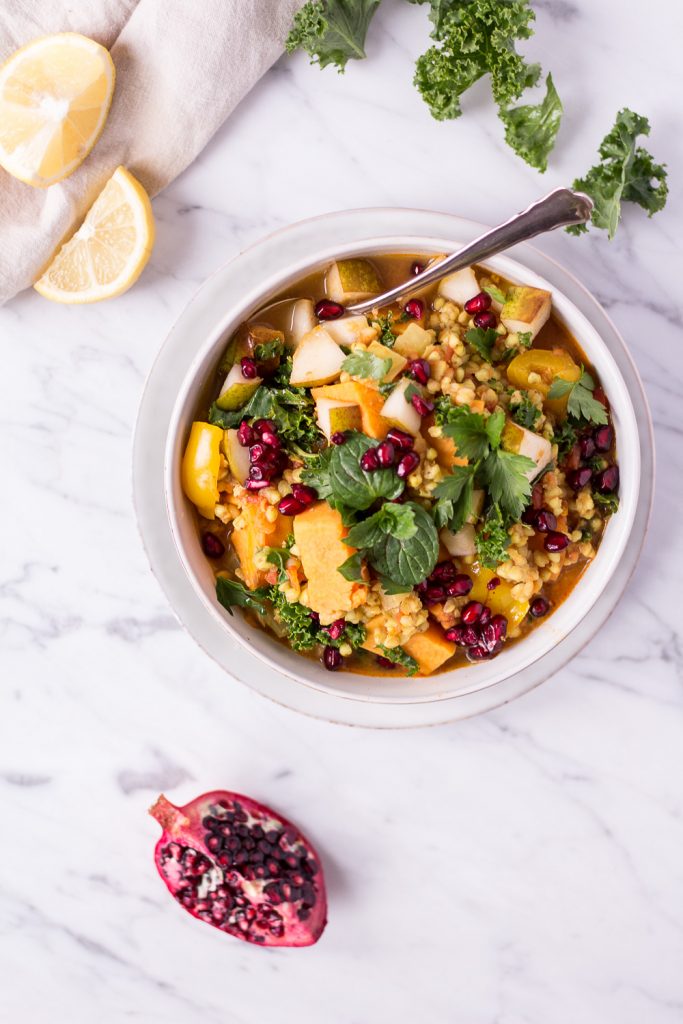 It's beginning to look a lot like Christmas. At least over here in my tiny town in Germany.
Funny story actually.
Last week, when the first snow arrived, I was out sick and stuck to bed for three days. We have this little Velux window in our bedroom, so I was constantly staring at it, and watching the layer of snow become thicker and thicker. And so the snow was here to stay, the local public transportation came to a halt (obviously!), and my whole town looked like winter wonderland – in November! So by Thursday, I finally decided to get back out again, and I called my mom, who lives a short, one hour car ride away from me. The conversation went something like this:
Me: Hi Mom, isn't it beautiful outside?
Mom: What are you talking about?
Me: The Snow – the Winter Wonderland.
Mom: Are you still sick?
Turns out, it was just us and our tiny little town and its closest surroundings that were blessed with that much snow last week.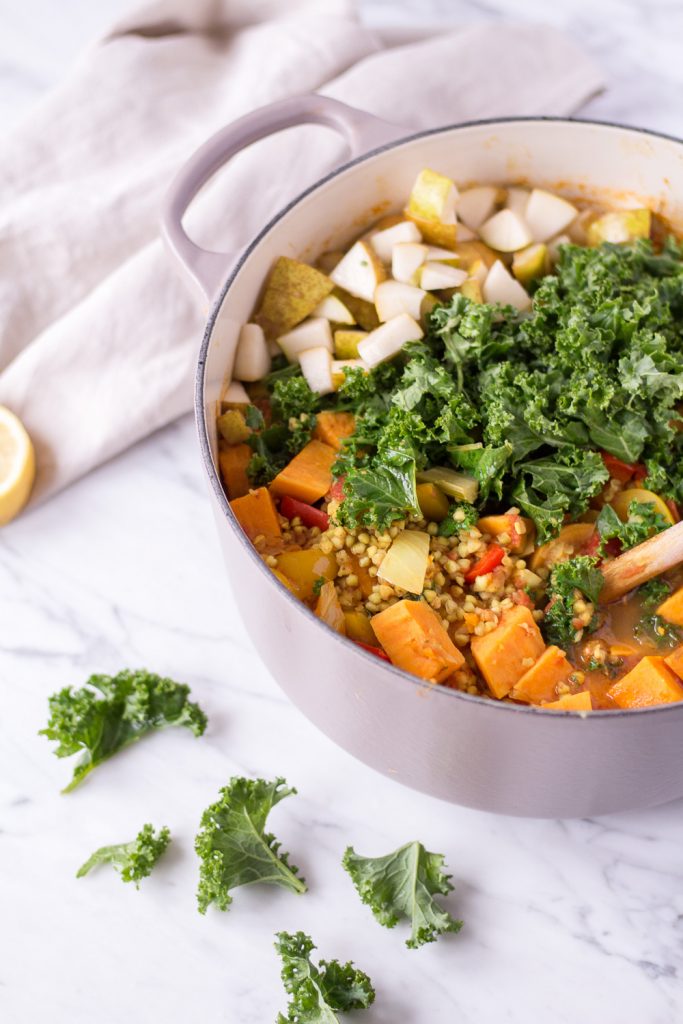 So, after I finally got my appetite back, which sadly vanished completely with my stomach bug, I really craved something warm, hearty and savory to get me back on track. This warming winter stew with sweet potatoes, kale and buckwheat is just perfect for this purpose. It contains everything that you need to stay heathy during the cold seasons.
There is comforting sweet potatoes, pears, kale, buckwheat and oh those pomegranate seeds are just heaven! Really, do not skip them, because they are the big surprise in this stew. And the pears, which I just happen to add to the stew by coincidence. They add a nice natural sweetness to the whole dish.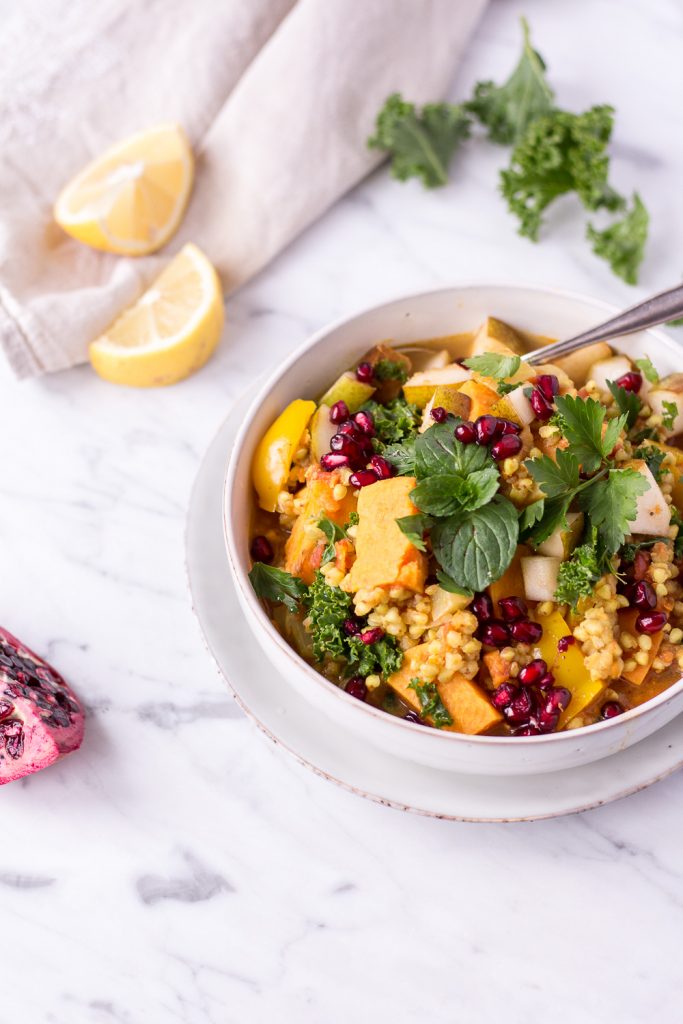 Really, this dish just makes you want to cuddle up on the sofa, listen to Christmas songs on repeat and watch the snow fall (if there is any). I am really hoping for a White Christmas this year, and I have a feeling that we might get lucky this time (fingers crossed X).
I hope you'll enjoy this warming comfort food and if you speak German, do stop by my column at Ohhh…Mhhh today.

Warming Winter Stew with Sweet Potatoes, Kale & Buckwheat
Ingredients
3 tablespoons olive oil
2 cloves garlic
1 red onion
2 cm (about 1 inch) of fresh ginger
2 teaspoons of paprika
1 teaspoon of ground cumin
1 teaspoon of ground coriander
1 teaspoon of turmeric
½ teaspoon ground ginger
½ teaspoon of sea salt
½ teaspoon ground black pepper
2 sweet potatoes (mine weighed about 800g)
1 small bulb fennel
2 bell peppers
2 pears
1 can of diced tomatoes
4 cups (1000ml) of water
3 tablespoons of homemade vegetable stock paste
1½ cup (150g) of buckwheat
1 lemon
4 large handfuls of kale or spinach
1 pomegranate
fresh herbs to serve (I used fresh mint, parsley and cilantro)
Instructions
Start by prepping your vegetables: peel and dice the onion and ginger and mince the garlic. Peel and cut the sweet potatoes into bite-sized pieces. Remove the outer layers from the fennel, remove its core and finely chop it. Remove the seeds from the bell peppers and cut them into bite-sized pieces as well. Then remove the core from the pears and cut in squares. Wash the kale and remove it the leaves from the stem.
In a large dutch oven or pot, heat the olive oil over medium to high heat. Add the chopped onion, ginger and garlic and sauté for 2 minutes. Then add all the spices and sauté until you can really smell the flavor.
Add the sweet potatoes, carrots, fennel, bell peppers and buckwheat and fry for about a minute or two.
Now add the water, vegetable stock paste and diced tomatoes and bring to a boil over high heat.
Reduce the heat to medium-low, and let simmer for 15-20 minutes until the sweet potatoes are almost tender. You might need to stir it occasionally or add more water.
While the stew cooks, remove the seeds from the pomegranate.
Once the potatoes are almost done, add the pears and cook for another 10 minutes. Add the kale right before serving, and stir to combine. Season with additional salt, according to your taste.
Serve with fresh herbs, pinch of lemon juice and the pomegranate seeds.
Enjoy!
---
DID YOU MAKE THIS RECIPE OR HAVE ANY SUGGESTIONS, QUESTIONS OR COMMENTS?
Feel free to leave a comment below, and don't forget to tag your creations on social media using #heavenlynnhealthy.
I'd love for this blog to be a dialogue.
---