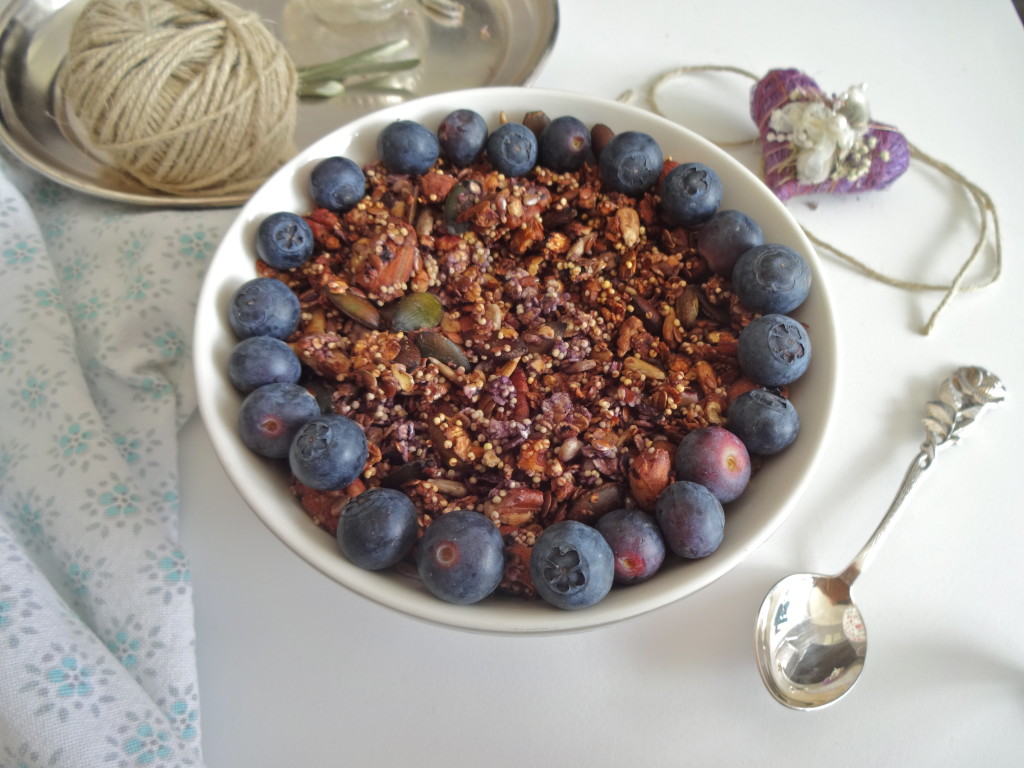 If you've been following my blog or my Instagram account then you've probably noticed that I have a thing for delicious breakfasts like porridge or granola, and also for blueberries. I just love blueberries! They're amongst my favorite berries because they are just so naturally sweet and delicious. Especially in the summer when you get them locally I go through at least one big batch a day. As all other berries, blueberries are great for your health as they are packed with antioxidants , which protect your whole body from free radicals. That's why I like to think that berries make you pretty and help you glow from the inside out.
Since blueberries are about the sweetest berries you will find, they are perfect for this recipe as they make this granola naturally sweet. They also make your granola purple, which I love.
For a little extra goodness I added some millet to this recipe. This might sound very strange especially since I used it raw, but it just adds that extra crunch to the granola, which I love. In my opinion there's nothing better than sweet and crunchy granola.
Millet is not only crunchy, it also has great health benefits. The gluten-free grain has a high iron content (about 1/2 cup (100g) provide more iron than the same amount of red meat), and it is packed with good minerals such as magnesium, manganese, copper and zinc. Millet is also extremely skin-friendly, and won't cause break-outs or pimples as other grains do. Thus millet is really a beautifying grain – one more reason to add it to your morning breakfast bowl. I hope you enjoy this homemade granola just as much as I do.
Health benefits in this blueberry millet granola:
– copper (important for the development of the myelin sheath that surrounds the nerves; important for the transformation of melanin which is involved in the pigmentation of hair, eyes and skin)
– iron (important for healthy red blood cells that transport oxygen through your body)
– lauric acid (prevents heart diseases and lowers blood pressure)
– mono-unsaturated fats (decreases risks for breast cancer, important for heart health)
– magnesium (important for a healthy nerve system, muscle health, energy production)
– potassium (lowers cholesterol levels and blood pressure)
– vitamin B (lowers blood pressure, important for healthy nerves, and energy production)
– zinc (important for growth, skin, and a healthy immune system)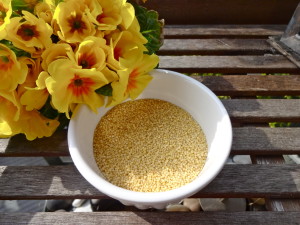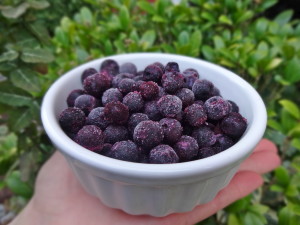 Ingredients:
– 2 cups (160g) (gluten-free) oats
– ½ cup (80g) millet
– 1 cup (120g) sunflower seeds
– ½ cup (60g) pumpkin seeds
– ½ cup (75g) raw unpeeled almonds (with skin)
– ½ cup (60g) flax seeds
– 2 tbs virgin coconut oil
– 1 cup fresh or frozen blueberries
– 3 tbs maple syrup or agave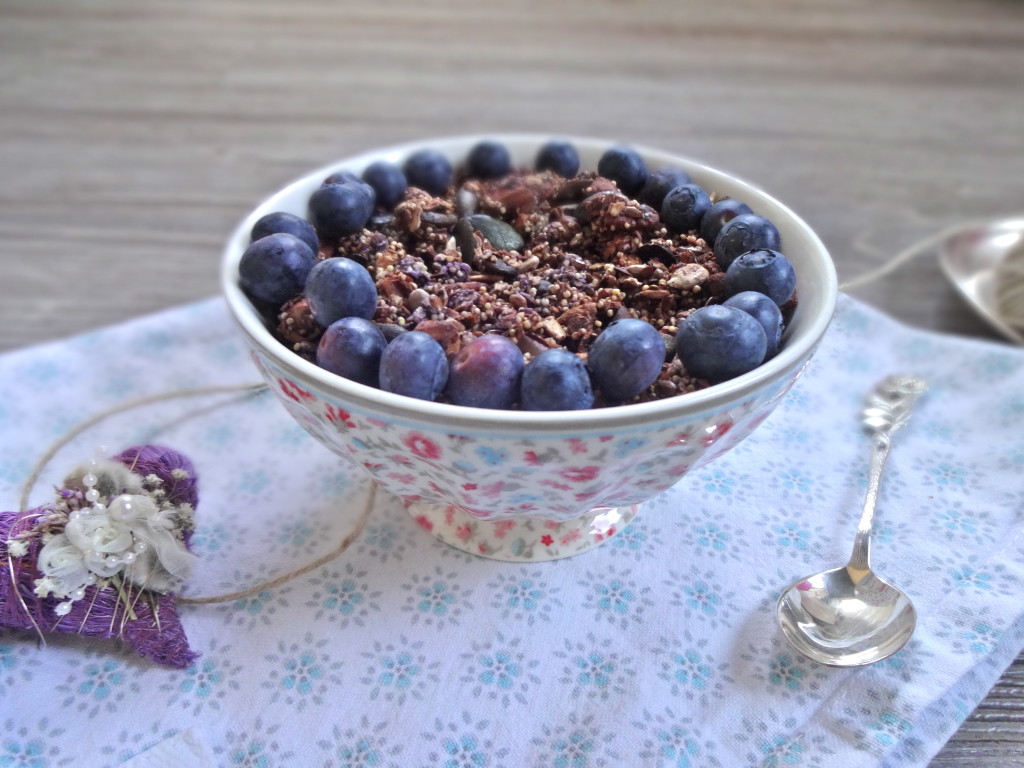 Preheat the oven to 180°. Start by putting the almonds into a food processor and crush for 2-3 pulses until they are broken into pieces. They should not be completely crushed, you still want to be able to identify them as nut pieces. Place the crushed almonds into a large bowl. Add all the dry ingredients except blueberries, and stir well until the ingredients are combined.
Next, melt the coconut oil in a small sauce pan. Add the agave, and stir well until everything is dissolved. Add this sticky mixture to a blender together with the fresh or frozen blueberries and mix well so you have a nice smoothie-like texture.
Now pour the sweet blueberry mix over the dry ingredients and mix well until everything is slightly sticky.
Pour the granola on a baking sheet which you have aligned with parchment paper, and bake for about 30-40 minutes. After 10 minutes or so, take the pan out and stir well so the outer edges do not get burned. Repeat this every 5-10 minutes for the rest of the time.
After 40 minutes, take out the tray and leave it to cool for about 20 minutes.
By this time the granola should be nicely crunchy but not burned and your kitchen should smell devine.
Serve with milk, non-dairy milk, yoghurt or non-dairy yogurt, top with fruits. Stored in an air-tight container it should taste amazing for 3-4 weeks.
Enjoy!