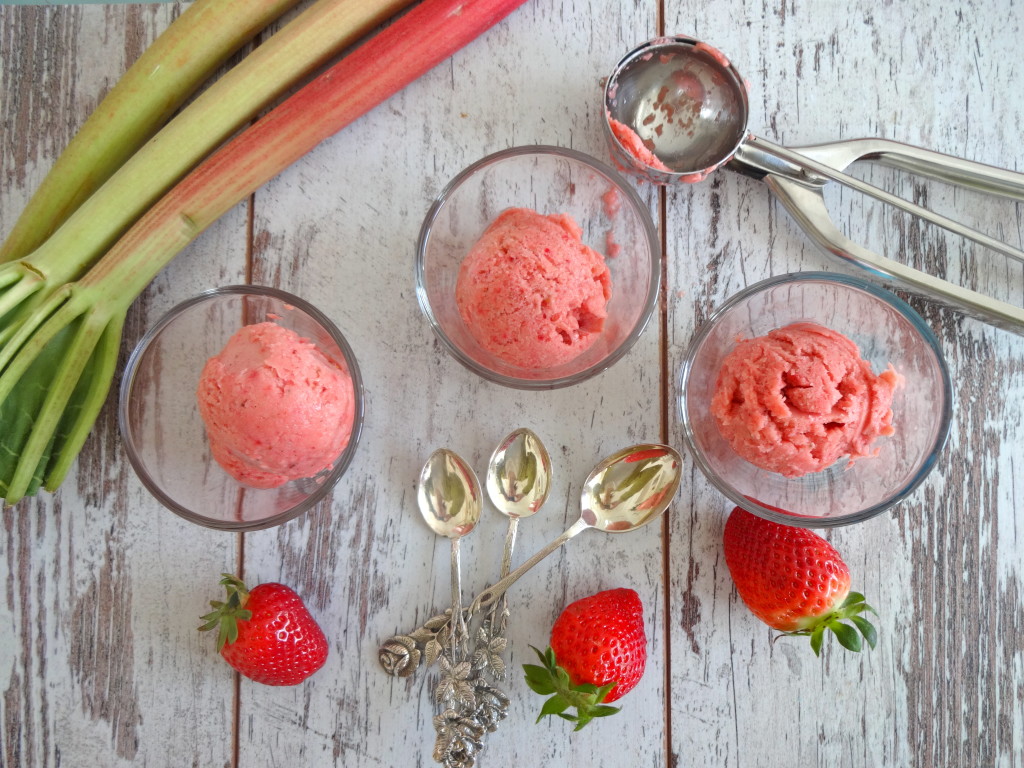 Spring has finally arrived in Germany and that means you see people wandering around with ice cream scones in their hands everywhere. Ice cream reminds me of summer, warm weather, vacation, ice cream dates, and barbeque with friends. Since the temperatures have been gradually increasing these past few weeks, I have been craving ice cream myself, which is why I went back to my favorite snack last summer: frozen bananas. This may sound strange but it was my go-to-snack in the United States when I was writing my bachelor's thesis, and it kept me sane during that time. It's the healthiest ice cream you will ever find, and completely free of nasty additives or refined sugars. It also has only one ingredient, which I think is great.
While banana ice cream is amazing, I wanted to add a little extra touch of goodness to it. Fortunately rhubarb is in season right now, and I love rhubarb. I literally cannot get enough of it, which is why you will see me posting lots and lots of rhubarb recipes soon.
For this ice cream you will really only need three ingredients: rhubarb, strawberries, and bananas. You also won't need an ice cream maker, which is another great feature of this recipe. All you need is a blender, and it doesn't even have to be a very strong one.
You will also never believe how much goodness you can give your body by eating this ice cream. Bananas are basically nature's candy, so sweet, creamy and delicious. They are packed with vitamins and minerals, the most prominent being potassium. Potassium is important for a healthy heart as well as blood pressure, which is my excuse to eat this ice cream even for breakfast. Potassium is also an important mineral for active people, because it can cure muscle cramps. Rhubarb is another one of those healthy fruits that we do not eat enough of. It's a good source of calcium and vitamin K, which is vital for blood clotting. As most fruits, rhubarb is a great source of lycopene, an antioxidant that helps prevent heart disease. Note that only cooked rhubarb contains this antioxidant, you will not get it into your system if you eat it raw, which I wouldn't recommend anyways because raw rhubarb is pretty sour in taste.
This really is the healthiest ice cream you will ever find. It is simply amazing! I would love to hear your thoughts on it in the comment section below.
Health Benefits in this Rhubarb Strawberry Banana Icrecream:
– calcium (important for bone, teeth, muscle and nerve health)
– manganese (for nerve health)
– potassium (lowers cholesterol levels and blood pressure)
– vitamin C (good for your immune system, tissue health)
– vitamin K (important for blood clotting and healthy bones)
Ingredients:
– 3 frozen bananas
– 2 cups (200g) rhubarb
– 6 strawberries (or more if desired)
– 1 vanilla pod/bean (optional)
– 2 tbsp agave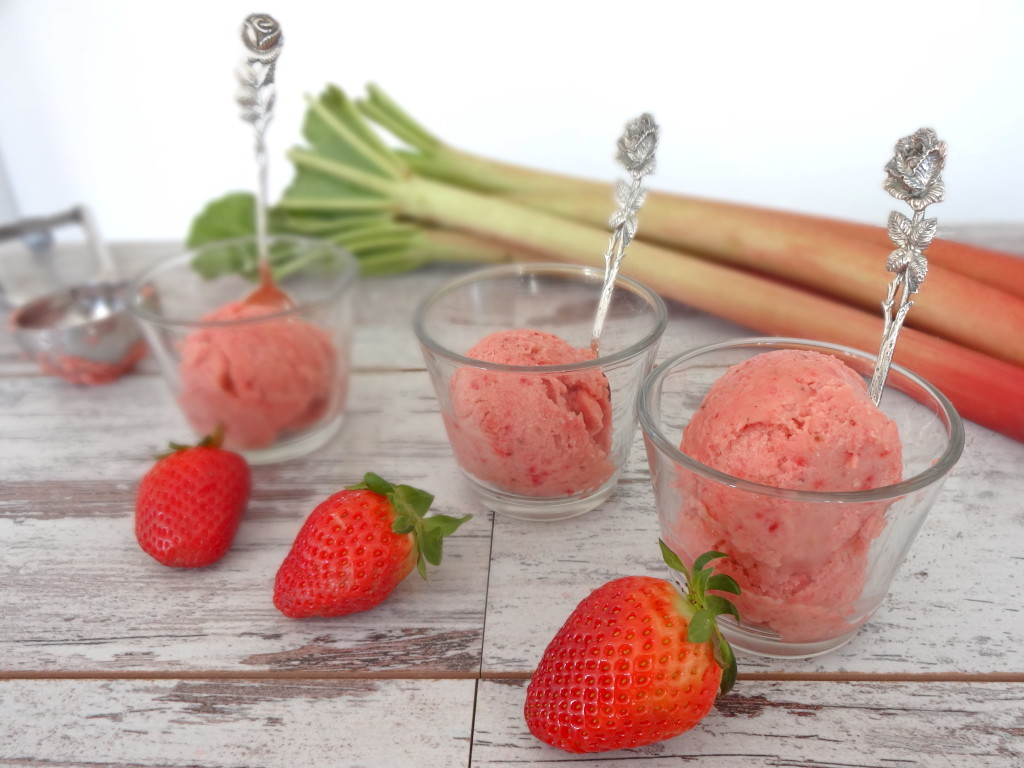 Before you make this ice cream, you need to cut the bananas into pieces and freeze them for at least 5-6 hours.
Once the bananas are frozen, wash and cut the rhubarb into small pieces. Add them to a small saucepan together with the vanilla pod and agave, and cook it for about 10-15 minutes until it is completely broken down. Remove the saucepan from the stove, pour the rhubarb into a separate bowl, remove the vanilla pod (important!) and allow it to cool for at least 20 minutes.
Now add the cooled rhubarb to the blender together with the strawberries (stems removed) and the frozen bananas. Blend until you have a smooth ice cream. Add more agave or strawberries if desired.
Serve immediately and enjoy!