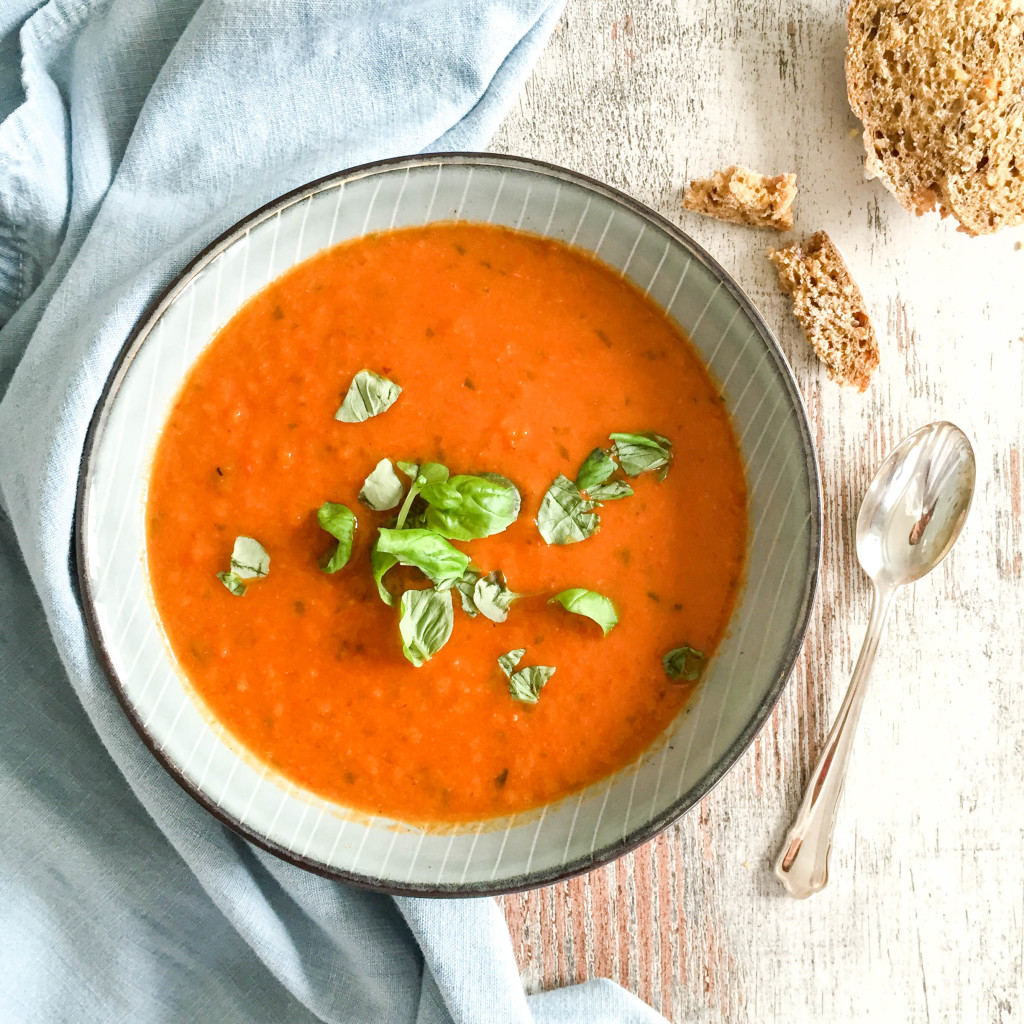 This roasted red pepper and cannellini soup is roasted one of my favorite comfort foods. It's hands down one of those soups that I could eat every day, and that I always have the ingredients for stocked at home.  There's something about the taste of roasted red peppers that reminds me of vacation and happiness. I have to admit that I am not the biggest fan of raw red peppers. I mean, I'd eat them and I don't mind them, but they are not my favorite vegetable to nibble on. When roasted, they turn into one of my favorite things, though. When turned into a soup they almost imitate the taste of a good old tomato soup – with a much better and more intense flavor. The cannellini beans add a natural creaminess to the soup, as well as a good amount of plant protein. The whole soup is just a delicious and creamy combination of flavors and textures, that I am sure you'll love as much as I do.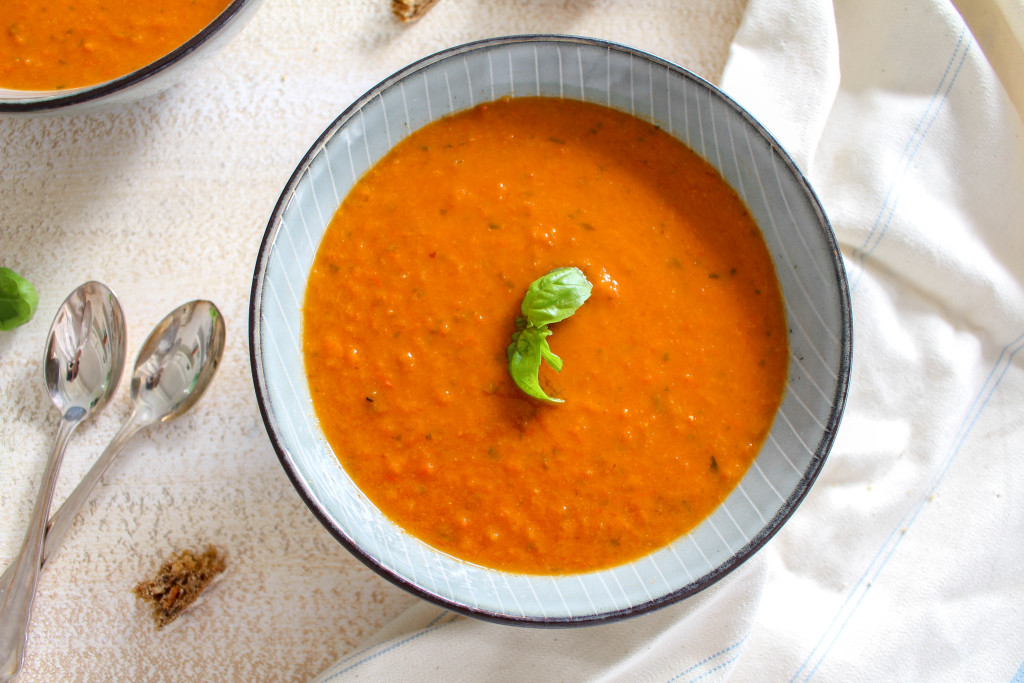 Of course this soup isn't just super delicious, it's also extremely good for your health. Peppers are one of the best sources of vitamin C, in fact, one raw pepper contains more than 200% of the daily recommended intake. That's more than twice as much as oranges contain.
Like all beans, cannellini beans are a great source of dietary fiber, which provides us with long lasting energy. They are also an amazing source of antioxidants, which help protect our body form free radicals that could damage our cells and lead to chronic diseases like cancer.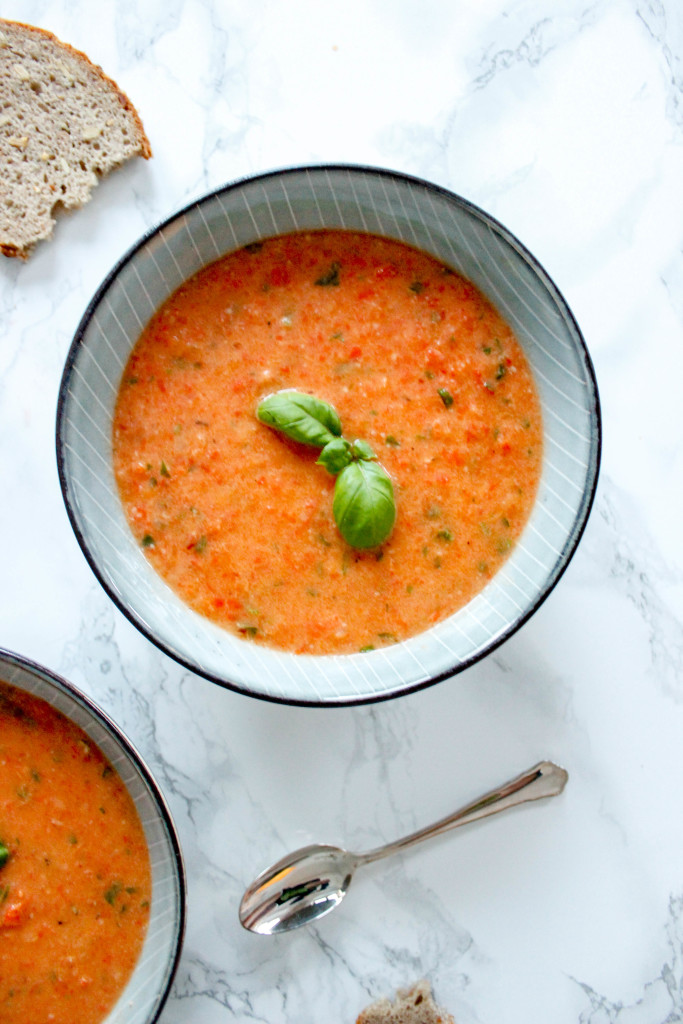 INGREDIENTS
Serves 4:
– 6 red peppers (mine weighed 450g)
– 1 medium sized onion
– 2 cups (500ml) water
– 1 tablespoon of homemade veggie stock
– 2 cups (300g) cannellini beans
– 2 large handful of basil
– fresh or dried herbs like thyme, rosemary or oregano
– 1 teaspoon of dried oregano
– 1 teaspoon of dried rosemary
– 2 teaspoons of paprika powder
– 1 teaspoon of curry powder
– 1/4 teaspoon of cayenne pepper
– 1 tablespoon of maple syrup
– 2 tablebspoon (30ml) of olive oil
– salt & pepper to taste
METHOD:
Start by pre-heating the oven to 200°C (400°F). Cut the peppers and remove the seeds.
Place the peppers on a baking tray that you aligned with baking paper. Drizzle a generous amount of olive oil on top of the peppers, and sprinkle it with some fresh or dried herbs like rosemary, thyme and oregano. Roast the peppers for about 15 minutes.
Once their skin becomes wrinkly, take them out of the oven, set aside to cool.
Chop the onion. Heat the olive oil in a saucepan and sauté the onion for about one or two minutes on high heat.
Add all the remaining ingredients and purée them in a food processor or heat-proof blender.
Serve with some gluten free or rye bread.
Enjoy!