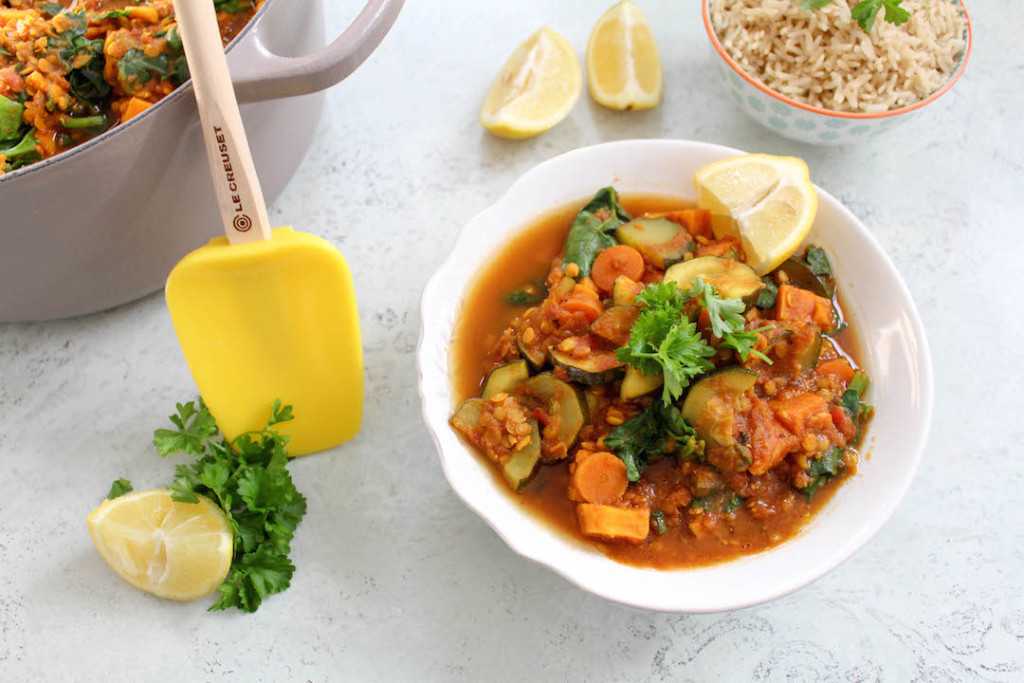 My blog celebrated its first blog birthday on March 1st, and I almost forgot about it. It seems surreal that I started this blog just a year ago. I can't believe how many of you are actually reading my posts, cooking my recipes and sharing their story with me. I'm really overwhelmed, and absolutely grateful for all of you. Thank you for all of your love and support. Without you, the blog would have never grown so fast, and I would not be as happy as I am right now. This website is my baby, it's my passion, and it gives me so much joy to create, shoot and post these recipes, and getting positive feedback is the greatest reward I could ask for. So far the blog has gotten over 450.000 page views from 130.000 readers from all over the world – there are even people from Vietnam, Kenya, Colombia and Bahrain reading this blog – which is so unbelievably crazy. I am so happy right now, and I am celebrating my first blog birthday in Amsterdam with my boyfriend this weekend. Of course this blog birthday wouldn't be a real blog birthday without a little giveaway to thank you. If you currently reside in Germany, then head over to the German blog post for an awesome Le Creuset* Giveaway.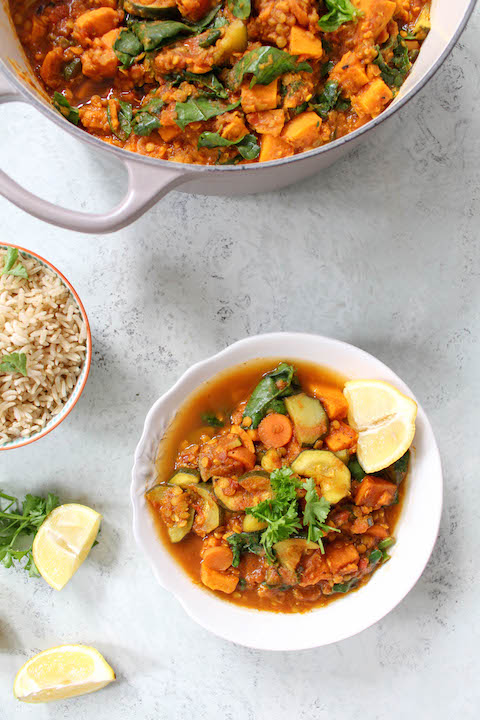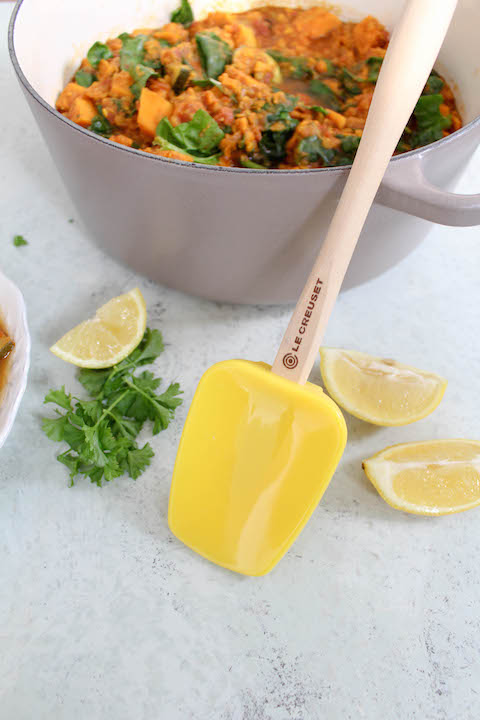 This Turmeric & Vanilla Post-Yoga One-Pot has been my favorite meal these past few weeks. I've really enjoyed it after late night yoga or pilates sessions, because the spices like turmeric and vanilla really warm and nourish the body from the inside. It's really the best "feel-good"-meal that I could eat every day. The combination of turmeric and vanilla is pure heaven. Turmeric is also the spice that you should really eat after a workout as it contains curcuma, which speeds up the fat burning process and helps reduce sore muscles. The vanilla taste is only subtle in this recipe, but it adds a nice  sweetness.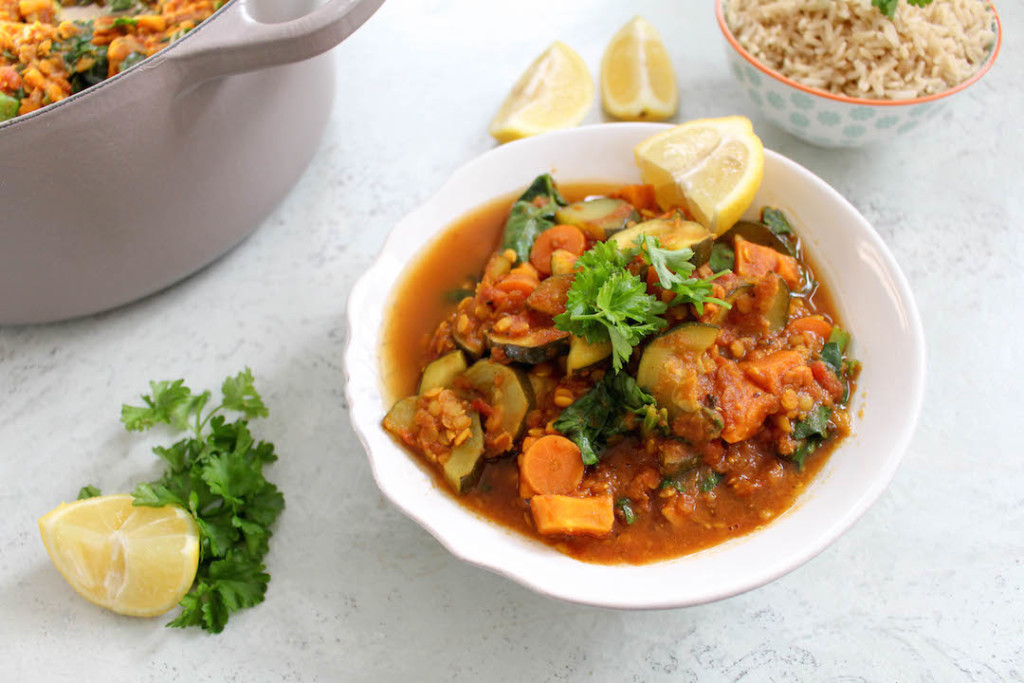 If you live in Germany right now, then head over to the German post for a chance to win one of 5 Le Creuset* Essential Silicone Spoons in the color of your choice. I'm afraid this giveaway is only for people currently living in Germany right now.

Turmeric & Vanilla Post Yoga One Pot
Ingredients
2 sweet potatoes
1 zucchini
1 red bell pepper
1 thump-sized piece of ginger
1 onion
3 garlic cloves
2 tablespoons of native coconut oil or extra-virgin olive oil
2 tablespoons of homemade vegetable stock paste
3 cups (750ml) of water
2 cans ( 800ml) of canned tomatoes
3 handful (100g) of fresh spinach
3 teaspoons of turmeric
1 teaspoon of vanilla powder
1 teaspoon of sea salt
1 teaspoon of cinnamon
½ teaspoon of paprika
1 teaspoon of sumac powder (optional)
1 teaspoon of ground coriander
1 teaspoon of cumin
A pinch of nutmeg
A pinch of chili flakes
½ cup (100g) of red lentils
Fresh herbs like parsley or cilantro
1 lemon
brown rice to serve
Instructions
Start by prepping your vegetables: dice the onion and mince the garlic. Finely chop the ginger. Peel and cut the sweet potatoes into bite-sized pieces. Remove the seeds from the red bell pepper and cut into bite-sized pieces as well. Do the same with the zucchini.
Combine all the spices in a small bowl and mix well. Wash the spinach and set aside.
In a large dutch oven or pot, heat the olive oil over medium to high heat. Add the chopped onion, ginger and garlic and sauté for 2 minutes. Then add all the spices and sauté until you can really smell the flavor.
Add the water, vegetable stock paste and diced tomatoes and bring to a boil over high heat.
Add the sweet potatoes, zucchini and red bell pepper, and lentils. Reduce the heat to medium-low, and let simmer for 30 minutes until the sweet potatoes are starting to become soft.
In the meantime cook the rice according to instructions on the package.
Now add the spinach and the juice of the lemon and stir until the spinach is wilted. Season with additional salt, according to your taste.
Serve with the brown rice and fresh herbs.
Enjoy!
*The silicone spoon is a curtesy of Le Creuset Germany. Thank you for supporting the brands that support Heavenlynn Healthy.